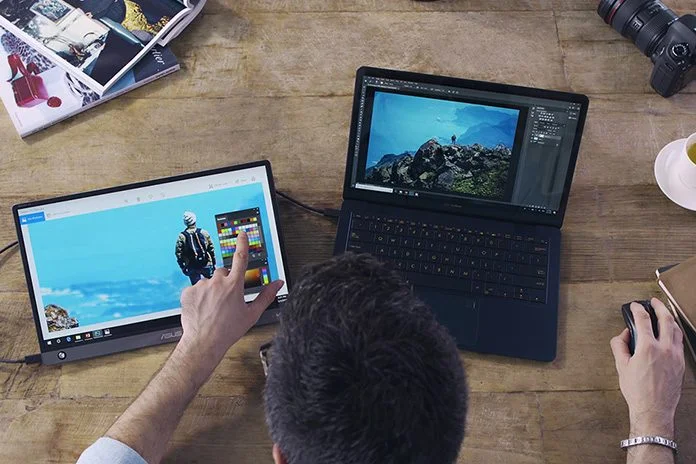 It's not uncommon for people to rely on portable devices such as phones and laptops for a significant portion of their work and entertainment. While you can take these devices virtually anywhere, you might find yourself limited by working on only one screen. For many people, a single laptop screen is enough to get essential work done during short jaunts away from their home or office PC. If the majority of your work happens on the road, even the largest notebook screen can feel cramped. We understand your pain, and that's why we offer a range of portable monitors that expand your screen space without weighing you down. We've assembled this handy portable monitor guide to help you create the ideal on-the-go workspace.
 Whether you just need an extra screen to compare spreadsheets, or you're a professional gamer in need of a second high-refresh display to go with your gaming laptop, we've got you covered. Read on to see which ASUS portable monitor is right for you.
For the digital nomad that can't be weighed down
Anyone that's gone from working on two large monitors to doing the same task on a laptop understands how limiting it can be. Referencing something from one document while writing in another can turn into a chore as you switch between them on your single screen. If you find yourself in this position more often than you'd like, then the ZenScreen MB16ACE might be precisely what you need.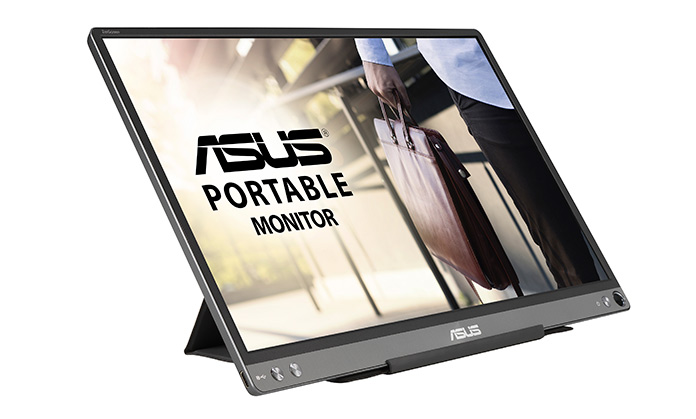 The MB16ACE is a 15.6" Full HD IPS display that will effectively double your available 1080p workspace and kick your productivity back into high gear. You won't need twice the bag space to carry around all this screen real estate, though. The precision-crafted, solid aluminum body measures just 8mm thin, so it can slip into virtually any laptop bag with ease. It weighs only 1.56lbs, making the ZenScreen MB16ACE the lightest portable monitor in its class. Comfort is always a concern when you're staring at any display for long periods of time, which is why the MB16ACE is TUV Rheinland-certified for flicker-free operation, and configurable low blue light technology can help reduce eye strain.
The screen's light weight is thanks in part to a newly redesigned Smart Case Lite, which is 35% lighter than its predecessor. Just like the original Smart Case, this featherweight protective cover pulls double duty as an adjustable stand that lets the ZenScreen sit in either portrait or landscape mode. In the event that you can't use the Smart Case Lite, a handy smart pen hole in the bottom corner of the bezel allows you to set your viewing angle with the use of any pen or pencil you have nearby.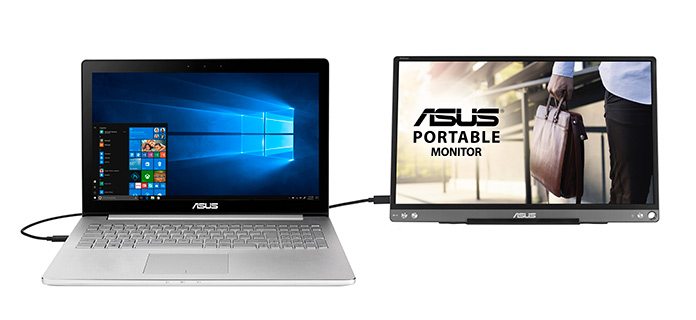 The last thing you want to clutter up your laptop bag is a series of bulky cables to connect your devices. The ZenScreen MB16ACE uses a single reversible USB Type-C port for both power and video, meaning you'll only need a single cable for seamless operation. Don't worry if your current notebook doesn't have an available Type-C port. We've included a Type-C-to-A adapter that can be used alongside a DisplayPort driver to provide the same one-cable solution.
If your laptop's screen just isn't cutting it and you need to step up your productivity, then the ZenScreen MB16ACE is a perfect fit. With an ultra-durable thin body that's the lightest in its class, you can double your laptop's workspace without adding bulk to your bag. The ZenScreen MB16ACE is as affordable as it is stylish, with an MSRP of just $229 USD or $299 CAD.
Check the full specs and list of retailers below.
ZenScreen MB16ACE
Panel
15.6" IPS
Resolution
Full HD, 1920x1080
Brightness
250 cd/㎡
Inputs
1x USB Type-C

Dimensions
14.16" x 8.91" x 0.31"
Weight
1.57lbs
Accessories
Smart Cover Case
USB-C Cable
USB Type-C to A adapter
Price
$229 USD
$299 CAD
Availability (USA)
Amazon
B&H
Best Buy
Availability (Canada)
Canada Computers
Memory Express
Mike's Computer Shop
For the traveler in need of a touchscreen
There are plenty of reasons why someone would need a portable touchscreen display. Whether you're a digital artist that's worked touch controls into their workflow, or you're just looking for a way to play your Android games on something larger than your phone, a standard screen just won't cut it.
The ZenScreen Touch MB16AMT gives you a 15.6" Full HD 10-point touchscreen panel that's both TUV Rheinland-certified flicker-free and uses low blue light technology to reduce eye strain. It also features a built-in 7,800 mAh battery that makes it perfect for productivity on the go. Since a second display can put a strain on your laptop or phone's battery, we added the battery so that the ZenScreen Touch can operate for up to four hours without additional power.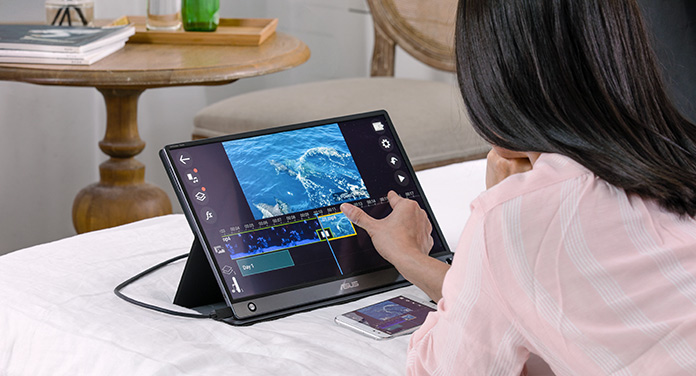 Like its smaller sibling, the ZenScreen Touch MB16AMT takes many of its visual cues from our ZenBook series. Concentric circles machined into the solid aluminum unibody and a mirrored ASUS logo coordinate perfectly with our premium laptop line. On the other side of the display, you'll find razor-thin bezels along the top and sides that virtually disappear when you're immersed in your work. A five-way navigation button at the bottom of the screen gives you quick access to the OSD, and the nearby smart pen hole lets you use an ordinary pen to keep the screen propped up without the case.
The included Smart Case is a soft cover that keeps the screen protected when you slide it into your laptop case or are simply carrying it with you. When it's time to get down to business, you can fold back the cover to transform it into a portrait or landscape stand that props up the MB16AMT at a convenient viewing angle.
A single USB Type-C port is all that's needed to supply both power and video to the ZenScreen Touch. This makes it a perfect companion for the latest laptops and compatible phones. The included USB Type-C-to-A adapter lets you connect to older laptops with the proper DisplayLink driver, and a single micro-HDMI port adds compatibility for nearly any other device.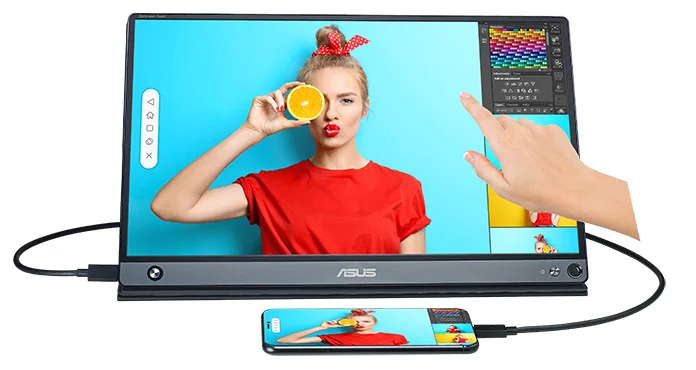 If your phone has become your primary productivity device, you might not think it's easy to expand your screen. The ZenScreen Touch app makes it simple, though. This app allows you to plug in any Android phone, such as our innovative ZenFone 6, and seamlessly mirror the content on the portable display. Everything will be automatically scaled, and even your on-screen touch controls will work perfectly on the larger display. This can be great for editing Instagram photos with greater precision, or for playing competitive Android games like PUBG Mobile on a laptop-sized screen.
Whether you need a secondary screen with a built-in battery for extended remote work sessions, or you want a larger 15.6" display to complement your Android phone, the ZenScreen Touch MB16AMT has you covered. For $349 USD or $459 CAD, you can get a beautiful 1080p IPS portable touchscreen display with up to four hours of battery life.
Check the full specs and list of retailers below.
ZenScreen MB16AMT
Panel
15.6" IPS
Resolution
Full HD, 1920x1080
Brightness
250 cd/㎡
Inputs
1x USB Type-C
1x Micro HDMI
Dimensions
14.16" x 8.96" x 0.35"
Weight
1.98lbs
Battery
7800mAh
Accessories
Smart Cover Case
ZenScreen pen
USB-C Cable
Micro HDMI to HDMI cable
USB Type-C to A adapter
Price
$349 USD
$459 CAD
Availability (USA)
ASUS Store
Abt
Adorama
Amazon
B&H
Best Buy
Microsoft

Availability (Canada)
Memory Express
Mike's Computer Shop
Staples
For the serious gamer on the go
For some, playing video games is a way to unwind after a long day. For others, gaming is a more serious endeavor, even a profession. If you take your gaming seriously, we have the perfect portable monitor that will let you experience the joy of high-refresh gaming virtually anywhere.
The ROG Strix XG17 shatters any previous preconceptions of portable gaming. When you take your games on the road, you're limited by the hardware you bring with you. Many gaming laptops still use traditional 60Hz panels, despite having components that are capable of pushing considerably higher frame rates. If you do have a laptop with a high-refresh panel, such as the 240Hz ROG Zephyrus G15, you still only have a single screen to work with.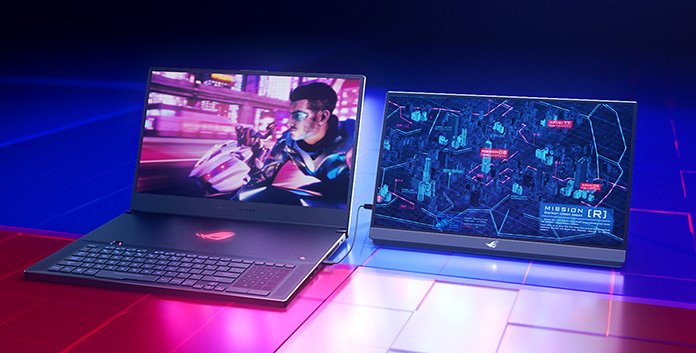 Whether you want to push your laptop past the limits of its built-in display, add an additional screen to your notebook for streaming, or even want to play your console outside of your home, the ROG Strix XG17 is going to up your game. This 17.3" Full HD IPS display has a refresh rate of 240Hz and a 3ms response time. That puts it on par with some of our best desktop gaming displays.
Some of the most competitive esports titles are optimized for high-refresh gaming, and the XG17 is precisely what you need to stay competitive in those games. If your laptop has a dedicated gaming GPU, there's a good chance that you're going to be able to take advantage of the XG17's 240Hz panel. Even if your laptop isn't cranking out 240 FPS at all times, VESA Adaptive-Sync support for compatible GPUs will keep your gameplay looking smooth by keeping both the display and GPU output in lockstep.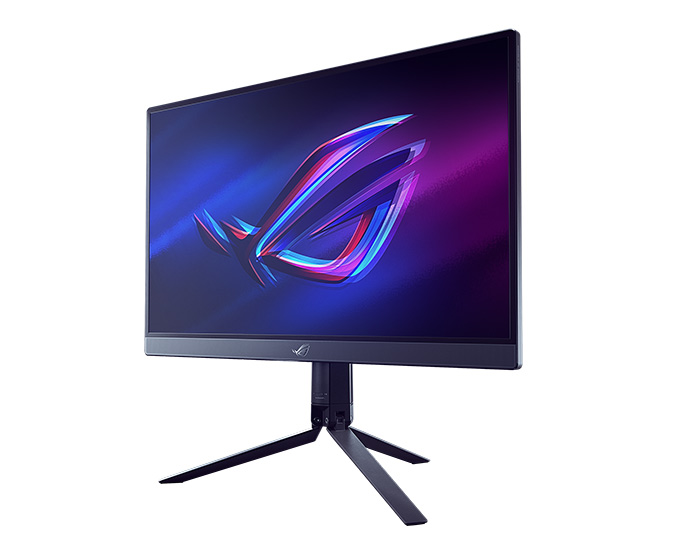 Like our other portable displays, the XG17AHPE comes with a Smart Cover that serves as both a protective barrier during travel and a sleek stand when it's in use. If you want to position the screen like a more traditional monitor, the XG17AHP model includes our innovative Tripod stand. Just like on your desktop's display, you can make adjustments to the height and tilt with a quick motion. For those times when you're low on desk space, the Tripod is tall enough to position the XG17 directly above your laptop screen. When you're done gaming, the Tripod folds up into an ultra-compact form that easily slips into any laptop bag.
Sometimes you want to game in a location without a power outlet nearby, so adding a second screen that pulls power from your notebook is the last thing you want to do. Our engineers understood this when designing the XG17, which is why they built in a 7,800 mAh battery that's good enough for up to three solid hours of gaming at 240Hz without needing any juice from your laptop.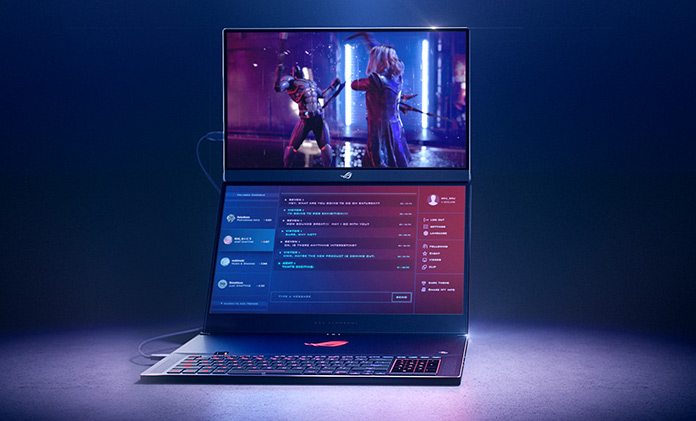 When you do need to pull power, you can the XG17's two reversible USB-C ports to transfer power as well as audio and video signals. If you're connecting to a console or a laptop without a Type-C port, you can also run audio and video to the micro-HDMI 2.0 port. Speaking of audio, we've included a pair of 1W speakers for those times when you'd rather not use your headset.
If you're serious about your gaming and you spend a lot of time on the road, the ROG Strix XG17AHP is the display for you. With a 240Hz panel and a low 3ms response time, this portable monitor is going to provide the same high-refresh gaming experience that you're used to at home without weighing you down. The XG17 is available for pre-order for $599 with the Tripod or $499 without.
Check the full specs and list of retailers below.
ROG STRIX XG17AHPE
ROG STRIX XG17AHP
Panel
17.3" IPS
Resolution
1920x1080
Brightness
300 cd/㎡
Inputs
2x USB Type-C
Micro HDMI
Dimensions
15.71" x 9.86" x 0.23"
Weight
2.34lbs
Battery
7800mAh
Accessories
ROG Smart Case
USB-C Cable
Micro HDMI to HDMI cable
USB Type-C to A adapter

ROG Smart Case
USB-C Cable
Micro HDMI to HDMI cable
USB Type-C to A adapter
ROG Tripod
ROG Carrying Bag
Price
$499 USD
$599 USD
Availability (USA)
Newegg (Pre-order)
TBD
For the creative professional jetsetter
If the first thing you look for in a monitor is its ability to reproduce color, then you're in the right place. While all of the other portable displays we've shown you so far are great for both personal and professional use, our final selection is squarely aimed at professionals that value color accuracy above all else.
The ProArt PQ22UC is the most portable member of our ProArt family, but it performs just as well as its stationary brethren. Whether you're working on-location for a shoot or grading footage in your hotel room, you'll appreciate this beautiful 21.6" 4K OLED panel sitting next to your laptop of choice.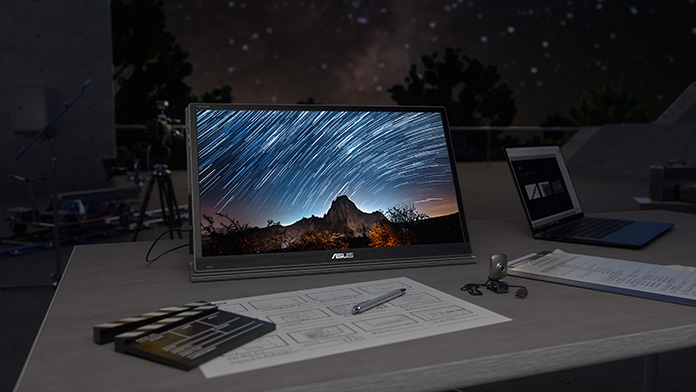 The ProArt PQ22UC is a wide-gamut display that covers 99% of the DCI-P3 color space popular in today's digital filmmaking world. If you work with HDR content, you'll be happy to know that this display is HDR10, Hybrid Log-Gamma, and Dolby Vision ready with a bold contrast ratio of 1,000,000:1.
Regardless of what type of content you're working with, you can rest assured knowing that each PQ22UC is factory-calibrated to guarantee a Delta E of less than two. Our ASUS ProArt Calibration Technology lets you save your color profiles directly to the display, rather than the device it's connected to. This ensures that even if you switch to another laptop or PC to continue editing, your colors will look identical.
The 3840×2160 resolution is perfect for editing 4K content without losing any of the details. You'll still need a powerful notebook to edit high-resolution content. However, the best part about the ProArt PQ22UC is that you have the freedom to select any laptop with the exact hardware you need. Just plug in the PQ22UC, and your notebook transforms into a professional editing station.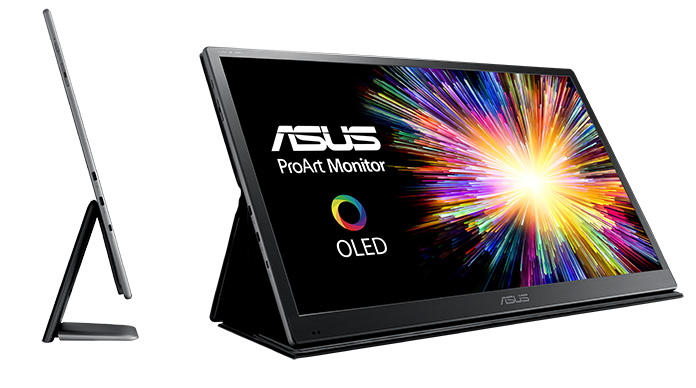 The PQ22UC uses a pair of USB Type-C connectors to handle power and video signals. It also has a micro-HDMI port for compatibility with nearly any notebook. And just like our other portable displays, you'll find a Smart Cover that will protect the screen from harm during transport, as well as act as a horizontal or landscape stand when it's time to work. If you want more flexibility, you can also pull out the included detachable stand. The stand folds flat to fit inside any laptop bag and sets up in seconds to firmly hold the PQ22UC at nearly any angle or orientation without any tools.
The ProArt PQ22UC is the perfect portable companion for any professional editor's bag. With the wide-gamut color range and factory calibration that's vital for color accuracy, this 21.6" 4K OLED monitor gives you the freedom to edit your digital media anywhere. With a price tag of $3,999 USD, this portable display is ready for your professional projects.
Check the full specs and list of retailers below.
ProArt PQ22UC
Panel
21.6" OLED
Resolution
3840x2160
Brightness
330 cd/㎡
Inputs
2x USB Type-C
Micro HDMI
Dimensions
20.11" x 12.36" x 0.33"
Weight
4.63lbs
Accessories
ASUS Smart Case
USB-C Cable
Micro HDMI to HDMI cable
USB Type-C to A adapter
Detachable Stand
Carrying Bag
Price
$3,999 USD
Availability (USA)
ASUS Store
Amazon
B&H
Availability (Canada)
N/A
A display for every traveler
Whether you're looking to expand your productivity when you're on the road, increase your gaming potential anywhere you are or are looking to do some serious on-location editing, we've got a portable display that's going to help you get the job done. Keep an eye on Edge Up to learn more as we introduce more innovative portable monitors in the future.