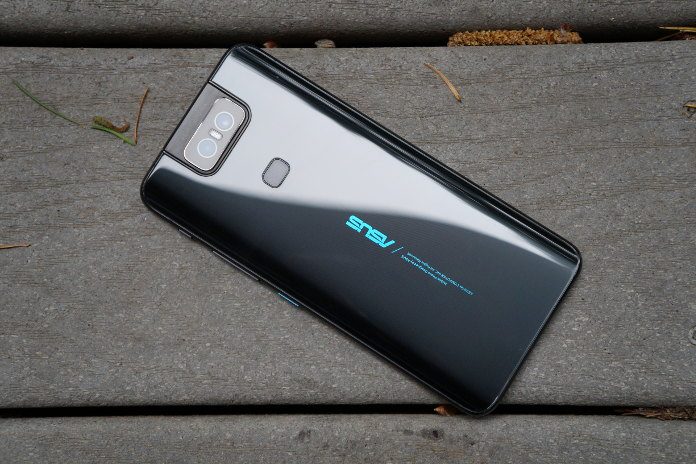 Once only good for calls and texts, our cell phones used to be as small as their role in our lives. For a while in the late '90s and early 2000s, we struggled with phones that were getting too small. Now, our phones now have the much heftier responsibility of serving as the first source for all our news and entertainment and our connection to everyone we know (and those we haven't met yet), and they increasingly shoulder the burden of capturing all our memories and documenting our day-to-day, too. Throw in all of the apps that we've grown dependent on to pay bills, buy food, book dinner reservations, and get from point A to point B, and it's easy to see why people crave larger devices: this screen is our window to the world, and it needs to be as big as possible so we can see everything. The challenge is that it still needs to be small enough for us to want to carry it around.
Banishing the bezel
Over the last couple of years, shrinking bezels have been the answer to more display without more phone, and the quest for an all-screen phone has progressed in stages. By narrowing the side bezels, you can fit a bigger screen into a smaller body, and the phone is easier to hold in one hand. The industry pushed things even further by doing away with permanent menu buttons at the bottom of the screen, and in doing so we gained additional real estate in a place previously reserved for buttons that were only really used half the time.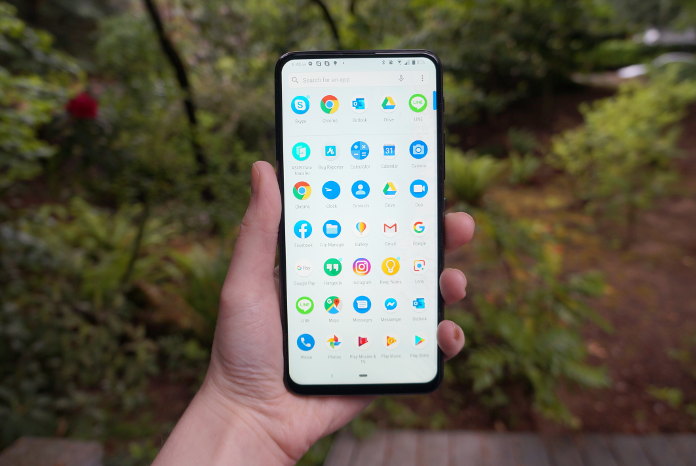 All of this has happened gradually, and without much fanfare, but it made the chunkier top bezel all the more apparent. But minimizing the top bezel has been more challenging, and it's an endeavour dominated by debates on the benefits of notches and tear drops, and whether punch holes are the most elegant answer to keeping the front-facing camera right where it should be. We've dabbled in notches ourselves. With the ZenFone 5 we pushed the limits for a 90% screen-to-body ratio with a notch that was less obtrusive than competing solutions. For our next flagship we wanted to go further and eliminate the notch altogether. The design we came up with not only delivers a stunning edge-to-edge display that's uninterrupted and perfectly rectangular, but a more powerful front-facing camera for the best selfies, and the flexibility to shoot more compelling and visually interesting photos and videos, too.
The ZenFone 6 leverages a rotating camera module that allows you to use the same powerful sensors and lenses for regular photos and front-facing selfies. The regular and wide angle cameras pivot to give you consistent quality whether you're capturing selfies, a wide shot of a cityscape, or a picture of the Eiffel Tower stretching into the sky overheard. It's wildly different to any phone we've built before, and it required us to rethink the internal layout of the phone, but the ZenFone 6 doesn't prioritize one headline feature over the essential ingredients that make a phone great, nor does it limit the new and exciting to the ultra high-end. Instead, it squeezes a Snapdragon 855 SoC, powerful 48MP camera, up to 8GB of RAM, and a maximum of 256GB of storage into a sleek package that starts at just €499. A special version of the phone will commemorate our 30th birthday. This beefed up model will come wwith 12GB or RAM and 512GB of storage.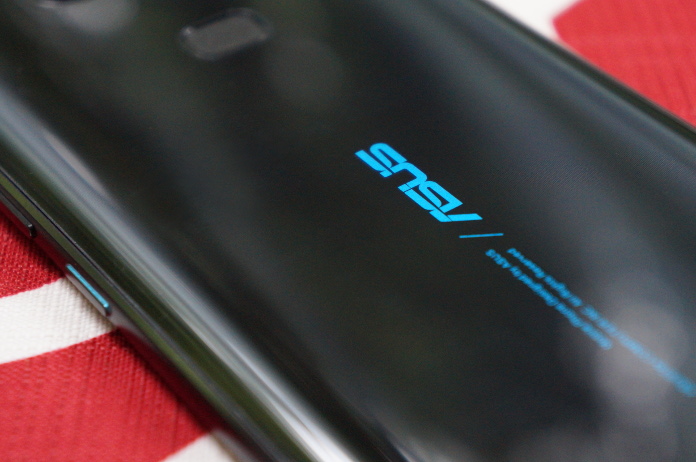 You spin me right 'round
On paper, the ZenFone 6 is a departure from previous designs, so it stands to reason that the phone itself should look totally unique. The display is front and center and dominates your first impression of the device. Measuring 6.4", the IPS panel shines thanks to NanoEdge bezels that take the border down to barely-there proportions on all four sides.
We kept the phone as compact as possible with a metal-and-glass chassis that measures just 9.2 mm thick. It's available in two colors: a moody Midnight Black and an eye-catching Twilight Silver that blends into blue. The rounded brushed metal frame is contrasted by diamond-cut edges that glint in the light, and the ASUS logo on the back is matched by a coordinating trim around the power button on the side. The ZenFone 6 Edition 30 amps up the luxury with an exclusive Matte Black finish. The iconic radiating circles normally found on our ZenBooks are replicated on the back of the device and lend a futuristic feel that matches the premium technology inside. The handset is finished with a distinctive Edition 30 logo on the back, which proudly identifies each phone's place in our exclusive birthday collection. There are only 3,000 of the ZenFone 6 Edition 30, so if you want one, you'll have to jump on it quickly.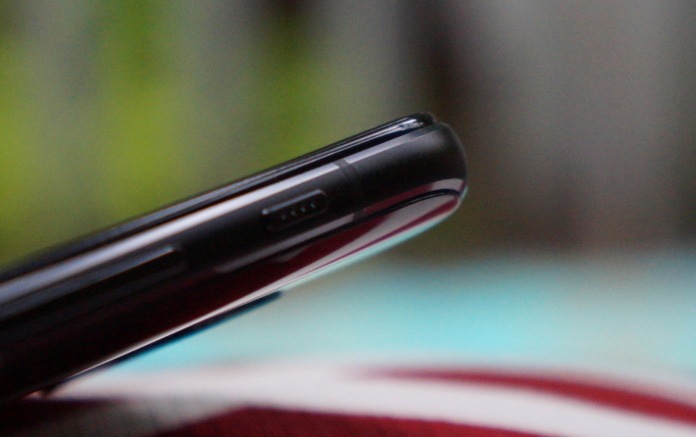 Gorilla Glass 6 flows right to the edges on the front, while the glass on the back curves around for a subtle contour that's more comfortable to hold in your hand. The power button and volume rocker are positioned low enough to reach with your thumb, while the Smart Key, a programmable button that can be assigned certain functions, sits just above them. The overall effect of the ZenFone 6's design is one of a carefully built piece of machinery with distinct layers and components that all lock together to form a single solid piece of sophisticated tech.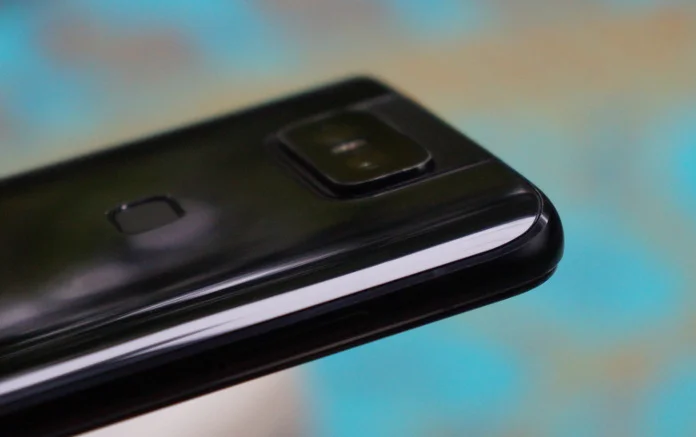 Nowhere is that more obvious than the dual-camera setup on the back. The 48MP primary sensor is accompanied by a 13MP wide-angle camera and both are contained within a rotating module that's nestled in the top frame of the phone, just above the fingerprint sensor. The housing is made from liquidmetal, a super strong amorphous alloy prized for its randomized atomic structure that's more resistant to damage. It's four times stronger and 20% lighter than stainless steel, so it's plenty tough, but if you do drop your phone, integrated sensors will tell the phone to retract the camera to further protect it from knocks and bumps.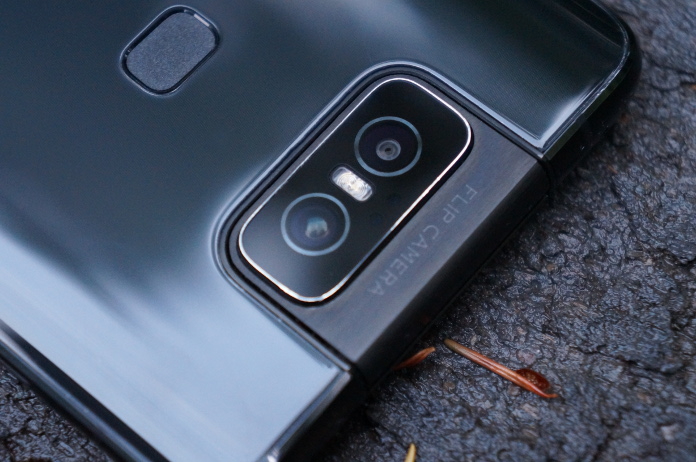 Sealed inside the 1.25" x 0.86" liquidmetal module is a customized stepper motor with 13 gears. This is what rotates both cameras at the touch of a button, and it's rated for 100,000 rotations, which works out to about 27 selfies a day for five years. It's no one trick pony, though. You can manually control the mechanism from the camera app, panning as you capture video or adjusting the angle of your photo for a better view or more dramatically frames photos. Certain camera settings, like panorama mode or motion tracking, use the motor to reduce the need for you to move the phone at all. It's an exceptionally cool piece of technology that expands the camera's functionality beyond what's previously been possible with just a phone, but it also takes up quite a bit of space inside the phone, so it wasn't something we could add without some major changes.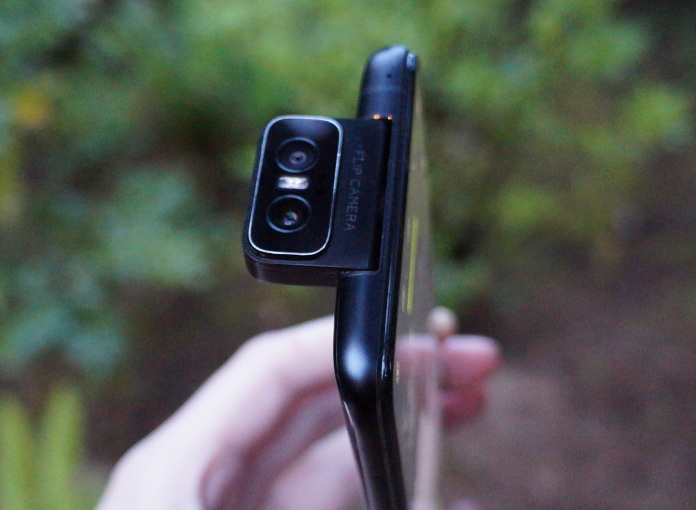 Do the evolution
If we'd been willing to compromise on certain components like the triple-slot dual-SIM and microSD slot, massive battery, and headphone jack, our flip camera innovation might not have been so difficult to implement. However, for us, those features are the key elements of a great phone, so we had to get creative with the construction.
There's more to the flip module than meets the eye. It not only needs to accommodate the camera and motor, but also gravitational and gyro sensors, 32 signal cables, and 17 power cables that are squeezed into a tiny hole in the hinge. At the same time, it can't be so big that it gets in the way of the foundation for the phone itself, which is the motherboard and all the chips that make the ZenFone tick.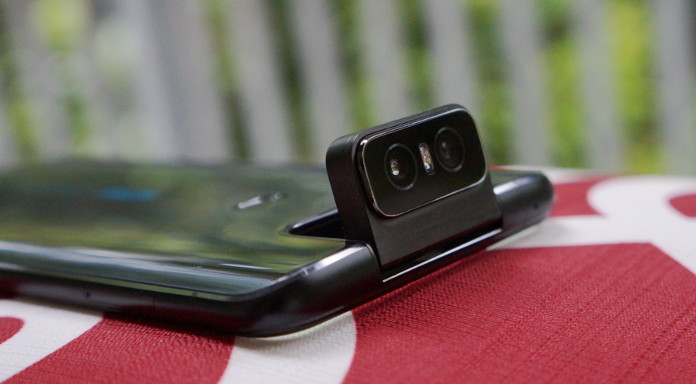 The ZenFone 6 is based on Qualcomm's latest Snapdragon 855 SoC, which features eight Kryo 485 CPU cores working alongside Adreno 640 graphics, and up to 8GB of RAM for the blazing speed that you expect from a premium phone. If you manage to snag the Edition 30, you'll get a whopping 12GB of RAM for even smoother performance.
The Snapdragon 855 is the same chipset powering all the newest flagships for 2019, and it's one of the biggest Snapdragon upgrades in ages, but it needs a certain amount of space and airflow to keep cool, so just packing everything together more tightly wasn't an option. Instead, we modified the motherboard and opted for a layered, split-PCB that increases the surface area for IC components while shrinking the overall footprint of the board. By tapping into our decades of expertise manufacturing motherboards, we were able to come up with a design that minimizes interference for critical components and allows enough space between the layers so that the chips don't overheat.
Doubling down on photography with half the cameras
Taking pictures with the ZenFone 6 isn't nearly as weird as you think. I don't take very many selfies, so I didn't think I'd use the flip camera much at all. I'm pretty set in my ways, and its default position is exactly what I'm used to. Flipping between the primary and wide-angle cameras is done via an on-screen shortcut, same as always, and I make way more use of the 13MP camera's 120° wide-angle lens now that lens distortion is automatically corrected in the photos. It was only when I began switching to different shooting modes did I realise that the flip camera comes into play for so much more than just selfies.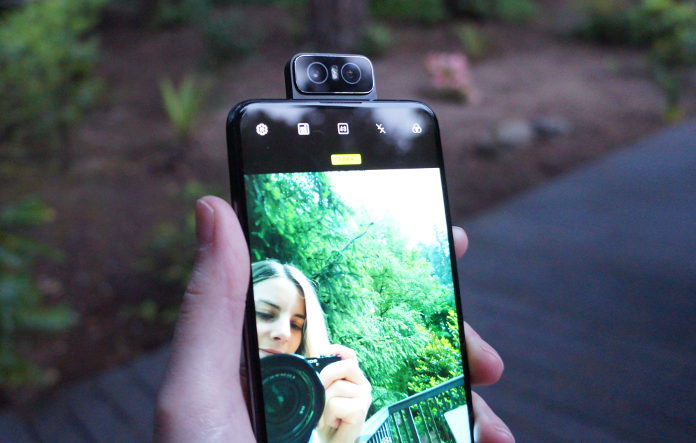 Among the usual suspects, like timelapse, slow-mo, and portrait mode, you'll find Motion Tracking, which allows you to tag moving objects in videos and have the phone follow that one element. It's handy for those of us obsessed with our pets, but also for capturing videos of your kids playing soccer and in basically any scenario where you're constantly moving your phone to chase a moving subject.
The coolest feature by far is Pano mode, though, because it eliminates the need to slowly sweep your phone across a scene in an attempt to capture a seamless panorama. Instead, you hold the phone steady with the camera aimed at your starting point and press the shutter button. The flip camera engages and slowly starts panning for you. I've never really gotten the point of panorama modes on phones, just because they're so finicky to get right, but Pano on the ZenFone 6 was really fun to play with, and after a couple of tries, I started to get some cool shots. I found it a bit unnerving to keep seeing my big, goofy face at the end point of every shot, so I got into the habit of pressing the shutter button a second time right when the camera reached the point where I wanted it to stop adding to the photo.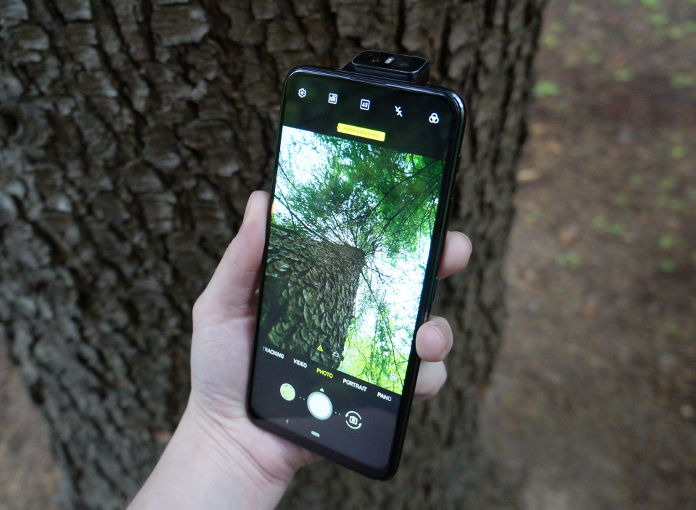 Once I'd gotten used to the flip camera via Pano mode, I gained some confidence to start experimenting with the on-screen control for tweaking the positioning of the camera so I could take pictures of the sky, as well as interesting perspective shots of buildings and anything else above street level. Holding down the flip camera button and sliding up and down to reposition is intuitive, and because it's the same camera taking all of the photos, there was no sacrifice in image quality like you get when you switch between front- and rear-facing cameras to capture a particularly awkward shot.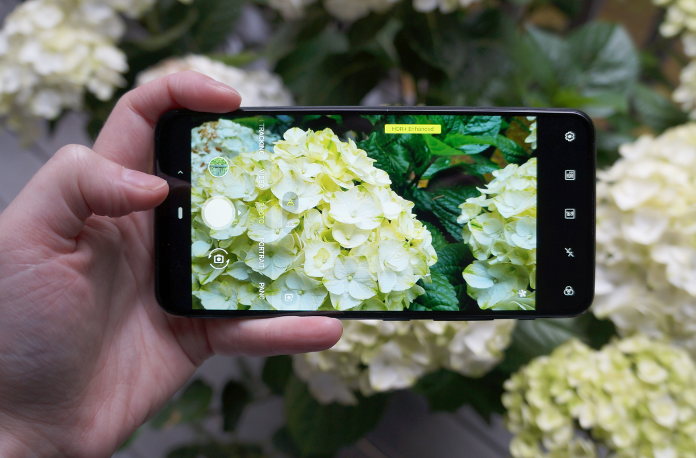 Beyond the flip module, the standard features of the camera, like HDR, night mode, and slow-mo have been tweaked so they're better than ever. Super Night mode takes low-light performance to a whole new level, bringing more color and detail to pictures captured at night. HDR+ Enhanced mode tackles tricky shots where light and dark areas compete for control over the camera's exposure settings. Traditional implementations of HDR capture three shots at low, medium, and high exposures, while HDR+ Enhanced mode captures six low exposure photos and blends them together to try to increase the dynamic range and reduce ghosting. HDR is automatic, so you likely won't know when it's on or off (unless you pay really close attention to the on-screen marker, or decide to force it on or off for a certain artistic effect), but it does contribute to better over all photos on the ZenFone 6. Check out the sample gallery of photos below for a better idea of what the phone is capable of. I took all of these over the last few weeks while test-driving the ZenFone 6.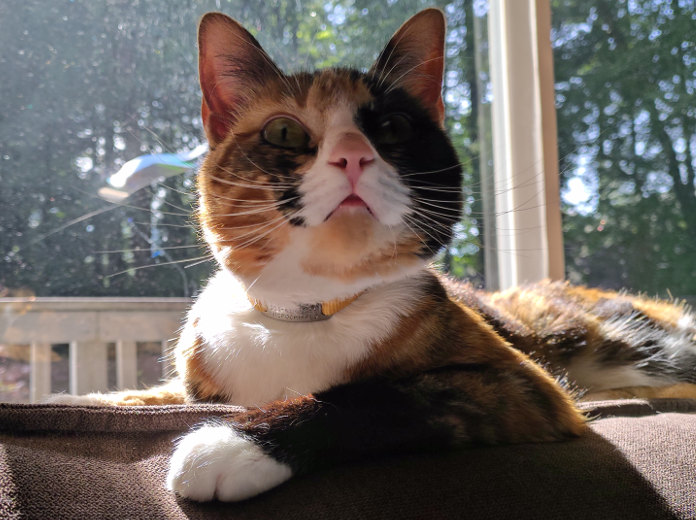 br>
Window to the world
More compact designs have allowed smartphone screens to gradually increase in size over the years, but a 6.4" display is still considered unusually large, even today, and the NanoEdge bezels on the ZenFone 6 only emphasize the size of the screen. I was a bit apprehensive of the size, but the benefits of a bigger screen were immediately apparent. I spend a large portion of my day on my phone but have never really been able to make the switch to a tablet that would make browsing Reddit in bed, reading on the train, or watching YouTube videos from the couch much more comfortable. A bigger screen is nice, but the trade-off is that you need two hands to use a tablet, and such a large device is so rarely right where you want it, so I have to schlep to another room to get it. At that point, I might as well go look on my computer. A phone, on the other hand, is always convenient, even if it's a little on the small side.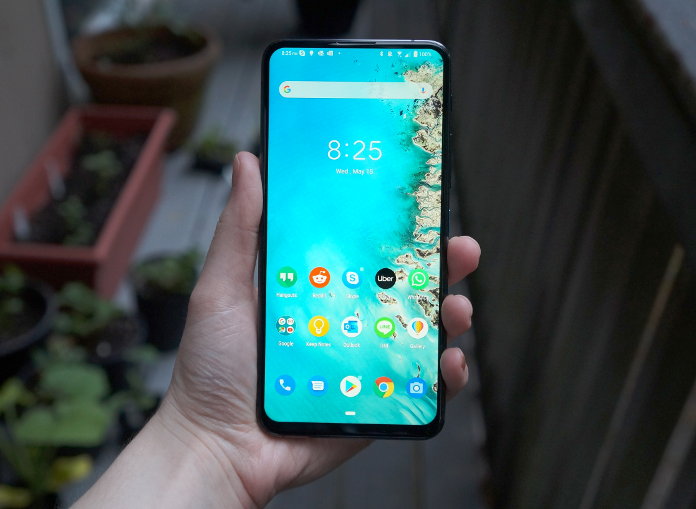 The ZenFone 6 neatly straddles the space between smartphone and tablet to bridge the gap of inconvenience and eliminate the cramped feeling of browsing on your phone. Its display is big enough that when I click on a link from a friend, or follow an Instagram ad for a new yoga studio nearby, I don't feel immediately feel boxed in by a display that's too small for whatever page I've landed on. The ZenFone's 2340 x 1080 FullHD+ panel features a 19.5:9 aspect ratio that gives web pages room to breathe and the dimensions are a dream for reading long articles or scrolling through social feeds, where more vertical space means more content fits on the screen. When it comes to watching videos, it beats any other phone I've used, hands down. The taller aspect ratio makes for great wide-screen viewing in landscape, and the screen tops out at 500 nits, which is plenty bright for even the most annoying lighting environments. With my favorite headphones plugged in and the brightness dialed up, I was able to get through a large portion of my flight home from Asia without having to contend with the constantly changing cabin lights and their effect on the dim, washed out screen on the seat back in front of me.
Clean living
While it's nice to spend time lost in the Kindle app or binge watching Great British Bake Off in bed, most of the time I'm on my phone I'm not leisurely tapping around in just one or two apps. Instead, I'm skipping from one app to the next, replying to texts and emails, checking the weather to see if it's hot enough to need to water the plants, trying to finish that one news article I started when I put the kettle on at lunch time, and dropping reminders in my calendar. The ZenFone 6 didn't miss a beat despite my best efforts to trip it up with some borderline unrealistic switching back and forth, which is a testament to not only it's hardware, but it's software, too.
Having a powerful processor and loads of RAM is only part of the equation for a fast and responsive phone. Lots of additional software you don't need or want can slow things down, so we've streamlined our software customizations and developed an experience that focuses on only essential improvements to deliver an experience that's close to stock Android. With each new version of Android comes a whole new set of features and refinements from Google, and a lot of them are key to great performance day-to-day. The ZenFone 6 ships with Android P, and is part of the Android Q Beta, which means you can opt in to be among the first to access the newest features of the 10th version of Android. Android Q brings Live Captioning for media across all apps, as well as Smart Reply integrated right into the notification system, a system-wide Dark Mode, built-in screen recording, improvements to app permissions, and a new Focus mode that helps you be more present and better manage the time you spend on your phone.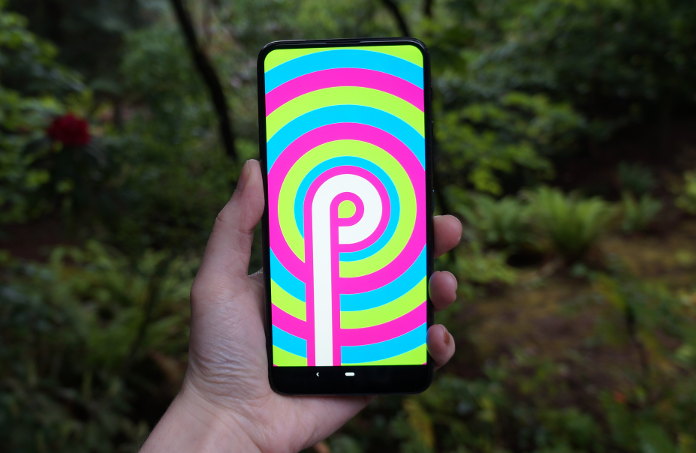 There are only a handful of pre-installed apps and customizations on top of Android, and they're the ones that we think make the biggest difference to how you use your phone. This includes a dedicated place in the settings menu for assigning different functions to the phone's additional physical button. The Smart Key can be used to launch Google Assistant, open the camera app, take a screenshot, flip the camera, change sound profiles, and more.
We also kept some of the best features from previous iterations of ZenUI, like Twin Apps, which lets you sign into two versions of the same app at once, and Smart Volume, which automatically adjusts the volume based on ambient noise so you don't miss calls or have to constantly mess with the volume on your video. These are stashed in the settings menu where you can access them if you want to. Perhaps most important of all are the optimizations to the to the Android framework to cut down on the small delays that contribute to the feeling that your phone just isn't as fast as it could be, like the slight lag when you hang up a call, open your gallery, or pull up the keyboard. All of these have been improved in the ZenFone 6, along with smoother animations when you launch or switch between apps.
All night long
Flagship phones typically don't enjoy the same stamina as mid-range or budget offerings, and it's no big secret as to why. All of that top-tier muscle needs a lot of power, while mid-range components are generally less hungry, and the user makes a difference, too. The kind of people willing to invest anywhere between $500 and $1000 on a phone are usually power users who use their phone a lot, so the battery tends to run down even faster. To feed the demand for more battery than can physically fit in a phone, lots of manufacturers incorporate wireless charging for topping up throughout the day, but we're not sure that's the best solution to the problem. After all, you're charging your phone more often and the wireless charging generates heat, and neither is good for battery health.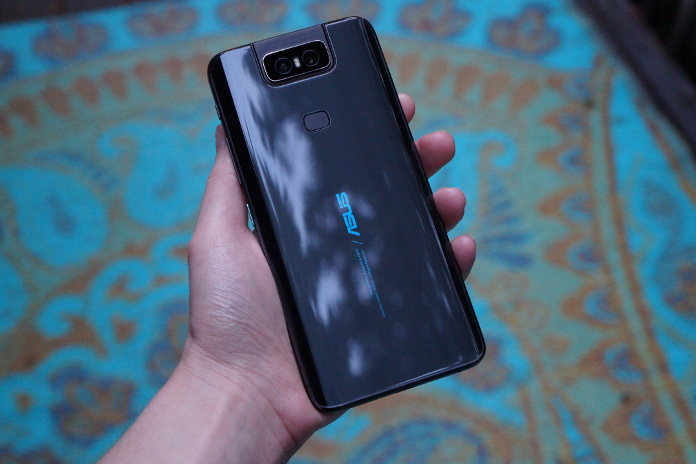 The most convenient solution would be if you just needed to charge your phone less often in general, so the huge 5000mAh battery inside the ZenFone 6 is designed to last until well into day two on a single charge. Like anything, it depends on your daily activity and personal habits, but even on heavy days where I'm out and about, and using my phone way more than normal, I haven't run into any issues. During a recent trip to Taiwan, I was using it for navigation, taking notes, making calls, and summoning Ubers, in addition to my usual photos, news, and social media activity. The ZenFone never once died before the end of the day, even though I was roaming on a foreign network, which I typically find to be one a huge drain on my battery when I travel.
Most nights I found myself plugging in out of habit more than anything else, and on the flight home, I spent two hours working on the ZenFone's giant screen, drafting emails and typing up the first thousand or so words of this article. I only stopped because I felt like I'd earned a nap; I never once considered that I should preserve my battery for the three-hour layover ahead because airplane mode was stretching the battery beyond it's already normally impressive performance. I survived the 12-hour flight and 16-hour time difference with enough juice left in the tank for my alarm to wake me up at completely the wrong time the next day.
ZenFone 6
Processor
Snapdragon 855 SoC
8 x Kryo™ 485 CPU, clock speeds up to 2.84GHz
Adreno 640 Graphics
Memory
Up to 8GB
Display
6.4" Full HD+ IPS
1080 x 2340
19.5:9 aspect ratio
Storage
Up to 256GB
Micro SD support
Primary Camera
48MP Sony IMX586 image sensor
f/1.79 aperture
Secondary Camera
13MP with 125° wide-angle lens
Battery
5000mAh, supports Quick Charge 4.0
Connectivity
Bluetooth 5.0
2 x Nano SIM
802.11 b/g/n/ac Wi-Fi
802.11ax ready
NFC
USB Type-C
3.5-mm audio
Operating System
Android P
Android Q Beta Program
Dimensions
159.1mm x 75.44mm x 9.2mm
Weight
190g
A new way of looking at life
Smartphone design has evolved a lot over the last 10 years, but the overall goal hasn't changed all that much. As we've rolled through plastic, metal, and glass designs with chamfered edges, metal frames, and a variety of physical buttons for different functions, the focus has remained the same: the screen. For the ZenFone 6, we pushed the boundaries of smartphone design to deliver a phone that maximizes on screen real-estate without sacrificing the things you care about most, or jacking up the price tag.
The ZenFone 6 will be available in a variety of configurations starting at €499. Check with your local ASUS representative for details on availability and pricing in your region.