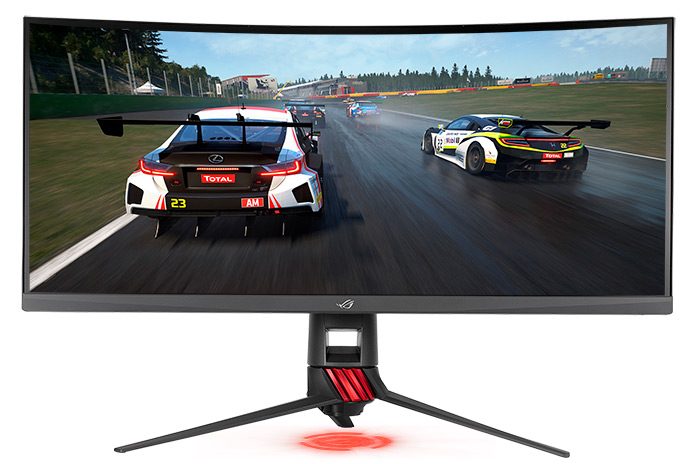 Professional drivers are unable to compete on live tracks right now, so many pros and fans alike have turned to online racing sims to satisfy their need for speed. After Fox drew 1.3 million viewers for one of the first televised virtual NASCAR races, both it and NBC are set to broadcast many more virtual motorsports events in the near future. That shift to virtual racing has put the pedal to the metal on demand for driving simulator cockpits and the racing sim monitors builders need to see simulated tracks. We're ready to help with a guide to the best racing sim displays you can get from ASUS and ROG.  
Sims such as iRacing aren't your typical video games. Unlike more casual racing titles that emphasize fun and forgiving gameplay, these sims focus on hyper-realism—to the point that professional drivers can use them for training at home. Of course, the setups that they use aren't your typical PC battlestations. Drivers use a variety of specialized equipment in their sim racing cockpits, from the realistic seats to the wheels and pedals that control the car. They don't just use this hardware because it looks cool and gives the impression of being behind the wheel of a real vehicle. You can't simulate the immersion of driving on a track at hundreds of miles per hour without the right display for your setup.
We recently partnered with SRO Motorsports America for their new esports invitational, GT Rivals. This weekly competition pits real-world racers, sim racers, and special guests in head-to-head competition in Assetto Corsa Competizione. The tournament is already underway and will continue every Sunday through the end of May. You can tune in on Twitch, YouTube, or Facebook.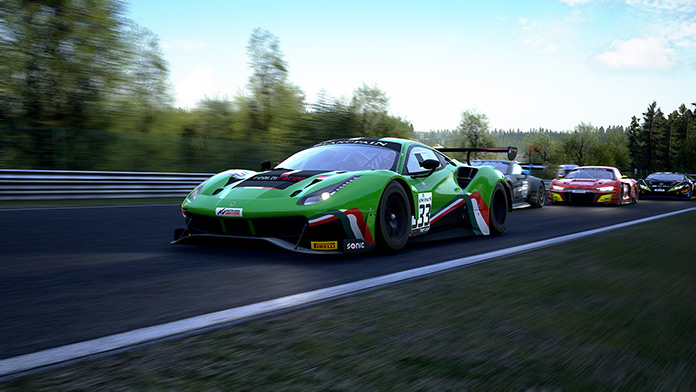 In addition to our partnership with SRO Motorsports America for the GT Rivals series, we've also worked with them to help select a few of the best monitors for your racing sim setup, regardless of your skill level and available space.
What do I need to race?
Since there are a lot of great racing sims to choose from, we won't be focusing on individual titles for our recommendations. Instead, we're here to help you find the perfect monitor configuration that fits your setup, regardless of which sim you prefer.
Most PC racing sims support both single-monitor and multi-monitor configurations so you can create a setup that matches your play style and space requirements. With that in mind, we can break down our recommendations into these two categories
Single-display configurations are great when space and budget constraints are important factors. Since racing sims in particular benefit from having a wide field of view, an ultrawide monitor is best suited for this situation. A single ultrawide display is also perfect for productivity if you're not installing it in a dedicated racing sim rig, making it a smart buy for multiple uses. Even if you are installing it in a custom racing rig, you'll have an easier time setting it up and routing your cables for a clean look.
When space isn't an issue and you're looking for the most immersive driving experience, you'll turn to a multiple monitor configuration. Specifically, you'll want a total of three monitors, with one positioned directly in front of you and the other two flanking it on either side. With this setup, you'll be able to see more of the cars on either side of you simply by glancing to your left or right, just as you would in a real car.
A multiple-monitor configuration also gives you the freedom to select displays that have specific features that may not be available on ultrawide panels. Traditional 16:9 monitors are more prolific, and thus have more options for power users to choose from such as ultra-high-refresh-rates and ELMB Sync.
Single-monitor configurations
Like any PC game, a racing sim can be played on any standard single monitor. These titles especially benefit from wider screens and faster refresh rates than normal, though. With that in mind, we recommend a high-refresh-rate ultrawide monitor if your space is best suited for a single display. A single ultrawide monitor also requires simpler cabling and can simplify setup in games compared to multiple traditional displays. If you want a simple way to get more immersed in your racing sim than ever before, a single ultrawide display is a great place to start. 
The immersive ROG Strix XG35VQ broadens your view of the track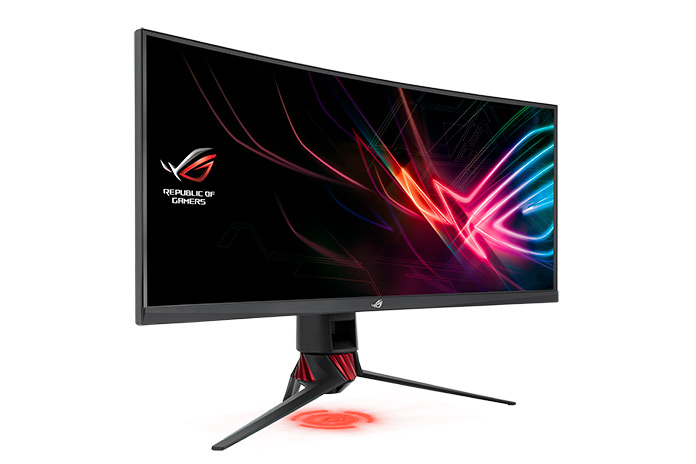 The ROG Strix XG35VQ is a perfect companion for any racing sim. Its 35" 3440×1440 panel has 34% more horizontal pixels than a traditional 1440p widescreen, which means you can see more of the track on either side of you. The gentle 1800R curve creates an immersive wraparound effect that helps create the feeling of being in the action.
Higher refresh rates provide smoother motion and reduced input lag, which is why the XG35VQ's VA panel has a maximum refresh rate of 100Hz. If your current rig can't push out a solid 100FPS, VESA Adaptive-Sync support will keep the display in lockstep with your GPU's output. The result is smooth gameplay even when your framerates dip well below 100FPS.
The XG35VQ has an already low 4ms gray to gray response time to combat ghosting in fast-paced games and racing sims, but you can enable our Extreme Low Motion Blur (ELMB) mode to create crisp visuals through backlight strobing. Keep in mind that ELMB only works at fixed refresh rates, so it's best to use it on games that can maintain consistent frame rates.
Your monitor doesn't just need to provide beautiful on-screen visuals—it should complement the rest of your setup. This is why we've included a ring of Aura Sync RGB LEDs on the back to add a splash of color on the wall. When it sits on a desk, the XG35VQ uses red LEDs to project the ROG logo downward to show your allegiance to the Republic of Gamers.
ROG Strix XG35VQ
Panel
35" Ultra-wide VA panel
Resolution
3440x1440
Aspect Ratio
21:9
Refresh rate
100Hz
Response time
1ms MPRT
Brightness
300 cd/m² (Typical)
Contrast
Contrast Ratio (Max) : 2500 :1
Ports
Signal Input:
1x HDMI 2.0
1x HDMI 1.4
1x DisplayPort 1.2

Connectivity:
3x USB 3.0 Type-A
1x 3.5mm Mini-Jack

Price
$749 USD
$999 CAD
Availability (USA)
ASUS Store
Amazon
Newegg
Walmart
Availability (Canada)
Memory Express
Wrap your field of view in pixels with the expansive ROG Strix XG49VQ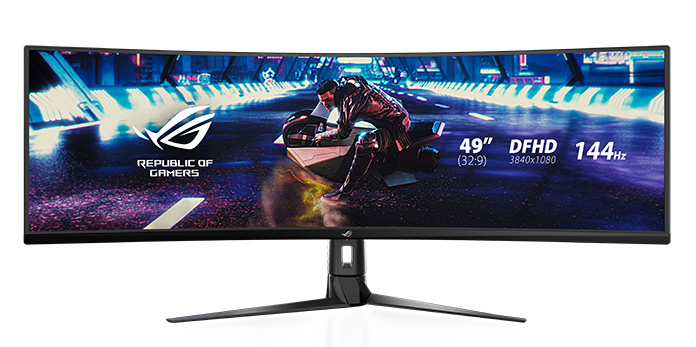 If you're the kind of person who believes "wider is better," then the ROG Strix XG49VQ is exactly what you need for your racing sim setup. This sprawling 49" display is the widest monitor we make, and it's perfectly suited for putting the rubber to the virtual road.
The 3840×1080 resolution is so wide that it's like having two 27" Full HD monitors side-by-side on your desk, but without any central bezel to get in your way. The XG49VQ has the same 1800R curvature as its smaller sibling, but the effect feels more pronounced on this monitor because it fills a majority of your field of view.
This panoramic display isn't just wider than its smaller sibling. It also steps up the refresh rate to a maximum of 144Hz. With a refresh rate of well over double that of a traditional 60Hz screen and support for both FreeSync 2 and VESA Adaptive-Sync, the XG49VQ will make any race look buttery smooth with any compatible graphics card. If your sim of choice supports HDR, then you'll be able to enjoy deep blacks and more vivid colors thanks to the XG49VQ's VESA DisplayHDR 400 certification.
ROG Strix XG49VQ
Panel
49" Super ultra-wide VA panel
Resolution
3840x1080
Aspect Ratio
32:9
Refresh rate
144Hz
Response time
4ms (Gray to Gray)
Brightness
450 cd/㎡ (Typical)
Contrast
3000 :1 (Typical)
Ports
Signal Input:
2x HDMI 2.0
1x DisplayPort 1.2

Connectivity:
3x USB 3.0 Type-A
1x 3.5mm Mini-Jack

Price
$799 USD
$1,199 CAD
Availability (USA)
ASUS Store
Best Buy
Micro Center
Availability (Canada)
Canada Computers
Memory Express
Visions Electronics
Multi-display configurations
If you've never used a triple-monitor setup for gaming or even just work, you're missing out. While our ultrawide monitors are fantastic, there are certain things you can only do with separate displays when you're planning out a racing sim. Most notably, you can position one directly in front of you with the other two flanking it. You'll find that arrangement to be especially common if you're shopping for sim cockpits. Those setups usually incorporate or make provisions for three-monitor arrays. 
Unlike the fixed curvature of ultrawide monitors, these two side monitors can be angled in such a way that they completely encompass your field of vision. The result is a more realistic cockpit view that gives a driver the feeling of actually being in a car. When you combine that with a specialized racing sim rig, you might just forget that you're not actually on the road.
Turn three displays into one with the ROG Bezel-Free Kit
There's one major drawback that comes with any triple-monitor setup, and I'm not talking about finding the space for them. Instead, I'm referring to that little bit of space between each of the panels. No matter what monitor you buy, it's going to have a bezel that creates a sort of window-pane effect while looking at a multiple-monitor setup. While you do adapt to it over time, we've created a solution that virtually eliminates the appearance of the bezels between each monitor.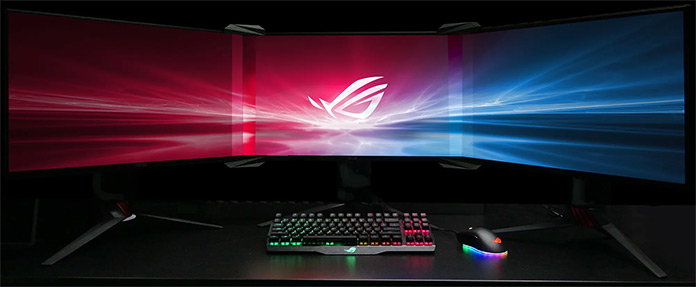 We worked with one of our backlight providers to create the ROG Bezel-Free Kit. This specialized hardware turns three separate monitors into one virtually seamless display. The Bezel-Free Kit does this by using optical micro-structures positioned between each monitor that refract light, bending it inward to hide the bezels behind it. What you're left with is an uninterrupted image spanning across three monitors.
In theory, you can use a trio of any compatible monitors with the Bezel-Free Kit, but we know that when it comes to racing sims, you don't want to use just any monitor. We've selected two of our 27" monitors that will work perfectly in a three-panel configuration for the perfect racing sim station.
When you're deciding how to populate your triple-monitor setup, one of the most important factors to consider is the resolution you want. Higher-resolution displays take more GPU power to run, which can be an issue for some systems. However, even if you have the extra horsepower to run three 1440p panels, some people prefer to run 1080p monitors at higher refresh rates. Regardless of your preference, we've got the monitors you need.
Choose your resolution with the 27" TUF Gaming VG279QM and VG27AQ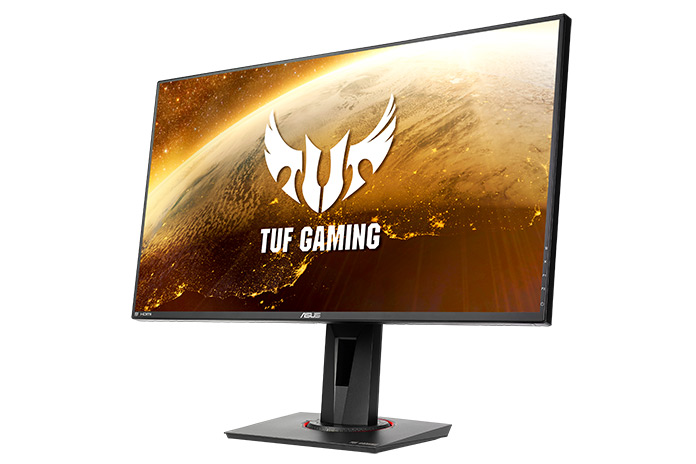 If high refresh rates are essential, then look no further than the TUF Gaming VG279QM. This 27" Full HD IPS display can overclock to a stunning 280Hz for some of the smoothest-looking gameplay possible. As we mentioned before, it can take a lot of horsepower to run three displays on a single game even at 60Hz. But don't worry if your PC isn't able to hit 280FPS across three monitors. The VG279QM supports NVIDIA G-SYNC, meaning that its output will stay in lockstep with that of compatible GPUs for buttery smooth, tear-free visuals.
This display also lets you take advantage of our ELMB technology to create extra-crisp graphics through backlight strobing. By completely turning off the backlight between frames, it virtually eliminates any ghosting, resulting in the sharpest possible image. This type of strobing typically only works at fixed refresh rates, but the VG279QM actually combines this technology with variable refresh rates (VRR) in an exclusive mode we call ELMB Sync. ELMB Sync displays can enable ELMB and VRR simultaneously to get the benefits of both technologies at once. The VG279QM is TUV Flicker-free and TUV Low Blue Light certified to help combat eye strain during those particularly long races.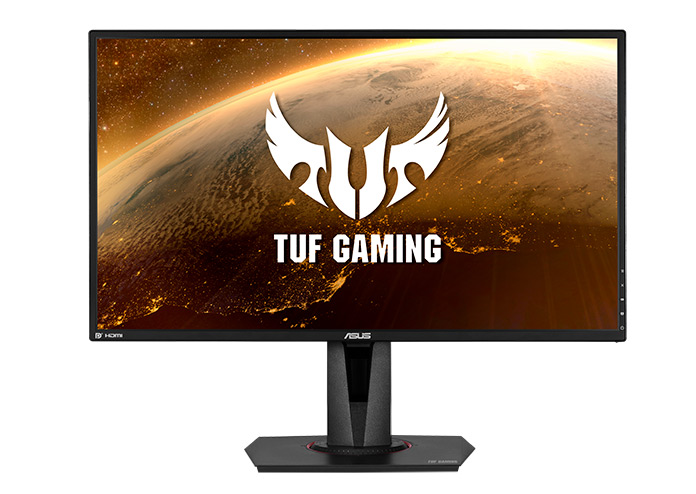 You can think of the TUF Gaming VG27AQ as a higher-resolution sibling of the VG279QM. The two are very similar, but this display features a 1440p panel capable of refresh rates up to 165Hz. It has the same 1ms response time as its stablemate, as well as ELMB Sync to ensure smooth, tear-free visuals as long as your GPU is able to deliver between 48-165 FPS. You'll also find the same Ultra-Low Blue Light and Flicker-Free technologies to reduce eye strain that help combat eye fatigue.
TUF Gaming VG27AQ
TUF Gaming VG279QM
Panel
27" wide screen IPS panel
Resolution
2560x1440
1920x1080
Aspect Ratio
16:9
Refresh rate
144Hz
280Hz(OC)
Response time
1ms (Gray to Gray)
HDR Support
HDR-10
Brightness
350 cd/m² (Typical)
400 cd/㎡ (Max)
Contrast
1000:1 (Max)
Ports
Signal Input:
2x HDMI 2.0
1x DisplayPort 1.2
Signal Input:
2x HDMI 2.0
1x DisplayPort 1.2

Connectivity:
1x 3.5mm Mini-Jack
Price
$429 USD
$399 USD
Availability (USA)
ASUS Store
Amazon
B&H
Micro Center
ASUS Store
B&H
Micro Center

Powering your sim
Regardless of whether you're building a custom racing sim setup or you just want to outfit yourself with the right tools to compete at your desk, we've got your monitors covered. While every game has a different set of requirements and your choice of display can have a huge impact on what hardware you need, our new ROG Strix GA35 is a fantastic choice for powering your setup.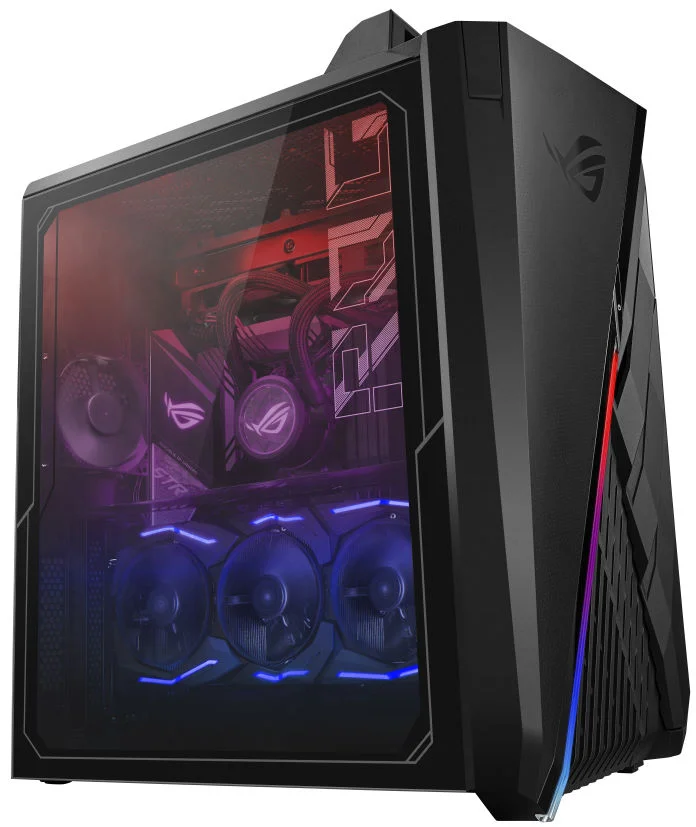 This powerful new desktop comes equipped with up to a 16-core AMD Ryzen 9 3950X CPU, a GeForce RTX 2080 Ti GPU, 64GB of RAM, and a 1TB M.2 NVMe PCIe SSD packaged inside our new dynamic Wind Shear chassis. Thanks to its cutting-edge cooling and top-of-the-line components, you'll be ready to strap in and race with the pros no matter what monitor setup you choose.
Whether you're training for the next tournament from SRO Motorsports America, or just wanting to experience the thrill of racing from your own home, we've got the displays and systems that will put you in the driver's seat. See you in the winner's circle.