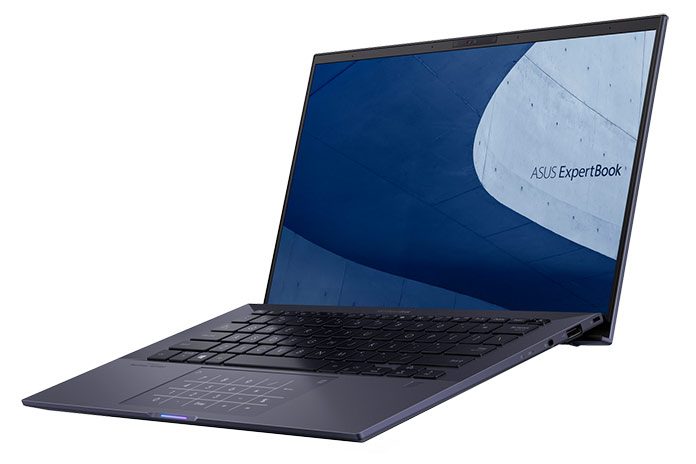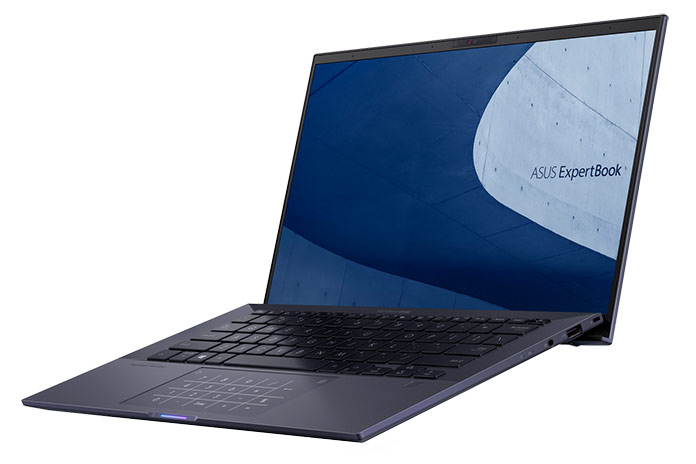 Want to know more about what it's like to put the ExpertBook B9450 to work? Check out our hands-on article.
We built the ASUS ExpertBook B9450 with a laser focus on the needs of the modern businessperson. See if this sounds familiar: at work, you and your laptop are inseparable. You take any opportunity you get to sit down for 10 minutes and catch up on email. In between, you're always on the move. Sometimes that means jumping on video calls with remote colleagues. Other times, work has you in the conference room, sharing a screen with team members to make sure everyone's on the same page.
Wherever you find yourself, time is of the essence. You need a laptop that wakes up quickly, responds instantly to commands, and has the connectivity you need to stay productive in any environment. You don't have any time to be tethered to a wall outlet, so long battery life is mandatory. So is security. And would drop-dead gorgeous looks be too much to ask?
The ExpertBook B9450 checks every one of those boxes. The power inside starts with 10th Gen Intel CPUs, along with up to 16GB of RAM. A pair of M.2 SSD slots provides both capacity and reliability, while a full range of peripheral connectivity—including two Thunderbolt 3 ports and Ethernet—give business users all the options they need in an unpredictable world. Next-gen Wi-Fi 6 technology stands ready to communicate reliably and efficiently even in crowded wireless airspace. Extensive biometric and cryptographic security features keep users' sensitive data safe.
For business users, power, connectivity, and security can't come at the expense of size or weight. Measuring just 14.9mm thick and weighing as little as 865g, the ExpertBook B9 slips so lightly into a bag that you might have to check twice to make sure it's really there. In fact, those specs make the B9 the world's lightest 14" business laptop. For as thin and light as it is, and even with all that power under the hood, the ExpertBook B9 can still deliver as much as 24 hours of battery life.
There is no magic behind the ExpertBook B9's combination of high performance, compact dimensions, and secure, dependable features. It's the culmination of a lot of cold, hard engineering.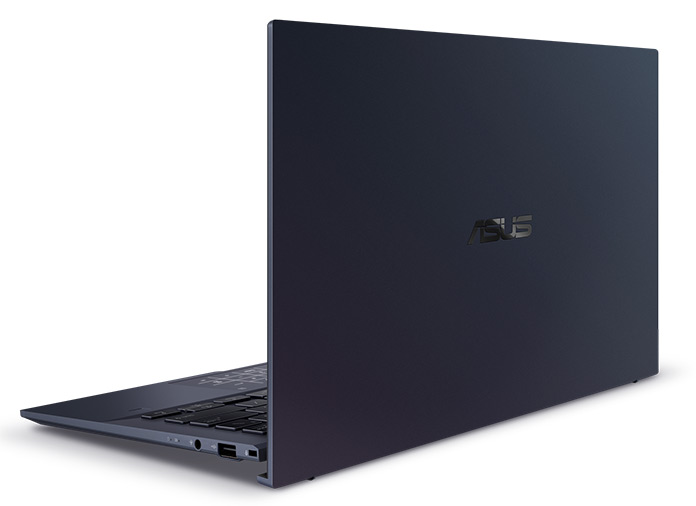 Premium materials and a durable design
It isn't easy to shave weight from a design that's already as slim and trim as that of the ExpertBook B9 series. By changing from a magnesium-aluminum alloy to a magnesium-lithium material—one of the lightest metals available for laptop construction, yet stronger per unit of mass than steel or aluminum—we made the latest ExpertBook B9450 16% lighter than its predecessor. At the same time, the shell is 38% stronger. The resulting chassis is slightly longer than a standard piece of paper and only a little thicker than a AA battery.
The B9 is remarkably durable. We subjected its reinforced structure to drop tests, shock tests, vibration tests, high temperatures, low temperatures, days of 95% humidity, and hours of sand and dust exposure. It passed with flying colors, surviving numerous MIL-STD-810G laboratory procedures.
We took things even further to prove the B9 is built tough, plugging connectors into the ports 5,000 times, placing 30kg of force on the lid, striking the keys 10 million times, opening the lid 50,000 times, and spilling various liquids on the keyboard and letting them sit for three minutes. After all that, we're more than confident that this laptop will stand up to the rigors of your daily grind.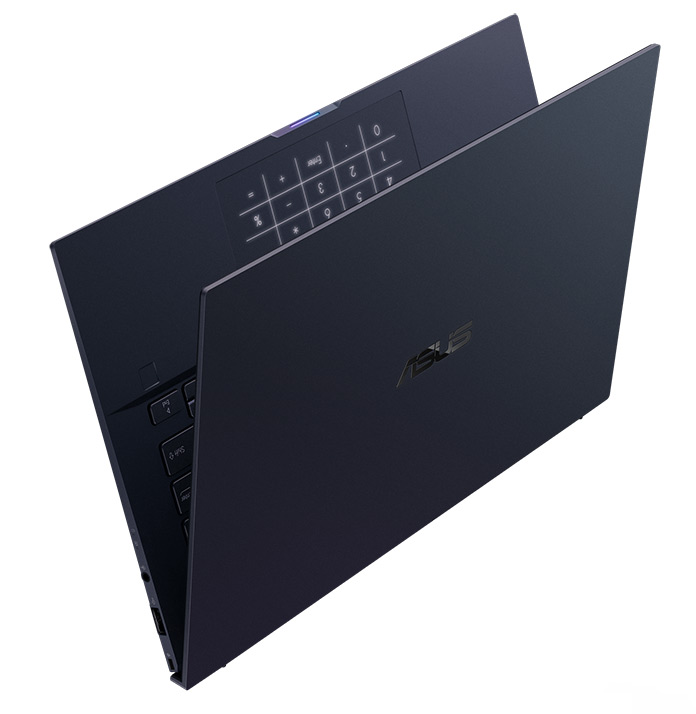 A mobile workhorse with smart features
The ExpertBook B9450 is built to last, but our engineers didn't let durability get in the way of a comfortable computing experience. As an example, the ErgoLift hinge tilts the body of the notebook upward by five degrees for a more ergonomic typing position when the screen is opened.
You'll appreciate the nod to comfort since you could easily use the ExpertBook B9 for a full day of work. The two-cell, 33Wh battery is rated for up to 10 hours of productivity, while an available 66Wh power source can last as long as 20 hours under the same workload. If you just need to review documents on the plane with no network connectivity, you can reach as much as 24 hours of run time with the larger battery.  Fast-charging support brings either battery option up to 60% of maximum capacity in just 39 minutes, so you won't have to worry about downtime on the road.
14" laptops rarely include a ten-key section on the keyboard for data entry, owing to a lack of space for the extra keys. Without that number pad, however, many professionals might feel as though they've lost a limb. Instead of making business users suffer the inconvenience of carrying around a USB ten-key pad, we came up with a much more clever solution. The integrated ASUS NumberPad in the ExpertBook B9's trackpad turns that mousing surface into a familiar data-entry interface at the touch of a button. You can fluently enter numeric data when you need to and switch back to mousing without missing a beat.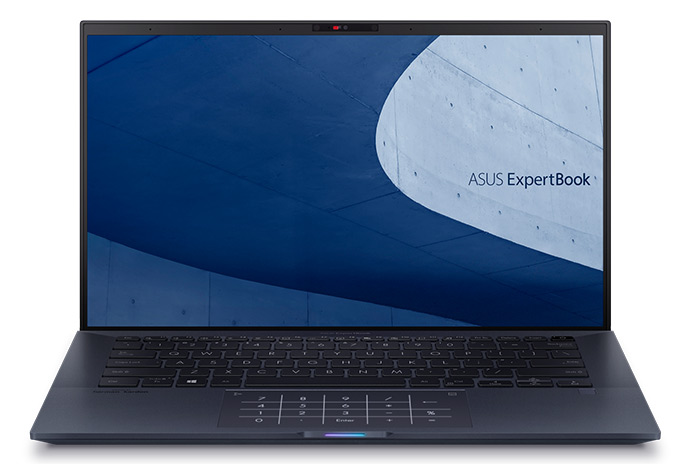 We also made improvements to the 14" NanoEdge display. Its left and right sides have tiny 4mm bezels, while the top edge measures 7mm thick to accommodate the IR webcam and quad-microphone array. An integrated webcam shutter protects your privacy. All those features are useful for videoconferences, but the B9 comes with built-in support for Amazon's Alexa smart assistant so you can make convenient voice queries through that quad-mic array, too. Just download the app from the Microsoft Store and you'll be ready to take control of Alexa from the ExpertBook B9.
Those slim bezels allow our engineers to craft a chassis that's barely wider than the display, leading to a 14" display in a body with a footprint more typical of a 13" notebook. And you'd better believe that 94% screen-to-body ratio is stunning when you spin the ExpertBook B9 around to show a colleague what you're working on.
The guts of a champion
The ExpertBook B9450 sprang forth from the challenges set forth by Intel's Project Athena, an innovation program that establishes standards for consistent responsiveness away from wall power, a demanding baseline for battery life, the availability of comprehensive connectivity, and a drive for sleek form factors. Only a few notebooks in the world have met this demanding standard, and the ExpertBook B9 not only qualifies—it ticks more boxes than any other Project Athena-certified notebook, period.
The B9450 gets its performance chops from a 10th Gen Intel Core i5 or Core i7 CPU, up to 16GB of LPDDR3 memory, as many as two 2TB M.2 SSDs in PCIe 3.0 x4 slots, and next-gen Wi-Fi 6 networking.
Raw power aside, business users need assurance that the sensitive data they carry with them is secure. The B9's IR camera and a fingerprint reader provide those users with multiple ways of securing their laptop and the sensitive data on board. An integrated webcam shutter ensures that users are only seen when they want to be. An optional Trusted Platform Module further enhances the B9's security.

Back at your desk, you can increase your productivity by plugging an external monitor into the full-sized HDMI port on the laptop's left side. Two adjacent Thunderbolt 3 ports support display connectivity as well, along with fast-charging and external storage. There's even an Ethernet interface, accessible through a physical micro-HDMI port, on the same edge. IT pros will appreciate the fixed MAC address of this port, which makes tracking and managing the device easier. Over on the right side, you get one USB 3.2 Gen 2 port and a 3.5mm jack for audio.
Don't feel obligated to use a headset exclusively, though. The ExpertBook B9450's sound system is optimized by Harman Kardon. Its downward-firing speakers benefit from signal processing that makes adaptive adjustments over time, improving clarity and filtering out noise.
The B9450 expertly blends beauty, brains, and brawn
The ExpertBook B9450's thin chassis and light weight would seem to be at odds with its rugged construction and high-performance specifications, but our engineers made sure that performance, durability, security, and longevity came together in perfect harmony. A combination of smart power management and next-gen materials enable snappier responsiveness and longer battery life in a smaller, lighter form factor. Combine all that with the B9's feathery weight, and you get an ideal business notebook that's ready to work as hard as you do.
ASUS ExpertBook B9450
CPU
Intel Core i7-10510, 4C/8T, 1.8GHz
(8MB cache, up to 4.9GHz)
Intel i5-10210, 4C/8T, 1.6GHz
(6MB cache, up to 4.2GHz)
GPU
Intel UHD Graphics 620
Display
14.0" LED backlit
Resolution
FHD (1920 x 1080)
Memory
8GB LDDR3
16GB LDDR3
Storage
SSD 2 X M.2 PCIe x4
Networking
WIFI 6 (802.11AX)
Bluetooth 4.2 (Dual band 2x2)
Connectivity
2 x USB 3.1 Gen 1 Type-C (Thunderbolt 3)
1 x USB 3.1 Gen 2 Type-A
1 x HDMI
1 X micro HDMI for Lan chip
1 x Audio Combo Jack

Battery
33 Wh
Dimensions
12.6" x 7.9" x 0.38 ~ 0.59"
Weight
1.9 lbs
OS
Windows 10 Pro
Windows 10 Home
We'll be showing off the ExpertBook B9450 at our CES 2020 showcase, located at the Planet Hollywood Las Vegas Resort and Casino. To see this notebook for yourself, or to learn more about pricing and availability in your region, contact your local ASUS representative.