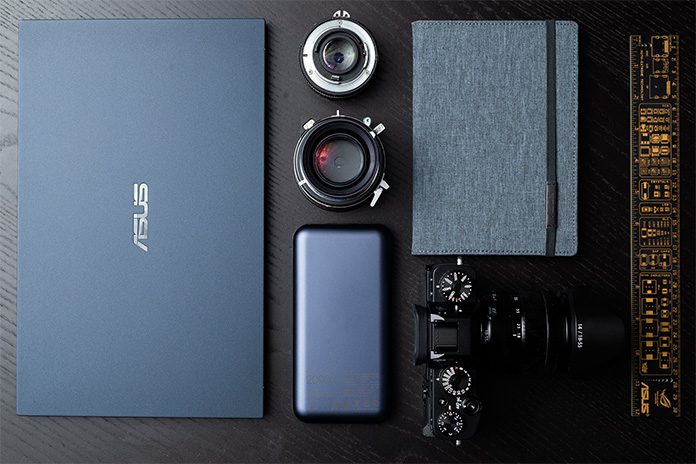 The best part of working at home is being able to move around as inspiration, comfort, and the need for companionship or solitude require. Taking full advantage of that freedom requires the right PC. A big, heavy laptop with short battery life quickly puts a damper on the wealth of productive possibilities your home offers. It also forces you to keep an eye on the battery gauge and plan your work around the location of the nearest outlet. Those distractions aren't just inconvenient—they can make it hard to get into the flow state where the best work happens and stay there. The ASUS ExpertBook B9450 is built to free you from all those intrusive thoughts. I've been using it as my daily-driver laptop for several weeks, and it's become my go-to productivity partner for my daily routine.
This laptop's immersive, versatile screen, ultra-light chassis, and marathon-runner battery life let me do my work wherever I felt most inspired, whenever I needed to. Whether I was catching up on email from my kitchen in the early morning, writing and editing articles from my couch or armchair in the late evening, or even conducting team meetings from a platform on my living room cat tree in the middle of the day, the ExpertBook B9450 proved itself an adaptable, enduring companion.
Look sharp, work sharp
The best tools don't just get the job done. They make you want to pick them up and get to work. The ExpertBook B9450's chiseled chassis, smoked-chrome logo, and deep blue finish make it a pleasure to open it up and begin tackling your day's tasks. Just like a sharply cut suit, those clean lines make a statement by not making a statement. They'll impress no matter where you need to pull out the system, whether you're on a client visit, at a professional event, or winding down after hours.
Pick up this ExpertBook for the first time, and your muscles may overcompensate for how little mass actually ends up in your hands. Available configurations vary by region, but the version of the B9450 with a 33Whr battery weighs just 1.9lb. It was a treat to watch visitors to our CES showcase do double-takes as that system practically levitated off the table in their hands. My B9450 has a larger 66Whr battery inside, but it still weighs in at just 2.19lb—more than light enough to qualify as "barely there" for a 14" business laptop.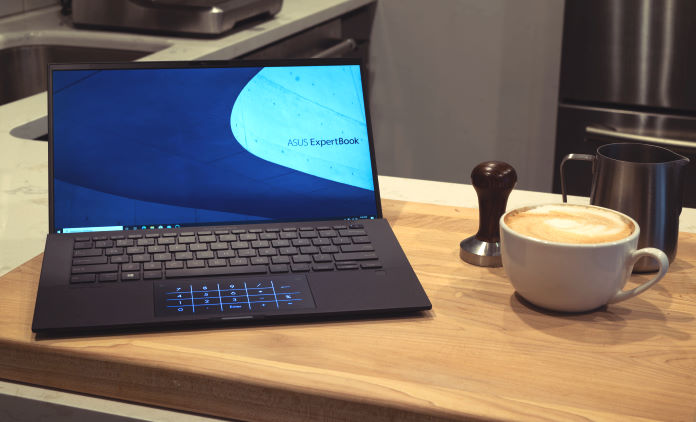 Opening the ExpertBook B9450's lid reveals a design that's just as trim and purposeful as the exterior. It may not sound annoying to have a screen surrounded by a sea of bezels at first, but the NanoEdge display proved just how nice a high screen-to-body ratio can be when you're looking at it all day. The ultra-thin borders put whatever I was working on front and center. Combined with the ErgoLift hinge, which hides the bottom bezel entirely when the notebook is in use, the B9450's screen almost looks like it's floating in space while you're using it.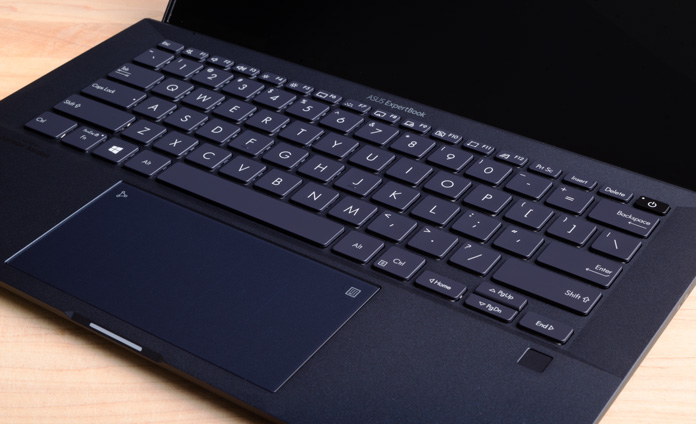 That ErgoLift hinge isn't just about looks. As I opened the lid, the hinge angled the keyboard deck upward for a more ergonomic typing experience. Thanks to the hinge design and the ExpertBook B9450's wide, tactile, and backlit keys, I was able to type comfortably for hours on end, even in admittedly less-than-ergonomic postures like curling up on the couch or sitting crossways on a chair. The hinge also sweeps through a full 180 degrees of travel, so you can lay the screen flat on a table to easily share business materials with coworkers or videos with family members. I found that broad sweep especially useful when I was working on my relatively low kitchen counters, where I needed to lay the hinge nearly flat to view it comfortably while I was typing early morning emails or checking on the news while I made breakfast and coffee.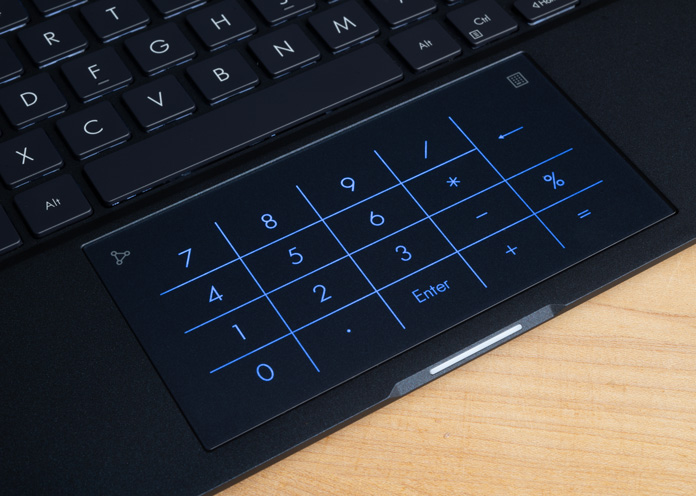 Business users often appreciate a full-size number pad to execute Excel wizardry, among other tasks, but the compact chassis of 14″ laptops doesn't usually leave enough room for a full ten-key alongside the standard keyboard block. The B9450 doesn't make you dig out an extra peripheral to handle data entry. A tap of the upper-right corner of the touch pad brings the ASUS NumberPad to life, making quick numeric inputs a snap. Pressing the icon in the upper left of the pad adjusts the brightness of the touch-sensitive ten-key. The NumberPad is just another way the ExpertBook B9450 works with you rather than getting in your way.
Swift and secure
Thanks to the Windows Hello-compatible IR camera at the top of the display, I didn't have to choose between security and swift access when using the B9450. In tandem with Instant Resume support, it often felt as though I hadn't even finished lifting the lid before the system recognized my face and logged me into Windows. The webcam has an integrated privacy shutter for an extra layer of physical security against prying eyes.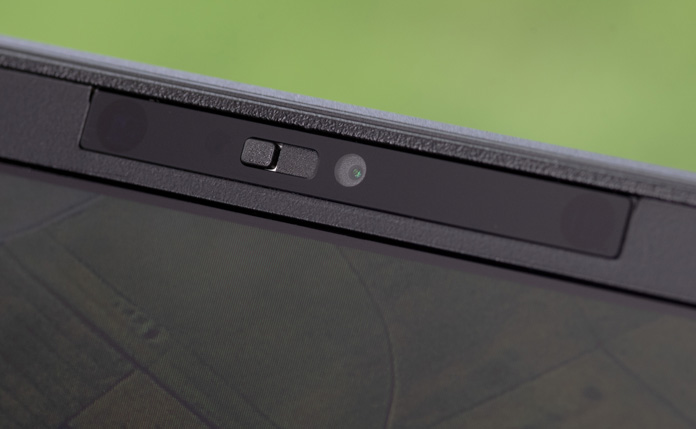 That seamless process removed the mental speed bump of entering a password, so I didn't have to pause between intent and action whenever I needed to write an email or jot down my thoughts in my favorite note-taking apps. If your workplace requires an alternate method of biometric authentication, the ExpertBook B9450 is ready with a lightning-quick fingerprint sensor.
None of the seamlessness and swiftness baked into this system happened by accident. Our engineers worked hard to make this notebook an exemplar of Intel's Project Athena, a set of high standards that raise the bar for the performance, endurance, and responsiveness you can expect from an ultraportable notebook. On top of the B9450's featherweight chassis, Instant Resume support, and built-in biometric security measures, we enhanced battery life with a power-sipping screen that supports Panel Self Refresh technology to avoid waking up the integrated graphics chip unless it's needed.
You'll also find fast charging support for when the battery does run low—a feature that proved useful when I had to top up the ExpertBook B9450 while finishing this article. Just a few minutes on the charger got me back above 30%, and 45 minutes would have brought me up to 60%. Even on a tight connection, you could plug in the B9450 at your gate and juice it up enough to get plenty of work done on the subsequent flight.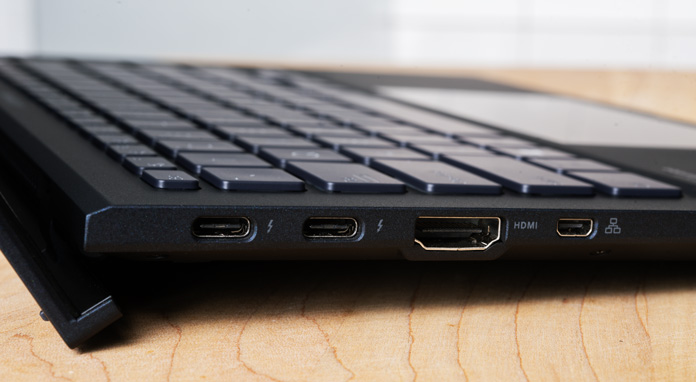 Modern connectivity options, including twin Thunderbolt 3 USB Type-C ports and a USB 3.2 Gen 2 Type-A port, ensure that you can always get your bits where they need to be without delay. Both Thunderbolt 3 ports support USB Power Delivery charging, so you can dock the B9450 with just one cable from compatible docks or monitors like our expansive ProArt PA34VC. And an optional Gigabit Ethernet adapter (available through the physical Micro-HDMI port) complements the B9450's next-generation Wi-Fi 6 radio. The wired network adapter has a fixed MAC address to make manageability easier for IT departments, too.
Taking the anxiety out of range anxiety
I've already waxed poetic about the possibilities that working from home affords, so it was only natural that I ran the ExpertBook B9450 on a full charge to see how long it could last as I moved around my house during the workday. For just one example, as I was writing this article, I used the cat tree in our living room as a standing desk, since one of its platforms is the perfect height to support an ergonomic working experience. There's not an outlet nearby, and it'd be a pain to run a power strip from the nearest one just so that I could hook up the B9450 to its charger.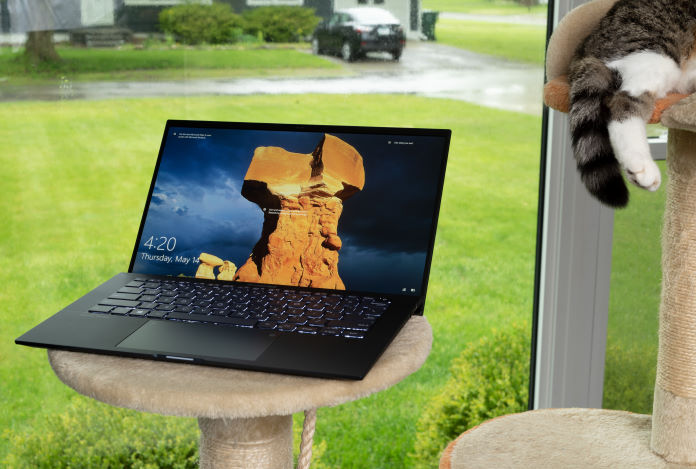 To get the best representation of real-world battery life I could, I set the screen to 50% brightness and used the default Auto performance profile in the MyASUS app. I also left the Windows power plan on its default "better battery" setting for unplugged operation. That's all fairly standard, but I imposed one especially tough test to explore the edge of the B9450's endurance: I truly used the system nonstop throughout my day. I never let the screen turn off, I never closed the lid, and I never allowed the system to go to sleep.
For reference, my usual workload probably resembles most professionals'. I send a lot of email, spend plenty of time in Microsoft Teams meetings and chats, browse the web for research and industry news, and edit copy both locally and in Google Docs. I also do some basic photo editing for articles like this one. Occasionally, I'll put a YouTube video on in the background to get some motivational music going. After hours, I'll usually fire up Twitch or unwind with other streaming video services. Because of the powerful and power-efficient Core i7-10710U inside my particular B9450 and the 16GB of RAM paired with it, I never had to wait for the system to catch up as I juggled those various workloads, even when the system was running on battery.
From 100 to zero
I ran my battery testing on an average Monday. I live in the Eastern Time Zone, but our offices are in the San Francisco Bay Area, so I try to sync up my active hours with those of my Pacific Time colleagues. At 11:05 AM, I pulled the B9450 off the charger and fired up Outlook to get a sense of the shape of my day. After responding to a few emails, I got down to editing some of my coworkers' article drafts and video scripts. At 12:05 PM, the battery had fallen to 90%.
From there, it took an entire afternoon of meetings to push the battery below 50%. My first meeting of the week, an audio call on Microsoft Teams, ran from 1 PM to 2 PM. Following that call, I turned back to email and my text editor to keep on writing. I ran through another couple of Microsoft Teams meetings to catch up with other colleagues from 4 PM to about 5:30 PM. As I ducked in and out of my dedicated office with the B9450 so that I could talk without disturbing my spouse, its feathery weight let me get up and take my work with me without a second thought.
Around 6 PM, I took a short break for dinner and gradually began to blend work and pleasure a bit as the work day began to wind down for my Pacific Time colleagues. With some music playing in the background, I did some deep digging into Google and YouTube analytics to check how our latest articles and videos were performing in the wake of our recent Z490 motherboard launch, and I spent some time in Google Sheets updating the status of some of the future articles we have in flight.
The ExpertBook B9450 still had about 38% of its battery left after nine hours of continuous use. A bit after 8 PM, the traditional end of the average work day, I finished my report-building and project tracking. By that point, it was obvious that I was going to have to do a lot more with the system to wring the battery dry. I holed up on the couch and fired up my YouTube backlog while keeping an eye on my work communications and adding to my article drafts.
Even as I passed 12 hours of screen-on time at 11:05 PM, the ExpertBook kept on ticking as I kept some music going and refreshed my social media feeds. At 11:26 PM, the battery finally hit 10%. I figured I didn't have long to wait until the system shut down from a low battery warning, but I was in for a surprise. The system kept running for another 45 minutes, finally suspending itself at 12:15 AM.
All told, the B9450 lasted 13 hours and 10 minutes away from an outlet, even without a single opportunity to go to sleep or turn off its screen. That's far more endurance than I've ever seen from any portable PC. Let the B9450 go to sleep during breaks or shut off its Wi-Fi and dim the screen on an international flight, and you might find that it lasts even longer still. I dream of pulling out the ExpertBook at the start of a long journey and using it away from outlets until I reach my hotel at the end of the travel day.
Consummate professional
Flexibility is more important than ever in today's working world, and the ExpertBook B9450 has wowed me with its quiet competence and amazing endurance as I've integrated it into my work-from-home routine. It's given me the freedom to work wherever I'm most inspired or most comfortable. Most importantly, its light weight, immersive display, seemingly bottomless battery, and comfortable keyboard let me get in the zone without a second thought whenever it's time to knuckle down. If you're tired of thinking more about your PC than the work you need to do with it, perhaps it's time to hire a B9450 to get the job done.
ASUS ExpertBook B9450
Model
B9450FA-XS74
B9450FA-XS79
CPU
Intel Core i7-10510U, 4C/8T, 1.8GHz
(8MB cache, up to 4.9GHz)
GPU
Intel UHD Graphics 620
Display
14.0" LED backlit
Resolution
FHD (1920 x 1080)
Memory
16GB LPDDR3
Storage
512GB NVMe SSD
2 x 1TB NVMe SSD
Networking
Wi-Fi 6 (802.11ax)
Bluetooth 5.0 (Dual-band 2x2)
Connectivity
2 x Thunderbolt 3
1 x USB 3.1 Gen 2 Type-A
1 x HDMI
1 x physical micro-HDMI (for Gigabit Ethernet adapter)
1 x audio combo jack

Battery
66Whr
Dimensions
12.6" x 7.9" x 0.38 ~ 0.59"
Weight
2.19lb
OS
Windows 10 Pro (64-bit)
Availability (USA)
ASUS Store
Newegg
Best Buy
B&H Photo Video
Amazon
ASUS Store
Amazon