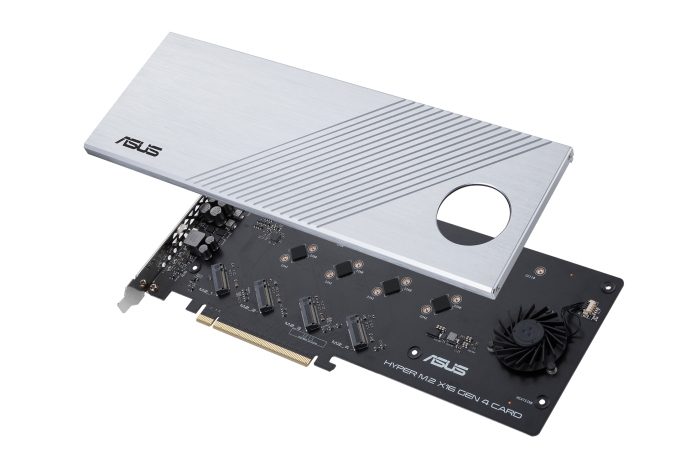 AMD's third-generation Ryzen Threadripper processors and the TRX40 chipset provide an abundance of PCI Express 4.0 lanes for next-generation storage devices, graphics cards, and more. PCIe 4.0 doubles the bandwidth available from each PCIe lane on the motherboard, making the TRX40 platform especially appealing for demanding users with I/O workloads that need as much bandwidth as they can get. To help those users tap into the incredible bandwidth of PCIe 4.0, we're introducing the Hyper M.2 X16 Gen 4 Card at CES 2020.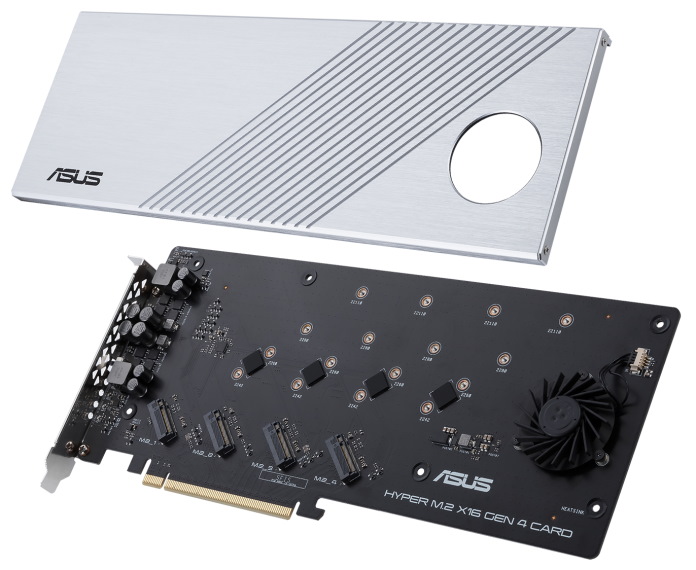 The Hyper M.2 X16 Gen 4 Card offers four M.2 slots, each with four lanes of PCIe 4.0 connectivity. Each slot has standoff points for M.2 2242, 2260, 2280, and 22110 SSDs, and each can provide up to 14W of power, ensuring that next-generation SSDs are able to run at their full potential. As just one example of what you might do with the Hyper M.2 X16 Gen 4 Card, you could purchase four 2TB PCIe 4.0 SSDs, set up a RAID 0 configuration, and enjoy massive 8TB storage array able to communicate using up to 256 Gbps of potential bandwidth. That's up to four times the potential bandwidth of a single PCIe 4.0 SSD and as much as eight times the bandwidth of a PCI 3.0 drive.

To ensure consistent performance from PCIe 4.0 SSDs over time, we developed a comprehensive cooling strategy for the Hyper M.2 X16 Gen 4 Card. The attractive brushed-aluminum cover doubles as a large heatsink for the SSDs underneath. Included thermal pads wick heat away from the SSDs and into the metal cover to prevent thermal throttling. A blower fan under the shroud moves air over the SSDs for extra insurance against dips in performance. If your case has adequate airflow, you can shut off the card's fan using a dedicated switch on the rear mounting bracket to let your case fans move air over the heatsink shroud instead. Four indicator LEDs on the rear bracket allow you to see I/O activity on your RAID array at a glance.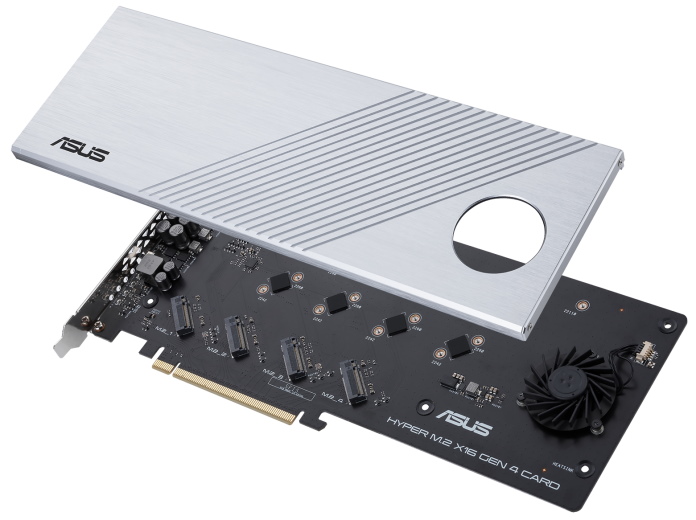 If you'd like to fill up each and every one of its M.2 slots, we strongly recommend using the Hyper M.2 X16 Gen 4 Card with one of our TRX40 motherboards, since they offer multiple slots with 16 dedicated lanes of PCI Express 4.0 from the CPU. If you'd like to expand M.2 storage capacity on your AMD X570 motherboard instead, you can use that platform's CPU PCIe lane bifurcation capability to direct up to eight lanes of PCIe 4.0 to the Hyper M.2 X16 Gen 4 Card—enough for up to two more PCIe 4.0 SSDs. The card maintains PCIe 3.0 backward compatibility for use with other platforms capable of CPU-managed RAID.
To learn more about the Hyper M.2 X16 Gen 4 Card and its capabilities, you can visit our CES 2020 showcase at the Planet Hollywood Las Vegas Resort and Casino. To set up a media tour, or to learn more about pricing and availability in your region, please contact your local ASUS representative.