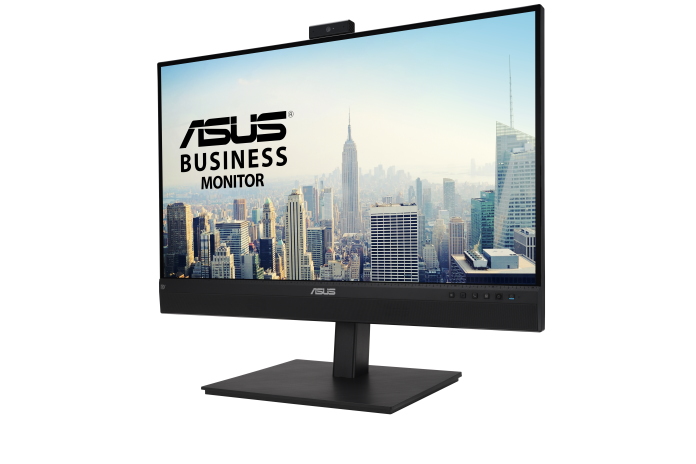 Many people today enjoy the benefits of remote work. It's freeing to avoid the morning commute, set your own schedule, and get your projects done in the comfort of your own home. Without a well-equipped home office, though, it can be hard to get the most out of those advantages. The ASUS Business BE27ACSBK monitor helps you overcome many common challenges that remote workers face. It empowers your productivity with its large 27" display panel, helps you look and sound your best in video conferences, and takes the clutter off your desk with its rich connectivity and built-in cable management.
If you've been scraping by with just one monitor for your home office PC or just the display on your laptop, it's time to consider the benefits of a multi-monitor setup. Connect the BE27ACSBK to your laptop, for instance, and its 27" sweep of pixels will become your new primary workspace. Its 2560×1440 resolution gives you plenty of room to arrange two apps side-by-side, and you'll still have your laptop screen available for keeping an eye on email or your team's communications software.
Working from home often requires more screen time than your eyes might be used to. Spend too much time in front of a monitor with an annoying flicker, or a model that emits too much blue light, and you might find that your eyes get fatigued before you've met your daily goals. The BE27ACSBK helps you avoid these common problems. Its TÜV Rheinland-certified flicker-free backlight and Low Blue Light technologies ensure you'll have a comfortable viewing experience all the way to the end of your workday.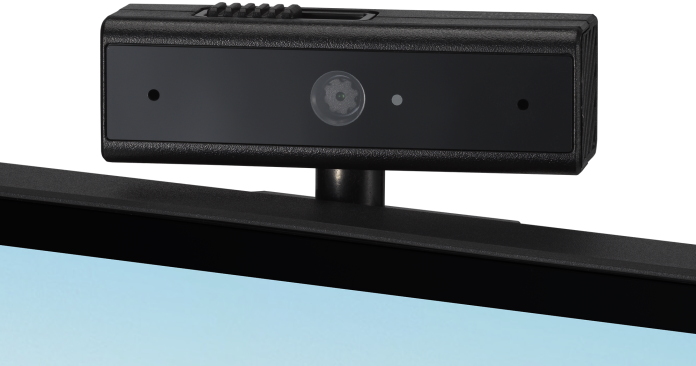 In addition to easy multitasking and comfortable viewing, the BE27ACSBK helps you put your best foot forward when it's time to hop on a video call with coworkers or clients. It has an integrated high-resolution 2-megapixel webcam that'll help your features appear natural and clear on others' screens. Its tilt and swivel functions let you easily put your face in the center of the frame, and our Face Auto Exposure tech will make sure that you're neither lost in shadows nor blown out through overexposure, even as the ambient light in your office changes throughout the day. When you're not in a call, you can cover the webcam with an integrated sliding shutter for privacy.
You want to look your best when you're in a conference, and you want to sound your best, too. Built-in AI Noise Cancelation technology helps your coworkers hear you clearly by minimizing background noise picked up by the built-in microphone. Its AI-trained algorithm is especially adept at minimizing the noise of nearby appliances and the tapping noise of your keyboard. A built-in pair of 2W speakers gives you clear audio without the need for a separate speaker system, and dedicated control buttons on the front of the display give you quick access to common functions like toggling the microphone and adjusting volume.
The BE27ACSBK's wide connectivity options ensure compatibility with most systems. Its HDMI 1.4 and DisplayPort 1.2 inputs let you connect it to just about any modern PC, and a DisplayPort 1.2 output will let you add yet another display to your setup through daisy-chaining for even more multitasking power.
Its USB Type-C port will be especially valuable for anyone who needs a tidy, clutter-free desk to perform their best. This port not only accepts a display signal—it can also recharge your laptop with 80W USB Power Delivery support. It also lets you enjoy single-cable connectivity to peripherals connected to the BE27ACSBK's four-port USB hub. If you connect your keyboard and mouse to the USB ports on the display, for instance, they'll automatically connect the moment you plug in your laptop to the display with the USB Type-C cable. This simplifies the process of connecting your laptop to your display and other peripherals, and it gives you the opportunity to route each cable unobtrusively for a tidier look on your desk.
In one easy-to-use package, the ASUS BE27ACSBK offers an overhaul for your home office desk. Its 27" QHD display enhances your multitasking capabilities. Its integrated webcam and microphone array with AI Noise Cancelation tech help you look and sound your best when videoconferencing. And its rich connectivity options simplify your set up and help you keep your desk tidy. For more information on the pricing and availability of the ASUS BE27ACSBK, please contact your local ASUS representative.