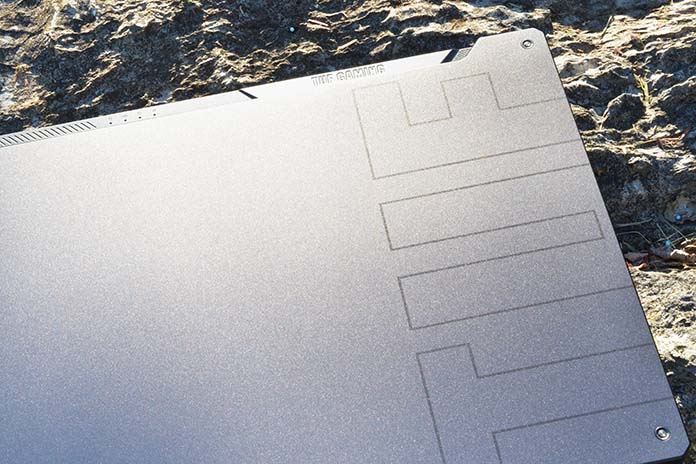 There's a new contender on the block for the best budget gaming laptop: the TUF Gaming F17. This potent machine provides all the essentials that you need to dive into PC gaming: powerful components, a rock-solid chassis, excellent connectivity, and a fast display. This adds up to powerful performance in your favorite games, all for a shockingly attainable price.
Muscular chips from Intel and NVIDIA make this combination of performance and affordability possible. NVIDIA's 30-series GPUs offer such a leap forward that even the mainstream GeForce RTX 3060 offers sizzling frame rates at the baseline 1920×1080 resolution. Certainly, if high-res gaming at 4K is a priority for you, or if you want to enjoy the latest technologies like ray tracing at the smoothest frame rates, you have ample reason to consider a gaming laptop with one of NVIDIA's top-tier GPUs. But the GeForce RTX 3060 in the TUF Gaming F17 is more than ready to give you a great 1080p experience, especially in the many games that can take advantage of NVIDIA's frame-rate-boosting Deep Learning Super Sampling (DLSS) technology.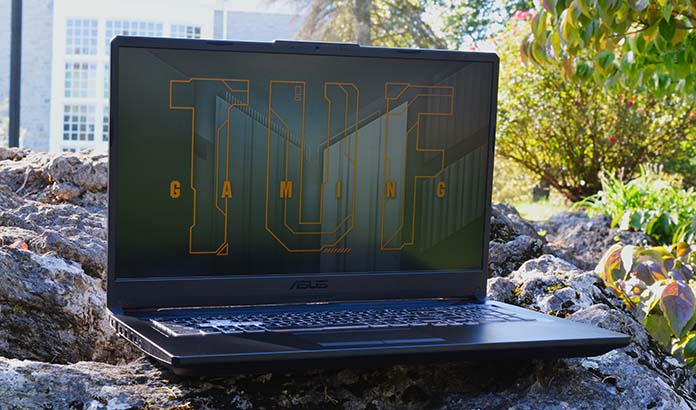 Recently, I had the opportunity to make the TUF Gaming F17 prove its mettle. For several weeks, I used it as my primary machine, putting it through its paces in a wide range of games. The data doesn't lie: this laptop delivers a great PC gaming experience today, and thanks to easy upgrade options and NVIDIA's game-changing DLSS tech, it's ready to go the distance, too.
All the essentials
From the brushed-metal finish across the palm rest to the sleek Eclipse Gray tint on the lid, from the textured honeycomb grip on the bottom of the chassis to the redesigned TUF logo, the TUF Gaming F17 exudes an aura of rugged performance.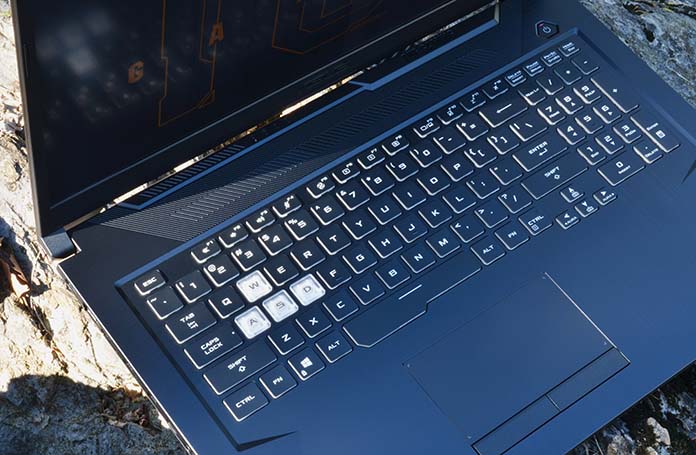 This laptop backs up those solid looks with a firm foundation of gaming essentials. It features a full-size desktop-style keyboard with a numpad, making it a comfortable device to use even for folks like me with larger-than-average hands. The translucent caps for the WASD keys guide my hands to the right position for gaming, and the customizable single-zone RGB LED keyboard backlighting keeps me in command even in dimly-lit rooms.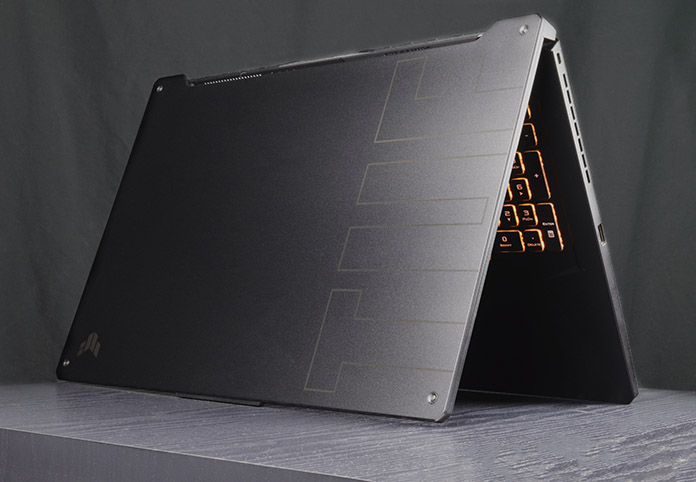 Plentiful connectivity makes the TUF Gaming F17 the nexus of my complete gaming setup. Its Thunderbolt 4 port lets me access high-speed external storage, connect to an external display, or charge up my smartphone. A trio of USB Type-A ports let me connect my favorite gaming mouse and other peripherals, and there's an RJ45 port for wired networking, an HDMI 2.0b port, and an audio combo jack.
Gaming performance that doesn't quit
In my time with the TUF Gaming F17, I was determined to make it prove its worth in a wide range of games. It didn't disappoint. This laptop's Intel Core i7-11800H CPU and NVIDIA GeForce RTX 3060 GPU teamed up to give me a great experience in every game I played.

I started my benchmarking tour with a pair of my favorite esports titles. Even at its Epic graphics preset, Fortnite ran at an average frame rate of 137.6 FPS on the TUF Gaming F17 with DLSS Performance enabled. That's an ideal framerate for the laptop's speedy 144Hz display. This fast refresh rate updates the content on the screen almost 2.5x faster than a standard 60Hz display, keeping me on top of every moment.
Not that long ago, gamers optimizing their setup for sky-high FPS in Fortnite would lower their graphics preset to Medium or even Low. Now, I don't have to make a tradeoff between performance and good-looking visuals. Thanks to NVIDIA DLSS, I can leave the settings at Epic and still enjoy smooth frame rates. With DLSS enabled, the game renders at a lower resolution, enhancing performance, and then the Tensor cores in the GeForce RTX 3060 upsample each frame to my target resolution. All that adds up to extra frames without a noticeable impact on image quality.

Out of all the competitive esports games, Call of Duty: Warzone has perhaps the grittiest, most realistic visuals. The TUF Gaming F17 kept me glued to the screen as I crept around the map, scavenging for weapons and gear while picking off my opponents. Even at high graphics settings, the F17 achieved an average frame rate of 117.4 FPS in this title with DLSS Performance enabled. That fluid performance gave me an edge in the middle of hectic firefights.
The TUF Gaming F17's large 17" display is more than large enough to immerse me in my favorite games, but when I'm kicking back in my den with my full gaming setup I like to hook up the laptop to an even larger external monitor. Right now, that's the ROG Strix XG27AQM. This 27" display offers a blistering refresh rate that I can overclock all the way up to 270Hz, and its 1440p resolution brings out the detail in every digital world I explore.

Increasing my target resolution from 1080p to 1440p gave the RTX 3060 GPU extra work to do, but it proved up to the challenge. I charged into the hectic combat of Doom Eternal at the game's Ultra preset with DLSS Performance enabled, and the TUF Gaming F17 served up fast and fluid frame rates. This is far from the only game that the F17 can tackle at 1440p. I benchmarked its performance in a wide range of titles at this demanding resolution, and it answered the call every time.
If you're looking for an affordable GPU that can give you access to the latest NVIDIA RTX graphics technologies like ray tracing, look no further than the GeForce RTX 3060. It's not the most powerful 30-series GPU in the family, but it felt far from entry-level when I loaded up the PC Enhanced Edition of Metro Exodus. This version of the game uses a fully ray-traced illumination pipeline and new ray-traced reflections to bring its harrowing vision of post-apocalyptic Russia to life. The result can only be described as stunning. In fact, this next-generation upgrade is so advanced that it's one of the first games to require a GPU capable of accelerating ray-traced effects in real time, like NVIDIA's GeForce RTX 20-series and 30-series graphics cards.

Even with bleeding-edge graphics technologies enabled, the TUF Gaming F17 delivered a faultless gaming experience. As I explored the crumbling ruins of society, crept along the dark corridors of abandoned buildings, and put down mutated monstrosities, I enjoyed smooth frame rates that never dipped below 60 FPS.
Every once in a while, a new title comes out with such demanding graphics that gamers start itching for a GPU upgrade so that they can enjoy the next generation of graphics at smooth frame rates. Red Dead Redemption 2 is one of those games. Its vision of 19th-century America is so detailed and realistic that it's served as a measuring stick for GPU performance ever since it launched on the PC platform.

With a key assist from DLSS, the TUF Gaming F17 gave me a great experience in RDR2. A recent update to the game brought NVIDIA's frame rate-boosting tech to the game, and it let me enjoy an average frame rate of 70.8 FPS. That smooth performance empowered me to be a deadly sharpshooter, an agile saloon brawler, and a fearless train-robber.
There's a large library of games with DLSS, but not every title out there can take advantage of this tech. Even in those games, the TUF Gaming F17 proved that it has the chops to give me a great gaming experience.

One such title is Resident Evil Village. The spiritual successor to perhaps the best Resident Evil game of all time, this tense, action-packed adventure in a remote, snow-covered village showcases the finest visuals yet seen in the series. As I went toe-to-toe with mutant lycans, the fluid frame rates produced by the F17 let me stay one step ahead of my murderous opponents.
Battery life that keeps me on the move
The TUF Gaming F17 proved its gaming chops in a wide range of titles. That's job number one for any laptop on my desk, but it's not the only job on the list. I expect my everyday laptops to be comfortable traveling companions as I play, browse, chat, and relax on the go. For that, I need substantial battery life.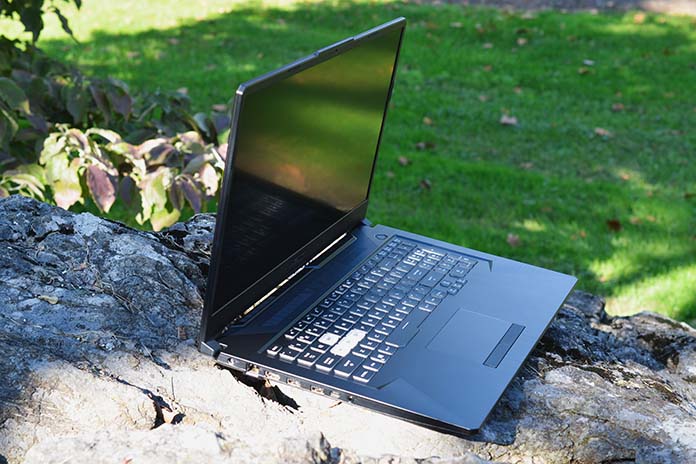 The F17's large 90Wh battery recently made it easy for me to break out of my usual working-from-home routine and enjoy a day out on the road. Around 8:30AM, I packed up my photography gear to take advantage of some golden morning sunlight. The laptop's large 17" display helped me check my shots along the way. During lunch at a local cafe, I used the F17 to catch up on email. Throughout the afternoon, the laptop powered through a meeting, some writing, and photo editing, all without being tethered to an outlet. It wasn't until the early evening, around 5:00PM, that the system politely informed me that I should plug it in. All told, the F17 delivered eight and a half hours of battery life.
Easy upgrade options
My configuration of the TUF Gaming F17 ships with a spacious 1TB SSD and 16GB of DDR4 RAM, both more than sufficient for the needs of today's games. Should I want to upgrade either component down the road, though, this laptop makes the process easy and painless.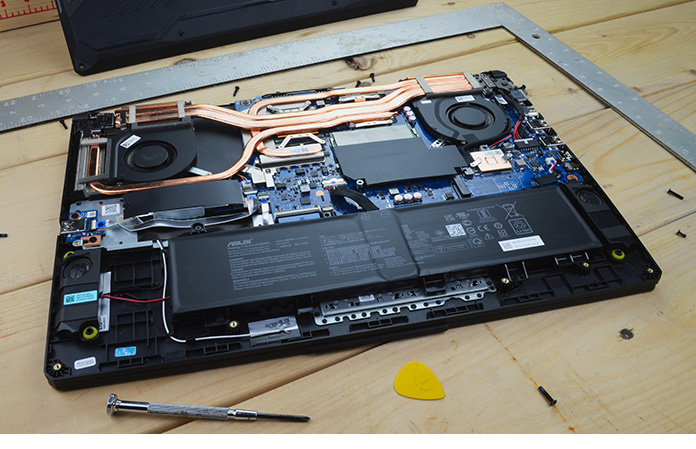 Opening up the laptop doesn't require anything more complicated than a standard Phillips-head screwdriver. 11 screws hold the bottom panel in place. With those removed, the panel pops free with only some gentle persuasion.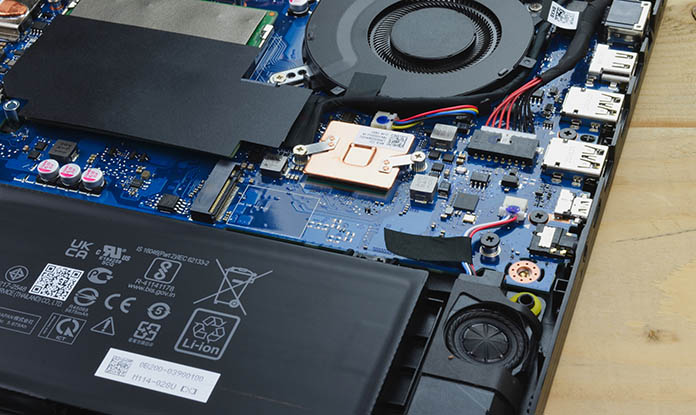 An open M.2 slot on the right side of the chassis makes it a breeze to add extra storage. I could pop a compatible 1TB drive into the slot, secure it in place with the mounting screw, and format the drive in Windows to quickly double my available storage—or increase it even further with a larger drive.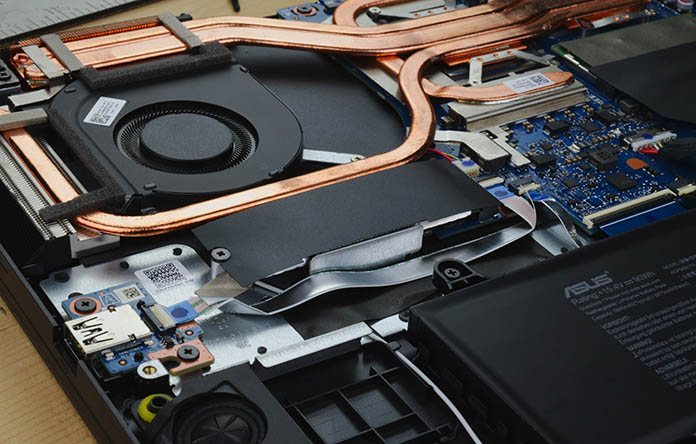 I could also swap out the primary SSD with a newer, larger model down the road, as well. This drive is nestled on the left side of the chassis under a black cover.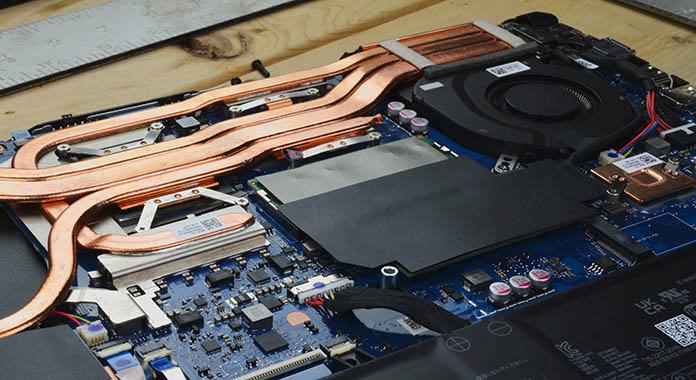 The RAM slots are similarly accessible in the F17. They're located in the middle of the device close to the CPU, and both are on the side of the motherboard facing me when I open the bottom lid. I wouldn't have to do a full device teardown just to upgrade the memory.
TUF Gaming F17
Model
TUF706HM-ES76
TUF706HE-DS74
CPU
Intel Core i7-11800H
Display
17" FHD 144Hz
GPU
NVIDIA GeForce RTX 3060
NVIDIA GeForce RTX 3050 Ti
Memory
16GB DDR4
Storage
1TB SSD
512GB SSD
I/O
1x Thunderbolt™ 4
1x USB 3.2 Gen 2 Type-C
3x USB 3.2 Gen 1 Type-A
1x HDMI 2.0b
1x RJ45
1x audio combo jack
Dimensions
15.7" x 10.6" x 0.87" (39.9 x 26.9 x 2.21 cm)
Weight
5.73lbs (2.6kg)
Battery
90Wh
Where to buy (USA)
Newegg
Adorama
Amazon
EXcaliberPC
MichaelElectronics2
Newegg
Adorama
Amazon
Best Buy
All the essentials for PC gaming for an affordable price
Looking for a solid, reliable laptop that'll get you gaming without breaking the bank? The TUF Gaming F17 delivered smooth frame rates in every game I played, even in titles like Red Dead Redemption 2 that are famous for giving GPUs a workout. With its $1,499.99 (US) MSRP, it's competitive both in performance and in price.
The F17 complements its high-end CPU and GPU with everything you need for a great all-around experience. Its high-refresh-rate display with Adaptive Sync gives you fluid, fast animation. Its wealth of connectivity lets you connect all of your favorite peripherals without fuss. It has easy upgrade options, and its large battery will keep you mobile throughout your day.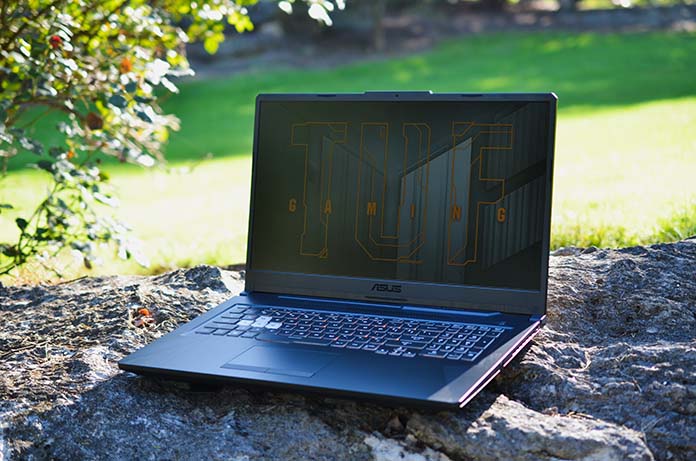 The TUF Gaming F17 offers powerful gaming performance in a durable design that's ready to go anywhere. Secure one of your own to get in on the action.