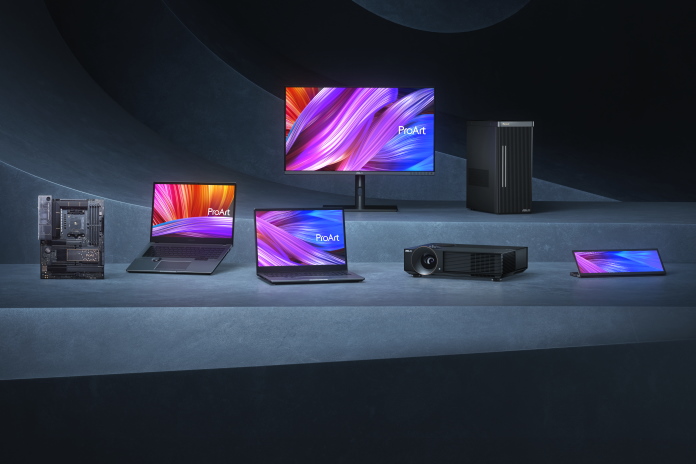 Experiencing art has become more critical to human connection than ever before, and that connection increasingly happens online. Whether through digital photography, videography, game design, or drawings and paintings, the work we create in Adobe Creative Cloud reaches audiences' eyes through billions of screens in dozens of sizes. Across our ProArt, Zenbook, and Vivobook lineups, we offer the best laptops for creators at a wide range of price points so that you can create, edit, and share no matter where your art takes you.
Whether you're a seasoned professional who needs to make sure that every pixel is in its place or an enthusiastic amateur just beginning your creative journey, ASUS understands how the right tools for the job make it easier to take your vision from idea to digital delivery. Our powerful and precise ProArt Studiobook, Zenbook Pro Duo, and Vivobook Pro laptops include unique tools like the ASUS Dial, ScreenPad Plus, and ASUS DialPad to let you get into your creative flow no matter where you are, and we've worked closely with our partners at Adobe to make these tools powerful partners throughout the Creative Cloud.
ProArt Studiobook laptops sharpen your professional edge
Creators at the cutting edge need hardware that doesn't hold them back. They are creating and reviewing high resolution, high dynamic range (HDR) footage on location and putting that content on the big screen when they are back in the studio. They need carefully tuned hardware they can rely on to show their work with precision.
Standard laptop liquid-crystal display technology is not up to the task of showing HDR footage with true fidelity. The available OLED screens in the ProArt Studiobook 16 and Pro 16 laptops can show the true blacks and incredible contrast needed to envision HDR in its full glory. 100 percent coverage of the wide DCI-P3 color gamut and PANTONE Validated color accuracy mean that pros can use these powerful systems with assurance that the colors they choose will carry through the entire production process.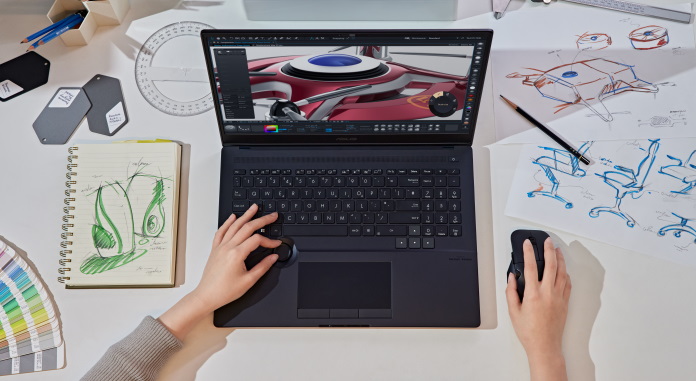 The ProArt Studiobook 16 series gives creators direct control over their projects in three exciting ways. The hardware ASUS Dial, embedded in the upper left corner of the trackpad, offers a precisely detented rotation and tactile press-to-click action that allows for fine control over Adobe Creative Cloud apps' parameters, such as brush size and opacity or navigation tasks like zooming and scrolling through timelines in Premiere Pro.
The generously sized trackpad offers stylus input support with 1024 levels of pressure sensitivity for sketching and drawing tasks during digital art creation. Finally, a pair of customizable keys on the bottom row of the keyboard can be assigned to custom actions of your choosing to streamline complex key shortcuts. The ProArt Creator Hub software utility ties all of these powerful tools together in one convenient management interface so you can customize your workflow just as you like it.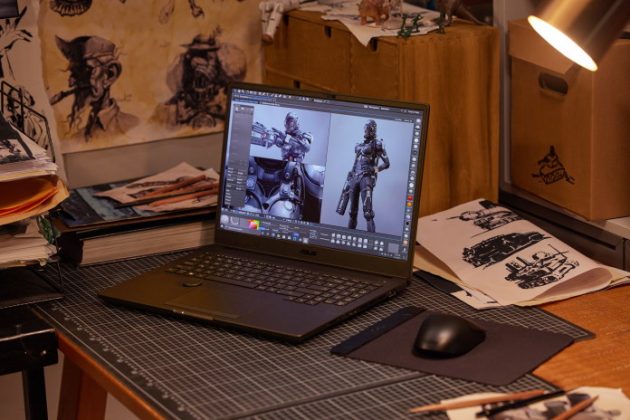 To blaze through the most demanding creative projects, the ProArt Studiobook 16 series offers a range of configuration options that include the latest 11th Gen Intel Core and AMD Ryzen 5000 Mobile CPUs, alongside NVIDIA GeForce RTX graphics options ranging up to the GeForce RTX 3070. For creators that depend on absolute accuracy and reliability in their projects, such as architects and CAD designers, the ProArt Studiobook Pro 16 series offers Intel Xeon CPU and NVIDIA RTX A5000 GPU options with the hardware and software assurance required to create with confidence. Storage options ranging up to 4TB of NVMe SSD capacity and RAM options up to 64GB make plenty of room for demanding creative apps and source files.
We offer a variety of ProArt Studiobook 16 OLED and ProArt Studiobook Pro 16 OLED laptops ready to fit the needs a wide range of creators. Click here to find the model that best suits your needs.
The Zenbook Pro Duo 15 OLED puts two-screen productivity in one powerful laptop
Once you experience the benefits of multi-monitor productivity, it is impossible to go back. Taking multiple screens on the go is a challenge for any creative pro, but ASUS engineers have neatly solved this problem in one flexible, powerful laptop. The Zenbook Pro Duo 15 OLED UX582 has a pair of integrated displays to enhance your productivity.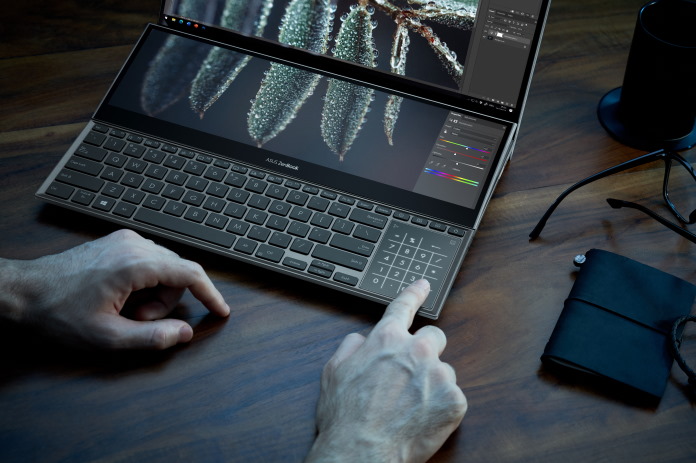 The primary 4K OLED touchscreen is VESA DisplayHDR 500 compliant to deliver dazzling HDR highlights and perfect blacks with all of your content, and it can show incredibly vivid colors accurately thanks to 100 percent coverage of the cinematic DCI-P3 color gamut and PANTONE Validated factory calibration. Draw directly on the screen with a compatible stylus or manipulate your work directly with multi-touch. An Intel Core i9 processor and an NVIDIA GeForce RTX 3080, 3070 or 3060 GPU will give you agile, responsive performance as you create and speedy turnaround times as you export your final projects.
The ASUS ScreenPad Plus below the primary display makes the Zenbook Pro Duo more productive than any other creator laptop. A new rising design places the screen at a more ergonomic angle and boosts cooling airflow to the CPU and GPU inside. And thanks to touch and stylus support, it is just as capable as the primary display. Our ScreenXpert software tool helps you group windows and applications for, and the ASUS Control Panel utility gives you direct control over Adobe Creative Cloud application parameters to keep you focused on your work.
To learn more about the Zenbook Pro Duo 15 OLED, please click here.
Vivobook Pro notebooks are the best laptops for creators on a budget
In years past, a laptop that could browse the internet and run office apps may have been sufficient for the needs of a college student or young professional. No longer. From photo editing to mixing music, from gaming to cutting together videos, up-and-comers need more. Our Vivobook Pro laptops offer exceptional value for anyone who needs a versatile and powerful system.
Open up a Vivobook Pro, and the first thing you will notice is the tall 16:10 OLED display. Vivid colors from 100 percent DCI-P3 gamut coverage and incredible contrast thanks to the perfect blacks of OLED create an incredible canvas for whatever creative project you are itching to translate from vision to reality. The crisp 3840×2400 resolution is perfect for photography, videography, and digital art alike.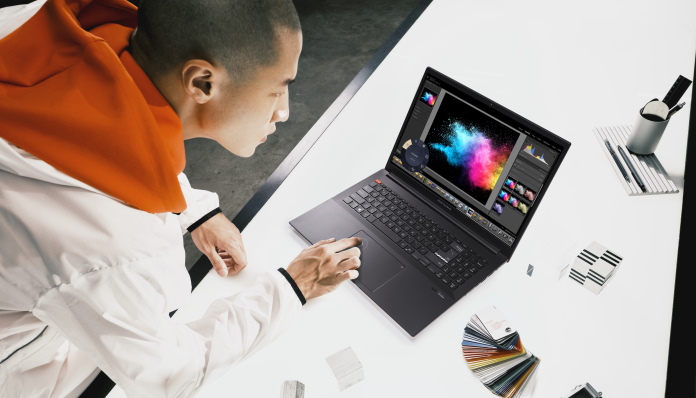 Transferring your ideas to the screen of the Vivobook Pro 14X (Canada only) or 16X is easy thanks to the exclusive ASUS DialPad, a backlit circular control surface integrated into the trackpad that can control useful parameters in Adobe apps. Adjust, brush size, saturation, or layer opacity in Photoshop, jog through scenes in Premiere Pro, or zoom in or out on your timeline in After Effects with simple gestures. Powerful customization options within the ProArt Creator Hub utility allow you to further tune the DialPad for your unique workflow.
Responsive and powerful components inside each Vivobook Pro keep you in your flow state as you draw, paint, or edit. Configurations with the latest AMD Ryzen and Intel 11th Gen Core processors, plus GPU options ranging up to the NVIDIA GeForce RTX 3050 Ti, start up your Adobe apps quickly and keep the pixels flowing, whether you're creating a new masterpiece in Photoshop or exporting your latest 4K video in Premiere Pro.
For more information on the VivoBook Pro 16X OLED, please click here for the AMD-powered model and here for the Intel-powered model.
Three free months of Adobe Creative Cloud
Adobe products are central to creative work in many industries. We've partnered with Adobe to empower your workflow with the renowned Creative Cloud suite of apps and services. With your purchase of any of the laptops listed in this article in select regions, you'll enjoy a free three-month subscription to Adobe Creative Cloud. Not only will you have access to over 20 apps, including Photoshop, Premiere Pro, and After Effects, you'll have 100GB of cloud storage on tap.
Redemption is easy, and you can apply the Creative Cloud subscription to a new or existing account. The first time you power on your PC, a window will pop up to walk you through the steps. Alternatively, you can use the MyASUS app or head over to the registration site at any time. Check out the full details for this program here.
ASUS delivers the best laptops for creators
For artists, editors, and engineers, and more, ASUS delivers the best laptops for creators. No matter where you are on your creative journey, there's a notebook in our lineup ready to expand your capabilities and streamline your creative workflow.

The top-tier ProArt Studiobook series provides the power and assurance the most demanding professionals need for elite content creation, architecture, and design work where imprecision can't be tolerated. The Zenbook Pro Duo boosts creative productivity with our exclusive dual-screen design. And the Vivobook Pro series gives budding creatives unique tools, quality displays, and powerful components to help them realize their first works fluently. Learn more about ASUS creator solutions here.