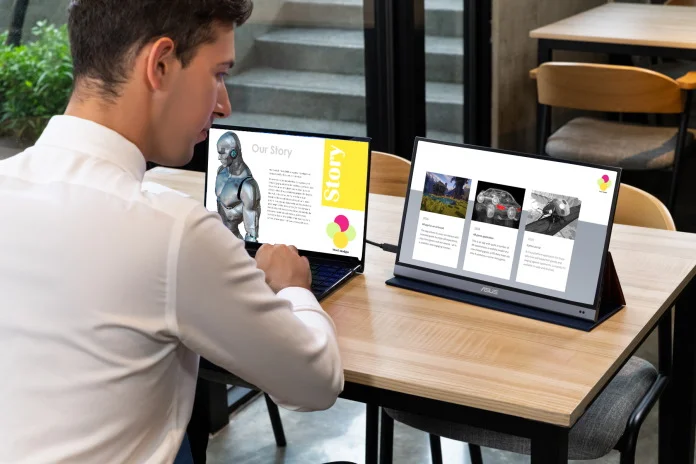 Today's workforce is more nomadic than ever, with over half of all workers putting in more hours outside the office than inside. Most of them work from home. And as you might expect, home workspaces have grown more sophisticated in order to shoulder the higher workload. Millions of workers have installed multiple displays on their desktops to create a panoramic workspace that increases efficiency and productivity. But at some point, as our travel corridors reopen, every remote worker ends up taking a project on the road. That's where ASUS portable monitors come in.
Of course, the freedom and flexibility of remote work mean that any time workers walk out their front door has the potential to become worktime. Those daily trips that so many of us take to the coffee shop, library, school cafeteria, or even a shady park may help to clear our head and reset us for the next task. But for workers who pack along a laptop in case inspiration strikes, that park bench or corner coffeeshop table can quickly turn into an improvised office.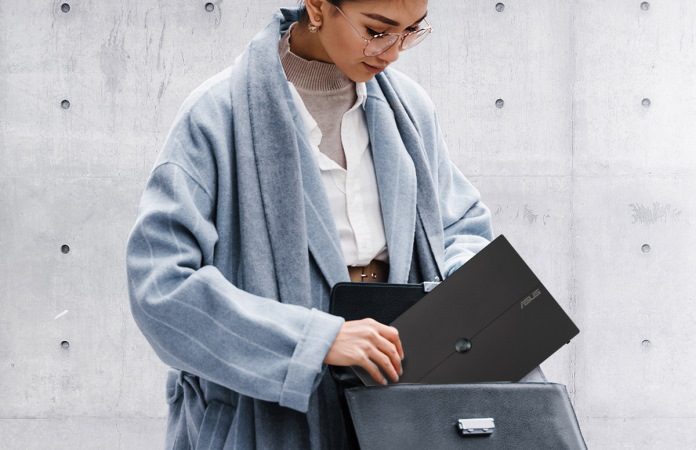 A refreshing change of scenery can renew any worker's creativity, and using a laptop can let their ideas fly. But the laptop's single screen might also clip their wings. The need to stretch your legs and soak in some sun doesn't have to come at the cost of multi-display setups. What if the messenger bag or backpack holding that laptop could also pack a portable display? The ASUS ZenScreen Go, Zenscreen Ink, and ZenScreen OLED series of portable monitors are right for this job, supplying a wide range of screen sizes in light packages with slim profiles.
Perfect partners for hybrid work
ASUS portable monitors are convenient traveling companions. From compact 13" to generous 16" windows, there is a size for every need on the go. Thicknesses range from 5 mm to 11.5 mm, enabling any of them to slide easily into your carry bag.
Since these are ASUS Eye Care monitors featuring TÜV Rheinland-certified flicker-free and Low Blue Light technology, they won't strain your eyes over the long haul. For trouble-free connectivity to your laptop or phone, our lineup includes options compatible with Windows, Android, Chrome OS, macOS, and iOS.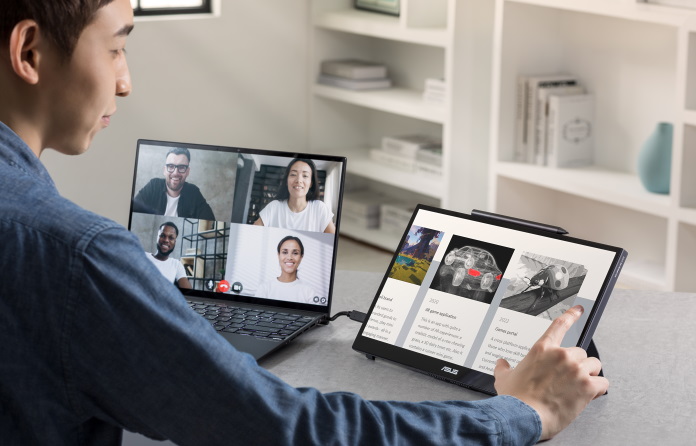 Workers who embrace the spontaneity of their travels will also appreciate these portable displays' flexibility. Their image rotates automatically for horizontal or vertical viewing, simplifying the switch between presentations or spreadsheets in landscape mode and documents, books, or websites that are best viewed in portrait. Suddenly, any chance meeting with a potential client or investor may become an impromptu sales pitch or funding presentation, without requiring several people to huddle awkwardly over a laptop.
All three portable displays include a stand—a self-contained kickstand for the ZenScreen Ink and ZenScreen Go, and a smart case for the ZenScreen OLED that serves as a stand when folded. Additionally, they have built-in ¼-inch threaded sockets that let you fix them to a standard tripod. Business travelers will appreciate this feature during extended stays in hotels or corporate condominiums, when the mobile office becomes a temporary landing pad. With the level of versatility and quality in this lineup of portable displays, almost any remote worker will find a monitor suited to their needs. Let's take a look at some finer points.
Multiple displays go cordless
Luck is what happens when preparation meets opportunity, as the philosopher said. Many a lucrative partnership has resulted from a chance encounter between likeminded strangers. For those who understand that any conversation has the potential to become a presentation, there is the ZenScreen Go MB16AWP.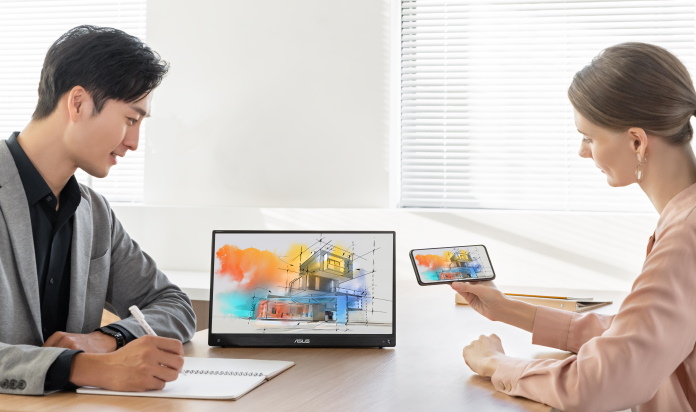 The keyword for this 15.6" portable display is compatibility. Traveling through unknown terrain or uncharted waters with only a laptop can leave you stranded with incompatible interfaces. Worse yet, every conference attendee has witnessed a presentation breakdown due to a malfunctioning projector or blank viewscreen. But self-contained travelers can always rise to the occasion. The MB16AWP has built-in USB Type-C and Mini-HDMI ports, and the included USB Type-C cable and Mini-HDMI to HDMI adaptor will have your laptop and display connected in no time.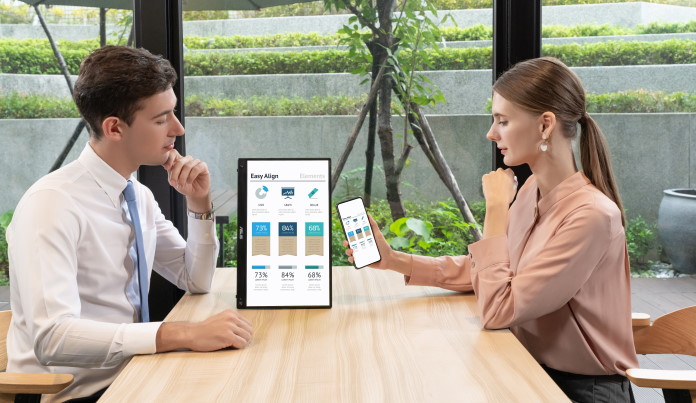 For added flexibility, cut the cables altogether. The MB16AWP's wireless connectivity lets the wires stay in your carry bag. A modest, classroom-sized crowd can follow your presentation on the monitor as you work from the laptop, while loners will enjoy a decluttered workspace and cable-free extended wireless display perfect for multitasking. Writers who reference multiple source documents while composing can keep all their windows in view. Creatives who toggle between images of inspiration while pulling together their latest project will have a larger canvas for their digital collage. Don't worry about roaming too far from an outlet. The battery life of this portable display sees users through three hours or more of work in the wild.
And when it's time for a video or music break, the MB16AWP lets any room serve as a screening room with the IPS panel's great color accuracy and wide range of viewing angles. Just activate the kickstand and sit back. The integrated 1-watt stereo speakers will provide the sound. If you find yourself in a crowded coffee shop or library, though, you might switch to the built-in smart amplifier that drives a pair of headphones via a standard jack.
Keep in touch
In meetings and classrooms alike, many people find it easier to pay attention when their pen is moving. Something about scribbling in the margins helps to silence the loud parts of our minds and help us concentrate. For doodlers and note-takers, there is the ASUS ZenScreen Ink MB14AHD.
This portable monitor offers intuitive 10-point touch functionality for easy interaction with your PC. Since the ZenScreen Ink is about the size of a standard 8.5" by 11" sheet of paper, it also lets you easily edit documents, draw on slides, or flip through book-length PDFs.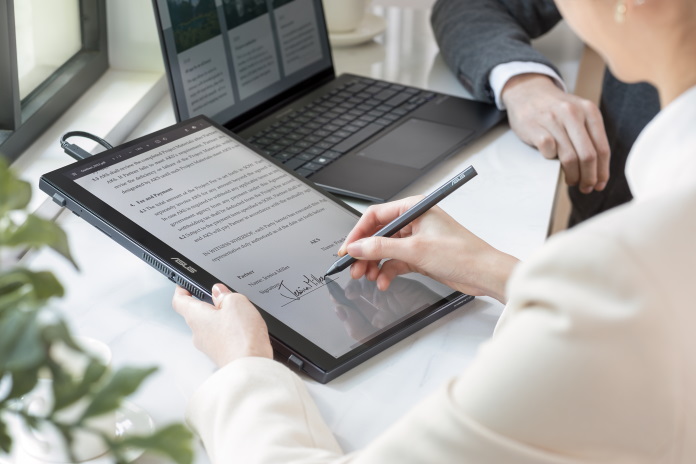 When your work demands a finer touch, you can pick up the included stylus with 4,096 levels of pressure sensitivity. This ASUS Pen affords high-accuracy precision with low latency and fast response, so the handwriting experience feels natural. Its battery holds power for up to a year on a single charge, and the built-in magnetic attachment at the top of the monitor ensures that the stylus is always handy. The ZenScreen Ink is fully compatible with all your favorite writing software and tools, including Microsoft Windows Ink, Whiteboard, and OneNote.
Who else would benefit most from a portable touchscreen monitor? Anyone who appreciates the kinetic thrill of working out ideas with a dry-erase marker, for starters. Professors who teach via Zoom can share their ZenScreen Ink with the class while writing lecture notes. Committee leaders can record brainstorming sessions via video conference. Outside the classroom and boardroom, everyone who collects signatures on the go, from real estate agents to attorneys, can invite their clients to sign on the digital dotted line.
Never sacrifice quality for mobility
Every seasoned traveler knows how important it is to pause periodically and appreciate the local color. Professional photographers take this literally, capturing that color to share with the rest of the world. For everyone who keeps life bright and vibrant, the ASUS ZenScreen OLED series of portable monitors provides sizzling organic light-emitting diode (OLED) panels with lifelike color and practically perfect contrast.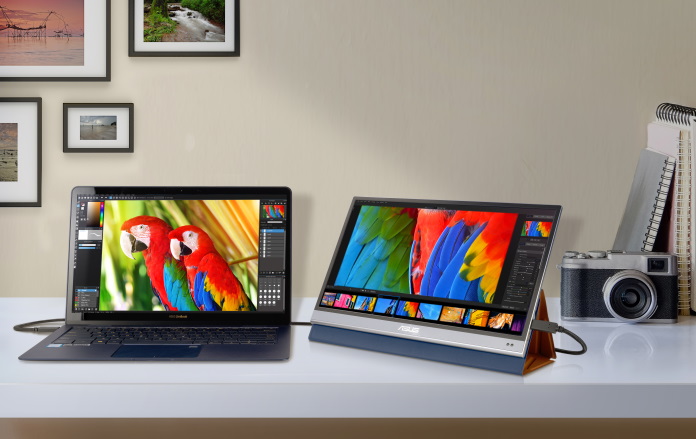 For vibrant, accurate images, these monitors display 100% of the cinema-grade DCI-P3 color gamut and are factory-calibrated to achieve a ΔE value of less than 2. Since individual pixels switch off completely, shadows in the shot are actual shadows and black colors are truly black, fit for high dynamic range (HDR) content. The result is exceptional contrast and crisp, clear details, even when the brightness level of the display is turned down.
ZenScreen OLED displays make high-level photo editing possible almost anywhere. Wildlife photographers will rejoice, of course, but so can real estate photographers looking to maximize a property's appeal with vivid images. Lifestyle bloggers, van-life aficionados, and travel writers can show off every adventure's lushest colors. Proprietors of web stores can guarantee that every product in their inventory jumps off the screen. Even humble smartphone-camera jockeys can take their social media snaps to the next level. To help photo editors create a sort of digital darkroom on the go, each ZenScreen OLED comes with a gift box that transforms into a monitor hood.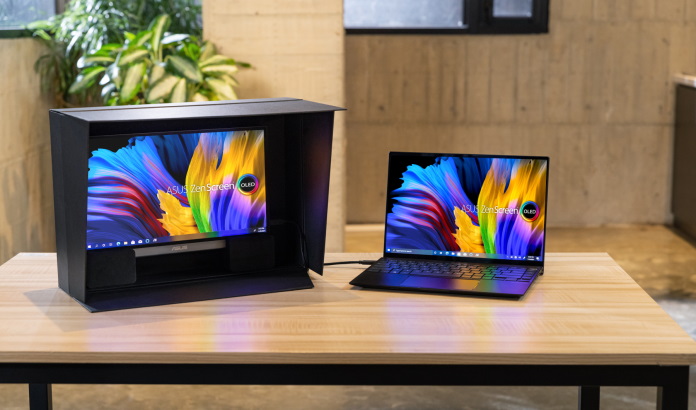 Ideal for life on the road, the 13.3" ZenScreen OLED MQ13AH has a profile of just 5 millimeters. And the larger 15.6" ZenScreen OLED MQ16AH weighs 20% lighter than other 15.6" non-OLED ZenScreen monitors. Both are protected by an ASUS smart case that allows them to be propped up in multiple positions. Even the protective foams in the packaging transform into a monitor stand. And don't worry about wasting power as you pace to and fro, nor leaving an image to burn into the screen. A proximity sensor built into every unit shuts down the monitor when you move away, then resumes operation as you draw near.
This superbly versatile all-round monitor includes a generous set of three USB Type-C ports, two of which support DisplayPort Alt Mode and one of which has charging capability. The I/O ports are mounted on each side to make cable management easy and setup flexible.
ASUS portable monitors open up new possibilities
Remote workers around the world have gotten used to a well-outfitted home office with multiple displays. The natural next step is to carry multi-display functionality with them everywhere. Office managers and executives who would ordinarily upgrade the workplace's computers and displays should consider outfitting their workers with tech that travels anywhere instead. This cost-effective move promises to keep productivity high while flattering workers with new hardware that reflects their changing work conditions. Whether you're upgrading your employees' hardware or you're a small business owner giving yourself some much-needed mobility, ASUS portable monitors are ready to give you the versatility, features, and portability that you need. Check out our full lineup today.