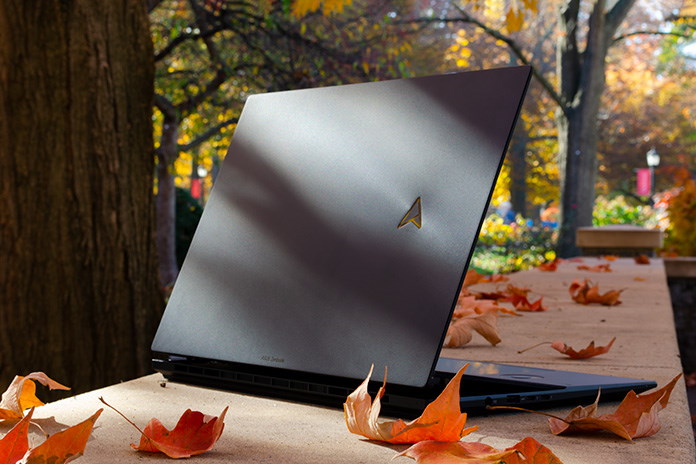 Looking for gifts for those last couple loved ones on your holiday shopping list? Black Friday 2022 has come and gone, but we have great presents for tech lovers of all kinds. Click here to check out our holiday gift guide.
Let's get right to business—Black Friday has arrived, and we're celebrating the occasion with a selection of deals you won't want to miss. We're offering juicy discounts on a wide range of monitors ready to upgrade your home office setup or your gaming battle station. PC builders, take notice: these limited-time offers for feature-rich motherboards are going to get you dreaming about your next computer. Shopping for a new laptop, gaming peripherals, or a smartphone? In this 2022 Black Friday deals guide, you'll find special discounts on the tech you're looking for.
If you're looking for a specific product line, use the links below to jump ahead. Otherwise, read on to discover all our best promotions for Black Friday 2022.
Wallet-friendly Zenbook and Vivobook laptops open up new worlds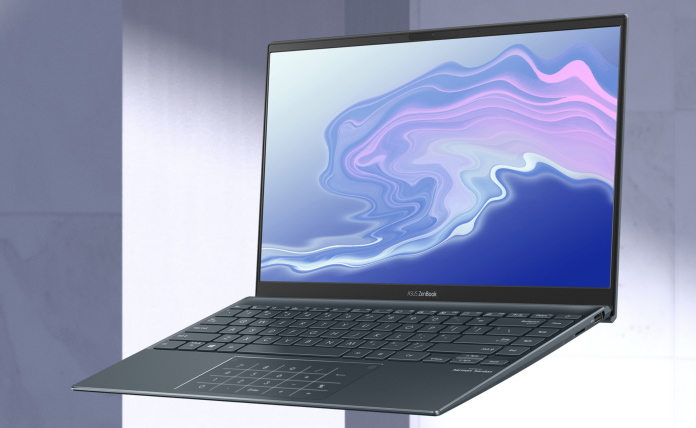 Your everyday laptop doesn't have to be boring. ASUS laptops break away from ordinary with thin, lightweight designs, classy style, and effortless performance. For an all-around excellent laptop at a great price, look no further than the Zenbook 14. Draped in classy Pine Grey, this ultra-slim notebook offers great battery life, a bright display, and snappy performance with its AMD Ryzen 5 CPU. For Black Friday, we're selling this sophisticated machine for a mere $599.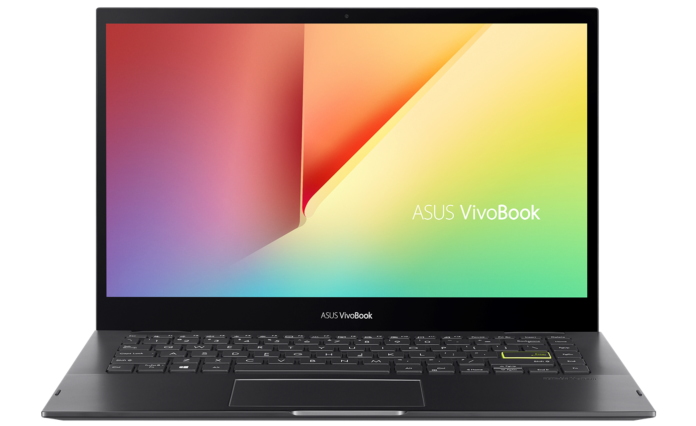 We're also offering a selection of Vivobooks at tempting discounts for Black Friday. The Vivobook Flip 14 highlights the list. Boasting snappy performance courtesy of an Intel Core i7-1165G7 and 16GB of LPDDR4X RAM, this slim and trim machine is ready for anything. Its 360° hinge and touch-enabled FHD display give it unbounded versatility for any scenario, and it offers plentiful connectivity with its Thunderbolt 4 port and MicroSD card reader. Snag one of these for a mere $699—a full $400 off of MSRP.
Those who fancy a large screen should consider the Vivobook 17. At its Black Friday price of only $399, you'll be hard pressed to find a laptop with a better balance of specs. It complements its space 17.3-inch FHD display with a capable Intel Core i5 CPU, 8GB of RAM, and a dual-drive storage array.
Zenbook discounts for our friends up north
We're trimming prices on three Zenbook models for Canadian shoppers. For creators who love a big screen for getting work done, we're trimming a clean $100 off the price of the Zenbook Pro 17. Armed with an AMD Ryzen 9 6900HX CPU, an NVIDIA GeForce RTX 3050 Laptop GPU, and a spacious 1TB PCIe SSD, this machine is ready to accelerate your workflow, and its dreamy 17.3-inch display will give you a close and personal view of your latest projects.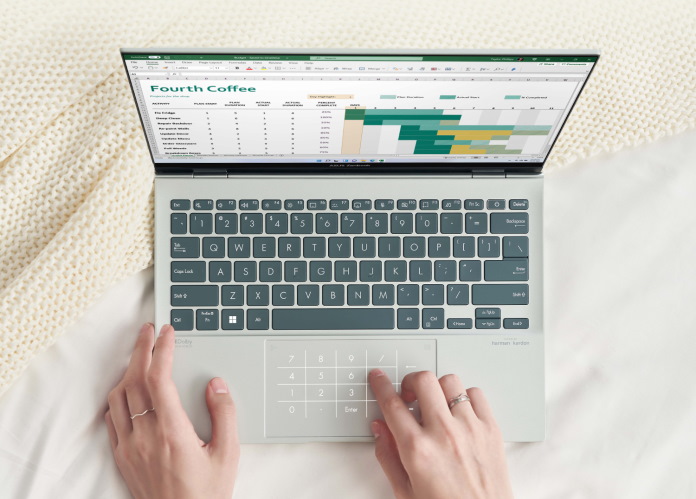 Looking for something more portable? Try the slim and trim Zenbook S 13 OLED. This 13-inch machine will slip easily into any laptop bag or satchel, and its 2.8K OLED touchscreen with ultra-slim NanoEdge display bezels will draw you in with dazzling contrast and color. Canadian shoppers will find a tempting $200 discount on this Zenbook.
With its high-resolution OLED touchscreen, AMD Ryzen 5 CPU, and versatile 360° ErgoLift hinge, the Zenbook 14 Flip OLED just might be your dream laptop. Sleek, lightweight, and sophisticated, this machine is a steal at its regular list price—but for Black Friday, you can purchase one for just under $1000. Don't miss out.
Black Friday gaming laptop deals (U.S. edition)
There's no better time to upgrade your aging gaming laptop than Black Friday. Don't miss these limited-time opportunities to supercharge your gaming experience.
Here's a budget gaming laptop that won't disappoint: the TUF Gaming A17. For a mere $699.99, you'll get an AMD Ryzen CPU and an NVIDIA GeForce GTX Laptop GPU ready for smooth FHD gaming in today's most popular esports games. The 17.3-inch display offers a 144Hz refresh rate, perfect for fast-paced action, and we built the laptop to meet MIL-STD-810H standards for durability so that you know this machine will go the distance.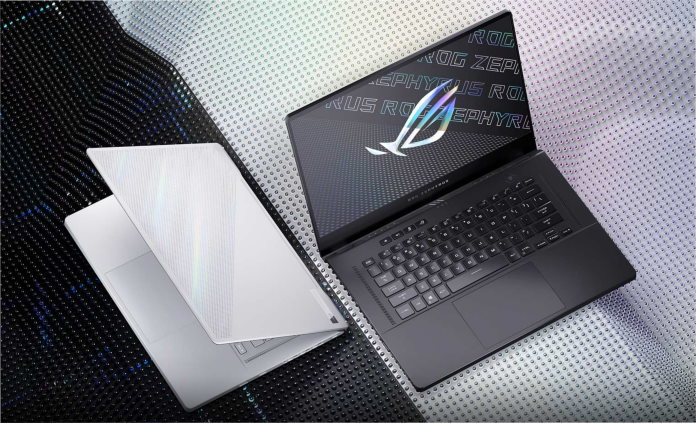 With its AMD Ryzen 9 5900HS and GeForce RTX 3060 Laptop GPU, you'd never expect the ROG Zephyrus G15 to sell for less than $1000—yet that's exactly the price we're selling it for this Black Friday. This slim and versatile laptop will draw you into the action with its 165Hz QHD display. Its 90Wh battery will power you through a day of use on the go, and its sophisticated finish will look great no matter where you take it.
For supreme gaming power that you can easily pack in a laptop bag, consider the ROG Strix SCAR 15. Built to satisfy the demands of competitive esports gamers, this machine boasts high-end hardware with its AMD Ryzen 9 5900HX CPU and GeForce RTX 3080 Laptop GPU. These chips are poised and ready to deliver ultra-high FPS to the 300Hz FHD display, giving you supremely responsive and fluid animation as you battle against the best. Don't miss the chance to score one of these machines for $300 off of MSRP.
Black Friday gaming laptop discounts (Canada edition)
Never fear, friends to the north—we're ready to upgrade your gaming rig, too. Even for us, it's hard to pick a favorite from this list of deals, but the ROG Strix G15 does stand out rather prominently with its $800 discount. This all-around excellent machine exudes confident style, and it backs it up with a powerful AMD Ryzen 9 6900HX CPU and GeForce RTX 3070 Ti Laptop GPU. To top it all off, this laptop offers a gorgeous 15.6-inch QHD display with a smooth 165Hz refresh rate.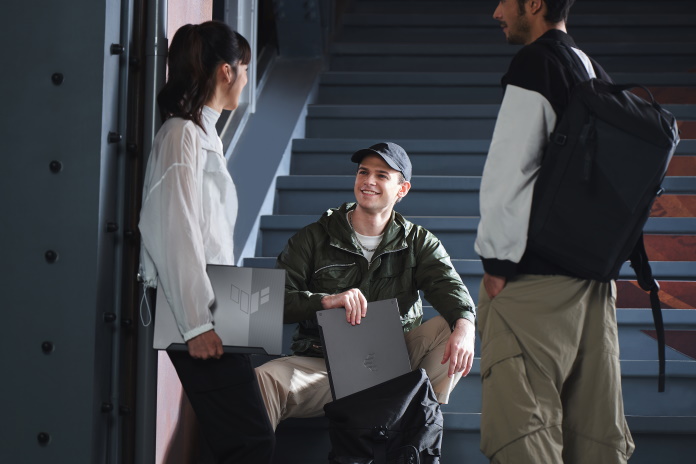 For a budget gaming laptop, you won't do much better than the TUF Gaming A15. For a mere $1,299 during Black Friday, you'll get a laptop decked out with an AMD Ryzen 7 5800H CPU and a GeForce RTX 3060 Laptop GPU—that's a lot of gaming horsepower for not a lot of scratch. A 144Hz display and a speedy 512GB NVMe SSD only add to the value proposition.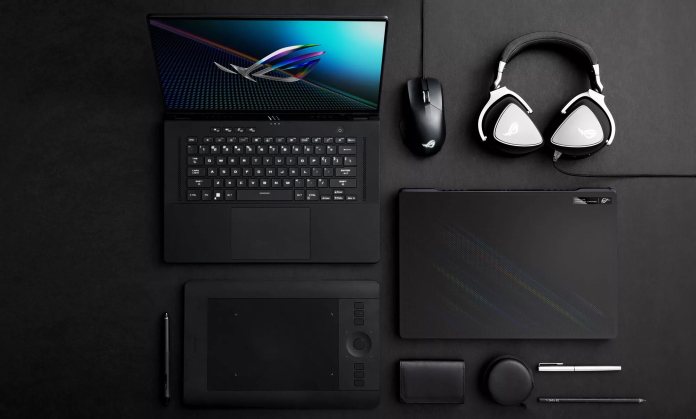 The ROG Zephyrus M16 combines undeniable gaming prowess with professional style and the essential features for content creation. All that makes it an ideal laptop for anyone whose computing needs span the world of gaming, work, and artistic expression. The ROG Zephyrus M16 goes everywhere and does everything, with Windows 11 Pro, a 12th Gen Intel Core i9-12900H processor, and an NVIDIA GeForce RTX 3080 Ti Laptop GPU with a MUX Switch. Nab this supremely powerful and portable laptop for $500 off of MSRP during Black Friday.
Can't-miss prices on excellent gaming peripherals
For PC gamers, a keyboard, mouse, and headset are essential parts of your loadout. For Black Friday, let's upgrade your competitiveness in online battlefields with a new set of peripherals.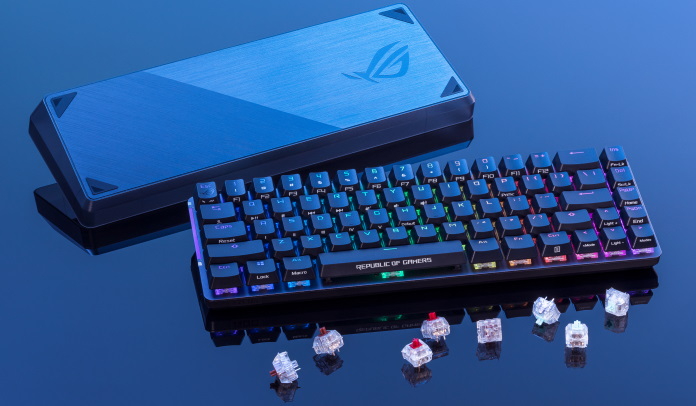 We'll start with the ROG Keris gaming mouse. This lightweight 62-gram clicker is made for pros with its specially tuned 16,000 DPI sensor, left and right PBT polymer buttons, and the flexible ROG Paracord cable. For Black Friday, you can nab a Keris for a mere $39.99. Pair it with the versatile ROG Falchion NX. For a limited time, we're knocking a clean $50 off the price of this wireless 65% keyboard. This compact deck will open up extra desk space for your mousing hand, all without sacrificing functionality. Finally, don't miss this deal on the ROG Strix Go 2.4 Electro Punk gaming headset. Draped in sultry black with sizzling accents, this high-end pair of wireless cans gives you true freedom as you play on your PC or console.
Get a competitive edge with an ultra-fast display
For gamers who love to compete in the online battlefields of Fortnite, Apex Legends, Valorant, and many other esports titles, a high-refresh-rate monitor can make a massive difference. When a display that can refresh itself at lightning-quick speeds, you'll get a moment-by-moment advantage. Your game will feel more responsive, and you'll be better able to respond to enemies peeking around corners.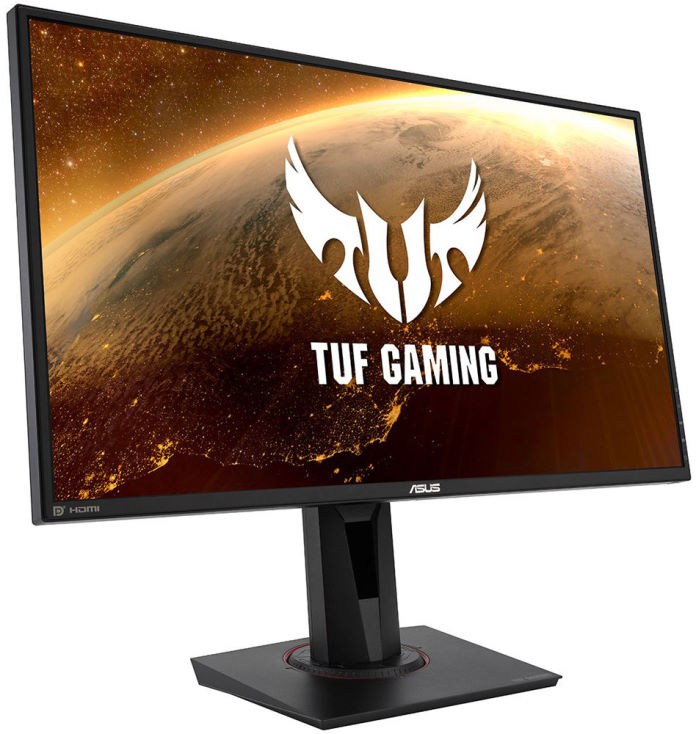 For Black Friday, we're discounting a wide range of our high-refresh-rate gaming monitors. For an option with all the essentials for a great price, consider the TUF Gaming VG279QM. This 27-inch display boasts a refresh rate that you can overclock all the way up to 280Hz. ELMB SYNC gives you supreme motion clarity in fast-paced games.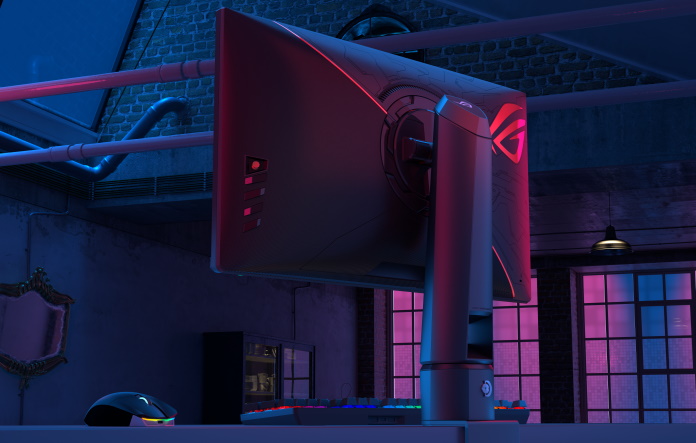 The ROG Swift 360Hz PG259QNR boasts professional-grade specs—and for Black Friday, you can nab one at a $100 discount off MSRP. Its tournament-ready 360Hz refresh rate gives you ultra-smooth animation and supreme responsiveness. Built-in NVIDIA Reflex Latency Analyzer tech gives you an accurate measurement of system latency, and ASUS Fast IPS tech enables a 1ms response time (GTG) for sharp gaming visuals.
Prefer a gaming monitor with a higher resolution? For Black Friday, we're knocking a cool $100 off the price of the 27" ROG Strix XG27UQR. This display combines a detailed 4K resolution with a smooth 144Hz refresh rate, giving you the best of both worlds. Gamers who prefer an even larger display might consider the TUF Gaming VG32AQL1A, a 31.5-inch display with a 1440p resolution and a 170Hz refresh rate.
Great discounts on big-screen gaming monitors
For immersive, unforgettable gaming experiences, bigger is often better. Just in time for Black Friday 2022, we're offering some sweet discounts on a trio of large-and-in-charge 43-inch displays.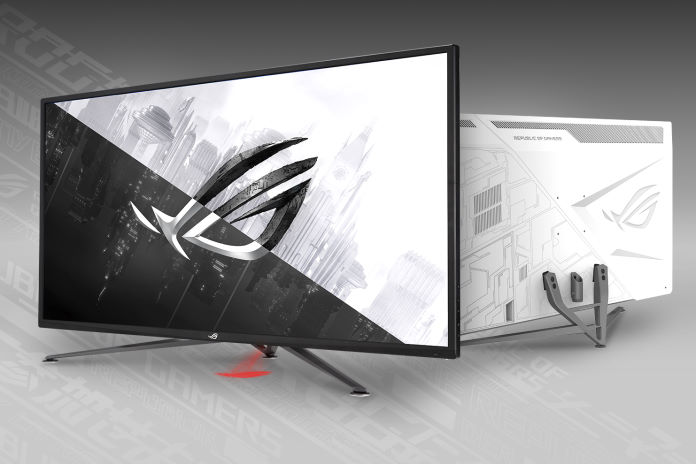 The ROG Strix XG43UQ might be the perfect display for anyone who regularly games on both PC and a console. Its two HDMI 2.1 ports let you kick back with a controller and enjoy 4K 120Hz gaming on the latest consoles, and DisplayPort connector offers you 4K 144Hz gaming on your PC. FreeSync Premium Pro offers smooth visuals in either scenario, and its VESA DisplayHDR 1000 certification attests to the dazzling HDR gaming experience you'll get with this high-end display. Nab a XG43UQ for your gaming den for $200 off during this limited-time promotion.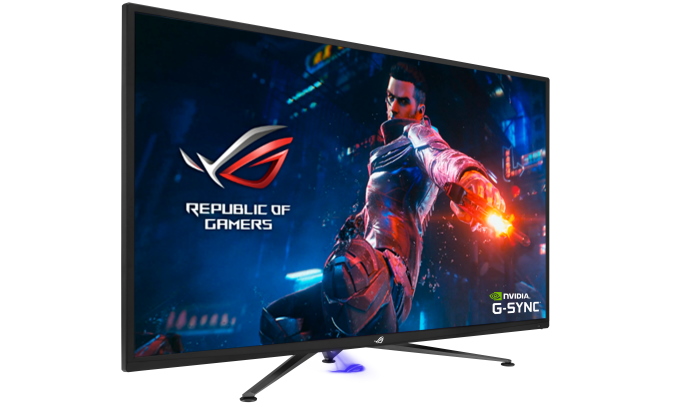 You'll find even juicier discounts on the ROG Swift PG43UQ and ROG Strix XG438Q. If you primarily game on a PC with a handy DisplayPort connector, then the PG43UQ is all the monitor you need and more. Perhaps you love the PG43UQ's size, resolution, and refresh rate, but don't anticipate taking advantage of its exceptional HDR capabilities? The XG438Q offers a similar spec sheet, but its peak HDR brightness doesn't quite match what the PG43UQ can deliver. During our Black Friday event, you can purchase one for a full $500 off of MSRP.
Treat your eyes with Eye Care monitors
Here's a sight for sore eyes: a selection of ASUS Eye Care monitors ready to elevate your home office setup. When one of our screens sports an Eye Care badge, you can trust that it helps mitigate the day-to-day eye strain and fatigue that can accompany extended time with your PC. Equipped with a flicker-free backlight and tech that reduces blue light exposure, these displays help you get more done by making it comfortable to use your PC for longer periods of time.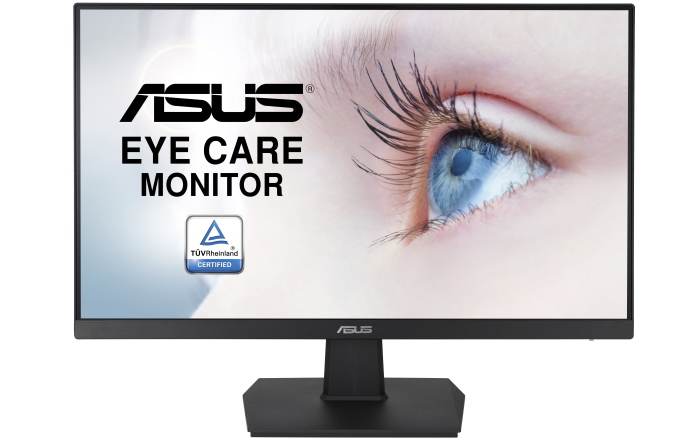 With their 21.5-inch diagonal, the ASUS VA229HR and ASUS VP228HE displays are great space-saving options for general use—and both are available for less than $100 for a limited time. The ASUS VA247HE upgrades to a larger 23.8-inch screen, and it offers a 75Hz refresh rate and Adaptive Sync for smooth animation. Wide 178° viewing angles set apart the ASUS VA249HE, making it a great choice for collaboration.
Build a powerful PC with ASUS, ROG, and Intel
Intel's latest and greatest 13th Gen processors have many enthusiasts sketching out plans for a new high-performance PC. Yet there's plenty of life left in Intel's 12th and 11th Gen CPUs—and plenty of opportunity to build a potent machine without breaking the bank thanks to our special Black Friday discounts on Z690 and Z590 motherboards.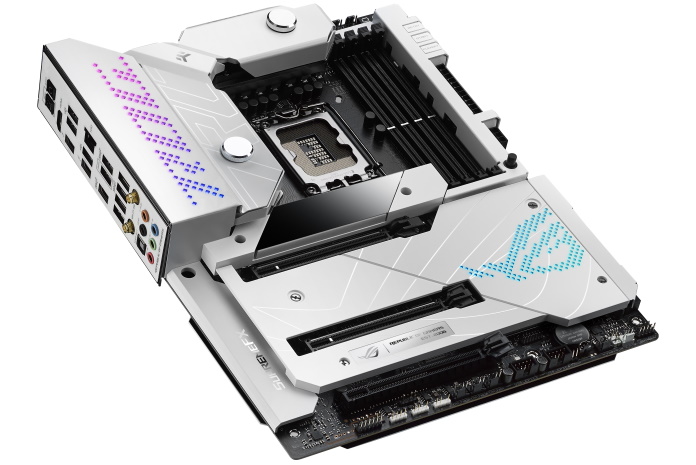 Enthusiasts, power users, and demanding gamers should take note of the $250 discount we're offering this Black Friday for the ROG Maximus Z690 Formula. This exceptional board provides a rock-solid foundation for overclocking your 12th Gen Intel Core CPU—and its pristine white surfaces make it a stunning centerpiece for a white-themed build. For those who prefer the confident style of ROG Strix, we've discounted three models in a variety of configurations. ASUS Prime motherboards deliver essential features and performance at great prices, and the tasty discounts on the Prime Z690-A and Prime Z590-A make them even more attractive options than ever.
ROG Strix and AMD offer unbeatable value for your next gaming rig
This fall has turned into a fantastic season to build a powerful gaming PC at a great price. Tempting discounts on AMD's last-gen Ryzen 5000-series processors abound—and we've got the motherboards you need to unleash the potential of these CPUs.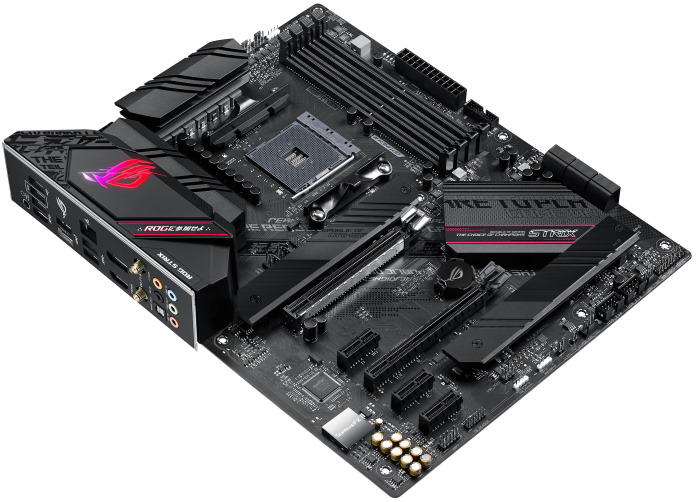 For Black Friday, we're slashing prices on a pair of ROG Strix boards: the ROG Strix B550-F Gaming WiFi II and the ROG Strix B550-F Gaming motherboards. Both give you PCIe 4.0 x16 slots and PCIe 4.0 M.2 slots ready for high-end graphics cards and speedy storage. DDR4 support lets you take advantage of cheap and plentiful DDR4 RAM to get your rig rolling, and for exceptional style they're draped in signature ROG black with sizzling accents. All you need to decide to pick between the two models is whether built-in WiFi 6E is a must-have for your needs.
Smartphones for any user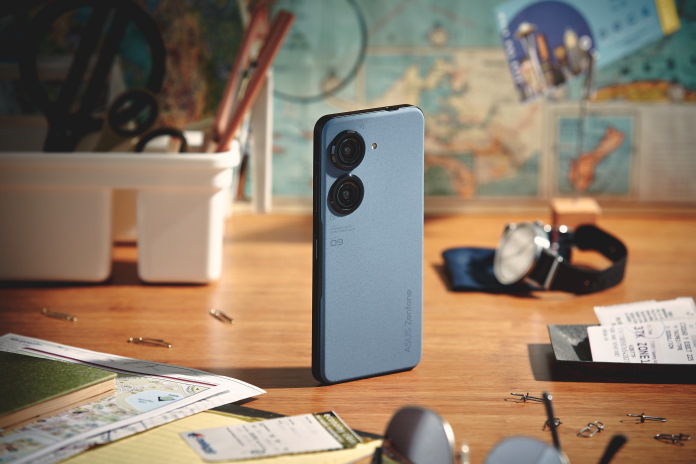 Looking for an ultra-compact, trendy smartphone this holiday season? The Zenfone 8 and Zenfone 9 pack superb performance into thin, classy designs that are easy to operate with one hand. Their 120Hz AMOLED displays deliver breathtaking visuals, and their long-lasting batteries give you the freedom to stay on the go. Premium Qualcomm Snapdragon Mobile Platforms breeze through everything you do with your phone—spring for the Zenfone 9 to take advantage of the high-end Snapdragon 8+ Gen 1 Mobile Platform.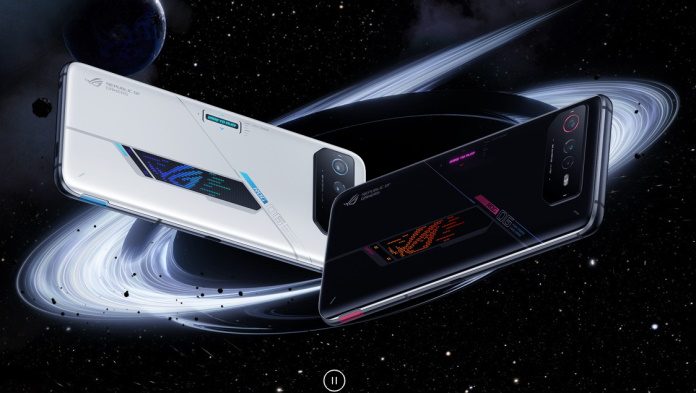 Nobody does PC gaming hardware better than ROG—and nobody does gaming smartphones better than ROG, either. The latest incarnation of our world-beating gaming phone, the ROG Phone 6 smashes every barrier between you and the mobile gaming experience you crave. Empowered by our class-leading GameCool 6 thermal system, the latest Qualcomm Snapdragon 8+ Gen 1 Mobile Platform gives you the performance you need for victory. The 165Hz display draws you in with smooth, vibrant visuals, while our AirTrigger 6 system gives you total control. The ROG Phone 6 pulls it all together with a monster 6000 mAh battery that gives you extended time away from your charger.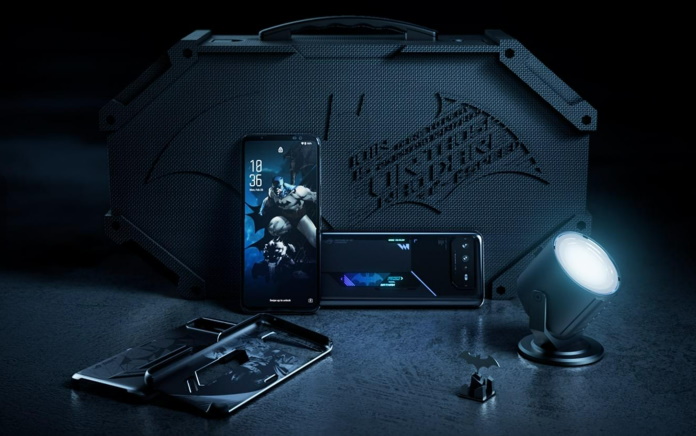 Stand out from the crowd with the ROG Phone 6 Batman Edition. Based on the acclaimed ROG Phone 6, this special edition incorporates design elements and exclusive accessories that pay tribute to the legendary crime fighter. From the Batman Aero case to the miniaturized USB-C-powered replica of the Bat-Signal Projector, from the custom live wallpaper and sound effects to the Aura RGB lighting that illuminates the iconic pixel-rendered Batman logo, this is the perfect smartphone for true fans of the caped crusader. Secure one of your own for $100 off of MSRP during this Black Friday promotion.
Tower over the competition with gaming desktops
ROG gaming desktops offer incredible performance, broad connectivity options, and incredible style. Grab one of these Black Friday deals to enjoy the convenience and power of a prebuilt PC.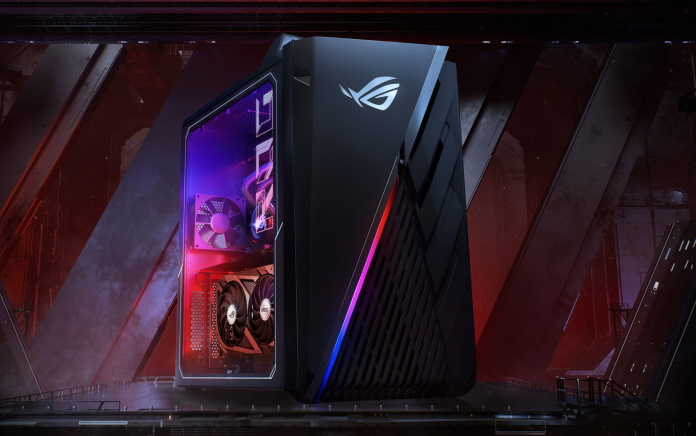 We're offering a small variety of ROG Strix G10CE machines at tempting discounts. Right out of the box, you'll get exhilarating gaming experiences with their Intel CPUs and GeForce RTX GPUs, dazzling good looks with Aura Sync lighting, and all the conveniences of a decked-out desktop. For Canadians who prefer AMD's processors, we're discounting the ROG Strix GA15, as well. Finally, we're offering a Canada-exclusive deal on the ROG Strix GA35. The discounted model pairs an AMD Ryzen 7 5800X CPU and a high-end GeForce RTX 3090—and unleashes them with its multi-zone cooling system. Get one for $1,900 CAD off of MSRP during Black Friday.