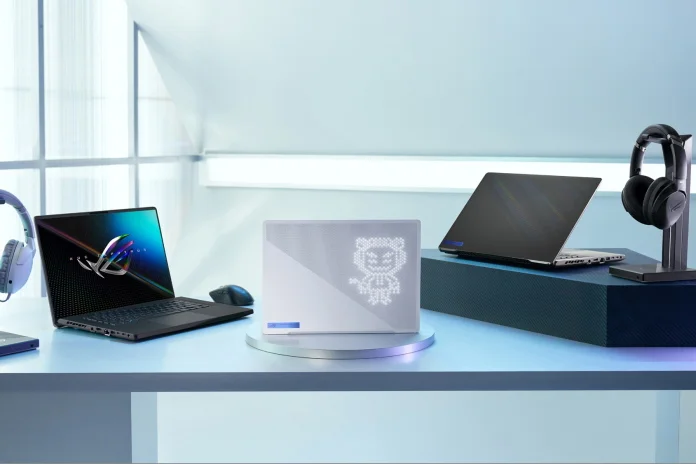 At ASUS, we know that no two gamers are exactly alike. That's why ROG and TUF Gaming laptops come in distinct lineups to better reflect the varied tastes and priorities of all gamers. We have displays with industry-leading refresh rates for competitive gamers—and high-resolution HDR screens that immerse you like never before. Across our four families of gaming laptops, you'll find ultraportable gaming machines that use innovative cooling technologies to give you outsized gaming performance, muscular high-performance models that harness the most powerful components on the market, and value-oriented laptops that set you up with the essentials without breaking the bank. You'll find displays with industry-leading refresh rates for competitive gamers alongside high-resolution HDR screens that immerse you in single-player experiences like never before. And all of our 2022 gaming laptops include a MUX switch that guarantees you'll see the peak performance of your GPU. No matter where or what you play, ASUS has a machine for you.
ROG Flow: Gaming versatility on the go
The Flow family is the newest member of our lineup. Built from the ground up with ultimate portability and versatility in mind, these machines pack power that belies their thin and light exteriors. Intended to be taken on the go, the ROG Flow Z13 gaming tablet and ROG Flow X13 2-in-1 fit comfortably into even the smallest bags, without the heft of traditional gaming laptops.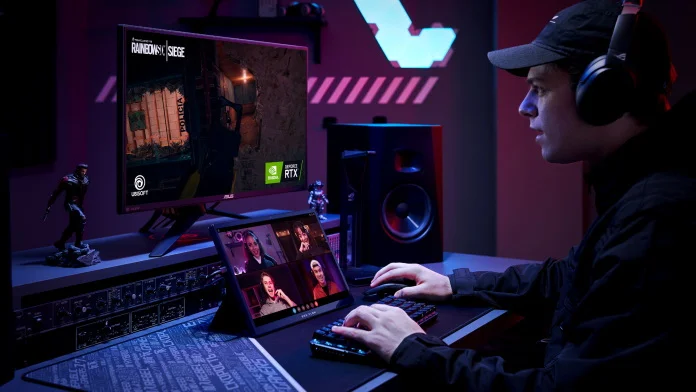 These incredibly thin and lightweight machines are ideal for any kind of content consumption. Whether you're looking for a transformer laptop with a 360° hinge, or a true tablet with a fully detachable keyboard, both Flow devices are excellent for watching movies, streaming your favorite TV shows or gameplay, brushing up on some art, or quickly catching up on the latest comics. Vibrant screens, robust touch support, and a small footprint make the Flow devices perfect for anyone who needs to carry their content with them throughout the house.
As gaming systems, the Flow family comes packed with some serious hardware. With up to a Ryzen 9 or Intel Core i9 CPU and NVIDIA RTX 3050 Ti dedicated GPU, these machines can easily power a AAA gaming experience all on their own. A custom vapor chamber in the Flow Z13 keeps these high-performance components operating comfortably in its ultraportable tablet form factor. For flagship-level GPU performance whenever you want it, you can even connect the Flow X13 or Flow Z13 to one of our XG Mobile external GPUs. Using a direct PCIe interface, the XG Mobile houses a Radeon RX 6850M XT or GeForce RTX 3080 Laptop GPU in an enclosure the size of a hardcover novel. The XG Mobile also leverages the bandwidth of PCIe by providing a dedicated LAN port, additional display outputs, an SD card reader, and four high speed USB Type-A ports.
In other words: if you want a compact laptop on-the-go and a desktop-caliber experience at home, the Flow series is for you.
ROG Strix: Esports domination for competitive players
When every extra frame and millisecond matters, the ROG Strix family delivers the ultimate in gaming performance. Featuring the highest-end CPUs and GPUs, these gaming laptops give you a competitive edge no matter what games you play. ROG Intelligent Cooling allows extra thermal headroom for these machines to reach higher boost clocks for excellent sustained performance, and the displays feature the fastest refresh rates available on a laptop today so you see every possible frame.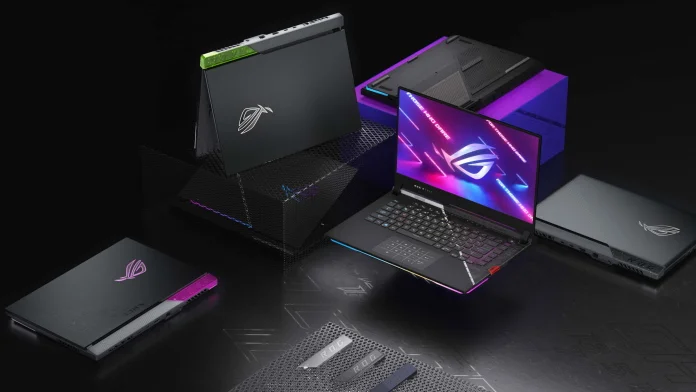 For esports titles that demand the absolute highest frame rates and lowest panel response times, the 2022 ROG Strix SCAR and Strix G are the clear choice. The Strix SCAR is our top-of-the-line esports machine for professional gamers who demand the ultimate in performance. This machine can deliver the full sustained performance of a 150W TGP GeForce RTX 3080 Ti Laptop GPU, while keeping the fans spinning unobtrusively and the chassis cool under your fingers. The Strix G offers similarly high-end performance at a more affordable price for esports enthusiasts of all stripes.
No matter which Strix machine you choose, you can select a 360Hz display with a resolution of 1920×1080 for supremely fluid and responsive animation, or a 240Hz display that balances smoothness with fine detail with its 2560×1440 resolution. Both options have 3ms response times and Adaptive-Sync, so they provide crystal clear motion and enable you to rapidly respond as soon as you engage the enemy. It's an unmistakable advantage when you can literally see the enemy before they see you.
Adorned with distinct cyberpunk styling and RGB accents, the Strix family boldy announces your allegiance to the Republic of Gamers. While designed primarily as high-powered gaming machines, these laptops can also render video projects or allow you to stream with ease thanks to their powerful components. They also feature a wide array of I/O ports, including 2.5G ethernet on all 2022 Strix models, for rock-solid connections during online play. Gamers who crave unbounded performance above all need look no further.
ROG Zephyrus: The zenith of form and function
With svelte and refined exteriors, premium materials, and gaming baked deep into their DNA, ROG Zephyrus laptops effortlessly meld form and function. While not quite as thin and light as the Flow series, Zephyrus devices pack exceptional gaming power into slim, portable designs.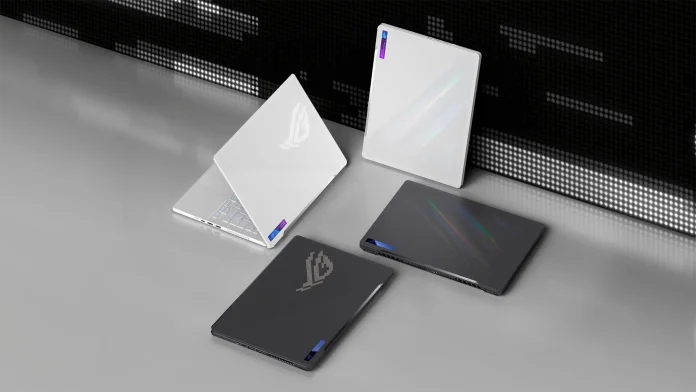 Components range from mid- to high-end graphics, with ROG Intelligent Cooling ensuring we get the maximum performance possible for each laptop's thin and light form factor. When compared with affordable alternatives like ASUS TUF Gaming, though, the Zephyrus series offers a more premium all-around experience. Select models, for example, feature all-new Nebula Displays that draw you into the game with 100% DCI-P3 coverage, 500 nit peak brightness, and less than 3ms response times for clear motion in battle. For truly spectacular images, the Zephyrus G14 and Zephyrus Duo 16 also come with a Nebula HDR Display option, bumping the peak brightness up to an incredible 1100 nits peak brightness with a 100,000:1 contrast ratio for incredibly vivid HDR content.
Not only do these displays provide a superior gaming experience, but these high-quality 16:10 panels are also great for content creation when you aren't fragging enemies. Subtle designs like the ROG Zephyrus M16 fit in professional scenarios as well as they do at a LAN party, while the iconic ROG Zephyrus G14 offers extras like our AniMe Matrix™ LED display on the back of the lid with custom animations that stand out from the crowd. The ROG Zephyrus G15 offers a balance of power and portability you won't find in other 15-inch machines.
At the head of the table is the mighty Zephyrus Duo 16 and its unique dual-screen design. With up to 4K resolution, the secondary touchscreen serves as the perfect stream or chat display without losing one pixel of space for your main screen when gaming. For content creators who need portable multitasking power, for streamers who need the ultimate command center, and for gamers who like to keep the dungeon map open without tabbing in and out of game, the flagship Zephyrus Duo 16 is the perfect companion.
For a powerful, portable laptop that can do it all with premium flair, look no further than the Zephyrus series.
TUF Gaming: No frills, just kills
For folks just entering the world of PC gaming, or for anyone who needs an affordable device that doesn't skimp on power, the TUF Gaming family offers an incredible value proposition. TUF Gaming laptops give you the essentials you need to dive into gaming at a price that won't break the bank. Featuring high-end components, capable cooling, and durable construction built to Military Grade MIL-STD-810H standards, these laptops hit the ground running in all of the latest games, and easily shrug off the normal wear and tear of being lugged around in a backpack. Subtle anime-inspired styling gives the lineup a unique look without making them feel out of place in a coffee shop or classroom.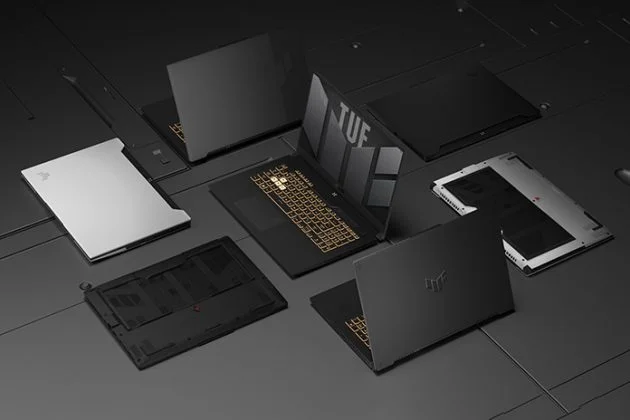 With the TUF Gaming A15 and A17 powered by AMD, and the TUF Gaming F15 and F17 sporting Intel Core processors, you're sure to find a laptop with the form factor and specifications that best suit you. Featuring up to an RTX 3070 Ti Laptop GPU and a 1440p 165Hz display, these machines are ready to get their game on. If you want something a bit more portable and stealthy, the TUF Dash F15 weighs in at just two kilograms (4.41lbs) and sports an even thinner chassis. With up to an RTX 3070 Laptop GPU, it's no slouch on the battlefield, while a Thunderbolt 4 port makes mobile productivity a one-cable affair. If you're looking for a no-frills gaming experience, a member of the TUF family might just be the next laptop for you.
Gaming laptops for every kind of gamer
At ASUS, we are all about delivering out-of-this-world gaming experiences. For every lifestyle and budget, ROG and TUF Gaming laptops deliver the performance you demand and the features you crave. If you have any additional questions about our product family, please contact your local ASUS representative.