People everywhere love Chromebooks for their easy interface, lightweight portability, and affordable price tags. What they haven't been known for—at least, until now—is gaming. Unless browser-based titles and the occasional mobile game from the Google Play store are your jam, you've needed a gaming laptop, console, or desktop PC to play your favorite titles. Today, that's all changing. Now that cloud gaming services like GeForce NOW have matured, Chromebook cloud gaming is a real possibility for a wide range of users.
Now that Chromebook cloud gaming is a real and affordable option for PC gaming, you might have some questions about what you'll need to get started. In this guide, we'll answer common questions about cloud gaming. We'll look in more detail at how the affordable Chromebook Vibe CX55 Flip offers gaming features above and beyond what you'd find in a typical Chromebook. Finally, we'll talk about the last pieces of kit that you might need for a complete, seamless cloud gaming experience.
What is cloud gaming?
Traditional PC gamers install and run their games on their local machines. That's why their laptops and desktops have specialized hardware like graphics cards—modern AAA games with photorealistic graphics need these components to run smoothly.
Instead of running games on their local machines, cloud gamers subscribe to a service that processes the graphics on cloud-based systems. Then, the gameplay gets streamed to their device, much the same way that YouTube, Netflix, and Disney+ stream video to your devices.
Cloud gaming has existed in various forms for many years, but it's taken off recently with platforms like GeForce Now and Amazon Luna. Improvements in hardware have helped, too—WiFi 6 technology, for example, ensures more stable WiFi connections to devices, a crucial requirement for immersive cloud gaming.
Who is cloud gaming for?
Chromebook cloud gaming is a tempting option for gamers on a budget—or those who just want to give PC gaming a try without a large upfront investment. With an inexpensive Chromebook, a monthly subscription to a cloud gaming service, and your preferred gaming peripherals, you can quickly check out the games that all your friends and family are talking about.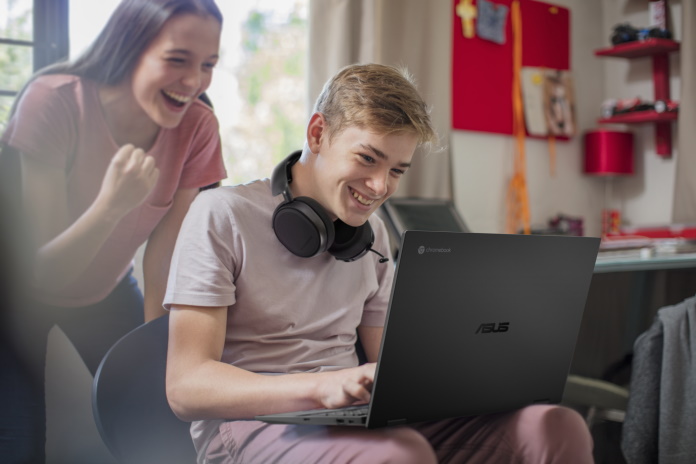 Cloud gaming is also a compelling choice for anyone who grew up using Chromebooks and would prefer to stick with the familiar platform. Schools everywhere keep sets of Chromebooks in their classrooms, so for many people a Chromebook is the first laptop they ever used.
Chromebook cloud gaming also makes sense for many college students. College students typically need a computer that's very portable, ready for collaboration with other students, and affordable. Chromebooks check all those boxes—and a Chromebook built for cloud gaming gives them the additional bonus of letting them game with their friends.
What Chromebook is best for cloud gaming?
Cloud gaming services like GeForce NOW will install and run on just about any Chromebook—but not all Chromebooks are equally ready for cloud gaming. While cloud services take care of the graphics processing for playing your game, you still need to provide the display, controls, and networking.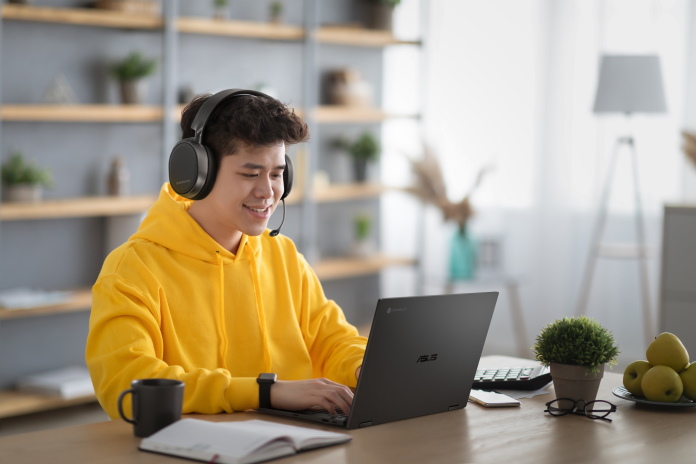 Our new Chromebook Vibe CX55 Flip offers the key gaming-focused features you need for cloud gaming. It starts with a well-equipped 15" touchscreen. The touchscreen interface allows you to interact intuitively with touch-enabled games, and it's a real convenience for everyday tasks and web browsing. The key gaming spec for this display, though, is its 144Hz refresh rate. This gives you smooth, responsive animation in fast-paced games so that you don't miss a moment of the action.
PC gamers expect their keyboards to perform in the heat of battle. This laptop features an anti-ghosting keyboard that allows it to register every keypress. Backlighting and color-blocked WASD keys help you find the right keys even in dim rooms, and 1.4mm key travel keeps your fingers comfortable for long gaming sessions. Even further, our ErgoLift hinge mechanism lifts the keyboard to a comfortable typing angle when you open the lid, and it also opens up increased room for ventilation so that the laptop never loses its cool.
The ErgoLift hinge also opens up a full 360°, giving you versatile options for how you play your game. Tent mode lets you set up the PC in a limited space and bring the screen closer to you—while giving the system's cooling solution an assist. Tablet mode lets you play touch-enabled games comfortably from anywhere, and traditional clamshell mode opens up keyboard-and-mouse PC gaming.
Cloud gaming requires a rock-solid internet connection. This notebook plays its part with a dual-band 2×2 WiFi 6 radio. Paired with a well-appointed wireless router and a high-bandwidth internet connection, this Chromebook will make sure you have a reliable, uninterrupted connection to your cloud gaming services.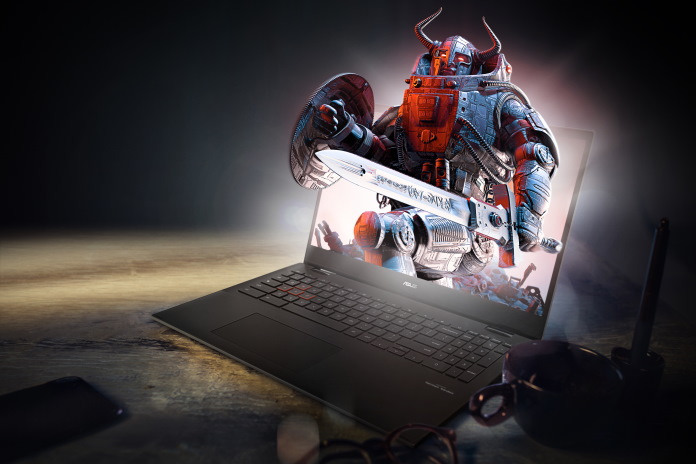 For immersive gaming audio, we equip the Chromebook Vibe CX55 Flip with a Harman / Kardon-certified dual-speaker array. Support for spatial audio means that you can track the movement of in-game enemies around you through sound, even when you're not gaming with a headset.
For all-around performance in and out of games, the Chromebook Vibe CX55 Flip boasts a set of components a cut above what you'd find in most Chromebooks. It features a snappy Intel processor up to the Core i7-1165G7 CPU paired with up to 16GB of RAM. A speedy NVMe SSD up to 512GB delivers fast access to your apps and files. And a comprehensive set of ports, including two full-function USB 3.2 Gen 2 Type-C ports and an HDMI 2.0 port, make sure you can connect all your gaming peripherals.
What other hardware will I need for cloud gaming?
With the Chromebook Vibe CX55 Flip in your hands, you're just about to the finish line and ready to start gaming. We do recommend taking a moment to check your internet connection and determine if you'll need an upgrade to get the best experience. GeForce NOW lets you test your home network right inside the app. If your connection isn't up to snuff, start by looking at your home router. We offer a full range of WiFi 6 routers if you're still running on last-gen tech.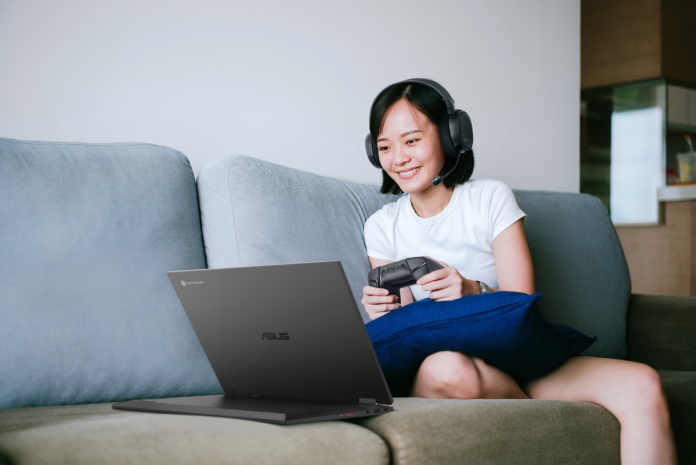 Next, let's talk audio. The Chromebook Vibe CX55 Flip's dual-speak array won't disappoint, but you'll almost certainly find times when you'll prefer the privacy of a headset. The ROG Strix Go Core is a cost-effective option that delivers great sound and is comfortable to wear for long gaming sessions. Its swivel-fold mechanism makes it easy to pack up when you're on the go, and its detachable, unidirectional boom mic lets you communicate clearly with your squadmates.
You should also consider the control scheme that you prefer for gaming. The Chromebook Vibe CX55 Flip's display is a touchscreen, so it'll work right out of the box with touch-enabled PC games like Civilization VI. If you're a mouse-and-keyboard kind of gamer, find a mouse that fits your hand and your playstyle. The ROG Gladius III is an all-around excellent gaming mouse with pinpoint accuracy, hotswappable switches, and a comfortable shape. Alternatively, the lightweight and compact ROG Keris is a great choice for FPS enthusiasts and gamers on the go. Both are available in wireless versions for convenience. Those who prefer controllers for gaming can connect their favorite model, though we'll note that the Xbox Wireless Controller is beloved by many and easy to connect to a Chromebook.
Finally, we'll suggest that you consider a desktop gaming monitor. The Chromebook Vibe CX55 Flip's 15.6" display will give you great gaming experiences no matter where you go, but if you're gaming at a desk in your home or apartment, you might as well take advantage of that desk space with an even larger display. Our TUF Gaming monitor lineup is a great place to start looking for a display, as they offer high-end gaming specs at wallet-friendly prices. We recommend the TUF Gaming VG28AQL1A as a compelling all-around pick. Its 27" panel boasts a detailed 2560×1440 resolution and a speed 170Hz refresh rate, an ideal combo for games of all kinds.
Get started with Chromebook cloud gaming today
The Chromebook Vibe CX55 Flip makes sure that everyone can get in on PC gaming. In a lightweight, portable design, it gives you everything you need to get started with cloud gaming—and, as a Chromebook, it's ready to power your education and your everyday computing, as well.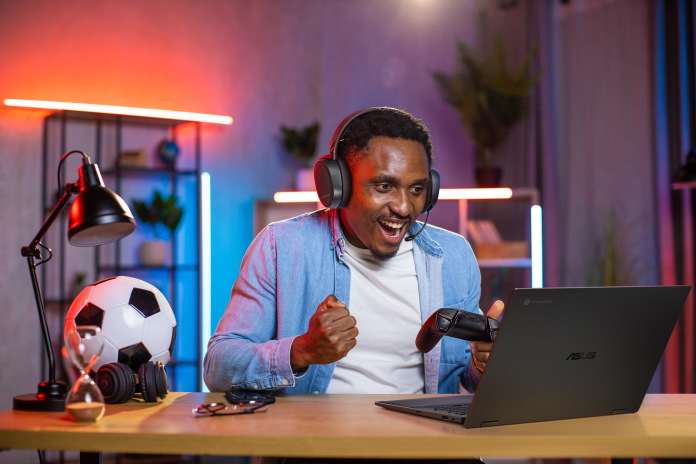 For a limited time, we'll kickstart your Chromebook cloud gaming adventures with 3 months of access to GeForce NOW and Amazon Luna+, free of charge*. Don't miss out on this opportunity to get into the game.
ASUS Chromebook Vibe CX55 Flip
Operating system
ChromeOS
CPU
Up to Intel Core i7-1165G7
Graphics
Up to Intel Iris Xe Graphics
Memory
Up to 16GB LPDDR4X 4266MHz
Storage
Up to 512GB NVMe M.2 SSD
Display
15.6" touchscreen, 1920x1080, 144Hz
I/O
2 x USB 3.2 Gen 2 Type-C
1 x USB 3.2 Gen 2 Type-A
1 x HDMI 2.0
1 x audio combo jack
1x microSD card reader
Webcame
HD webcam
Audio
2 x Harman / Kardon certified speakers
2 x multi-array microphone
Google Assistant voice recognition support
Weight
1.95kg (4.03 lbs)
Dimensions
35.76 x 24.08 x 1.85cm
(14.08" x 9.48" x 0.73")
Battery
57Wh
Availability (U.S.)
Amazon
Best Buy
*Availability of platforms may vary by region. Please visit the official websites of these services for more detailed information.