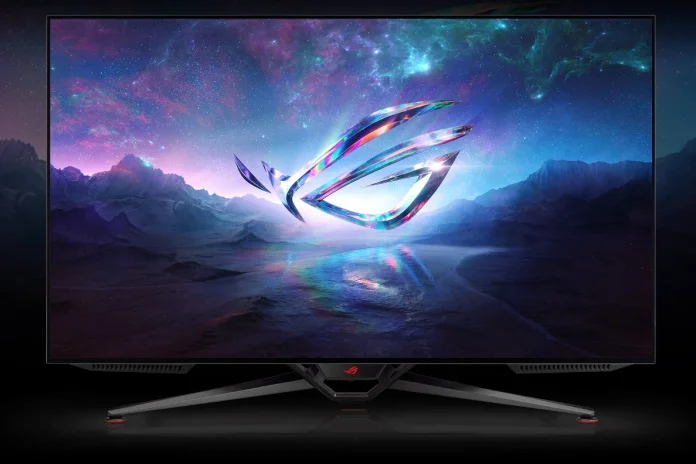 Premium OLED monitors have so much to offer, whether you're buying a desktop display or shopping for a new laptop. Compared to traditional LCD displays, they offer near-infinite contrast, exceptional color volume and accuracy, and almost no motion blur—and that's just the start. Recently, we brought this revolutionary panel tech to our wide-ranging display lineup.
So what's the best ASUS OLED monitor for you? It depends on your primary uses for your computer—gamers, photo and video editors, game developers, and 3D animators all have different needs for their displays. No matter what kind of monitor you need, we've got you covered. In this guide, we'll walk you through our options so that you can find the best ASUS OLED monitor for your PC setup.
The best ASUS OLED monitor for gaming
The excellent color reproduction, low motion blur, and outstanding contrast of OLED panels make them a great choice for gaming. But you won't get the full suite of gaming features you crave from any old OLED TV. For the best experience in a wide variety of games, the ROG Swift OLED PG42UQ is the superior choice.
Large enough to be fully immersive, yet not too large for desktop use, the PG42UQ offers a sweeping 41.5-inch OLED panel that provides a breathtaking vista into your favorite games. Its 4K resolution brings out fine detail in game textures and keeps text and images crisp during regular use. For fewer distractions as you game, it features an anti-glare micro-texture coating on the panel surface. And it's capable of producing exceptionally inky blacks and dazzling highlights, making it primed and ready for great HDR experiences.
Gaming-first features set the ROG Swift OLED PG42UQ apart from run-of-the-mill OLED TVs. For fluid animation, it boasts a refresh rate that you can overclock up to 138Hz. It's G-SYNC compatible for responsive, tear-free gaming, and it offers a full complement of ports, including HDMI 2.1 and DisplayPort 1.4 options. The ROG-exclusive uniform brightness feature within the OSD menu decreases peak brightness to keep levels consistent for better viewing, even when changing the size of bright white windows. And unlike TVs, which need you to use their remote control to turn them on, the PG42UQ can be woken up from Standby Mode the moment you move your mouse or press a button on your keyboard—just as you expect with a gaming monitor.
For long-term performance, we built a custom heatsink for the PG42UQ that lowers its operating temperatures by up to 8%. This allows you to enjoy a brighter image for longer without auto-dimming. Those lower temperatures, along with the PG42UQ's built-in tools and some common-sense usage tips, also reduce the risk of image retention.
The best ASUS OLED monitor for all-around entertainment
Maybe you love the feature set of the ROG Swift OLED PG42UQ, but you're looking for something a bit larger. Perhaps you like to kick back with a controller when you game, or you're looking for a large display for your gaming den. The ROG Swift OLED PG48UQ delivers the same set of gaming features as the PG42UQ, but on a massive 47.5-inch panel.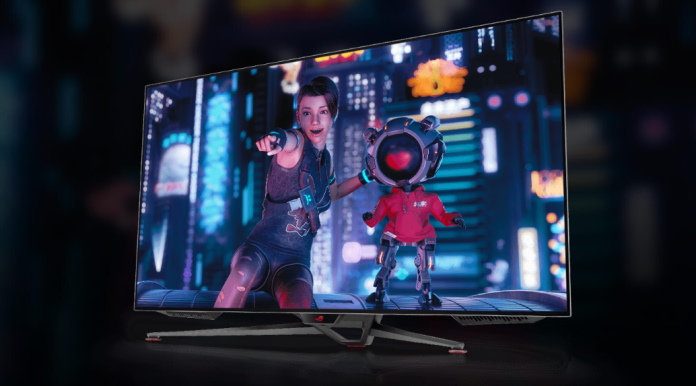 If you're equally likely to game on your console as your PC, the PG48UQ just might be your dream monitor. Connect your next-gen console to its HDMI 2.1 port and your PC to its DisplayPort 1.4 port, and you'll get the best of both worlds on a single display. A tripod socket atop the monitor makes it easy to place this display at the center of your livestreaming empire. Its sRGB mode ensures that you'll enjoy accurate colors when you're watching online video. And when it's time to kick back on the couch and relax with your favorite show or streamers, you'll get an entertainment experience from the ROG Swift OLED PG48UQ that rivals the level of immersion you'd get from a theater.
Want to see what the PG48UQ would look like in your gaming space? Head over to Instagram on a mobile device and use our AR-powered filter to see for yourself.
The best ASUS OLED monitor for creators
Creators were among the first to recognize the potential of OLED displays—and our ProArt OLED displays are among the first to make the dream of professional-grade OLED monitors come true. For creatives working with HDR content, there's no better monitor than the ProArt Display OLED PA32DC.
The ProArt Display OLED PA32DC's vivid OLED panel is finely tuned to meet the needs of creators working with HDR content. Unlike other OLED panels that use an RGBW or PenTile sub-pixel array, the PA32DC uses an RGB sub-pixel arrangement for the crispest on-screen images and text. Its generous 31.5" diagonal gives you a close and careful look at your work, while its 3840×2160 resolution brings out all the fine detail in your creations. Its ultrafast 0.1ms response time makes it a natural fit for mastering fast-moving HDR content, as each pixel can rapidly transition to a new color without visible blur.
These characteristics by themselves would make the PA32DC a dream monitor for many professional artists, but that's just the beginning of what it offers. It offers true 10-bit color, and it covers 99% of the cinema-grade DCI-P3 color gamut. ASUS Smart HDR technology ensures compatibility with existing streaming video services and a growing list of HDR-enabled games. To maintain professional-level accuracy over the long term, the PA32DC has a built-in Auto Calibration tool, making it the world's first OLED display with such a feature.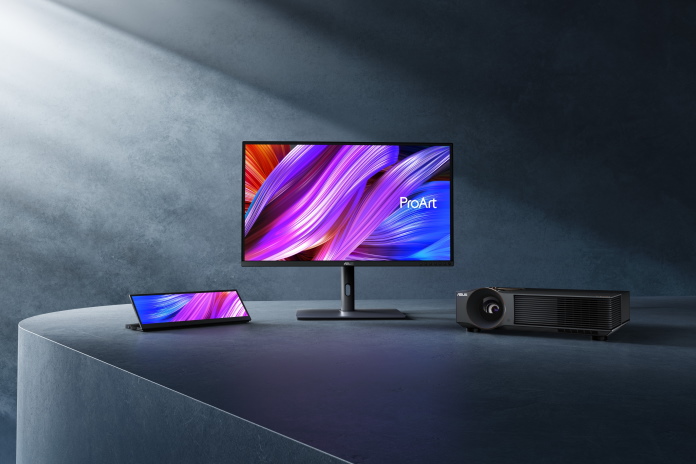 We offer a wide range of ProArt displays fine-tuned to meet the needs of every creator. To find the right display for your workflow, check out our easy guide to the ProArt family of displays.
The best ASUS OLED monitor for on-the-go creatives
Some creators work primarily from their studio or home office. Others work on the move, relying on their laptop to keep them productive. To augment your multitasking power on the go—and give yourself a professional-grade monitor that's ready to travel at a moment's notice—consider the ZenScreen OLED MQ16AH.
This petite 15.6-inch display will slide easily into your satchel or laptop bag, yet you'll find that it's fully equipped to give you all the advantages of an OLED display. It delivers 100% of the cinema-grade DCI-P3 color gamut, and it's calibrated to achieve a ΔE of less than 2, letting you create with confidence.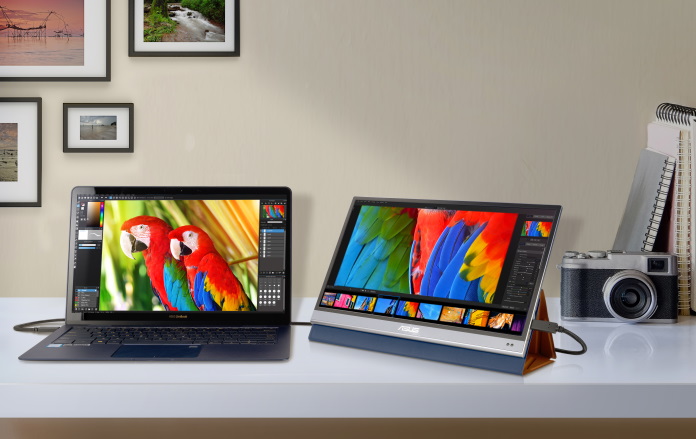 The display's thin-and-light design and versatile Smart Case make it an easy traveling companion. The ASUS Smart Case not only protects the display but also serves as an always-ready adjustable stand. For even more flexibility, the ZenScreen OLED has a threaded socket that's compatible with any standard tripod. To save power and reduce the possibility of image retention, an embedded Proximity Sensor dims the display when it's not in use.
The ZenScreen MQ16AH offers an impressive set of specs for creators—but it's ready for fun, too. Whether you're browsing photographs, catching up on the latest episode of your favorite show, or just browsing the web, its OLED panel gives you more lifelike color and practically perfect contrast.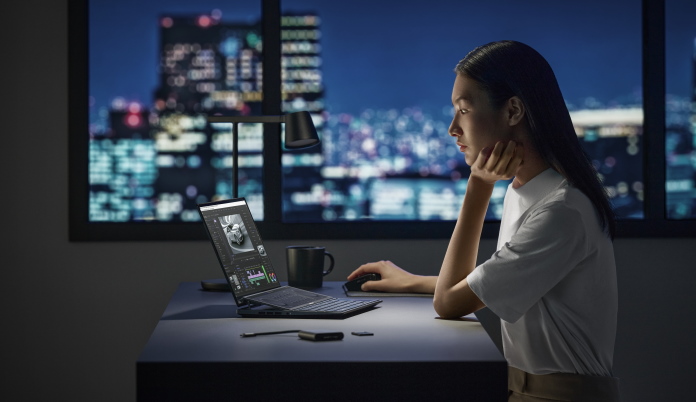 Need a creator-focused laptop to pair with the ZenScreen OLED MQ16AH? We offer a wide variety of laptops with the high-performance components, accurate displays, and versatile inputs you need for creative work. Click here to browse our selection of professional-grade ProArt StudioBook, fashionable and feature-rich Zenbooks, and affordable Vivobooks.