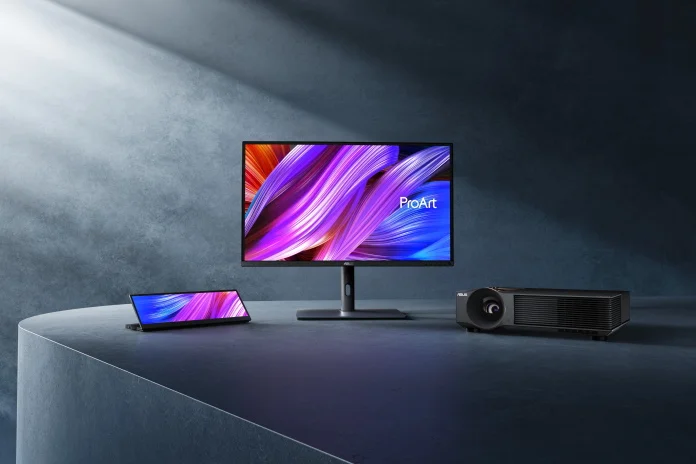 Every trade has its tools, the specialized equipment demanded by the task at hand. For creative professionals—architects, engineers, filmmakers, photographers, game developers, 3D animators, product designers, graphic artists, and more—a specialized monitor is an essential tool of the trade. Our ProArt family of displays empowers creators to work with confidence. Built from the ground up with the essential specs needed in a wide range of demanding fields, the best ProArt displays streamline creative workflows and help you or your employees move rapidly from concept to product.
The ProArt family includes many options purpose-built for specific professions, so there's a large lineup to consider as you look for the best ProArt display for your studio or business. Here, we'll give you a guided tour of the ProArt family. Whether you're looking for a premium monitor with record-breaking HDR capabilities or a midrange model with the targeted features necessary for your workflow, a stylus-ready portable display or an ultrawide with a fast refresh rate, we offer a ProArt display that meets your needs.
The right mix of features for any workflow
Creators consider many factors when picking a display. Screen size, resolution, aspect ratio, connectivity, and ergonomic adjustments are all important elements, for creatives as for anyone else. But one key spec sets apart displays for creators from the competition: accuracy. For professional-quality work, you need to trust your display to perfectly paint each pixel. ProArt Displays are factory calibrated to achieve an average ΔE value of less than 2—if not lower—giving you confidence that you're seeing each hue correctly. Certifications from Pantone or Calman, depending on the model, attest to the out-of-the-box color accuracy you can expect from a ProArt display.
Increasingly, creators are looking for monitors that pair professional-level accuracy with high dynamic range (HDR) capabilities. The HDR ecosystem has matured, and consumers are eager for content that takes advantage of the inky shadows and dazzling highlights that their HDR TVs and monitors can produce. We offer ProArt displays with the exceptional contrast, wide color gamut support, and factory calibrations that creators need to work in this new frontier of media.
ProArt displays also offer excellent coverage of a wide range of industry standard color gamuts—and the tools you need to efficiently change color spaces and make adjustments. The ProArt Preset tool, accessible through the on-screen display, lets you cycle through color space options to find the one that best fits your workflow. Through ProArt Palette, you can make fast adjustments to brightness, saturation, and hue, among others—an invaluable tool for getting a consistent image across multiple monitors.
The best ProArt displays for HDR workflows
Organic light-emitting diode (OLED) panel tech is a natural fit for HDR content mastering. Since each individual pixel in an OLED panel is its own light source, OLED displays can offer ultra-precise control and extreme contrast. The ProArt Display OLED PA32DC uses a cutting-edge OLED panel to meet the needs of creatives working with HDR content.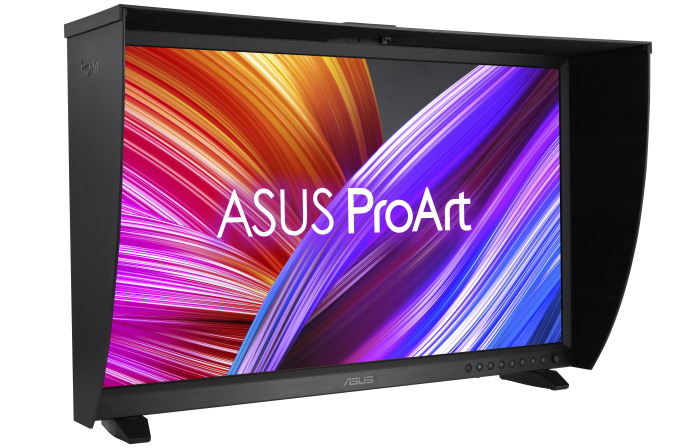 The ProArt Display OLED PA32DC's vivid OLED panel is finely tuned to meet the needs of the creators working with HDR content. Unlike other OLED panels that use an RGBW or PenTile sub-pixel array, the PA32DC uses an RGB sub-pixel arrangement for the crispest on-screen images and text. Its generous 31.5" diagonal gives you a close and careful look at your work, while its 3840×2160 resolution brings out all the fine detail in your creations. Its ultrafast 0.1ms response time makes it a natural fit for mastering fast-moving HDR content, as each pixel can rapidly transition to a new color without visible blur.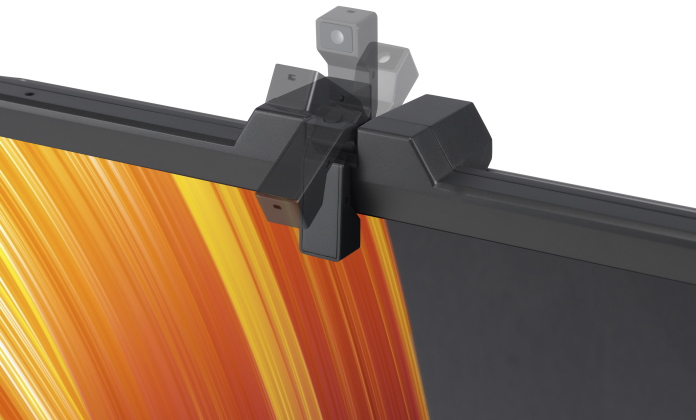 OLED panels are known for their excellent color reproduction, and the ProArt Display OLED PA32DC is a shining example of what the tech can provide to even the most demanding of creators. It offers true 10-bit color, and it covers 99% of the cinema-grade DCI-P3 color gamut. ASUS Smart HDR technology ensures compatibility with existing streaming video services and a growing list of HDR-enabled games. The PA32DC supports multiple HDR metadata formats so that you can check how content will appear for a wide range of target displays before it's sent off for final delivery. To maintain professional-level accuracy over the long term, the PA32DC has a built-in Auto Calibration tool, making it the world's first OLED display with such a feature. A built-in colorimeter moves into place when you need it, even with the display hood mounted.
OLED tech isn't the only game in town for HDR workflows, though. We offer ProArt displays that use full-array local dimming (FALD) Mini-LED backlights to deliver stunningly bright HDR highlights and eye-popping contrast between light and dark areas.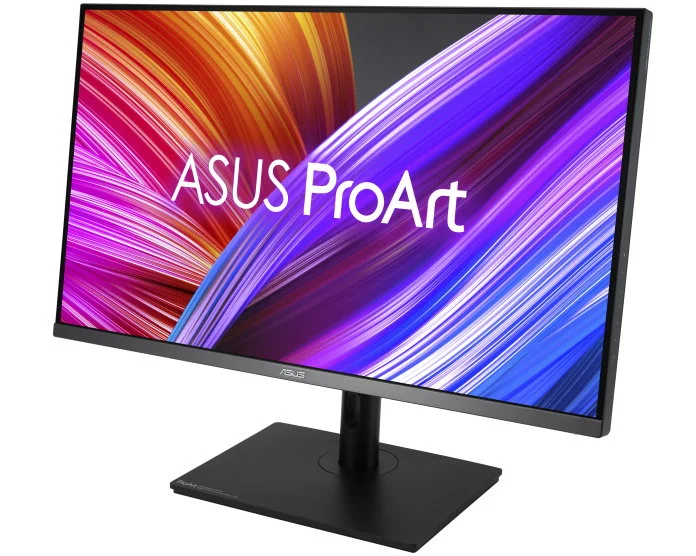 The ProArt Display PA32UCR uses 576 Mini-LED dimming zones spread across its 32" canvas to offer dazzling highlights and top-end contrast. This impressive performance lets it claim elite VESA DisplayHDR 1000 certification. Whether you're targeting Hybrid Log-Gamma or HDR10 metadata for HDR playback, the PA32UCR supports each standard so that the user can always show how that content will appear before it's sent off for final delivery. 98% DCI-P3, 99.5% Adobe RGB, and 100% sRGB coverage make the PA32UCR a flexible canvas for still and moving images alike.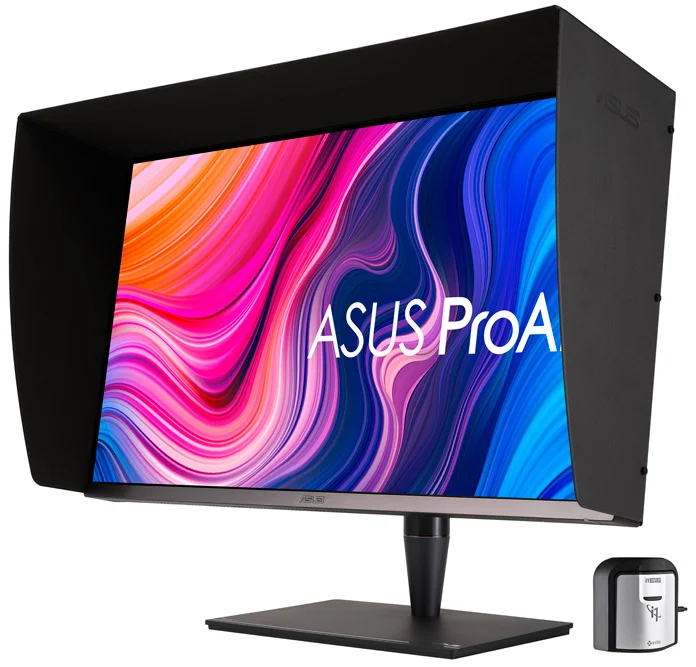 For the ultimate in HDR highlight reproduction across the broadest range of input sources, the ProArt Display PA32UCG-K stands ready. Thanks to an 1152-zone Mini-LED backlight with an incredible 1600 nit peak brightness rating and VESA DisplayHDR 1400 certification, this monitor simulates both light and dark with unparalleled realism, giving filmmakers and videographers a unique tool for recognizing their creative visions.
HDR is an increasingly common feature in games. Like other artists, game developers need accurate and reproducible color. Game developers also work with content that naturally includes higher refresh rates than the 24 FPS or 30 FPS typical of film and TV. Thanks to HDMI 2.1 inputs and variable refresh rates ranging from 48Hz to 120Hz, the PA32UCG-K lets game developers and asset artists view their creations exactly as they'll be reproduced on modern consoles and gaming PCs.
The best ProArt display for game development and 3D animation
If you're a game developer or a 3D animator, you probably have a long checklist of requirements for your next monitor. You're probably on the hunt for gaming-first features like a high refresh rate, Adaptive-Sync support, and a high dynamic range (HDR) capabilities. As a creative professional, you likely insist on professional-grade color accuracy and wide color gamut coverage. And you're almost certainly looking for a space-saving display with rich connectivity options.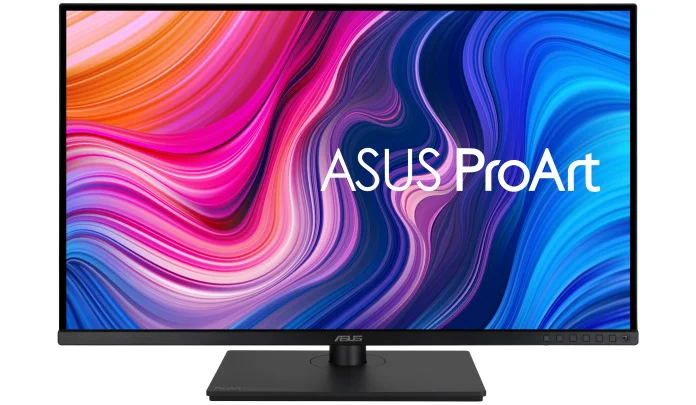 Enter the ProArt Display PA328CGV. This large 32" monitor straddles the divide between gaming prowess and creative excellence, letting game developers and asset artists view their creations exactly as they'll be reproduced on gaming PCs. The PA328CGV offers a large 32" vista for creating in-game assets and checking out your current build. Its 2560×1440 resolution both brings out fine detail and provides plenty of room for viewing multiple windows simultaneously.
The PA328CGV's FreeSync Premium Pro certification attests to its rock-solid gaming credentials. With a variable refresh rate range that reaches all the way up to 165Hz, you'll get buttery-smooth on-screen animation without screen tearing, even in games with fast-paced action. Increasingly, developers are using HDR content to dial up the immersion for their fanbases. The PA328CGV is VESA DisplayHDR 600 certified, so it can produce bright highlights and impressive shadows during HDR development.
This feature-rich display combines those key gaming specs with accurate color. It's factory-calibrated and Calman Verified to ensure an average ΔE of less than two out of the box, so you can be confident that your content will look the same wherever it's viewed. Its 95% coverage of the DCI-P3 color gamuts and 100% coverage of the sRGB and Rec. 709 color gamuts lets you master game assets with confidence.
The best ProArt Display for architects
As an ultrawide monitor, the ProArt Display PA348CGV is a particularly tempting choice for architects—or anyone who works with multiple programs simultaneously. This monitor's ultrawide 34-inch panel offers you the screen space you need to manage a complex workflow with its 3440×1440 resolution. Thanks to its spacious 21:9 aspect ratio, you'll have the room for the controls and menus of your favorite apps and space to see your projects in full detail, all on one display.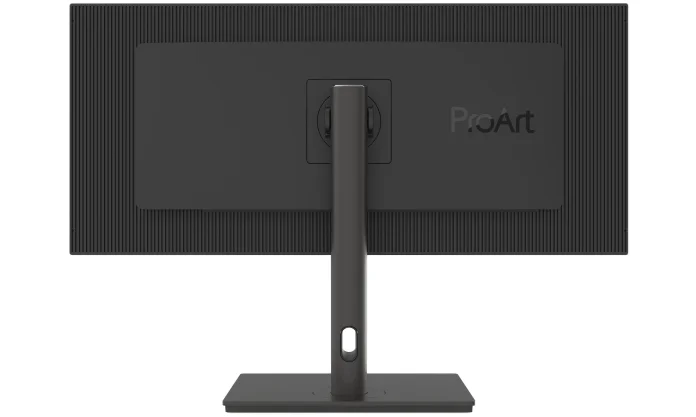 The PA348CGV's increased horizontal dimension is far from the only trick up its sleeve. For smooth animation during rendering work, the ProArt Display PA348CGV offers a speedy 120Hz refresh rate. The PA348CGV is factory calibrated and Calman Verified to achieve an average ΔE value of less than 2, so you can trust it to perfectly paint each pixel. With its 98% coverage of the cinema-grade DCI-P3 color gamut, it delivers wide color reproduction, as well.
Availability (U.S.)
ProArt Display PA348CGV
ASUS
Newegg
The best ProArt displays for stylus work
Many creators rely on the accuracy, simplicity, and control of stylus input. The ProArt Display PA147CDV gives creators a secondary display and a flexible input device with stylus support, the ASUS Dial, and Control Panel software, all in a slim package design that fits right into a laptop bag.
The PA147CDV offers similar functionality in a space-saving design. Its wide 32:9 aspect ratio allows it to fit easily on your desk between your keyboard and display—or between you and your laptop—all without putting your keyboard and mouse out of reach.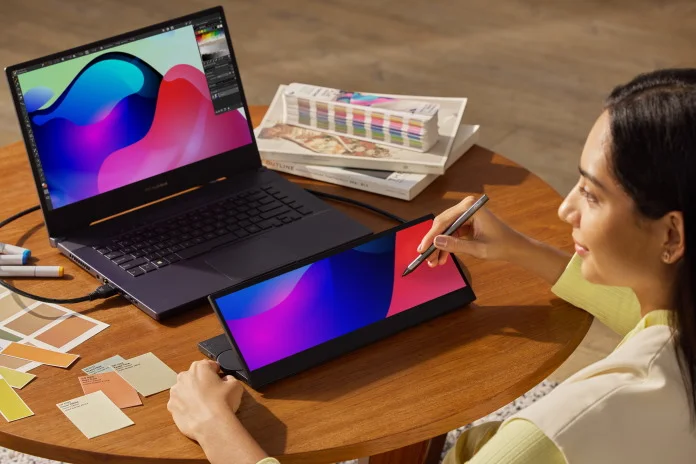 Using it as a second display? Its professional-level accuracy and 100% coverage of the sRGB and Rec.709 color gamuts lets you create with confidence. Need a flexible input device? This compact device offers 10-point capacitive multi-touch input, stylus support, the ASUS Dial, and the ASUS Control Panel app, all in one.
| | Availability (U.S.) |
| --- | --- |
| ProArt Display PA147CDV | ASUS |
The best ProArt displays for on-the-go creators
Some creators prefer to work in their familiar, comfortable home office or studio. Others need to stay on the move. The combination of a powerful ProArt Studiobook or Zenbook Pro laptop and a portable ProArt Display gives you the performance you need for creative workflows and a pair of professional-grade displays—and the whole setup fits neatly into a standard laptop bag.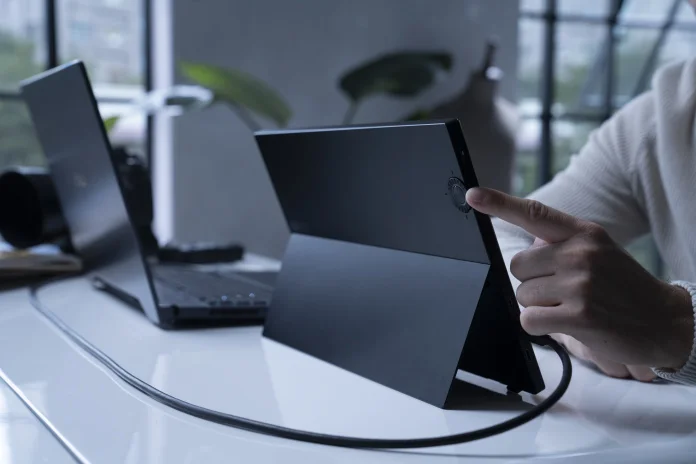 The ProArt Display PA148CTV is the perfect choice for a portable studio. This slim and lightweight monitor boasts all the crucial specs for creative work: professional-grade color accuracy, 100% coverage of the common SRGB and Rec. 709 color gamuts, and a Calman Verified certification. Yet it's so much more than a display—it's a versatile input device, as well. An integrated ASUS Dial lets you quickly access user-defined shortcuts in popular apps including Adobe Photoshop, After Effects, Lightroom, and Premiere. The ASUS Dial can also control any application that's built for Microsoft's Surface Dial controls. The PA148CTV even lets you use our Control Panel app for intuitive, customizable touchscreen control of important functions and tools in the apps you use to create.
The best ProArt displays for college students and budding artists
For college students learning a new trade, or anyone who's just getting started on their creative journey, we offer a range of ProArt displays that offer the essential features you're looking for at a great price.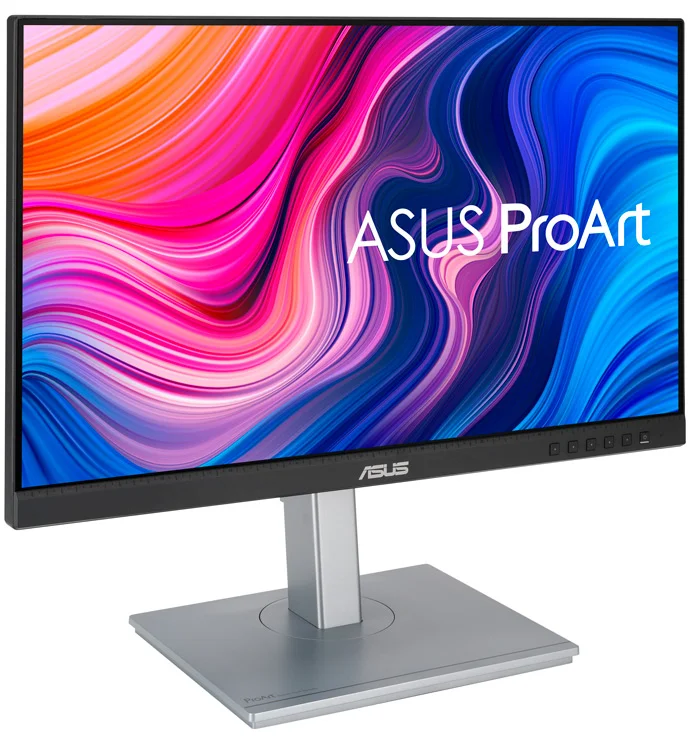 The ProArt Display PA247CV is a solid starting point for a wide range of creative pursuits. The ProArt Display PA247CV's friendly 23.8" size is an easy fit on most any desk, and its 1920×1080 resolution provides plenty of room for everyday computing and content creation. Its 75Hz refresh rate makes video and games appear more fluid and immersive than they would on lesser displays. As a ProArt Display, it offers the color accuracy you need and full coverage of the sRGB and Rec. 709 color gamuts.
The PA247CV's extensive connectivity options make it an easy addition to any workspace—even for creators who prefer to work with multiple monitors. It includes a connector wired for DisplayPort over USB Type-C and 65W power delivery, make setting up a clean, clutter-free desktop a breeze. The display also supports daisy chaining, so you can connect a total of four monitors via DisplayPort with only one cable connected to your laptop or PC.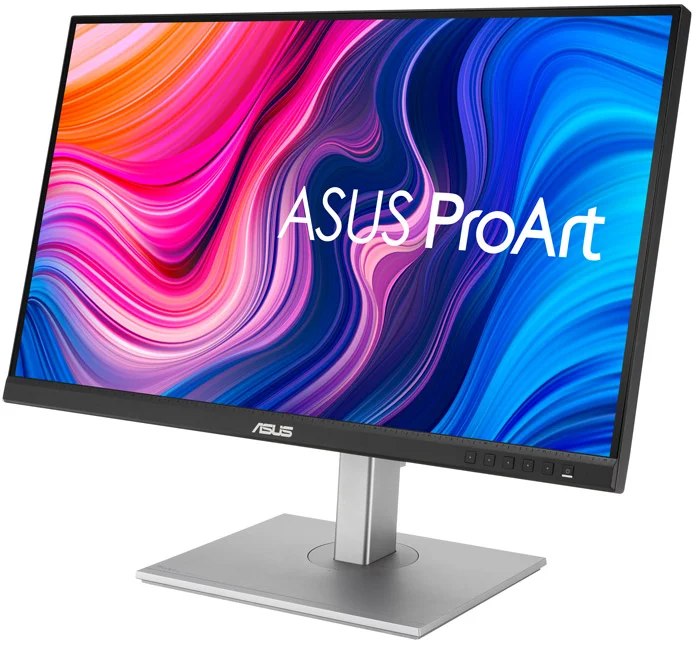 Looking for a display with similar features to the PA247CV, but with a larger screen and a higher resolution? The ProArt Display PA278CV will answer the call. This monitor is a great step up for creators and producers alike. With a 2560×1440 resolution in a comfortable 27" diagonal, it lets users see more on-screen with the same fluid refresh rates as its 24" sibling. And with daisy chaining support, built-in USB hub functionality, a DisplayPort connector wired for 65W power delivery, and an HDMI port, it offers a full suite of connectivity options.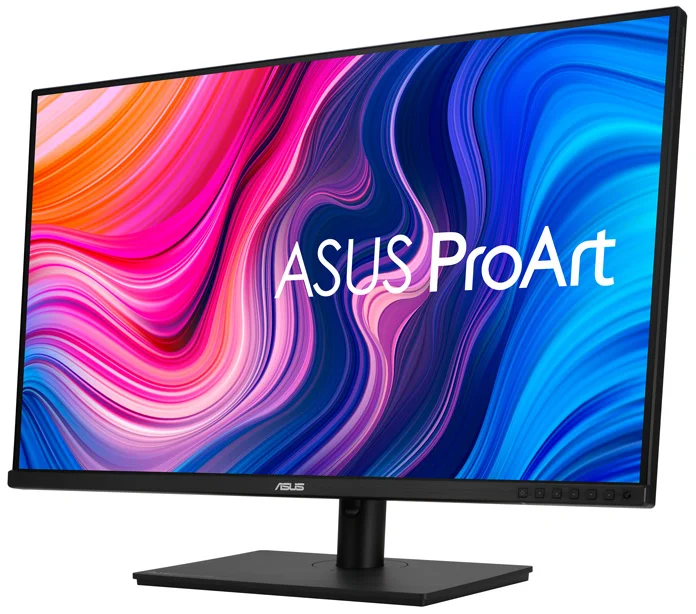 Perhaps a 4K resolution is a must-have feature on your checklist. The ProArt Display PA329CV offers a professional-grade 32-inch panel with a 4K resolution—and at a price that's within the reach of a wide range of creators and businesses. The PA329CV provides the essential features you need for creative work—exceptional color accuracy, full sRGB color gamut coverage, and factory calibration. Its sweeping 32-inch diagonal brings you in close to your work, enabling you to focus on the details, and its 4K resolution lets you closely analyze your assets and projects with confidence.
A ProArt display for any endeavor
From premium displays built for needs of those on the cutting edge of content creation to affordable models ready to springboard aspiring creatives and college students into successful careers, the ProArt Display lineup has something for everyone. Whether you're shopping for your business, your educational institution, or for your home studio, we're confident that we can connect you with the best ProArt display for your needs. Click here to browse our full range of ProArt monitors.