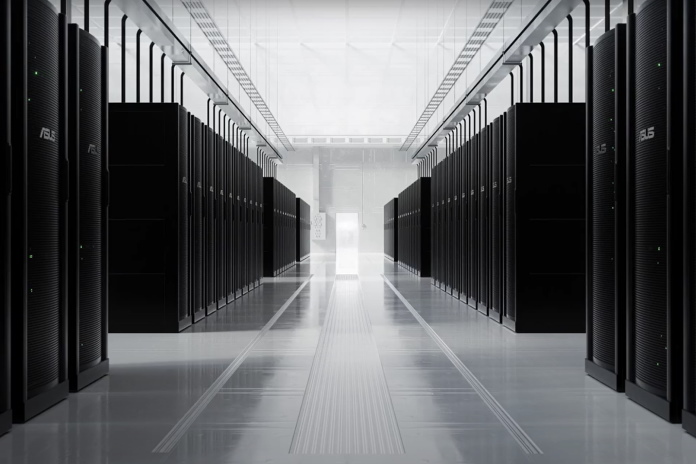 For modern data centers, efficiency is paramount. Across the world, facilities aggressively pursue strategies to reduce their power consumption and increase their reliance on renewable energy sources. It's not hard to see why: improving efficiency leads to lower operating costs and improved sustainability, both primary motivating factors for today's decision makers. To help data centers do even more to make their operations more efficient, we offer our latest AMD EPYC 9004 series servers.
The all-new offerings feature both dual-socket and single-socket servers in 4U, 2U, and 1U chassis form factors. Our latest innovations in design, liquid cooling, and tuning technologies ensure that data centers can improve overall efficiency while bolstering performance. To give you a closer look at our new server lineup, we'll be showcasing our data center solutions at SC22 in Dallas, Texas. Additionally, we'll be hosting an ASUS EPYC 9004 webinar in November 2022 with a guest speaker from AMD to introduce you to all the advantages of the new platform.
New tools to improve data center sustainability
Cooling accounts for a large percentage of a typical data center's total energy costs—a full 33%, according to one study.* Our latest innovations help facilities reduce this significant expense.
It starts with better cooling for storage drives. Our new HDD tray design includes 44% wider front panel vents that deliver smoother, steadier airflow. For cutting-edge PCIe 5.0 SSDs, which can produce more heat than last-gen models, this improved airflow provides stable performance, lower cooling costs, and improved product longevity.
Second, our new direct-to-chip liquid cooling solution offers massive improvements for both fan power consumption and noise production. Using passive cold plate loops, a coolant-to-water heat exchange, and an evaporative cooling tower, this solution can reduce fan power consumption by up to 90%, and it operates at noise levels a full 24.5dBa lower than traditional air-cooled arrangements.
Finally, we're improving thermal dissipation for the CPUs and GPUs in servers with a new independent airflow tunnel design. This allows us to offer up to 2 400W CPUs and 8 350W GPUs in one server—the ESC8000A-E12.
Proven performance
The track record of our server solutions speaks for itself. With over 1,220 number 1 records verified by SPEC.org and 36 number 1 records on MLPerf, we offer undisputed leadership in the industry. Our new product portfolio for the new AMD platform, spanning balanced one-socket, performance two-socket, compute density two-socket, and mainstream GPU servers, continues our long-standing legacy of performance.
To accelerate data transfers, we've adopted GRAID Supreme RAID technology for a variety of our server solutions. This tech shatters the bottlenecks holding back traditional data center RAID arrays. The RS720A-E12-RS24U server supports up to 24 all-flash NVMe drives for 110GB/s throughput and 16 million 4K random read IOPS, all the while freeing up CPU resources for other tasks.
Bolstered security
To protect your hardware investment and data, we're augmenting the security features we offer with our AMD EPYC 9004 series server solutions. It starts up front—at the front bezel, to be precise, with a convenient and robust locking mechanism.
Additionally, we're enhancing our full security platform for all our server lineups. It begins with physical security features implemented into AMD EPYC 9004 platform. BIOS Secure Boot and BMC Secure Boot keep firmware secure, while TPM modules and Hard Root of Trust compliant with NIST standards provide security at the level of the operating system.
Advanced cooling options
Increasingly, data centers are transitioning from air cooling to liquid cooling systems. The potential gains in power-usage effectiveness (PUE) are too hard to ignore. Additionally, while next-gen CPUs and GPUs can offer efficiency gains, the new lineups from AMD and NVIDIA include higher-wattage options that require more substantial cooling, especially in high-density servers. In this new world, liquid cooling can prove more cost-effective and energy-efficient than air cooling.
To meet this increased demand for liquid cooling, we offer both direct-to-chip (D2C) and immersion cooling systems. D2C is a straightforward, performant solution that data centers can rapidly deploy to reduce PUE. ASUS servers can support manifolds and cold plates to enable diverse cooling solutions. Moreover, ASUS servers can support a rear-door heat exchanger that complies with standard rack-server designs, so there's no need to replace all racks—just the rear door. This lowers the total cost of ownership and increases data-center utilization ratio.
For even more effective and efficient cooling, we also offer immersion cooling. As this technique offers improved PUE, it's a particularly compelling choice for higher-density servers. As it also demands more space, it may require retooling of the data-center infrastructure, yet the long-term benefits are inarguable, especially for users of supercomputers. Compared to traditional methods, immersion cooling is more cost-effective, and it offers more rapid and efficient transfer of heat.
A large product portfolio
We offer a wide range of AMD EPYC 9004 series servers ready for a variety of usage scenarios. Our RS series of rack servers are designed first and foremost with users of Microsoft Azure Stack HCI in mind. Both one-socket and two-socket options are available to support a wide range of compute, storage, and network deployments. With support for 12 or 24 front-accessible NVMe drives, and two rear-accessible NVMe OS boot drives, these servers offer easy storage optimization. Additionally, they offer an OCP3.0 or PCIe interface expansion slot, depending on the model.
Our ESC series servers deliver exceptional solutions for cloud gaming, AI, and Omniverse. Select between options that support either 4 or 8 dual-slot graphics cards compatible with NVLink. Front-accessible drive trays make it easy to manage an array of 8 NVMe SSDs. And 4 PCIe 5.0 x16 expansion slots provide support for NIC cards.
Connect with ASUS to learn more
In November of 2022, we're participating in two events to give you even more information on our AMD EPYC 9004 series servers. First, we'll be operating a booth at SC22. The event will be held between November 14th and 17th at the Kay Bailey Hutchison Convention Center in Dallas, TX. This year, we will showcase our leading HPC data center cooling solutions, as well as advanced technologies and innovations developed in cooperation with industry-leading partners. Together, we unlock new solutions and expand the possibilities of HPC data centers.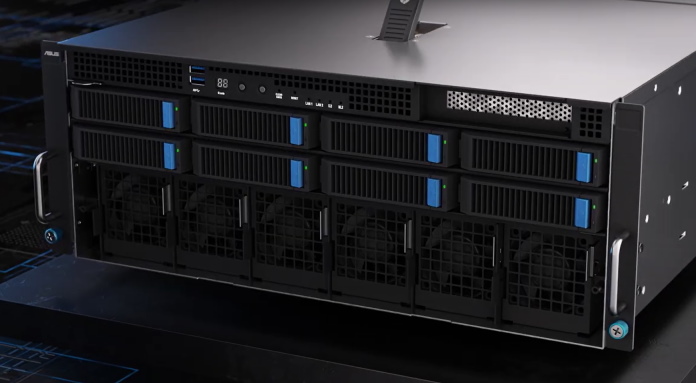 At our SC22 booth, you'll get a close look at our comprehensive immersive cooling solutions, created in partnership with Submer and MMGC, and our direct-to-chip cooling solutions ,as well. Additionally, we'll showcase our solutions for HPC cloud, core to edge, AI medical, and NVIDIA AI Enterprise. Finally, we'll give you a glimpse of the future of our AMD rack server solutions.
For those who can't make it to SC22, we'll also be hosting a webinar at 10:00am on November 24th, 2022 (Berlin time). Alexey Nechuyatov from AMD will join ASUS Senior Product Manager Victoria Chen to share information on our HPC solutions for this new generation of AMD EPYC 9004 CPUs.
*A Shehabi. LAWRENCE BERKELEY NATIONAL LABORATORY. "United States Data Center Energy Usage Report". 2016.