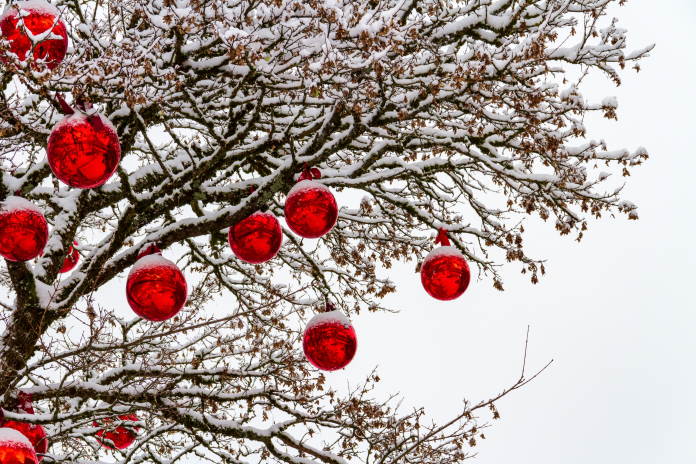 ASUS participates in several affiliate programs, including the Amazon Associates program, and may receive affiliate fees for qualifying purchases.
Here's a holiday shopping tip: it's fun to buy presents for PC builders. As much as they might love their current PC, they're always happy to upgrade it. You'll get a great sense of satisfaction from helping them take their hobbies, work, and gaming to the next level. And they're liable to squeal with joy when they open up a box to find a component that they've been coveting. As one of the world's premier manufacturers of PC components, we make just about everything they'd need to assemble a new computer. In this holiday gift guide, we'll walk you through a selection of graphics cards, motherboards, and peripherals sure to warm the heart of any PC builder.
A brief word to the wise: while PC enthusiasts love getting hardware for Christmas, they also tend to have many preferences about what tech they like best. Instead of surprising them out of the blue, we recommend that you sit down with the PC builder in your life, look at this list together, and let them pick out a few favorites.
PC DIY components are just one part of our wide-ranging product portfolio. If you need help checking off other boxes on your holiday shopping list, click the links below for even more ideas.
Get them started on the latest AMD platform
This fall, AMD launched its fourth generation of its legendary Ryzen CPUs. Odds are, the PC enthusiast on your holiday shopping list has been mulling over just how much they'd stand to gain from a new build centered on one of these new processors. We have the motherboard your loved one needs to extract the full potential of their new CPU.
ROG Crosshair X670E Hero motherboard
With PCIe 5.0, DDR5, and the all-new AM5 socket, the ROG Crosshair X670E Hero is a truly next-gen motherboard ready for the best components of today and tomorrow. Its pair of PCIe 5.0 x16 slots stand ready for next-gen graphics cards–or the included PCIe 5.0 M.2 card, which gives you a third Gen 5 M.2 slot, in addition to the two onboard slots, that are wired for PCIe 5.0 connectivity.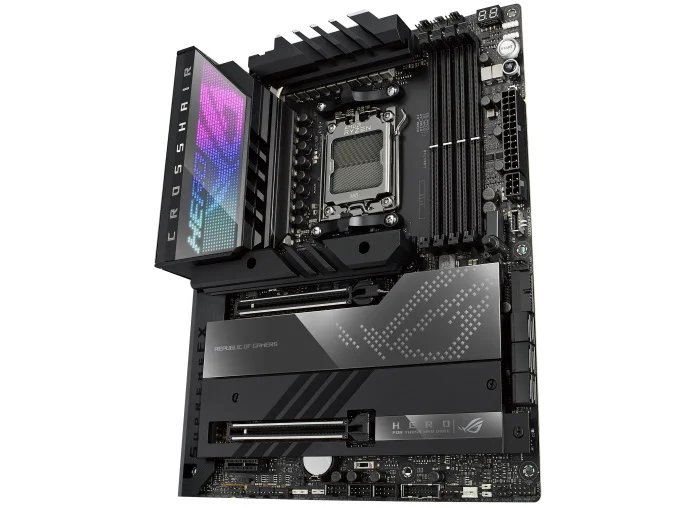 This motherboard is a stunner, too. Dark hues predominate the surface of the ROG Crosshair X670E Hero, providing an intense backdrop for your build. Polymo lighting across the integrated I/O shield delivers a sizzling accent. This microstructural array of light and color features two RGB patterns, empowering builders to show off a luminous RGB style that they won't see anywhere else.
Shopping for someone who loves to fine-tune system performance? With its 18+2 teamed power stages rated for 110A, this motherboard will effortlessly deliver stable power to the CPU. Substantial integrated heatsinks keep the circuitry cool, and a wide array of headers lets builders set up their dream cooling solution. And our full array of tuning features, including Dynamic OC Switcher, PBO Enhancement, and Core Flex, will allow your loved one to fully optimize their new build.
The ROG Crosshair X670E Hero is just one of our offerings for the AM5 platform—click here to browse even more options.
Powerful graphics cards, tempting prices
Both NVIDIA and AMD just announced new lineups of graphics cards for the most demanding gamers, creators, and enthusiasts. But our previous gen graphics cards haven't gotten any slower. This holiday season is a great time to score some high-end hardware for a great price.
TUF Gaming GeForce RTX 3080 Ti graphics card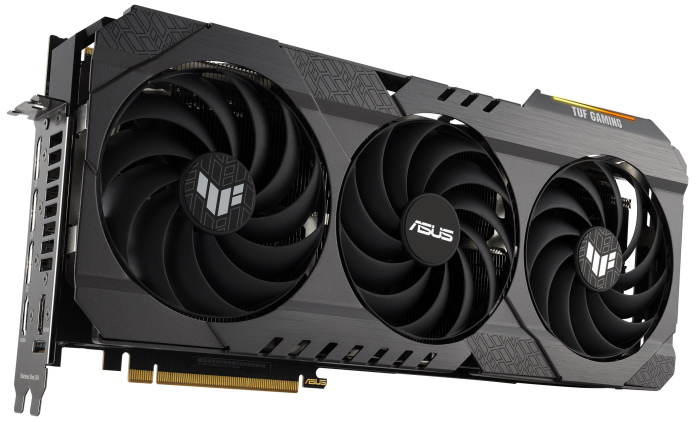 While other cards have since taken the performance crown, the beastly TUF Gaming GeForce RTX 3080 Ti hasn't lost one iota of the graphics performance that made it such a compelling pick when it first launched. Offering exceptional ray tracing capabilities, NVIDIA-exclusive features like DLSS 2.0, and muscular performance in any game you care to play, this card still gives enthusiasts of all stripes the power they need. The chart-topping thermal performance of the TUF Gaming GeForce RTX 3080 Ti fully unlocks this potential. Our Axial-tech fan design, independent heatsinks for the GPU and memory, and a vented backplate keep this graphics card running cool without undue fan noise.
ROG Strix GeForce RTX 3080 graphics card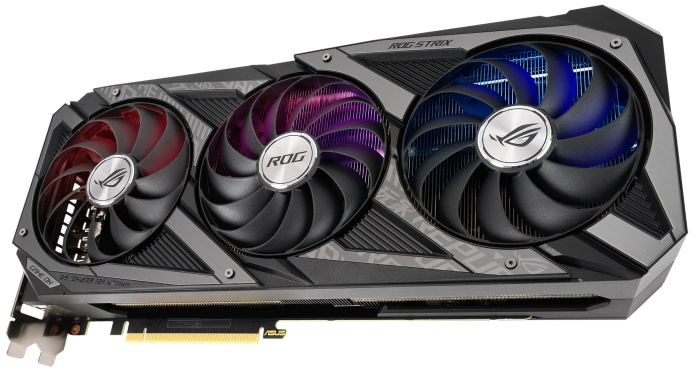 TUF Gaming graphics cards deliver great performance, rock-solid durability, and a rugged aesthetic that looks great in a wide range of builds. But if you're looking for our absolute best thermal designs, show-stopping style, and fully unleashed gaming performance, look no further than our ROG Strix family. The ROG Strix GeForce RTX 3080 showcases some of our most innovative technologies: a beefy 2.9-slot design, a vented backplate, our Axial-tech fan design, and our Super Alloy Power II array of premium chokes, capacitors, and high-current power stages. If you're shopping for an enthusiast PC gamer this holiday season, this graphics card might be the perfect present.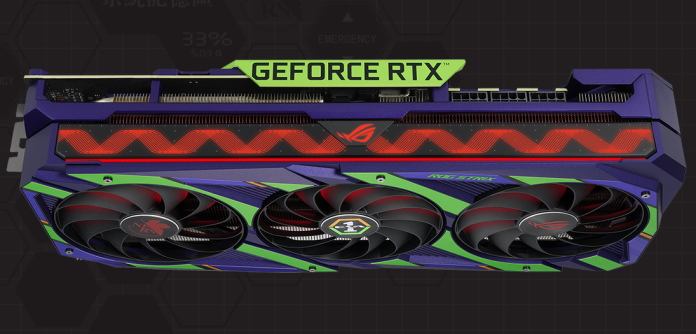 We also offer special variants of our ROG Strix graphics cards that give builders bold new aesthetic options. The ROG Strix RTX 3080 EVA Edition wraps up unconquerable ROG gaming performance in the style of the legendary anime Neon Genesis: Evangelion. True fans can pair this card with components and peripherals from our full Evangelion lineup to turn their gaming desktop into a tribute to their favorite anime.
Ready for Intel's latest and greatest CPUs
Speaking of new hardware, we'd be remiss if we didn't mention Intel's latest and greatest 13th Gen Core CPU lineup. Our Z790 motherboard family offers our absolute best options for these record-breaking processors, but it doesn't take anything more than a BIOS update to ready one of our Z690 motherboards for one of these new CPUs. And, of course, they're primed to perform with a 12th Gen Intel Core CPU, as well, for those who've found a great deal on Intel's last-gen options.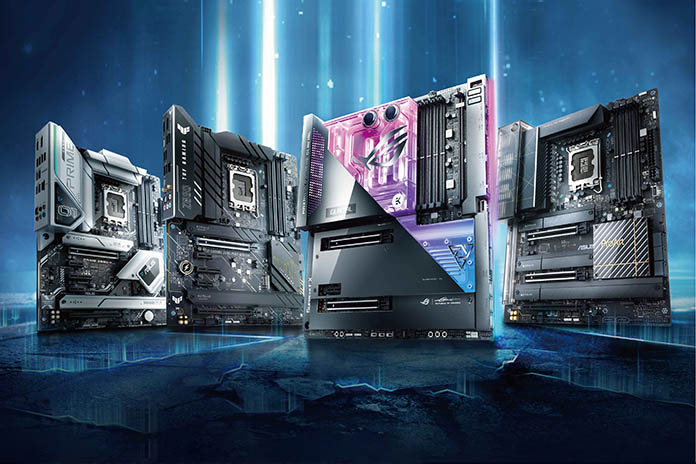 Click here to browse our full selection of Z690 motherboards. If you need a bit of help, we'll draw your attention to a few of our favorites. The ROG Maximus Z690 Extreme leads the way with a powerful feature set, exceptional overclocking capabilities, vast connectivity options, and dazzling style. Builders looking for a white-themed motherboard might pause to admire the ROG Maximus Z690 Formula, a high-end gaming motherboard draped in Moonlight White metal covers.
There are plenty of Z690 options from our venerable ROG Strix lineup ready to spread some joy to the PC builder on your holiday shopping list. The flagship model for the family is the ROG Strix Z690-E Gaming WiFi. With its PCIe 5.0 x16 slot and onboard PCIe 5.0 M.2 slot, it's ready for the fastest graphics cards and storage drives of today and tomorrow. If a PCIe 5.0 SSD is more of a nice-to-have than a must-have feature for your friend or family member, take a peek at the ROG Strix Z690-F Gaming WiFi. And for an option that combines white stylings and budget-friendly DDR4 RAM support, look no further than the ROG Strix Z690-A Gaming WiFi D4.
Previous-gen faves at a great price
Bargain hunters, take notice. For mainstream PC builders whose needs are more than met by last-gen AMD AM4 or Intel 11th Gen Core processors, we're offering unbeatable prices on powerful hardware this holiday season.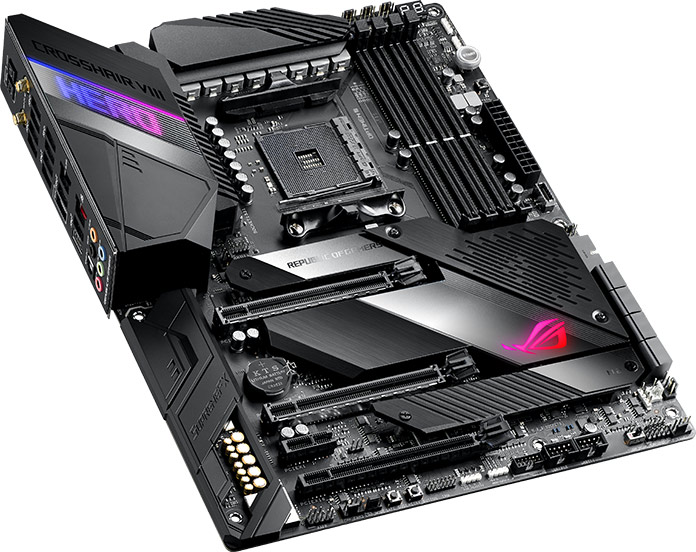 AMD's 5000-series processors—especially the innovative AMD Ryzen 7 5800X3D—offer tremendous value right now for gamers. If the friend or family member on your holiday shopping list is building a mainstream gaming machine with one of these chips, get them started with one of our AM4 motherboards. At the top end, the ROG Crosshair VIII Hero beckons with its comprehensive thermal design, robust power delivery, and exceptional audio with ROG SupremeFX. Our B550 motherboards are even friendlier on your wallet, and they're still overclocking-ready. Take a look at the ROG Strix B550-F Gaming WiFi II or the ROG Strix B550-F Gaming WiFi for two options that meld sizzling style, effective cooling options, and a well-appointed power delivery system.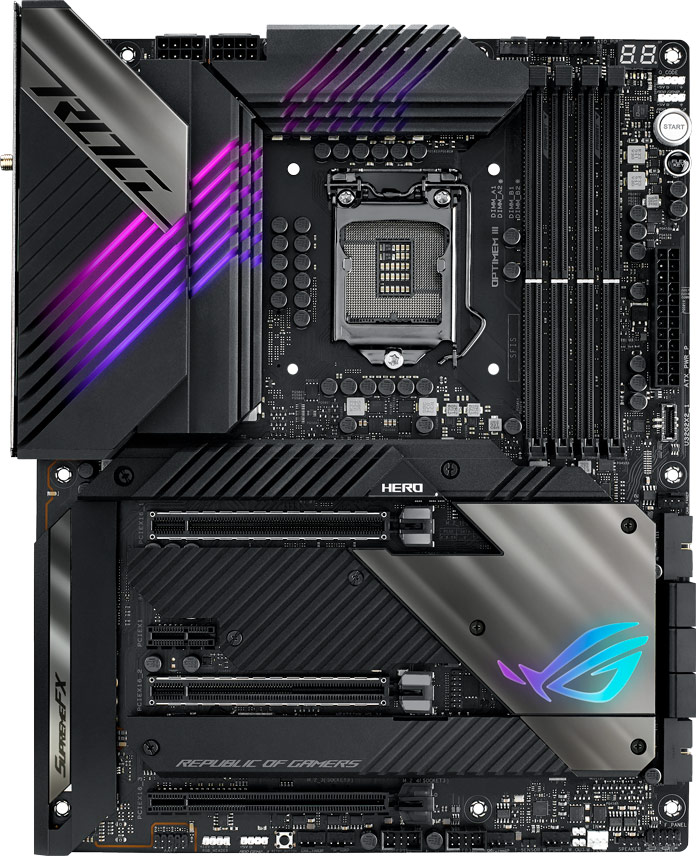 Intel's 11th Gen Core CPUs are still ready to power PCs of all stripes as well. Whether you're helping a loved one build a mainstream gaming rig, a potent video editing machine, or an all-around performer, we have some rock-solid Z590 motherboards that are ready for action. Even today, the ROG Maximus XIII Hero offers an enviable loadout. You'll find high-performance networking options, great connectivity with Thunderbolt 4 USB Type-C, four M.2 slots with heatsinks, and a DIY-friendly design that makes the building process a breeze. The ROG Strix Z7590-E Gaming WiFi caters to gamers first and foremost with its optimal power solution, onboard WiFi 6E, and robust cooling for the chipset, VRMs, and M.2 slots. Finally, the cost-effective Prime Z590-A motherboard offers builders an all-around excellent feature set and timeless style that's never out of place.
A strong supporting cast
As a company, we built our reputation on the quality and performance of our motherboard lineup. But our product portfolio includes just about everything that folks need to build a complete PC. To help your loved one build a PC with a cohesive, unified aesthetic, complement their ASUS motherboard and graphics card with a case, AIO liquid cooler, and power supply from our other product families.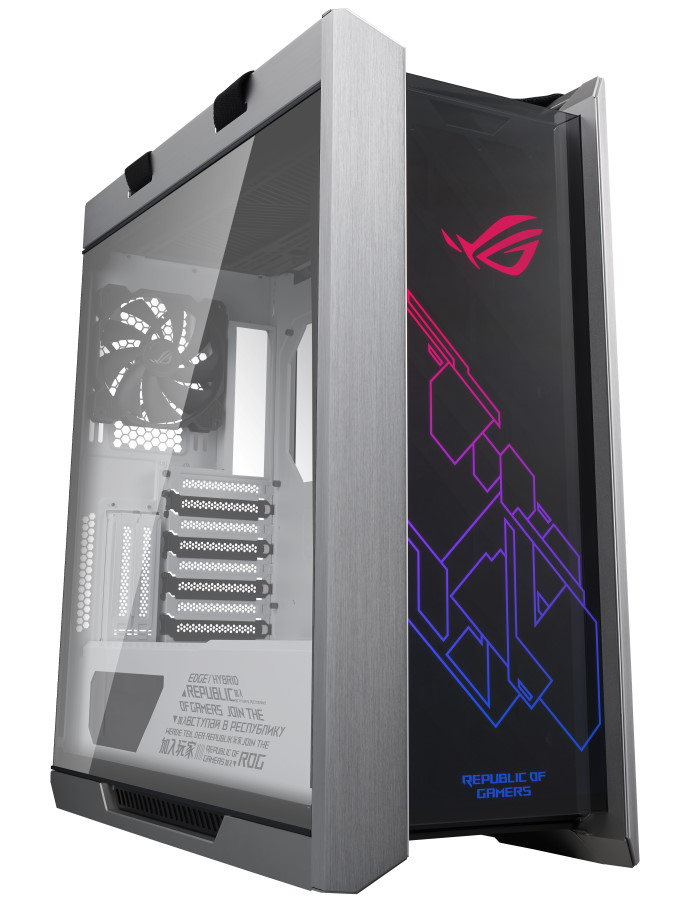 Let's start a case that's perfect for an ROG build: the ROG Strix Helios. This stunning chassis melds aluminum and tempered glass into one stunning enclosure, and it's available in both white and black.  Your loved one will find plenty of elbow room inside the case for installing today's high-performance parts, and the three tempered-glass panels will reveal their handiwork on the inside of the case. Integrated Aura Sync RGB LED lighting adds a touch of personality.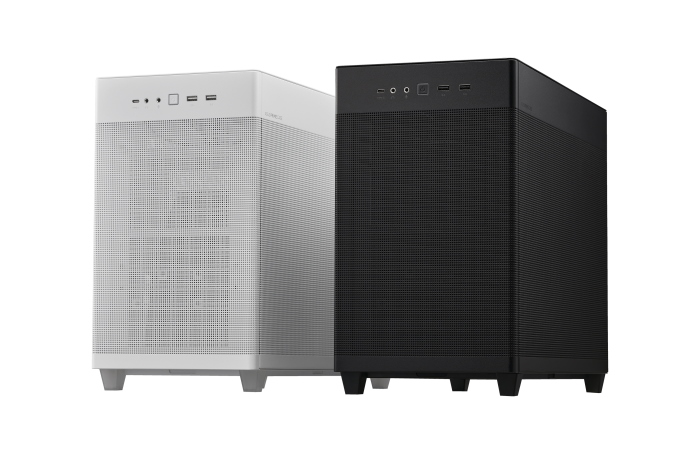 For a more compact option, go with the ASUS Prime AP201 case. Built for microATX motherboards, the Prime AP201 offers a balance of size and compatibility. It doesn't demand much desk space, but it's still compatible with full-size power supplies, 360mm liquid cooling radiators, and graphics cards all the way up to 338mm in length. For a unique look, we wrap the front and sides of the case with a quasi-filter metallic mesh that acts as a wide air intake while offering a peek at the hardware within.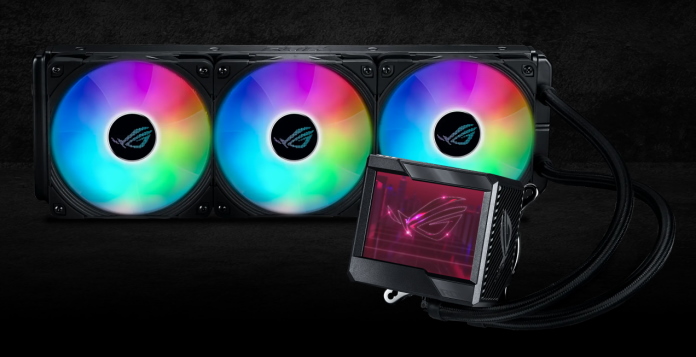 For taming today's cutting-edge CPUs, we recommend an AIO liquid cooler. The ROG Ryujin II 360 ARGB puts on a show with the customizable LCD panel atop the pump housing and its ROG ARGB fans. And with its 7th Gen Asetek pump, embedded fan for the CPU socket area, and large 360mm radiator, it offers the cooling performance your loved one needs to extract the full potential of their new CPU.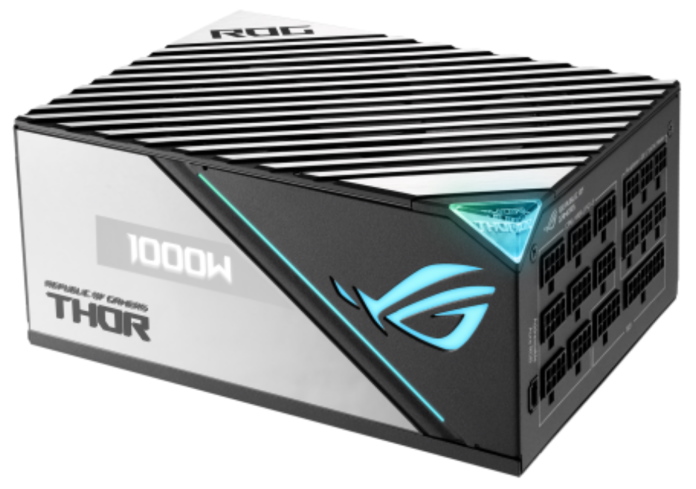 The ROG Thor 1000W Platinum II power supply stands ready to deliver stable, clean power to your friend or family member's new PC. We built this beastly 1000W unit to serve the needs of high-performance components. Custom ROG heatsinks, an Axial-tech fan design, and 0dB technology make this PSU supremely quiet. Its high-end capacitors earned it an 80 PLUS Platinum certification, and this proven efficiency results in less heat, reduced fan noise, and increased reliability.
Complete their build in style
So far, we've focused on internal components and a case to hold them. Let's talk about some finishing touches that will put the bow on your loved one's new PC.
ROG Swift PG42UQ gaming monitor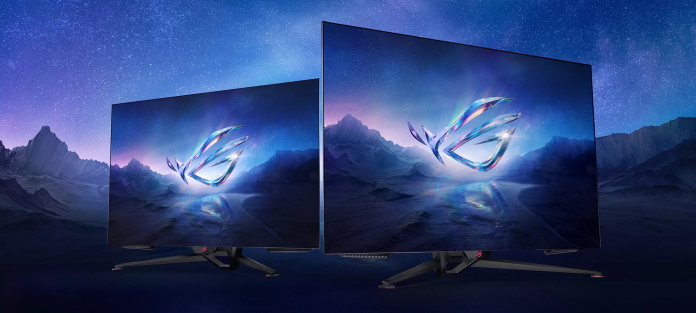 The excellent color reproduction, low motion blur, and outstanding contrast of OLED panels make them a great choice for everything your loved one might do with their PC. But you won't get a full suite of PC features you crave from any old OLED TV. To give someone on your holiday shopping list the best experience for gaming, entertainment, and productivity, the ROG Swift OLED PG42UQ is the superior choice.
Large enough to be fully immersive, yet not too large for desktop use, the PG42UQ offers a sweeping 41.5-inch OLED panel that provides a breathtaking vista. Its 4K resolution brings out fine detail in game textures and keeps text and images crisp during regular use. For fewer distractions, it features an anti-glare micro-texture coating on the panel surface. And because it's an OLED panel, the PG42UQ is capable of producing exceptionally inky blacks and dazzling highlights, making it primed and ready for great HDR experiences.
ROG Claymore II gaming keyboard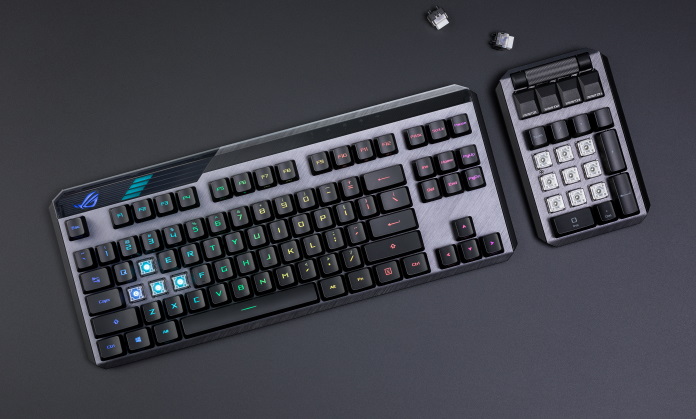 Today's power users need versatile input devices for their high-end machines. The ROG Claymore II keyboard gives gamers and creators alike full tactical control with its detachable numpad. Whenever it's needed, it clips onto either side of the keyboard in moments, and it's just as easy to tuck away to open up more desk space for a mouse. ROG RX Optical Mechanical key switches deliver an exceptional, wobble-free typing experience, while wired and wireless connectivity options let the lucky gift recipient on your list set up their ideal workstation.
ROG Rapture GT-AXE16000 gaming WiFi router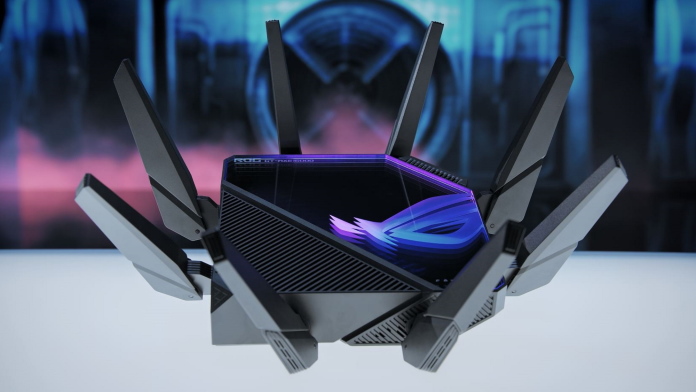 For unhindered online gaming, premium bandwidth, and exceptional all-around networking, complete a friend or family member's PC experience with a cutting-edge router: the ROG Rapture GT-AXE16000. The world's first quad-band WiFi 6E gaming router, this device offers data rates as high as 4,804 Mbps to compatible WiFi 6E devices—and that's before you consider its two 5GHz bands and 2.4GHz band. All told, that's 16,000 Mbps of aggregate throughput, provided that WiFi 6E is available in your region. Exceptional wired connectivity options, premium performance from a quad-core CPU, and customizable Aura Sync RGB LEDs add up to make this a coveted piece of tech for those who demand a rock solid connection at all times.
Happy holidays from ASUS, ROG and TUF Gaming
This is just a small selection of the hardware that we offer to gamers, creators, hobbyists, and PC enthusiasts of all kinds, but we hope that this list was able to help you find the right gifts for the PC builder in your life. Looking for some gift ideas from our other product lines? Follow the links below to explore all the exciting tech that we have to offer this holiday season.