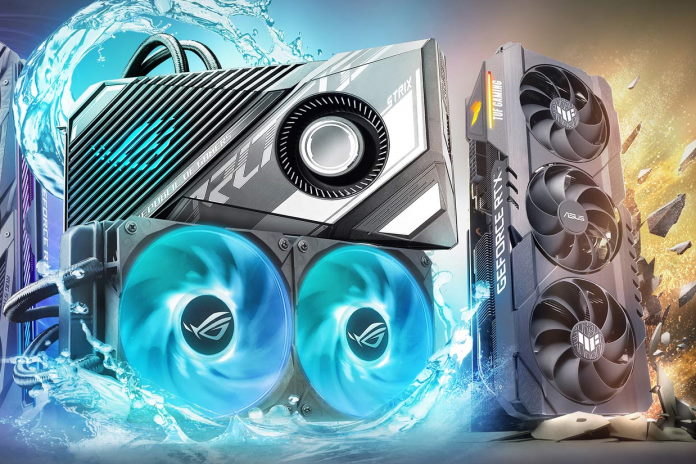 When you go to buy a new graphics card, you might have an idea of which GPU you want—like the GeForce RTX 3080 or the Radeon RX 6700 XT—but choosing a specific model of RTX 3080 can be a tough decision. Do you want a simple dual-fan solution that offers bang for your buck, or a decked-out triple fan system with all the bells and whistles? Do you want something with an unobtrusive and straightforward design, or do you want a showpiece that will draw every eye to your build? ASUS graphics cards come in a number of variants to provide options that fit your build (and budget) best. Let's break them down.
ROG Strix brings fierce styling, superior cooling, and best-in-class performance
If you want the best of the best, look no further than ROG Strix. These often come with higher factory overclocks than their smaller siblings, giving you some of the best-in-class performance from a given tier of cards. Their large heatsinks and triple fan solutions provide impeccable cooling with low noise levels. In fact, with their 0dB Ambient Cooling mode, the fans will turn off entirely under light loads so you can relax in peace.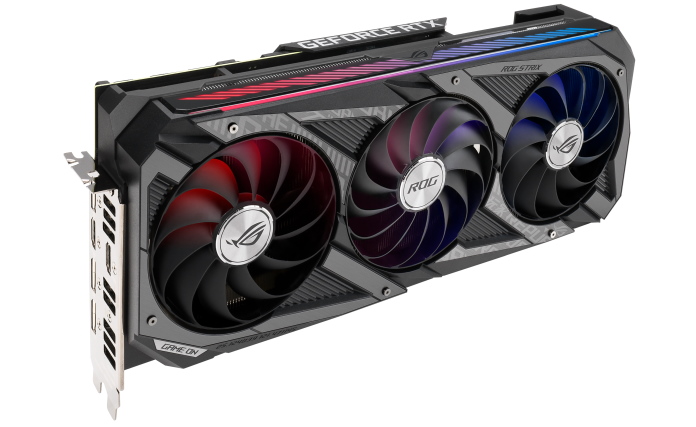 While triple-fan models are undeniably quieter than most of their competitors, Strix also offers liquid cooled variants of some high-end cards, like the ROG Strix LC GeForce 3090 Ti and ROG Strix LC Radeon RX 6900 XT. With a 240mm radiator and high static pressure fans, these cards can boost higher and longer than air cooled versions for the ultimate in performance.
Our ROG Strix cards also offer a Dual BIOS switch with two modes: "P" and "Q". P mode gives you the highest clocks for eye-watering performance, while Q mode backs the clocks down just a tad and utilizes a more conservative fan curve for quieter operation. The ROG Strix GeForce RTX 3080 OC Edition, for example, offers a 1890 MHz boost clock in its P mode, and a 1860 MHz boost in Q mode (still well above the standard 1710 MHz boost on non-overclocked variants). No matter which you choose, you'll get some of the best performance on offer–but you decide whether to push it that extra mile or optimize noise levels. And with our FanConnect II fan headers, you can connect case fans to your GPU instead of your motherboard. Using our GPU Tweak software, this allows you to automatically adjust certain case fans based on GPU temperatures rather than CPU.
Finally, ROG Strix offers standout style with prominent RGB lighting. Aura Sync compatibility allows you to sync up this lighting with the rest of your system for a unified look, and the extreme look of the shroud is sure to make your Strix card the focal point of any build.
In other words: ROG Strix offers no compromises, with intense performance, styling, build quality, and features that promise the best of all worlds.
ASUS TUF Gaming blends excellent performance with incredible value
For a slightly different take on the higher end, ASUS TUF Gaming cards often provide similar triple-fan, thick-heatsink designs to their Strix brethren. However, while they still offer factory overclocks and Aura Sync-compatible RGB, both are toned down to appeal to more value-oriented gamers. The ASUS TUF GeForce RTX 3070, for example, offers a boost clock of 1845 MHz in P mode, compared to the blistering 1935 MHz on the Strix version. It's still overclocked, just not quite as high.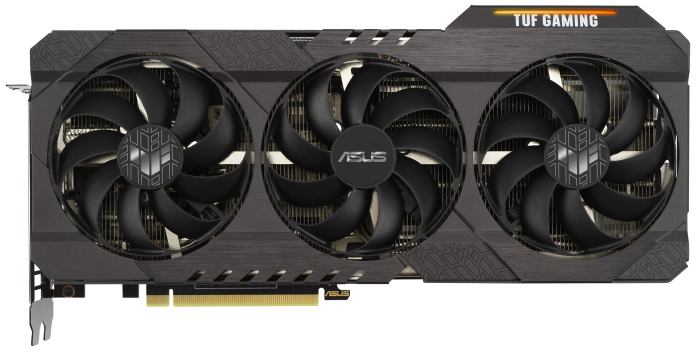 Notice the mention of P mode there. The ASUS TUF models often come with the same Dual BIOS switch, allowing you to optimize between performance and noise with the flick of a switch. 0dB Ambient Cooling makes an appearance here as well, so those fans only kick in when the GPU reaches a certain temperature–which, thanks to the large heatsink, only happens under heavy load.
While the TUF cards are a bit toned down compared to their bleeding-edge brethren, they're still built with quality components selected for performance and durability. We use high-grade chokes and MOSFETs as well as capacitors that meet military-grade certification, all soldered to the PCB with our Auto-Extreme manufacturing. This automates as much of the process as possible to avoid human error on solder joints. After being built, a grueling 144-hour validation trial ensures these cards are ready to stand the test of time.
The aesthetic is designed to match this manufacturing philosophy, too. The tough metal shroud and reinforced metal frames showcase the long-lasting durability that gives TUF its name. If you're looking for an ASUS graphics card with a slightly more neutral style, TUF Gaming will give you what you're looking for.
ASUS KO offers plenty of flair and versatility
You might think of the ASUS KO cards as the yin to TUF's yang. While TUF keeps the large footprint and higher-end performance of the Strix series without the fierce styling, KO packs as much flair as possible into a smaller, dual-fan card. The shorter PCB and cooler of our KO edition cards allows them to fit into builds ranging from small to large while still offering excellent cooling.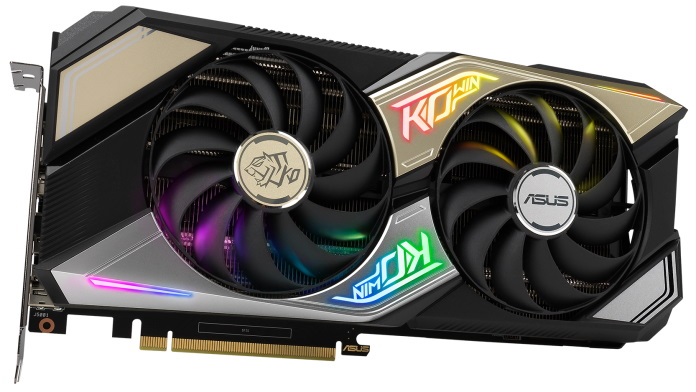 The KO design is particularly unique. A two-tone aesthetic with gold and silver swipes across the shroud will stand out in any build, and customizable ARGB lettering across the front will sync with the rest of your components for a super dynamic aesthetic. If a Strix card doesn't fit into your build or budget but you want stand-out styling and prominent RGB, the KO line is sure to turn heads.
KO cards often come with their own factory overclocks as well, offering performance above standard designs while not quite reaching the same heights as ROG Strix. Our ASUS KO GeForce RTX 3060 Ti OC Edition, for example, offers the same Dual BIOS switch as our other cards with a nice 1785 MHz overclock in P mode. If you want a versatile ASUS graphics card that'll show off your unique style with excellent performance, the KO line of cards are excellent choices.
ASUS Dual provides all the essentials in an accessible package
If you need a more affordable card that eschews the extras for just the essentials, our ASUS Dual cards are great options. Their simple dual-fan design offers effective cooling in a smaller package, with our 0dB ambient mode for quiet operation at low loads. You'll often find them in multiple variants, like our ASUS Dual GeForce RTX 3050 and ASUS Dual GeForce RTX 3050 OC Edition–giving you more choice over power and price for your specific build.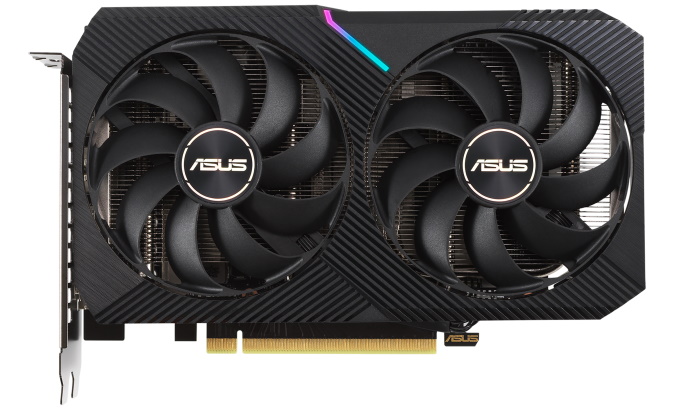 Make no mistake, though: these cards are still built for longevity, with protective backplates, stainless steel brackets, and the same Auto-Extreme Technology manufacturing process as our TUF cards. After the cards are built, they're run through a 144-hour validation process to ensure they'll live a good long life in your PC.
ASUS Dual cards may contain subtle lighting strips on the shroud, but they're just that: subtle. Adding just a small flourish to your build, these ASUS graphics cards aren't RGB centerpieces like ROG Strix or KO cards, offering excellent value for your money when you want a workhorse card without the extras.
ASUS Phoenix fits in any build, no matter how small
Ultra-small form factor builds are all the rage these days, with boutique chassis manufacturers offering cases as small as a console (or smaller) for compact builds you can fit anywhere. The smaller the case, though, the less room you have for large GPUs, which is why we offer ASUS Phoenix cards. These tiny, single-fan cards are impossibly compact, allowing you to fit them in just about any build you can imagine, with an understated design that wastes no space.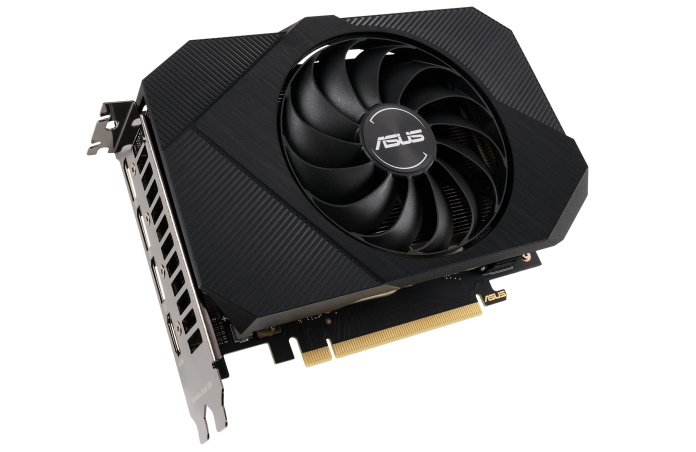 Due to their small size, you won't usually find ultra high-end GPUs in these cards, but with the excellent performance of cards like the ASUS Phoenix GeForce RTX 3060, you'd be surprised how much power you can fit into such a small package.
Pick your power level with an ASUS graphics card
There are, of course, exceptions to all of these guidelines. Occasionally you'll find an ROG Strix card with two fans instead of three, for example, and some (but not all) ASUS Dual cards come with the dual BIOS switch of their larger counterparts. And there are a few cards, like the ASUS GeForce RTX 3070 Noctua Edition, that don't fit into any of these specific categories. But these guidelines should still help you narrow down your choice.
Don't forget to pair your ASUS graphics card with the right power supply, either. You can see our recommended power supply wattages on the product page of the card in question, and ROG offers plenty of PSUs with clean, reliable power for hiccup-free gaming. Consider the ROG Strix 850G power supply for 850W builds, or the ROG Thor 1200P for high-end, RGB-focused rigs with top-tier cards. Oh, and while you're at it, grab the ROG Herculx or ROG Wingwall graphics card holder to keep your hardware stable and add a bit of extra flair to the final build. With a bit of planning, you should have an easier time deciding which ASUS or ROG hardware is right for your build, budget, and bombastic style.