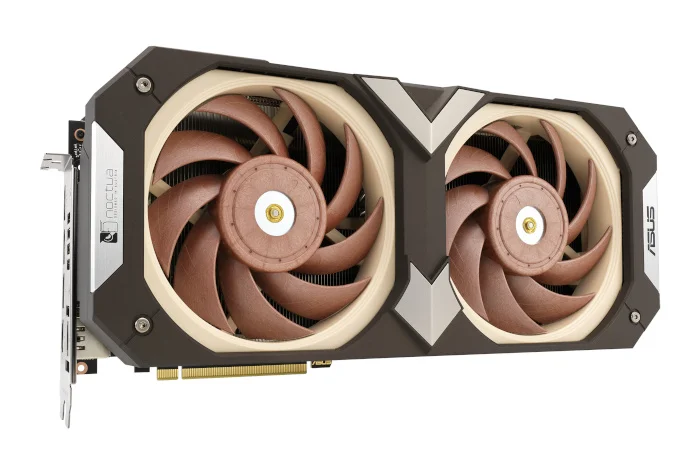 Noctua is one of the most beloved brands in PC building. Their efficient, yet powerful fans allow for excellent cooling without extra noise, and their trademark color scheme is instantly recognizable. In fact, Noctua's industry-leading performance is one of the reasons we use their fans in our ROG Ryujin series of CPU coolers—and why we partnered with them on the ASUS GeForce RTX 3070 Noctua Edition graphics card. We've put the team back together to install their best-in-class cooling on an even more powerful GPU. Introducing the ASUS GeForce RTX 3080 Noctua Edition graphics card.
The new ASUS GeForce RTX 3080 Noctua Edition starts with a gargantuan 2.2-slot heatsink, developed by our thermal R&D team in partnership with the excellent engineers at Noctua. With a generous fin stack that connects to six heatpipes and a large heatspreader for the GPU die and its memory, the heatsink is noticeably larger than you'll find on even our TUF and Strix models, resulting in a card that's 4.3 slots thick. Primed for insane levels of cooling at impossibly low noise levels, ASUS and Noctua engineers ran extensive simulations to optimize the heatsink design to take full advantage of the air propelled by both Noctua NF-A12x25 fans.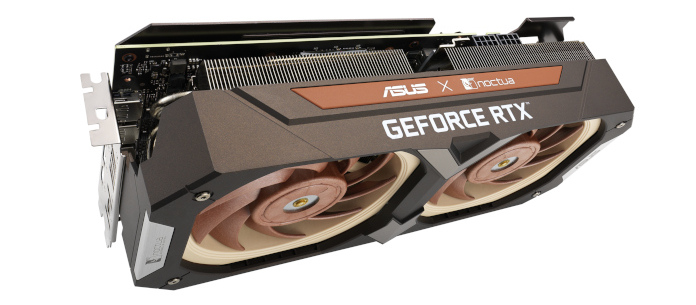 As one of the most powerful and noise-efficient PC fans on the market today, the NF-A12x25 was the perfect choice for this collaboration. Its blades are able to sit just 0.5mm away from the outer frame thanks to an impeller made from Noctua's own Sterrox® liquid-crystal polymer, reducing airflow leakage around the edge. Noctua's custom PWM IC with Smooth Commutation Drive technology also works to improve acoustic efficiency, while Flow Acceleration Channels on the tip of each blade and Inner Surface Microstructures on the fan frame cut down noise even further. Anti-vibration pads in each corner ensure the fan doesn't rattle against the heatsink or shroud, making this one of the quietest high-performance fans you'll find today.
Atop this heatsink-and-fan combo, we used the same custom brown shroud as on the GeForce RTX 3070 Noctua Edition, which securely mounts the fans to the card while beautifully tying together the entire Noctua aesthetic. If you have other Noctua fans and heatsinks in your system, this will complement them perfectly for a unified look.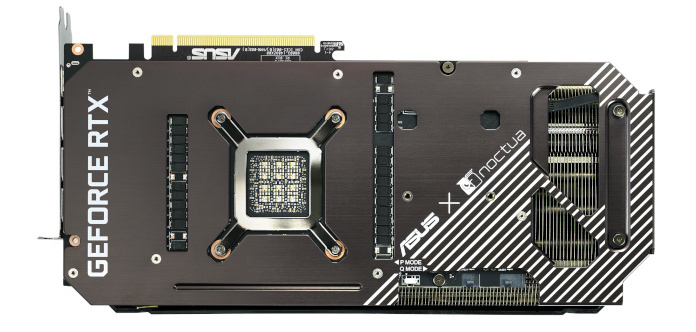 While the appearance of this card screams "Noctua," it's loaded with many of the same ASUS features that make our custom graphics cards the best on the market. A dual BIOS switch allows you to choose between maximum performance or lower noise, with the latter set as the default for the quietest RTX 3080 out there. Our 0dB Ambient Cooling allows the fans to turn off entirely under light loads for ultimate silence, and a vented backplate allows for optimized airflow at the far end of the heatsink. And of course, our Auto-Extreme assembly technology automates precise, clean soldering for each component, with a 144-hour validation process to ensure long-lasting performance and reliability right out of the box.
Look for the ASUS GeForce RTX 3080 Noctua Edition worldwide starting in May 2022. For more information on pricing and availability in your region, please contact your local ASUS representative.