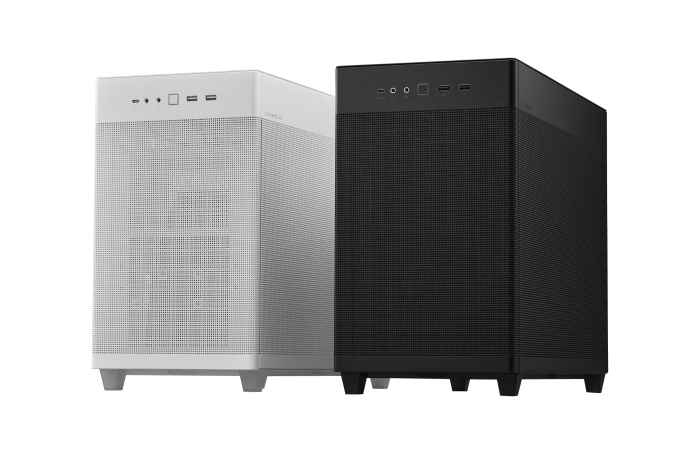 Between the new high-performance CPUs from Intel and AMD, the arrival of next-gen DDR5 RAM, and the wide availability of the latest NVIDIA and AMD graphics cards, it's a great time to build a PC. Not every desktop needs a towering ATX case, though. The space-saving ASUS Prime AP201 case gives you a fully featured enclosure for your next microATX build. Draped in pristine white or sophisticated black, the AP201 provides broad compatibility with today's high-end hardware, convenient tools that simplify building and maintenance, and an eye-catching mesh exterior that elevates airflow and elegance alike.
The size you want, the space you need
Built for microATX motherboards, the Prime AP201 offers a balance of size and compatibility. Its total volume is only 33L, so it'll demand much less desk space than your typical ATX tower. Yet it still offers the elbow room you need for high-end components.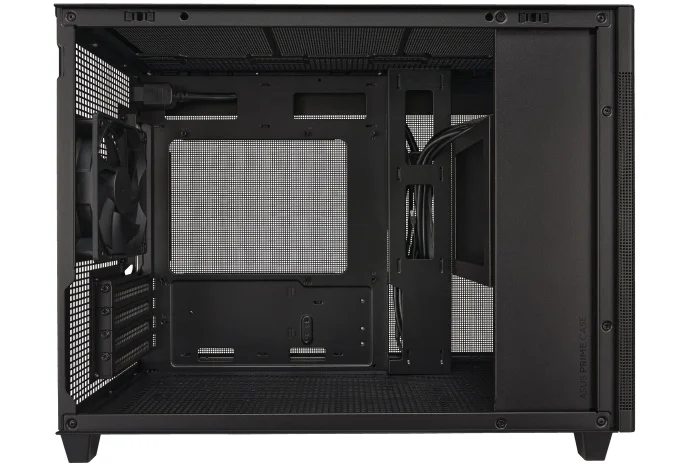 Building a monster gaming PC or content creation powerhouse? This case supports graphics cards all the way up to 338mm in length. That's enough space to accommodate our highest-end graphics cards like the ROG Strix GeForce RTX 3090. Planning to install an AIO liquid cooler to tame an aggressive CPU overclock? The top panel of the Prime AP201 supports radiators up to 360mm, letting you easily mount a triple-fan radiator for ultimate performance. And since the chassis can accommodate ATX-sized power supplies, you'll have a wide array of options for powering your build.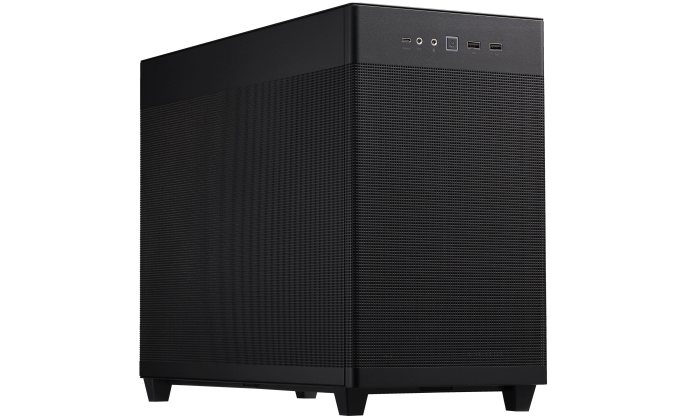 In addition to offering the real estate that large components need, this case also gives you the space—and convenient features—that make for a stress-free build process. We left a generous 32mm gap for cable management. You can remove the tool-free side panels without so much as a screwdriver, making it easier to build and maintain the system.
Putting the fun back in functional
Many builders seek out cases that offer an inside view of the hardware inside. And no wonder—after you carefully select the parts for your PC for a cohesive aesthetic, synchronize their RGB LED lighting efforts, and meticulously manage your cables, it only makes sense that you'd enjoy showing off that work. A tempered glass side panel is one way to make this happen, but it doesn't provide a pathway for the cooling air that your high-performance components need.
To give you both exceptional airflow and a unique perspective on your PC's interior components, the Prime AP201 case is wrapped on the front and sides with a quasi-filter metallic mesh. The square mesh acts as a wide airflow intake, ensuring streams of cool air for all your components, all the while putting your hardware on display. RGB LED illumination looks particularly striking through the moiré patterns created by the parallel lines of the mesh.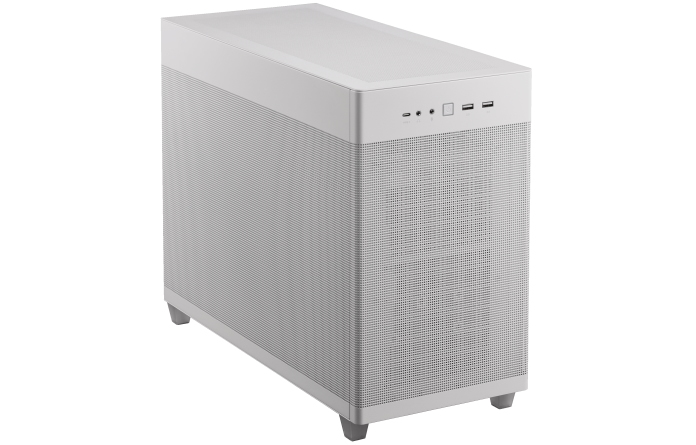 The Prime AP201's two color options deliver a clean backdrop for your build. For those who enjoy customizing an array of RGB LEDs across their components, the all-white model offers a perfect canvas for accentuating light effects. Pair this case with our Moonlight White components and peripherals for an elegant, unmistakable setup. Alternatively, the option finished in black provides a stealthy look that's easy to coordinate with a wide range of components. For either option, builders on a budget can pair the chassis with an ASUS Prime motherboard—the black and white aesthetic of the Prime Z690M-Plus D4, for example, perfectly complements either color option for the Prime AP201.
Set up for great connectivity
So many of today's devices rely on USB Type-C. Through this versatile port, you can recharge devices, send display signals, access high-speed external storage, or connect peripherals like your favorite gaming headset.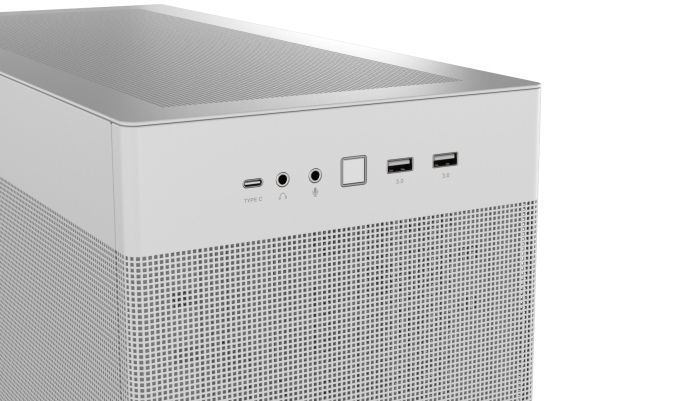 The Prime AP201 offers a front-panel USB Type-C port, ensuring that all of these options are ready to hand. Select a motherboard with the front-panel connectivity you need, and you'll be off to the races. Additionally, there's a pair of USB Type-A ports and jacks for a microphone and headphones, all on the front panel rather than the top—the most convenient arrangement for a desktop PC.
The new standard for microATX cases
Small doesn't have to mean cramped. The ASUS Prime AP201 makes efficient use of its dimensions to offer you a compelling balance of performance, elegance, and convenience. Its metallic mesh side panel ensures wide airflow and an eye-catching window to your interior components, while the case's all-white or all-black design provides a clean aesthetic. Its petite 33L volume gives it a compact profile while still accommodating full-size graphics cards, large liquid-cooling radiators, and ATX-sized PSUs. And its front-panel USB Type-C port puts convenient connectivity within arm's reach.
We plan to make the white model of the ASUS Prime AP201 available for purchase in the middle of June, and the black model should follow shortly after toward the end of June. For information on the pricing of this computer case in your region, please contact your local ASUS representative.