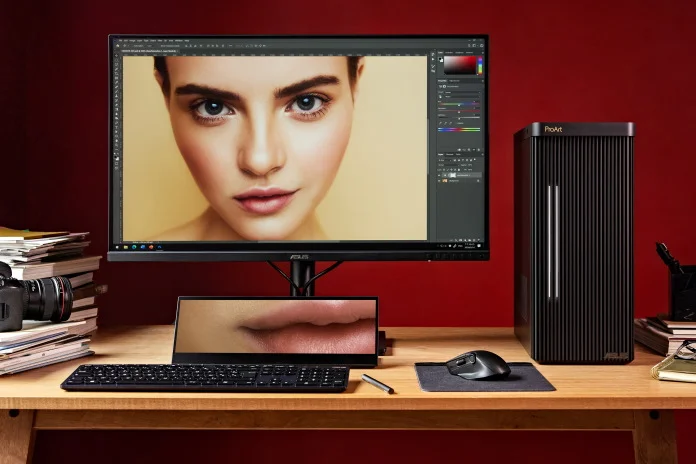 Some creators prefer the unfettered portability of a laptop. They prioritize the ability to work wherever, whenever. Other creators prefer a desktop for their workstation. They value supreme connectivity, vast storage arrays, and boundless performance above all else. Whether you prefer a laptop or a desktop, the ProArt family of creator-focused devices has your needs covered. Our Studiobook laptops cater to the demands of laptop lovers, while our new ProArt Station PD5 gives creators a powerful desktop PC with the connectivity, expandability, and performance they need.
Designed for designers
Assertive parallel lines, rich metallic hues, and a stately vertical design make the ProArt Station PD5 an elegant addition to your workspace. Whether you're developing a new idea, sharing a final version of a project with a client, or working with the ProArt Station PD5 on the set, its style will never feel out of place.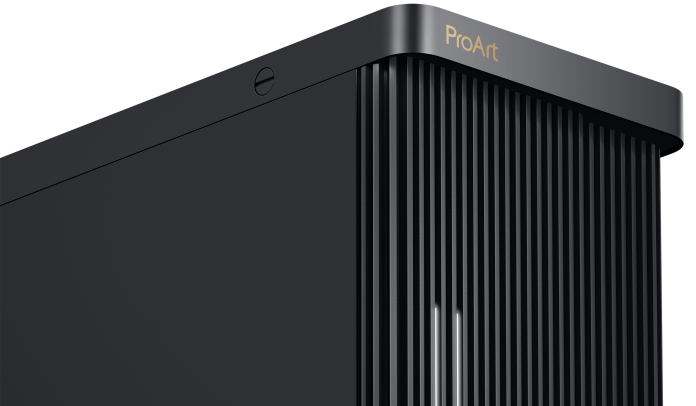 The ProArt Station PD5's sophisticated exterior includes many convenient features that meld form and function. Many creators, especially photographers and those involved in video editing and production, prefer a workstation that can travel with them to the set. The ProArt Station PD5 features a secure handle built into the top front edge of the device. This makes it easy to bring along whenever you need the full power of your desktop away from your studio.
A suite of creator-friendly innovations streamline your creative work on the ProArt Station PD5. The ASUS Lumiwiz light bars on the front panel of the chassis give you valuable insights about your workflow. With just a glance at your machine, you can see whether your render is still running, or observe CPU and GPU usage. Through the easy-to-use ProArt Creator Hub app, you can customize the colors behavior to match your personal preferences.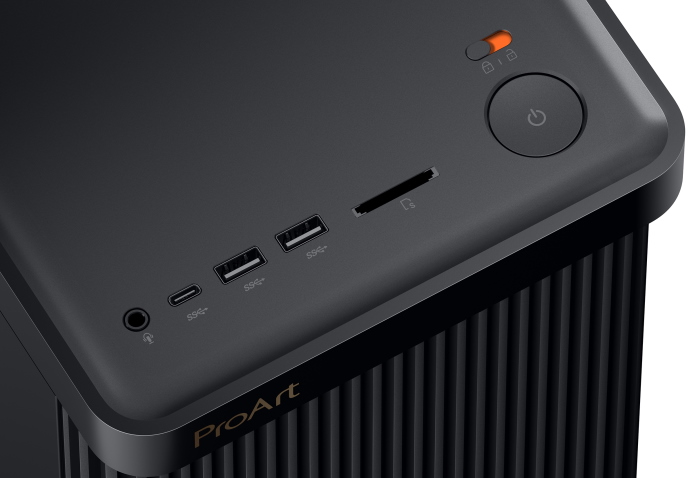 Convenient high-speed USB Type-C and USB Type-A ports on the front panel make it easy to connect your peripherals while you work, and the integrated 2-in-1 SD and MMC card reader lets you quickly transfer media from your camera. The USB Type-C port is wired for DisplayPort signals and USB Power Delivery, so you can use it to connect a display or recharge a device. To help make sure that your workflow is never interrupted by an accidental press of the power button, we included a physical latch that locks it out until you're ready to power down the machine.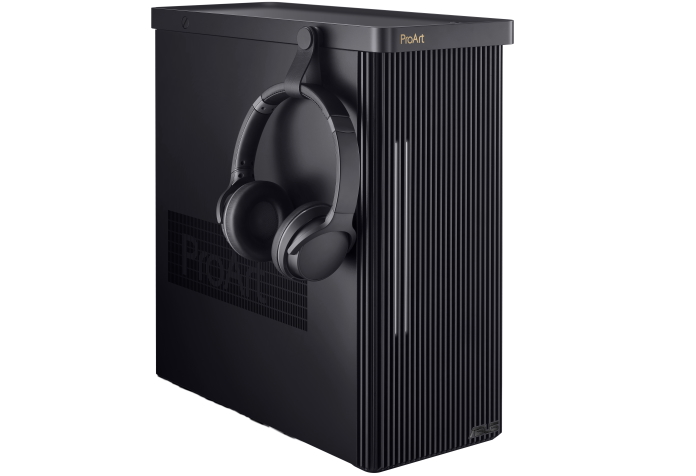 Many creative professionals rely on a wide variety of input devices, control surfaces, external storage devices, and other peripherals for their workflow. To help you keep everything organized, we offer a detachable loop in select regions that attaches to the side of the chassis. It's a convenient spot to keep your headphones or other gear handy, but out of the way, until you need it.
The ProArt Station PD5 gives you the power to do more
Whether you work in architecture, 3D rendering, video production, or any other field that requires substantial processing power, the ProArt Station PD5 has the high-performance components you need. Options with up to an Intel Core i9 CPU stand ready for the most demanding tasks. An NVIDIA GeForce RTX 3070 graphics card lets you blaze through GPU-accelerated workflows—and if you need certified performance and enterprise drivers, you can select a ProArt Station PD5 equipped with an NVIDIA RTX A2000 graphics card instead. To make sure that you can work seamlessly with projects with large datasets or multiple high-resolution input streams, the PD5 can be configured with up to 32GB of DDR4 RAM.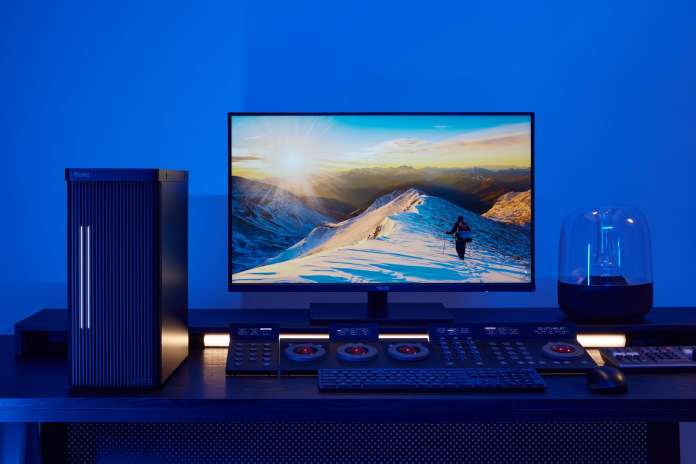 Today's components take advantage of available power and thermal headroom to maximize performance under load. That's why the ProArt Station PD5 employs a comprehensive multi-zone cooling design. Quiet fans direct steady streams of cooling air for the CPU, graphics card, and power supply, ensuring that each component can operate to their fullest when you need their performance the most.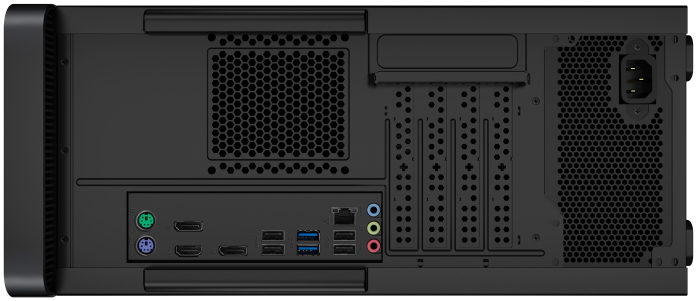 The desktop form factor affords plenty of space for plentiful I/O, and the ProArt Station PD5 takes full advantage of it. When you set up your full creative workstation, you'll find DisplayPort and HDMI ports to connect your displays, an array of USB Type-A ports, connectors for 7.1 channel audio, and more. And that's all in addition to the front-panel connectivity.
The ProArt Station PD5 is a natural fit for creators who need a PC with easy options for increasing available file storage. Two onboard M.2 slots on the motherboard make it convenient to add high-speed PCIe drives, and a tool-free HDD tray lets you easily add a 2.5" drive.
A complete solution for creators
The ProArt Station PD5 is a powerful collection of hardware, but that's not the entirety of its story. We designed this system to give you a seamless experience from start to finish.
It starts with the versatile ProArt Creator Hub. This easy-to-use app is your personal portal to monitor your PD5's status, personalize settings, or optimize your workflow. Its overview dashboard gives you a quick window into the status of your most important components and lets you easily shift between different performance modes. For example, Rendering Mode optimizes your CPU, GPU, and memory for demanding workloads—all in one click. The ProArt Creator Hub makes it easy to calibrate your displays, and it allows you to personalize the ASUS Lumiwiz LED indicators with your own lighting effects and colors.
For creatives, software is key. That's why ASUS tests and invests in comprehensive Independent Software Vendor (ISV) certification processes to ensure ProArt Station PD5 works as expected with professional applications from the world's leading software companies like Autodesk and Adobe.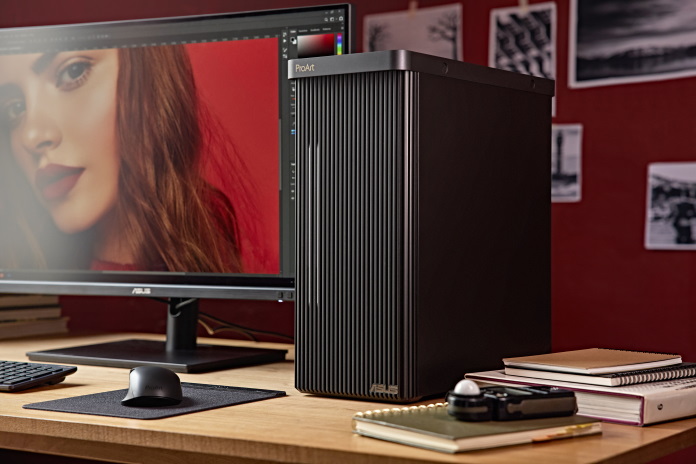 Adobe products are central to creative work in many industries. We've partnered with Adobe to empower your workflow with the renowned Creative Cloud suite of apps and services. With your purchase of a ProArt Station PD5 in select regions, you'll enjoy a free three-month subscription to Adobe Creative Cloud. Not only will you have access to over 20 apps, including Photoshop, Premiere Pro, and After Effects, you'll have 100GB of cloud storage on tap.
Redemption is easy, and you can apply the Creative Cloud subscription to a new or existing account. The first time you power on your PC, a window will pop up to walk you through the steps. Alternatively, you can use the MyASUS app or head over to the registration site at any time. Check out the full details for this program here.
ProArt Station PD5
Model
PD5000TC
CPU
Up to Intel® Core™ i7
GPU
Up to NVIDIA® GeForce® RTX 3070
Memory
Up to 32GB DDR4 3200MHz
Expandable up to 128GB
PCIe
1x PCIe 4.0 x16
2x PCIe 3.0 x1
Storage
1x M.2 2280 (PCIe 4.0 x16)
2x M.2 2280 (PCIe 3.0 x1 and SATA)
6x SATA 3.0Gbps
2 x 3.5" HDD trays
Wireless
Dual-band 2x2 WiFi 6 (optional)
Bluetooth® 5.2 (optional)
Audio
High-definition 7.1-channel audio
Dolby Atmos
ASUS Two-Way AI Noise-Canceling Technology
Front I/O
1x USB 3.2 Gen 1 Type-C
2x USB 3.2 Gen 1 Type-A
1x Audio combo jack
1x SD card reader
Rear I/O
2x PS/2
1x HDMI 1.4
2x DisplayPort
1x RJ-45 Gigabit Ethernet
4x USB 3.2 Gen 1 Type-A
2x USB 2.0
3x Audio jack
PSU
Up to 700W 80 PLUS Bronze
OS
Windows 11 Pro
Windows 11 Home
Chassis size
7.1" x 16" x 15"
Weight
22 lbs
Availability (U.S.)
Newegg
Best Buy
Costco
Elevate your workflow with the ProArt Station PD5
The ProArt Station PD5's wide and plentiful array of connectivity options allow you to set up the complete creative workstation of your dreams. Its innovative design elements streamline your workflow, and its powerful components open up new possibilities for your creative process. And the convenient ProArt Creator Hub app brings it all together with one clean interface for monitoring hardware, adjusting performance modes, and personalizing your device.
For creators who need a powerful desktop PC with exceptional connectivity and a sophisticated design, the ProArt Station PD5 offers a complete solution. For more information on the pricing and availability of the ProArt Station PD5 in your region, please contact your local ASUS representative.