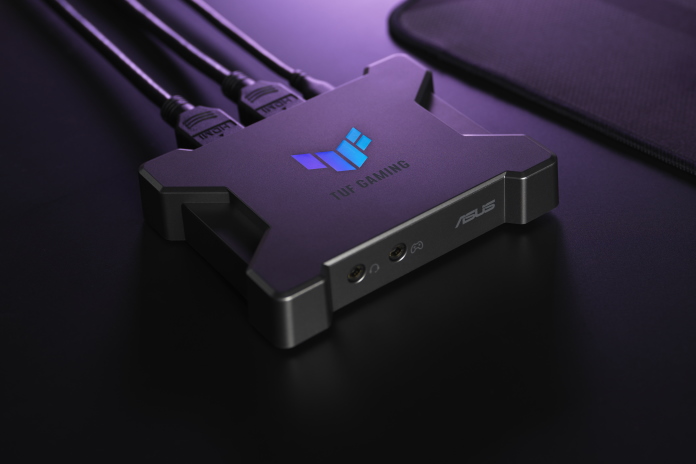 Video games have always been a social activity, but streaming platforms like Twitch and YouTube have brought the community aspect of gaming to new heights. Whether you're streaming from a PC or console, the new ASUS TUF Gaming Capture Box FHD120 is ready to help you share your gameplay with like-minded players—whether it's a few friends or hundreds of adoring fans. 
Like our previous TUF Capture Box CU4K30, the FHD120 is a compact, easy-to-use device designed with the spirit of TUFness in mind. Hide it behind your desk without a second thought, or display it in all its glory with an ARGB logo to add a bit of flair. It's even small enough to fit in a bag if you're streaming on-the-go. The TUF Gaming Capture Box FHD120 can be used with PCs, consoles, or even DSLR cameras, and is certified for use with Open Broadcaster Studio (OBS), though you can also use it with any other video capture software you choose.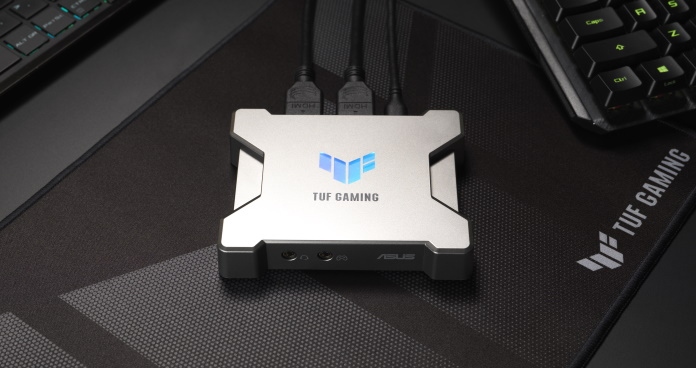 However, unlike the CU4K30, the new TUF Gaming Capture Box FHD120 is designed to capture 1080p video at an ultra-smooth 120 frames per second, allowing you to capture video at higher framerates for discerning audiences. With a built-in hardware scaler, the FHD120 will even handle downscaling and upscaling (up to 1080p) for you, so you don't have to manually adjust the image in software. Just select your desired resolution in OBS and the TUF Capture Box will do the rest. HDMI passthrough allows 4K at 60Hz or 1080p at 120Hz, so you can decide whether you want high resolution or high framerates on your own display. 
The TUF Capture Box FHD120 provides two HDMI 2.0 ports, one input and one output, as well as USB Type-C port. Like our previous offering, the FHD120 is USB Video Class (UVC) capable, so you can plug it directly into a USB 3.2 Gen 1 port and start transferring raw, uncompressed video for the utmost streaming quality—no extra drivers or utilities required. Two 3.5mm jacks on the front allow you to connect your headset and game controller, respectively. This is particularly handy, allowing you to add commentary to your gameplay directly through the capture box, record the rest of your party's chat, and pass your audio through to your game controller.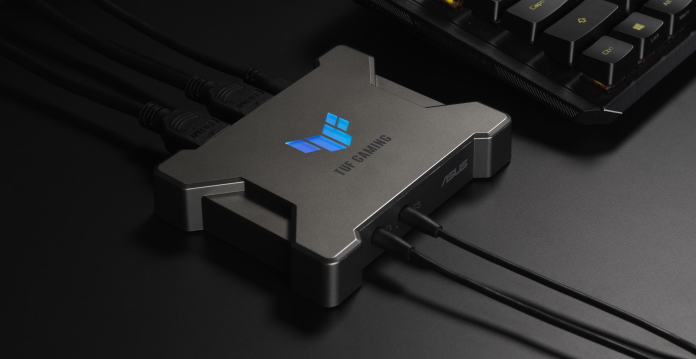 While you don't need any extra software, ASUS' new Video Capture Console is mighty handy, letting you configure the Capture Box to your own specifications. You can adjust the volume of the input and headset audio, disable HDCP detection, and control the RGB lighting. That lighting isn't just for looks, either. With the Video Capture Console software, you can use the box's lighting to alert you of HDCP or EDID warnings, and which cables are currently plugged in and detected. That means you'll never have to wait for your audience to point out video or audio glitches—if your headset isn't plugged in all the way or your USB is outputting at 2.0 speeds, the status light will let you know.