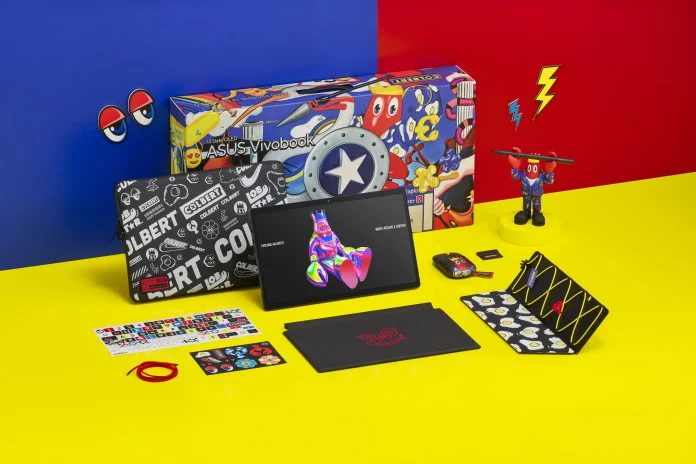 The versatile, lightweight Vivobook 13 Slate OLED travels anywhere, does it all, and looks good in the process thanks to its stunning OLED display. Now, you can secure one of two limited edition versions of this fun-filled 2-in-1: the Vivobook 13 Slate OLED Philip Colbert Edition and the Vivobook 13 Slate OLED Steven Harrington Edition.
Designed in collaboration with world-renowned artists Philip Colbert and Steven Harrington, the Artist Editions feature themed hardware, exclusive accessories, and unique packaging—all designed in collaboration with the creators themselves. These eye-catching editions capture each artist's unique style and perspective with design elements that feature their original artwork.
Both options offer unique takes on the Vivobook 13 Slate OLED. This 13.3-inch detachable laptop rewrites all the rules for your everyday PC. There's no need to carry multiple devices for work and entertainment — this multi-talented and fun-filled personal companion does it all, thanks to its brilliant OLED touchscreen, smart cover stand with 170° hinge, quad-core Intel® processor, and high-precision ASUS Pen 2.0 stylus.
Lobsters, fried eggs, and unlimited entertainment
Based in London, Philip Colbert inspired a global following with his cartoon lobster persona and masterful hyper-pop history paintings. His work powerfully explores the patterns of contemporary digital culture and its relationship to a deeper dialogue with historical art. Colbert's exciting new collaboration showcases his own distinctive artwork on both the 2-in-1 device itself and the accessories, transforming the Vivobook 13 Slate OLED Philip Colbert Edition into a stunning piece of pop art.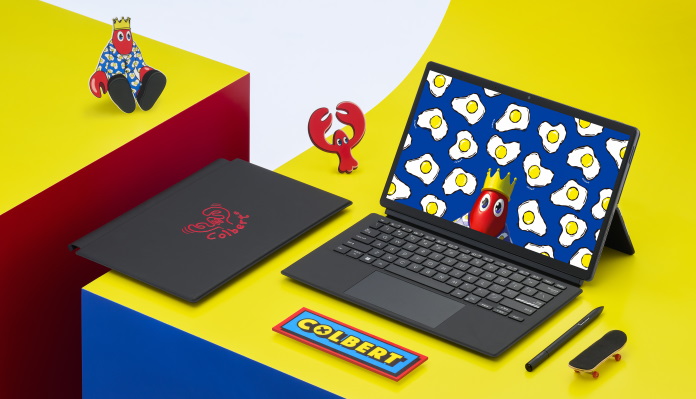 The Vivobook 13 Slate OLED Philip Colbert Edition also includes a unique collectible: a sculpted cartoon lobster figurine that doubles up as a funky stylus holder for the bundled ASUS Pen 2.0. In the box, you'll also find a smaller lobster-themed travel stylus holder that clips to the yellow cargo netting adorning the rear of the special fried-egg-themed cover stand. The cargo net is also practical, allowing the user to store small items or clip on the bundled charms. Fancy a color change? An alternative set of red lacing, supplied in the box, is ready to change the cargo net's look.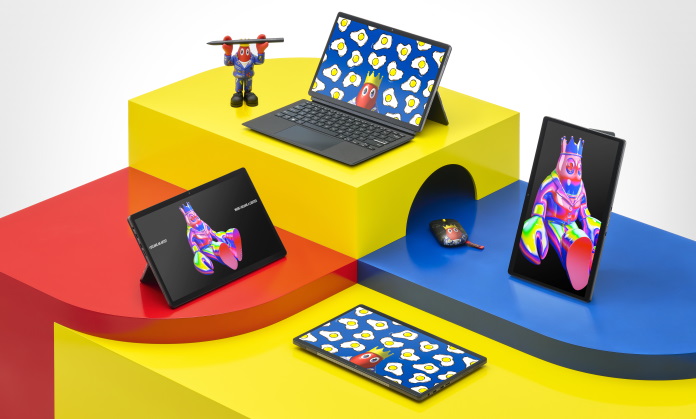 The lobster and fried egg theme continues with a set of eye-popping keyboard stickers that allow you to create a zany-looking keyboard design. Extra lobster, fried egg, and flower-themed stickers let you personalize the rest of the device. The Lobster Land theme also extends to the protective sleeve and the optional ASUS Marshmallow Mouse MD100 Philip Colbert Edition, complete with a handy carrying strap.
Say hello to Mello
Steven Harrington's art employs vibrant colors, wild characters—including the instantly recognizable Mello—and compositional movement that stretches the imagination and invites you into a playful world where creativity rules and limits seem to dissolve. That's exactly where we want you to be when your fingertips touch the keyboard of the Vivobook 13 Slate OLED Steven Harrington Edition.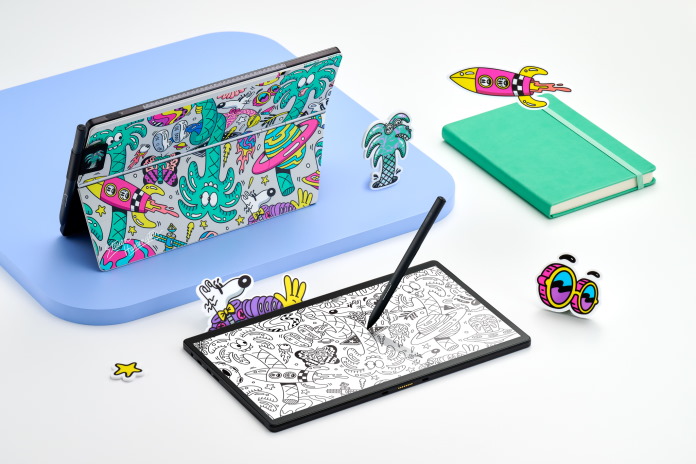 The laptop comes with a one-piece stitched sleeve featuring Harrington's iconic patterns and an exclusive Vivobook logo. A second smart cover stand adds on-the-go protection and convenience. You'll find bundled stickers for the device and keyboard so that you can truly make the device your own. And to get a full Harrington-themed setup, you can opt for an ASUS Marshmallow Mouse incorporating Harrington's work.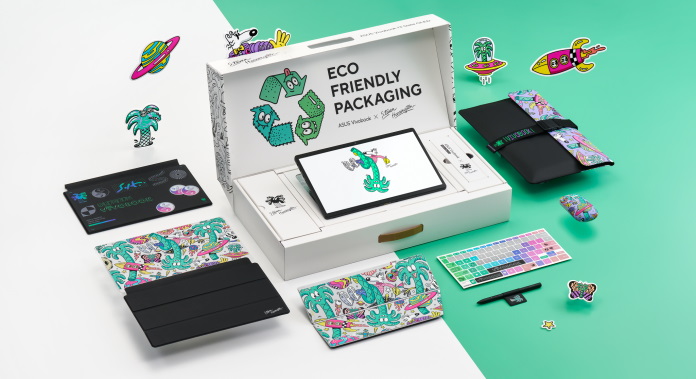 In line with Harrington's love for the earth, the packaging of Vivobook 13 Slate OLED Steven Harrington Edition is made from eco-friendly recycled materials and inks.
Vivobook 13 Slate OLED Philip Colbert Edition
Vivobook 13 Slate OLED Steven Harrington Edition
All-in-one package
Giftbox
Vivobook 13 Slate OLED
Cover stand
Detachable keyboard
ASUS Pen 2.0
Lobster stylus holder
Travel stylus holder
Keyboard stickers
Stickers
Switchable cargo nets and charms
Sleeve
ASUS Marshmallow Mouse Philip Colbert Edition (Optional)
Giftbox
Vivobook 13 Slate OLED
Cover stand
Detachable keyboard
ASUS Pen 2.0
Smart cover
Travel stylus holder
Keyboard stickers
Sleeve
ASUS Marshmallow Mouse Steven Harrington Edition (Optional)
CPU
Quad-core Intel® Pentium® Silver N6000, up to 3.3 GHz
Display
13.3" FHD OLED (1920x1080), 16:9, 550 nits peak brightness, 100% DCI-P3 color gamut; Dolby Vision
OS
Windows 11 Home
Windows 11 Pro
Memory
Onboard 4 GB / 8 GB LPDDR4x
Storage
eMMC: 128 GB
PCIe® SSD: 128 GB / 256 GB
Wireless
WiFi 6 (802.11 ax) with ASUS WiFi Master
Bluetooth® 5.2
Camera
Front: 5 MP
Rear: 13 MP
I/O
2 x USB 3.2 Gen 2 Type-C® with display / Power Delivery support
1 x 3.5 mm combo audio jack
1 x microSD card reader
Touchpad
Mega-size ultra-smooth touchpad
Audio
Stereo speakers
Dolby Atmos
Smart amplifier
Battery
50 Wh 3-cell lithium-polymer battery
AC adapter
65 W power adapter
Dimensions
309.9 x 190 x 7.9 mm
Weight
785 g
Colorful, personalizable designs from premier artists
The Vivobook 13 Slate OLED already offered vivacious style in an all-in-one device for entertainment and productivity. The new editions, designed in partnership with Steven Harrington and Philip Colbert, give this laptop exuberant, unmistakable personality. With their custom packaging, unique add-ons, and variety of colorful stickers, these editions give you a PC experience like none other.
Need help picking between our different laptop families? Click here for an overview of our Vivobook, Zenbook, and ExpertBook lines. For information on the pricing and availability of the Vivobook 13 Slate OLED Philip Colbert Edition and the Vivobook 13 Slate OLED Steven Harrington Edition in your region, please contact your local ASUS representative.