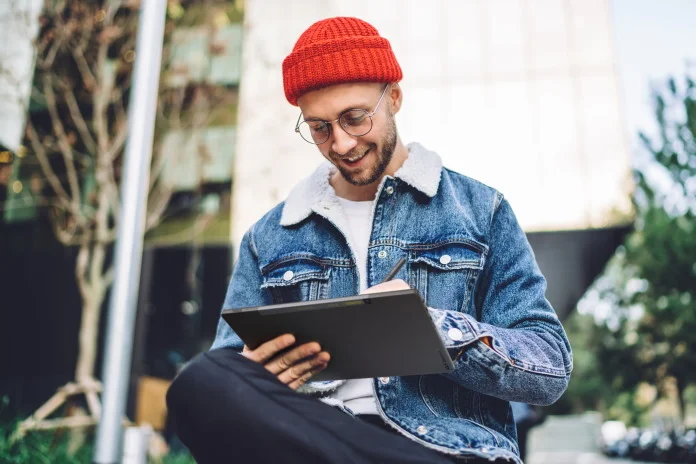 So you're shopping for a new laptop. As you're considering your options, you're probably thinking about a wide range of factors—style, size, portability, and performance, to name a few. Since there are so many different kinds of laptop users, and so many different things they use their laptops for, we offer a wide range of devices in many different configurations. We have laptops for creators, premium laptops loaded with innovative features, everyday laptops, laptops for business, and more. So how do you pick the best ASUS laptop for your needs?
Here, we'll break down our different families of laptops: ProArt Studiobook, Zenbook, Vivobook, and ExpertBook. (Click here for a breakdown of gaming laptop families.) In these lineups, you'll find models with the latest high-performance components from AMD and Intel. Dazzling OLED displays abound. Premium materials, innovative designs, and thoughtful conveniences await around every corner. Whether you're looking for a compact ultraportable notebook or a flexible 2-in-1 laptop, an everyday machine or a portable creative workstation, we've got a laptop that will meet your needs.
Looking for information about one product family in particular? Click the link below to jump ahead to that section.
ProArt Studiobook laptops offer unbounded creativity
Creative professionals have unique needs when they're shopping for a new laptop. Powerful multi-core processors, high-end GPUs, and gobs of speedy RAM are all important, but they're just the start. Accurate displays with wide color gamut coverage, exceptional connectivity, precise input devices, and ISV certifications all play an important role for many creators. Our ProArt Studiobook laptops make sure that professional creators have the features they need in a device that can go wherever work takes them.
The ProArt Studiobook 16 is the best ASUS laptop for creators who need a blend of power, connectivity, and control. This lineup gives you a choice between high-performance CPUs from either Intel or AMD, and offers up to an NVIDIA RTX 3070 GPU. A high-resolution OLED panel with 100% DCI-P3 color gamut coverage and VESA DisplayHDR 500 certification gives you a vivid, accurate view of your work. The built-in ASUS Dial gives you an intuitive, customizable tool for accessing commonly-used functions in Adobe Photoshop, Lightroom Classic, Premiere Pro, and After Effects. And with high-speed USB Type-C ports, an SD Express 7.0 Card reader, an HDMI 2.1 port, and a pair of USB Type-A ports, it couldn't be easier to hook up your studio peripherals and display.
We also have options for creators who need enterprise drivers and ISV certifications for their work. The ProArt Studiobook Pro 16 OLED, for example, boasts an Intel Xeon W-11955M CPU and an NVIDIA RTX A5000 GPU. Click here to browse our full family of ProArt Studiobook laptops.
Zenbooks bring luxury to everyday computing
Premium materials, innovative form factors, and sophisticated designs set our Zenbook family of laptops apart from the competition. These notebooks put our precision craftsmanship and endless drive for innovation on full display. Most of our 2022 Zenbook lineup will also feature our ASUS Antibacterial Guard treatment that protects your health by inhibiting the growth of harmful bacteria. And almost all models include a lush OLED display that elevates everything you do on your PC with their vibrant colors, infinite contrast, and exceptional clarity.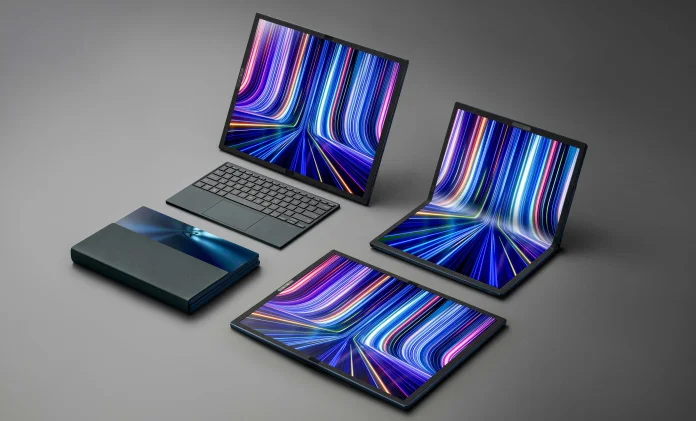 The stunning Zenbook 17 Fold OLED is the best ASUS laptop for those who crave innovation and versatility. Its foldable hinge and OLED panel let this machine shatter the limitations of the traditional laptop. This one device can be a compact 12" laptop or powerful yet lightweight 17" tablet, but that's just the start of its possibilities. Its built-in leather kickstand and included wireless ErgoSense keyboard let you prop it up on a desk in PC mode for effortless productivity.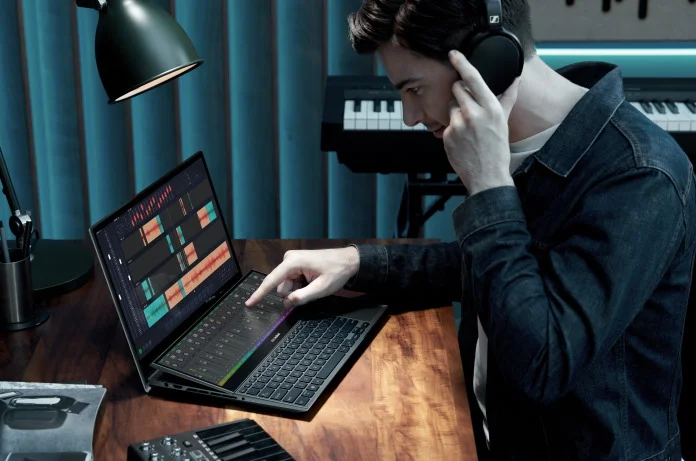 Zenbook Pro Duo 15 OLED and Zenbook Pro 15 OLED laptops empower creators to develop their ideas wherever and whenever inspiration strikes. With its large integrated second screen built right into the base of the laptop, the Zenbook Pro Duo 15 OLED offers unparalleled multitasking capabilities and gives users an always-ready surface for stylus work. All Zenbook Pro and Pro Duo laptops deliver fast, responsive performance in your favorite creative apps with their high-end components from Intel, AMD, and NVIDIA.
If you value effortless portability above all else, browse our Zenbook S lineup.These sophisticated machines feature astonishingly thin designs, agile performance, and stunning displays. With its 4K OLED display framed with ultraslim bezels, the convertible Zenbook Flip S13 OLED brings a note of elegance to your everyday computing and entertainment.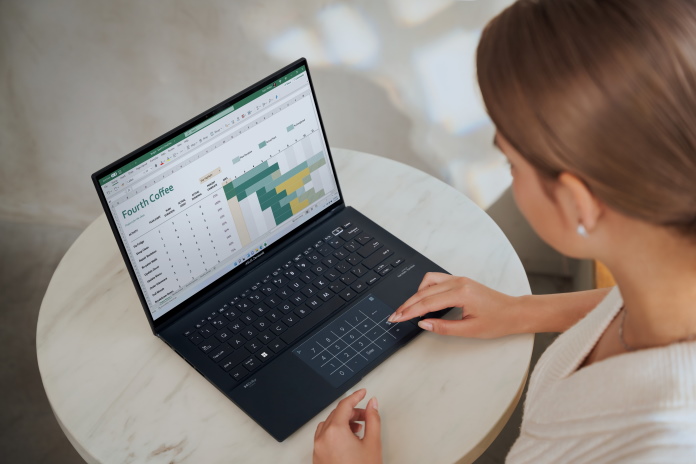 For the best balance of performance and portability, the Zenbook 14 OLED is a compelling choice. It offers the complete package: a dazzling OLED panel, a powerful AMD Ryzen CPU, and a lightweight, sophisticated design. You'll be hard-pressed to find a better value at its price point.
Our Zenbooks are available in a wide range of configuration and form factors. Click here to learn more about our options.
Express yourself with a new Vivobook
Our Vivobook family of laptops covers everything from affordable entry-level models to devices powerful enough to get aspiring creators started on their journey, yet one thing is true about all of them: they're brimming with personality. No matter your budget, we don't think you should have to settle for bland designs and copycat concepts.
The latest Vivobooks are set to impress with features you might not expect from such a budget-friendly lineup. We're committed to bringing the exceptional viewing experience of OLED panels to everyone, so you'll find these superlative panels across a wide range of Vivobooks. Processors from Intel and AMD give you snappy, responsive performance. We apply our exclusive ASUS Antibacterial Guard treatment to the most frequently-used surfaces of many of our Vivobooks. This silver-ion coating protects the health of you and your family by inhibiting the growth of bacteria up to 99%.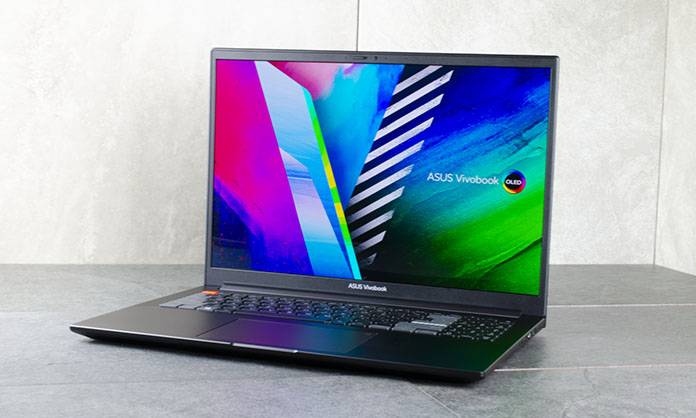 College students and young professionals equipping themselves for the demanding work of video editing, 3D rendering, and other creative pursuits need laptops with the processing power to bring their visions to life. Vivobook Pro notebooks offer surprising value with their high-resolution OLED displays, high-end processors from Intel and AMD, and discrete GPUs. The Vivobook Pro 16X OLED offers an especially attractive package with its AMD processor, NVIDIA GeForce RTX 3050 Ti GPU, and 16" 4K OLED panel.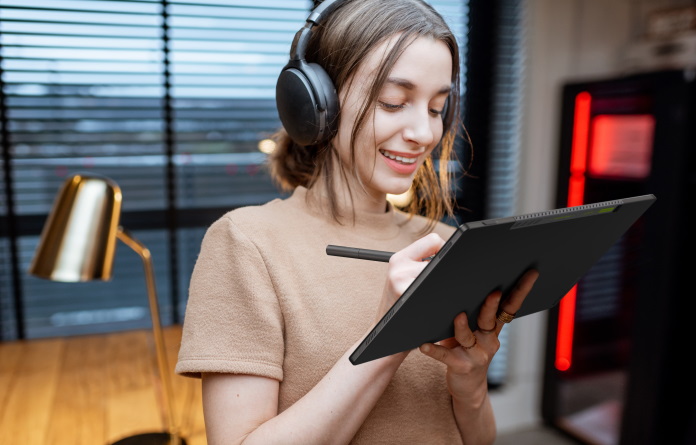 Not every laptop user will make use of the CPU and GPU processing power offered by the Vivobook Pro lineup. Vivobook S laptops are thin-and-light companions for everything you do. Ready to make a style statement and easy to take with you, these laptops give you the features you need in slim designs. Perhaps you'd prefer a device that's equally a tablet and a PC? The Vivobook 13 Slate OLED lets you work and play your way with its 2-in-1 design—and its 13" OLED touchscreen is a stunner.
Whatever kind of everyday laptop you're looking for, there's a Vivobook ready and waiting for you. Stylish Vivobook Go notebooks give you a full Windows PC experience in compact designs. Vivobook Flip laptops have a 360° hinge that lets you use them as a laptop, a tablet, or anything in between. And if you're looking for the familiar experience of a clamshell laptop, our baseline Vivobook line beckons. Click here to browse all of our Vivobook options.
ExpertBook commercial laptops are ready for business
We tailor our ExpertBook lineup of laptops to meet the needs of enterprises, departments of government, and organizations of all kinds. For these clients, robust security, easy serviceability, and reliable operation are unshakeable requirements. Our award-winning lineup of enterprise-focused laptops deliver the right mix of portability, performance, and reliability for your business. The ultra-light chassis and all-day battery life of ExpertBooks make them ideal for business trips, remote work, and mobile workforces. Whether you need a versatile convertible, a supremely thin and light notebook, or a sensible and sturdy all-around solution, there's an ExpertBook in the form factor you need.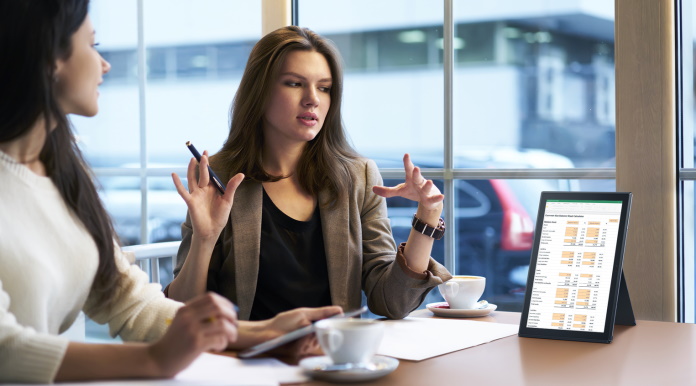 Business-class doesn't have to mean boring. The all-new ExpertBook B3000 Detachable is the best ASUS laptop for users in the business world on the move. With its detachable keyboard and integrated kickstand, it's ready for action in tablet, laptop, or stand modes. Its optional garaged stylus makes sure that pen input is always convenient, and its high-capacity battery enables a full day of operation away from an outlet. Fast-charging tech means that the ExpertBook B3000 Detachable can replenish enough power for 45 minutes of operation after a mere 15 seconds of charging. Even under heavy use, this laptop is always ready for action.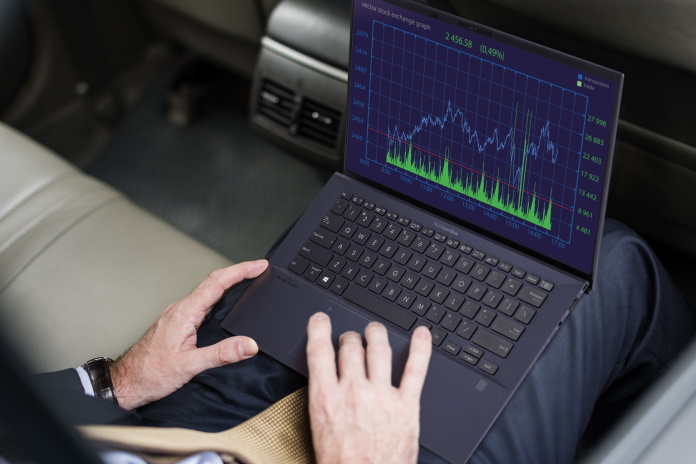 As the world's lightest business laptop, the ExpertBook B9 is the best ASUS laptop for those who value portability above all else. Only 2.2 lbs and 18.9mm thin, it balances lightly in one hand, yet delivers all the performance and features you'd expect from a business-class 14" laptop. Powerful 11th Gen Intel CPUs, speedy storage arrays up to 2TB, and up to 32GB of RAM let you breeze through your workflow no matter where you are. And a complete set of security options give you and your IT staff peace of mind.
Whether you're unleashing the productivity of your employees with a department-wide upgrade or selecting a slim, powerful laptop that fits your organization's bring-your-own-device policies, our ExpertBook laptops stand ready. Click here to learn more about our available models.
The best ASUS laptop for every user
Our relentless drive for innovation has made us one of the world's leading manufacturers of laptops. Year after year, we shatter expectations for what users can expect from their PCs. Through our Vivobook, Zenbook, ExpertBook, and ProArt Studiobook lineups, we make sure that there's a laptop for every user and every budget. If you need additional help finding the best ASUS laptop for you, please contact your local ASUS representative.