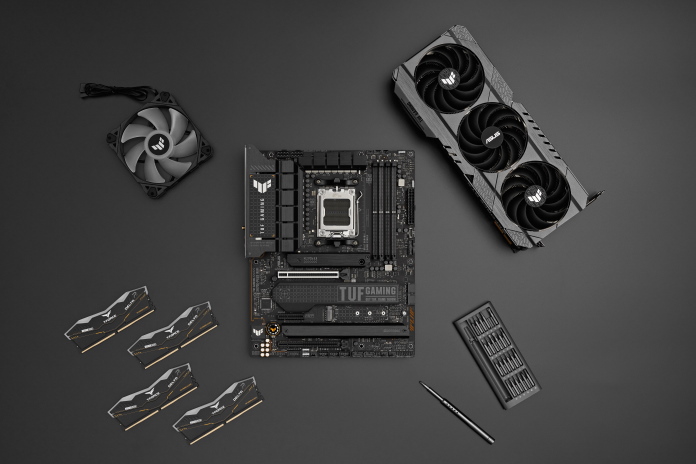 The fourth generation of AMD Ryzen CPUs for desktop PCs has arrived, bringing a potent blend of snappy performance and parallel computing power. For enthusiasts who seek out cutting-edge components and features to power their gaming sessions, creative work, and heavy multitasking, we have a full family of X670E and X670 motherboards at the ready. Yet our last-gen X570 and B550 motherboards have by no means disappeared, and they remain compelling options for a wide range of users. To help you figure out which AMD motherboard platform best fits your needs, we've put together this handy guide that considers the advantages of X670 vs. X570 vs. B550. Let's dig in.
X670E
X570
B550
Socket
AM5
AM4
AM4
Memory
DDR5
DDR4
DDR4
Available features on select models
AI Cooling II
Dynamic OC Switcher
Ryzen Core Flex
AEMP
USB4
WiFi 6E
AI Cooling
Dynamic OC Switcher
USB 3.2 Gen 2
WiFi 6
AI Cooling
USB 3.2 Gen 2
WiFi 6
Available PC DIY-friendly features on select models
PCIe Slot Q-Release
M.2 Q-Latch
BIOS FlashBack
Q-DIMM
Q-LED
BIOS FlashBack
Q-DIMM
Q-LED
BIOS FlashBack
Q-DIMM
Q-LED
X670: Cutting-edge motherboards ready for the future
Simply put, if you plan to purchase one of AMD's latest and greatest CPUs, then you need an X670 motherboard. Fabricated on a cutting-edge 5nm process, Ryzen 7000-series processors slot into the all-new AM5 socket. Older generations of AMD motherboards with AM4 sockets aren't compatible. And if you intend to push your new CPU to the limit for all-out performance, then you definitely should browse the high-end options in our X670 lineup. Tools such as AI Cooling II, Dynamic OC Switcher, and Ryzen Core Flex give you the fine-tuned controls you need to optimize your high-octane system.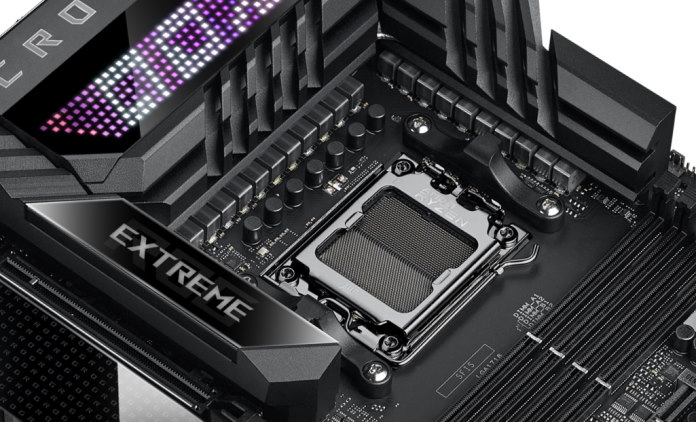 There's more to the story than just compatibility, though. Key changes to AMD's chipset enable us to make X670 a truly next-gen platform. X670E and X670 motherboards support the latest DDR5 RAM. These memory kits are ideal for anyone working with bandwidth-sensitive workflows, and they make perfect partners for high-core-count CPUs.
Do you typically keep your PC updated with the latest components as they hit the market? Our X670 motherboards give you the upgrade pathway that you're looking for. AMD intends to support the AM5 socket for at least another generation of CPUs, so your X670 motherboard will be an easy BIOS update away from compatibility with upcoming Ryzen processors.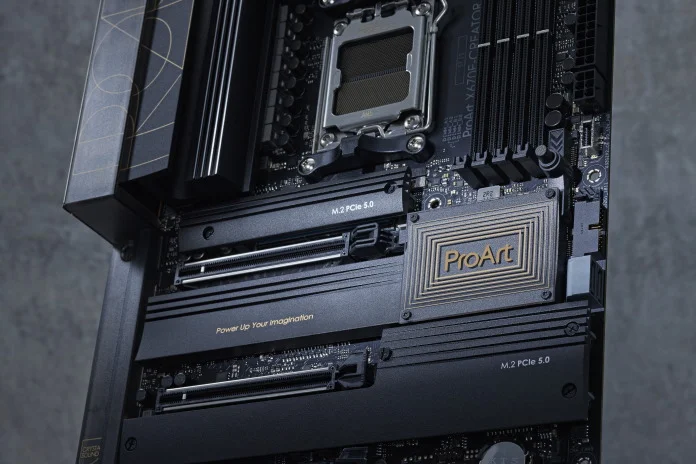 Even further, all of our higher-end X670E motherboards boast PCIe 5.0 connectivity, so you'll be fully prepped and ready to install next-gen PCIe 5.0 graphics cards and SSDs as they hit the market. We offer both X670E and X670 motherboards, and they differ in their deployment of PCIe 5.0 and PCIe 4.0 across the circuitry. Look for an X670E model if you're interested in running both PCIe 5.0 graphics cards and SSDs, and an X670 model if PCIe 4.0 is sufficient for your needs.
All these factors make an X670 motherboard the ideal choice for a wide range of PC enthusiasts. If you're a professional creator, the face of an online streaming empire, or a gamer who refuses to accept any limitations, an X670 motherboard is right for you. Head over to our dedicated guide to find the right model for your next PC.
X570: A solid choice for mainstream builders
Some PC builders will look at the cutting-edge features offered by X670 motherboards and decide that those would be nice to have in their next PC—but not necessarily a requirement. Many gamers out there, for example, can get the frame rates and immersive experiences they're looking for with a 5000-series AMD Ryzen CPU, an X570 motherboard, and a modern graphics card from NVIDIA or AMD. Such a system wouldn't have the same upgrade pathways and access to high-end features as would an X670 build, but it'd still be a powerful PC with a lot to offer for years to come.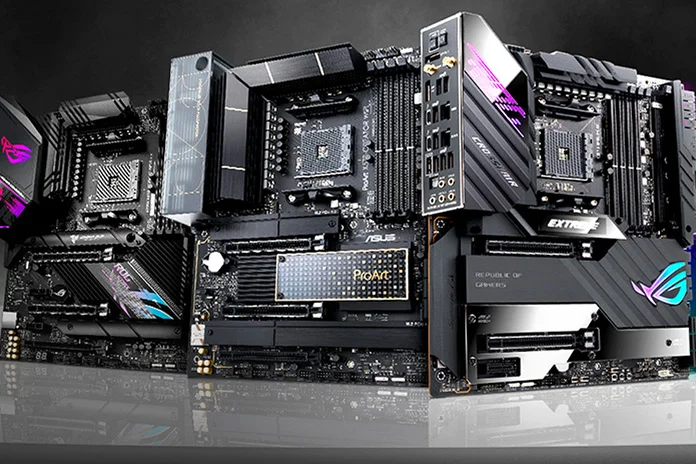 While X570 motherboards are no longer the absolute best options for AMD Ryzen builds, they're still great choices that offer incredible value. They support DDR4 RAM, which is widely available and highly affordable. Their PCIe 4.0 x16 slots are ready for any graphics card that you can buy today. Current-gen PCIe 4.0 SSDs are plenty fast for a wide range of workloads, and you'll find compatible M.2 slots on many of our X670 options.
From our flagship ROG Crosshair motherboards to our more-affordable ASUS Prime lineup, we have an X570 motherboard for every style and budget. Check out our full X570 motherboard guide for all the details.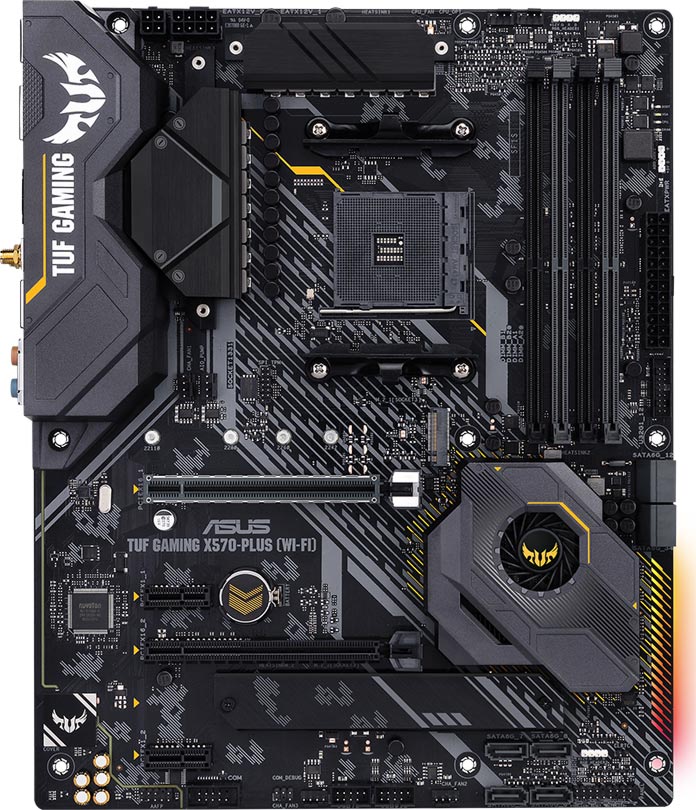 If we had to pick an all-around favorite from the X570 family, we might point you to the TUF Gaming X570-Plus WiFi. For a very reasonable price, you'll get a robust power solution, a pair of PCIe 4.0 M.2 slots, three onboard USB 3.2 Gen 2 ports, and comprehensive cooling.
B550: Unbeatable value for builders on a budget
From the moment they launched, B550 motherboards gave builders cost-effective options for assembling an AMD Ryzen PC. They're particularly well-suited partners for AMD's more-mainstream CPUs, like the hexa-core Ryzen 5 5600X. If you need to make every dollar in your PC building budget count, our B550 motherboards are just what you're looking for.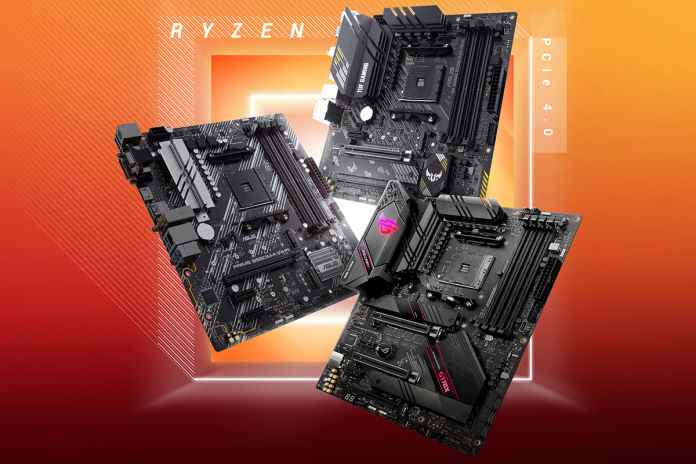 While not quite as loaded with higher-end connectivity options as their X570 brethren, B550 motherboards still offer a compelling set of features. They're overclocking-ready, and our legendary UEFI BIOS makes it easy to set up and fine-tune your system. You'll find PCIe 4.0 x16 slots and M.2 slots as you browse our options, and USB 3.2 Gen 2 ports aplenty. Nearly all of our options support overclocked memory, and options with 2.5Gb Ethernet and WiFi 6 give you fast networking options.
Planning to build an all-around capable PC that won't break the bank? Browse our selection of B550 motherboards. Between our ROG Strix, TUF Gaming, and Prime B550 motherboard families, you'll find a model with the features and style you're looking for at a great price.
A particularly compelling option is the ROG Strix B550-F Gaming WiFi II. In one affordable package, this motherboard gives you exactly what you need: a high-performance PCIe slot for your graphics card (reinforced with our SafeSlot technology), plenty of USB ports for peripherals, and enough extra PCIe, M.2, and SATA expansion ports for any extras you may need.
ROG Strix B550-F Gaming WiFi II
Availability (U.S)
ASUS
X670 vs. X570 vs. B550: The verdict
Our X670 motherboards will bring your build into the next generation with support for AMD's latest CPUs, DDR5 RAM, and cutting-edge PCIe 5.0 connectivity. For anyone who demands exceptional performance today and a clear upgrade pathway tomorrow, there's no better option. Our X570 and B550 motherboards are still worth some consideration, however, especially for builders who need to stretch their budget. There's life yet in these last-gen AM4 platforms, and they're still worth considering for your next PC.
Have more questions about the process of building a PC? Head on over to our PC DIY portal. There, you'll find extensive resources on picking parts, example builds to help you get started, tutorial videos, and much more.