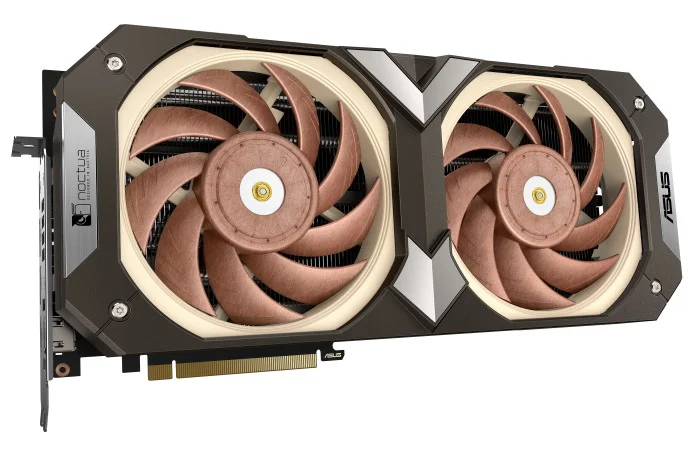 ASUS and Noctua have joined forces again, this time bringing the flagship power of NVIDIA's GeForce RTX 40 Series and Noctua's legendary cooling together in one glorious package. Introducing the ASUS GeForce RTX 4080 Noctua Edition, a continuation of our collaboration with the legendary cooling company, building off the work we did on our GeForce RTX 3070 and RTX 3080 Noctua variants. This year we've worked together to tame the power of the mighty GeForce RTX 4080. With Noctua's fan design prowess and ASUS' custom-built vapor chamber, we were able to craft the quietest air-cooled RTX 4080 on the market. 
Cool and quiet
The ASUS GeForce RTX 4080 Noctua Edition incorporates a pair of Noctua's state-of-the-art NF-A12x25 fans to move air over a massive heatsink, developed in partnership between our own veteran thermal R&D team and the engineers at Noctua. These engineers worked tirelessly to tune the fin density and heat pipe arrangement of the heatsink, optimizing it for the airflow characteristics of the NF-A12x25. To prioritize low noise levels, a smooth acoustic signature, and high cooling performance while making room for this pair of 120mm fans, we expanded this card's total volume to occupy 4.3 slots of space. The card comes with a Dual BIOS switch, with Quiet mode enabled by default to minimize acoustics right out of the box.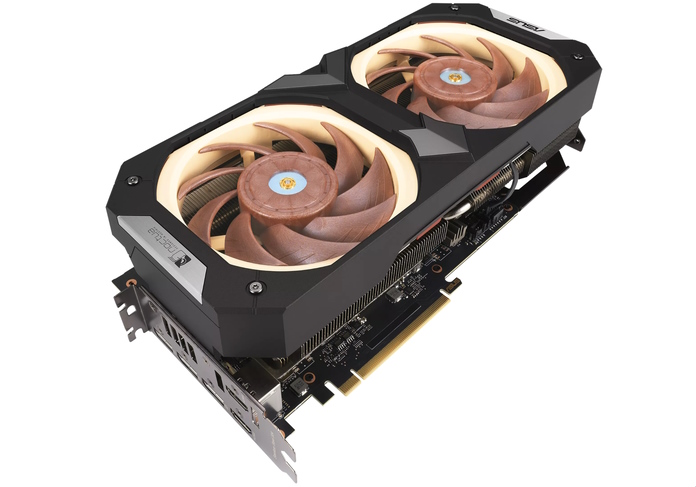 The NF-A12x25 was an easy choice for this project because of the numerous innovations packed into its 120mm frame. An impeller made from Noctua's proprietary Sterrox® liquid-crystal polymer has an exceptionally low thermal expansion coefficient, allowing the fan blades to sit just 0.5mm away from the outer frame. This extremely tight tolerance allows the NF-A12x25 to work more efficiently against back pressure by reducing the leakage of airflow, perfect for a densely-packed GPU fin stack. A metal-reinforced motor hub and axis further support this extremely precise gap between impeller and frame. 
Vapor chamber innovation
While our collaboration with Noctua on the GeForce RTX 3070 and RTX 3080 Noctua Editions was a great success in minimizing acoustics for maximum GPU performance, we were not content to rest on our laurels. So this year, we incorporated an expansive vapor chamber with a network of eight heatpipes. When operating at the GeForce RTX 4080's TDP of 320W, the ASUS GeForce RTX 4080 Noctua Edition peaks at just 61.7° Celsius, with the same ultra-low noise levels as the GeForce RTX 3070 and RTX 3080 Noctua variants. To get the absolute most out of the NVIDIA GeForce RTX 4080, trust the decades of engineering expertise behind ASUS and Noctua. 
Confident styling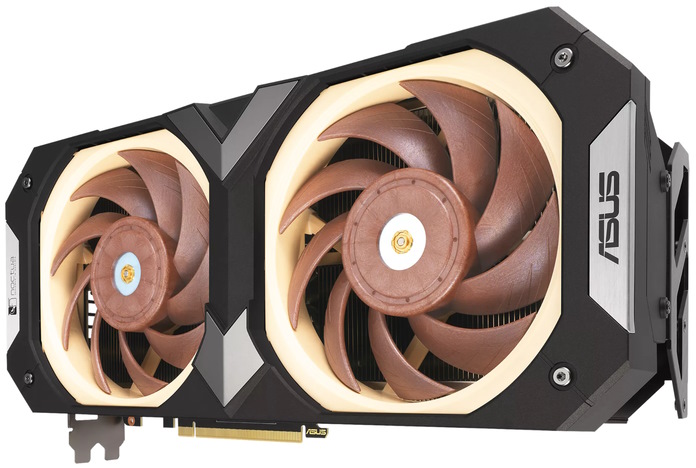 We know that Noctua enthusiasts care as much about the aesthetics of their builds as they do about high performance and low noise levels. We created a custom brown shroud for the duo of NF-A12x25 fans that complements their distinctive color scheme and provides a secure mounting system — no zip ties needed. ASUS and Noctua logos on the front and sides of the shroud, along with subtle graphics on the full-length alloy backplate, help this card coordinate perfectly with other Noctua components in a system. 
Power up and play
To keep the GeForce RTX 4080 Noctua Edition running its best, pair your new graphics card with one of our premium power supplies. The ROG Thor 1000P2 is the perfect supply to drive your ultra-powerful, ultra-quiet build thanks to its high-quality components and efficient operation. Or, for a more compact build, try our ROG Loki 1000P FX-L power supply. Both power supplies come with a 10-year warranty, so you know they'll drive your rig with stable, reliable power for the long term.