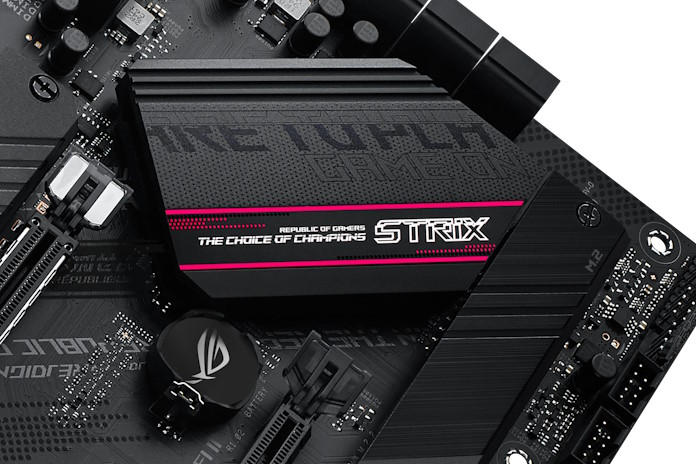 Back to school season is a great time to make plans to build a PC. Whether you're building one to empower your own educational efforts for high school or college, or whether you're setting up a loved one with a powerful new PC to help them learn, create, and explore, ASUS tech has your needs covered. We offer a wide range of motherboards for students, gamers, creators, architects, engineers, everyday users, and everyone in between. For those shopping specifically for a student, two of our budget-friendly options offer incredible value: the ROG Strix B550-F Gaming WiFi II and the TUF Gaming B650-Plus WiFi.
Perhaps you could use some help to pick between these two options. Key differences in the CPUs they support, the type of memory that you can install, and their available storage options, among many other factors, could make all the difference as you select the best motherboard for you or a loved one. Here, we'll help you make a choice between these two very capable contenders.
AM5 vs. AM4: A cutting-edge platform or last-gen excellence?
To decide between these two motherboards, you'll first have to decide whether you want a current-gen or last-gen CPU for the build you're planning. The ROG Strix B550-F Gaming WiFi II has an AM4 socket, so it's compatible with Ryzen 5000 Series CPUs, whereas the TUF Gaming B650-Plus WiFi has an AM5 socket which preps it for action with current-gen Ryzen 7000 Series CPUs.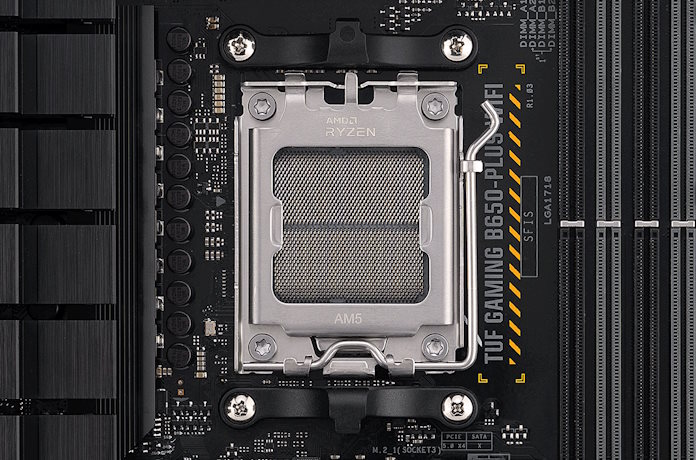 If your primary concern is performance, we'd recommend the TUF Gaming B650-Plus WiFi. The latest Ryzen CPUs feature AMD's latest innovations, making them the ideal pick for a student who'll push this system to its limits. If this PC will get used for you or your student to pursue a passion for STEM, the extra performance will make a difference. That horsepower will matter for many content creation endeavors, too, such as video editing, 3D rendering, and more.
If your primary concern is upgradeability, we'll once again recommend the TUF Gaming B650-Plus WiFi. AMD has announced that they intend to use the AM5 socket for at least another generation of CPUs, so you'll be able to upgrade the CPU a year or two down the line without much fuss at all.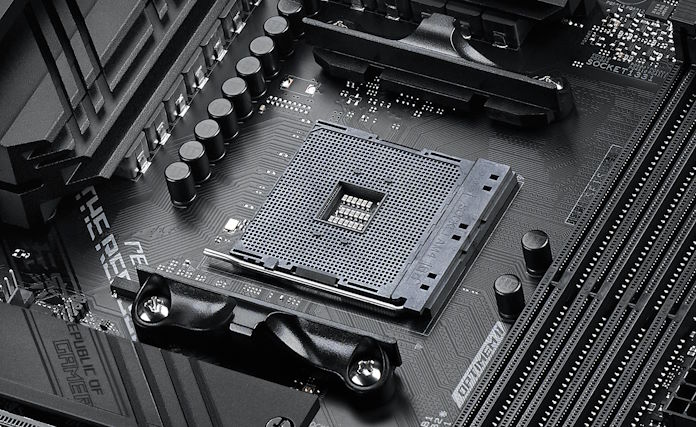 If your primary concern is budget, then we'll recommend the last-gen ROG Strix B550-F Gaming WiFi II. Rest assured that you'll get plenty of performance out of this platform. The AMD Ryzen 7 5800X3D continues to be a popular choice from this generation, and the recently launched Ryzen 5 5600X3D chip shows that there's still plenty of life left in AM4 at an incredibly affordable price.
DDR5 vs DDR4: which type of memory is best?
Another aspect of your choice between these two motherboards comes down to memory standards. The TUF Gaming B650-Plus WiFi supports the latest DDR5 RAM modules, while the ROG Strix B550-F Gaming WiFi supports last-gen DDR4. Click here for a full rundown on what you get from DDR5 vs DDR4, but here's the short version.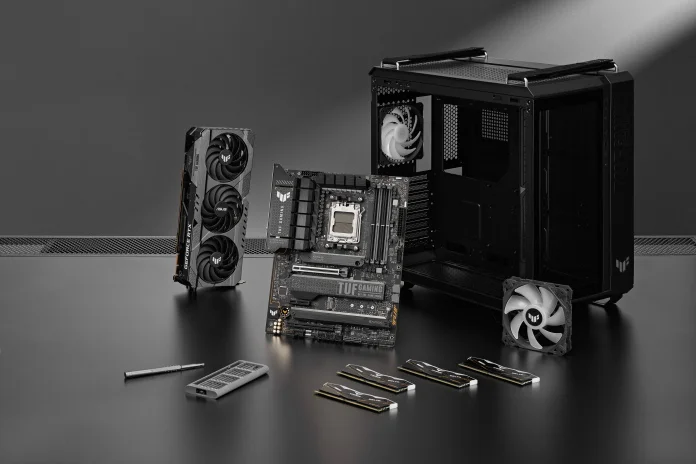 For many users, DDR5 is a smarter choice right now than DDR4. Content creators, many gamers, anyone who works with a lot of data, and heavy multitaskers all benefit from a high-core-count CPU with exceptional multi-threaded performance — and DDR5 is a better match for next-gen CPUs than DDR4. And now that DDR5 kits are widely available and increasingly more affordable, there's less and less reason to stick with last-gen tech.
Overall, the TUF Gaming B650-Plus WiFi is our recommended pick when it comes to memory support. You'll likely save some money by sticking with DDR4 RAM, and that very well could be the deciding point for your build. But we think that DDR5 is the smarter long-term play in 2023.
What storage options do you need?
These two motherboards offer both onboard M.2 slots and SATA 6Gb/s ports, so each is ready to connect a large selection of storage drives. Yet there are some key differences between the storage options that they offer that might make the difference as you're picking between the two motherboards.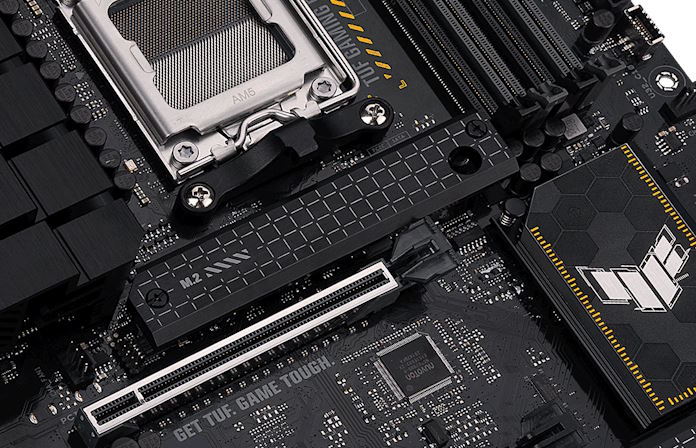 The latest and fastest SSDs on the market use PCIe 5.0 connectivity for blazing-fast file transfers. That translates to lightning-quick load times for apps and wait-free access to large assets in content creation projects. If you this PC will be used for STEM or content creation projects that benefit from the raw read and write speeds offered by PCIe 5.0 SSDs, go for the TUF Gaming B650-Plus WiFi. In addition to a PCIe 5.0 M.2 slot, it has two PCIe 4.0 M.2 slots and 4 SATA 6 Gb/s ports.
If your building budget doesn't stretch to the latest PCIe 5.0 SSDs, don't fret — the ROG Strix B550-F Gaming WiFi II will handle your storage needs deftly with two PCIe 4.0 M.2 slots, both with integrated heatsinks, and 6 SATA 6Gb/s ports.* While not the absolute fastest options available, PCIe 4.0 M.2 drives are plenty fast for gaming and everyday use.
Ports aplenty: what USB options are most important to you?
A motherboard has many jobs, but one of the most important is to connect everything in your build together. The selection of USB ports available at the rear I/O panel, and the available headers for connecting whatever front-panel ports offered by your chassis, can make a big difference.
One key difference between these two motherboards regarding their USB ports lies in their options for connecting a front-panel header. The TUF Gaming B650-Plus WiFi includes a Thunderbolt™ (USB4®) header. In a compatible case, you'll be able to set up a USB Type-C port that offers blazing-fast 40Gbps maximum transfer speeds. That bandwidth could be invaluable if you or the student you're building for will routinely transfer large amounts of data from an external drive.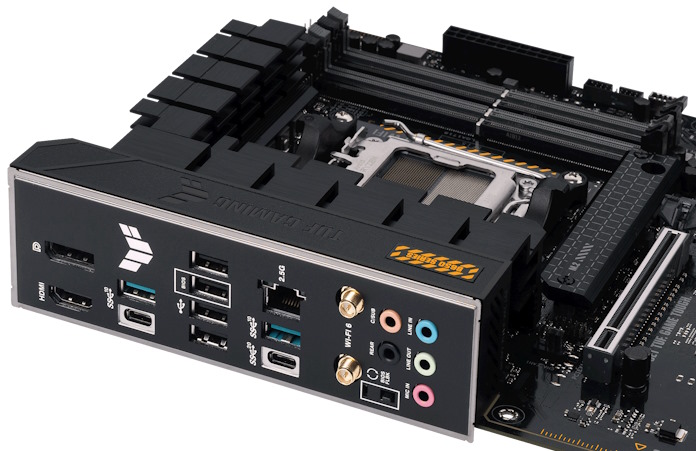 The TUF Gaming board offers higher-bandwidth USB Type-C ports at the back, too. It includes a USB 3.2 Gen 2×2 Type-C port capable of reaching theoretical speeds of up to 20Gb/s. The comparable USB Type-C port on the ROG Strix model tops out at 10Gb/s.
Which motherboard offers better audio?
Audio quality could be a major factor in your motherboard decision. Whether you or the student you're building for will be recording and producing audio, connecting a pair of cans for gaming, or just putting on some music to help with focus, high-quality audio can make a difference.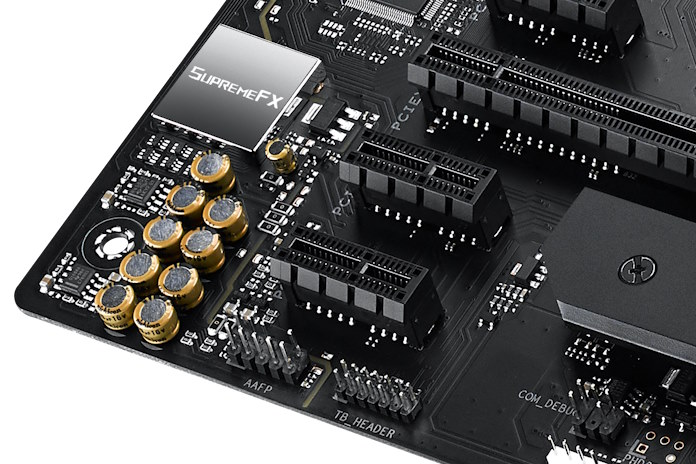 The TUF Gaming B650-Plus WiFi is no slouch in the audio department, what with its Realtek 7.1 audio codec. Designed in close collaboration with Realtek, it features an unprecedented 108 dB signal-to-noise ratio for the stereo line out and a 103dB SNR for the line in, providing pristine audio quality. Yet the ROG Strix B550-F Gaming WiFi takes the edge here with its built-in ROG SupremeFX audio technology. Along with ensuring a flat frequency response for a neutral, detailed sound signature, it offers two front-panel outputs driven by op amps that deliver high-quality audio to gaming headsets.
Which motherboard is easier to build with?
It's fair to wonder which of these two motherboards is easiest to work with during the build process. Yet it's hard to pick a winner, as both are designed from top to bottom with DIY-friendly conveniences. Both offer a reinforced SafeSlot PCIe 4.0 x16 slot that provides stronger PCIe device retention and greater shearing resistance. They both include a Q-LED diagnostic array that gives you a quick troubleshooting mechanism. And both include a BIOS Flashback button that makes it easy to update firmware, even in there a CPU and memory sticks aren't present.
The TUF Gaming B650-Plus WiFi does have one advantage over the Strix model. Its M.2 slots use our Q-Latch system so that you don't need to fiddle with a small, fussy screw to install an M.2 drive. That convenience won't make a difference every day that you use this PC, but it's an undeniable luxury while you're building.
Networking options: which WiFi standard should you select?
The choice between the ROG Strix B550-F Gaming WiFi II and the TUF Gaming B650-Plus WiFi is relatively straightforward when it comes to networking. Both offer a fast 2.5Gb Ethernet port, so if you're intending to use a wired connection, they'll offer very similar performance.
Both options do include onboard WiFi, but there's a key difference between the two models. The ROG Strix B650-F Gaming WiFi II offers WiFi 6E, while the TUF Gaming B650-Plus WiFi offers WiFi 6. If you've invested in a WiFi 6E router to take advantage of newly freed 6GHz band, then you should be quite tempted by the ROG Strix motherboard. Otherwise, the TUF Gaming board will serve you just fine in the wireless networking department.
Aesthetic choices
We'll let you make the call when it comes to aesthetics. Our wide lineup of motherboards ensures that every builder can find a motherboard with the style and features that they're looking for.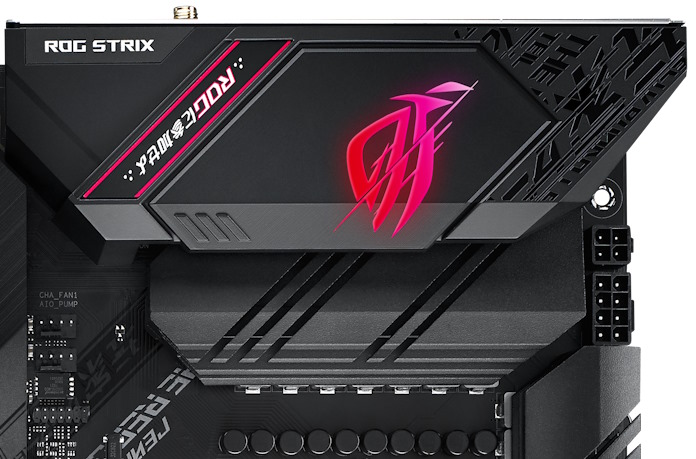 We will say that the ROG Strix B550-F Gaming WiFi II motherboard has a more outspoken style than the TUF Gaming B650-Plus WiFi. If you're looking to construct a showcase PC with a large window that shines a spotlight on your internal components, you might prefer the angular accents, vivid RGB LEDs, and ROG design elements on the ROG board.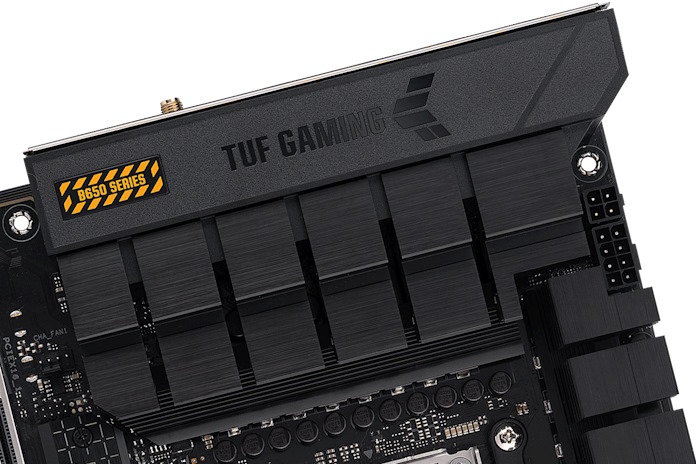 On the other hand, we know that many PC builders prefer a more understated look for their PCs. The TUF Gaming model rewards close inspection with a few tasteful accents, but otherwise lets its performance do all the talking. With its predominantly black hues, it'll fit it in nicely with just about any other components you purchase for your build.
Pricing and other final considerations
Last but not least, let's talk pricing. The ROG Strix B550-F Gaming WiFi II is the cheaper of the two options, coming in at $189.99 USD. If a last-gen AMD Ryzen CPU and DDR4 RAM will meet the needs of you or your student, you might be very tempted to make a value play with this feature-rich motherboard.
However, we'll note that while the TUF Gaming B650-Plus WiFi is more expensive than the Strix model, it's not actually that much more expensive. At $229.99, it's still a very affordable motherboard. You should factor in the total platform cost of your build, including CPU and RAM in your calculations, but overall the cost of opting for the latest-gen platform rather than the last-gen platform might not be as large as you think.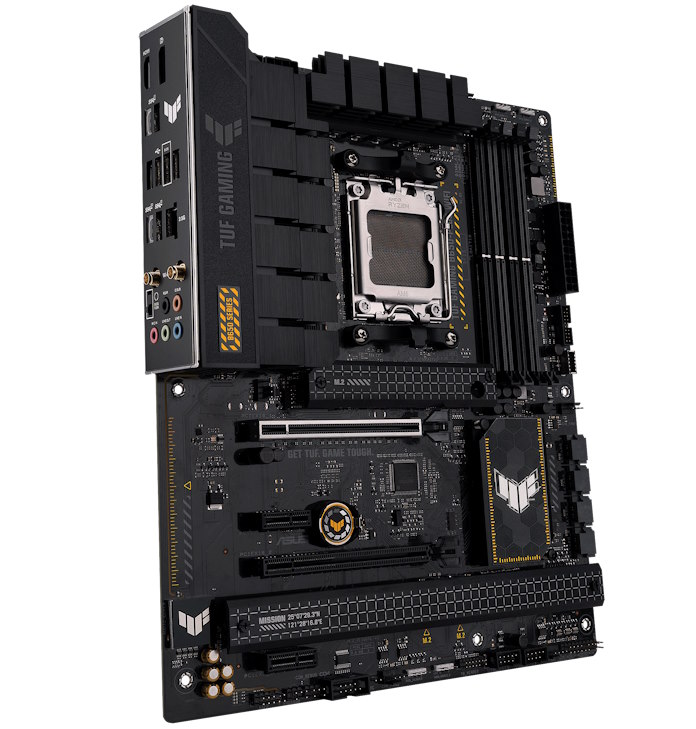 Overall, which motherboard is the best fit for students? In many ways, your decision will come down to the performance needs of you or your student. If this PC will be used by a student with a passion for STEM or STEAM, the TUF Gaming B650-Plus WiFi might be the better pick. It also offers an upgrade pathway down the road, giving it more long-term bang for your buck.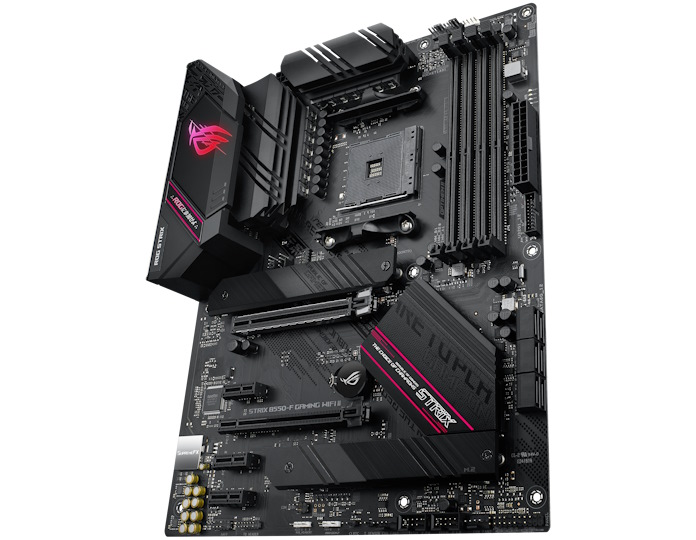 Yet it's hard to ignore the value proposition offered by the ROG Strix B550-F Gaming WiFi II and an affordable Ryzen 5000 Series CPU. Such a system would be a powerful upgrade for many users, even though it's not compatible with the latest AMD Ryzen processors.
With either choice, you'll get great performance, wide connectivity options, and an easy build process. Use the table below to look even more closely at the differences between these two motherboards, and follow the links to online retailers to get started on your building process today.
TUF Gaming B650-Plus WiFi
ROG Strix B550-F Gaming WiFi II
Size
ATX
Socket
AM5
AM4
Memory
4 x DIMM, up to 128GB, DDR5
4 x DIMM, up to 128GB, DDR4
PCIe
1 x PCIe 4.0 x16 (@x16)
1 x PCIe 4.0 x16 (max @x4)
1 x PCIe 4.0 x16 (@x16)
1 x PCIe 3.0 x16 (max @x4)
3 x PCIe 3.0 x1
Storage
1 x 2280 (PCIe 5.0 x4)
1 x 22110 (PCIe 4.0 x4)
1 x 2280 (PCIe 4.0 x4)
1 x 22110 (PCIe 4.0 x4)
1 x 22110 (PCIe 3.0 x4)
Networking
1 x 2.5Gb Ethernet
WiFi 6
1 x 2.5Gb Ethernet
WiFi 6E
Audio
Realtek ALC S1200A
ROG SupremeFX S1220A CODEC
USB4® Support
1 x Thunderbolt™ (USB4®) header
N/A
Rear I/O
3.2 Gen 2x2: 1 x USB Type-C®

3.2 Gen 2: 2 x USB Type-A, 1 x USB Type-C®
2.0: 4 x USB Type-A
1 x USB 3.2 Gen 2 Type-C®
1 x USB 3.2 Gen 2 Type-A
4 x USB 3.2 Gen 1 Type-A
2 x USB 2.0 Type-A
Front I/O
3.2 Gen 1: 2 x USB Type-A, 1 x USB Type-C®
2.0: 4 x USB Type-A
1 x USB 3.2 Gen 1 header
2 x USB 2.0 headers
Aura
3 x Addressable Gen 2 headers
1 x Aura RGB header
1 x Addressable Gen 2 headers
2 x Aura RGB headers
Cooling
7 x fan headers
5 x fan headers
Availability (U.S)
ASUS
Newegg
Best Buy
B&H
Central Computers
Micro Center
ASUS
Amazon
B&H
Micro Center
Newegg
Walmart
Availability (CA)
Newegg
Amazon
Canada Computers
ASUS
Amazon
Canada Computers
Memory Express
Newegg