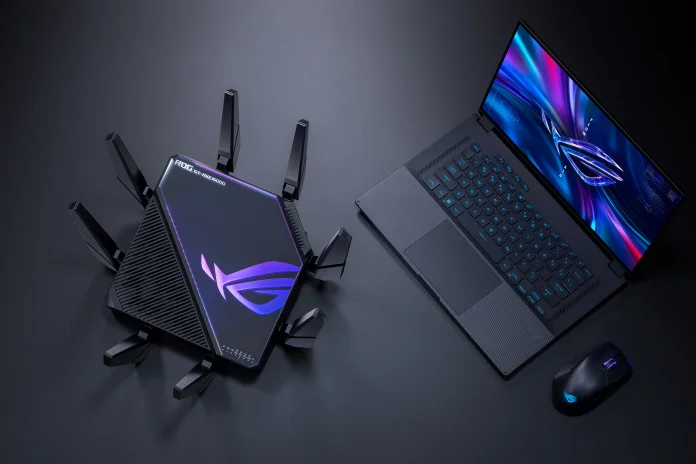 Do you struggle with the daily frustration of an inconsistent, unreliable WiFi network at home? Maybe your old router can't quite keep up with the demands of all the devices in your home. Perhaps you live in a condo or apartment where nearby WiFi networks constantly interfere with your own. Or maybe your last-gen tech just can't handle your bandwidth needs. For any of these scenarios, a cutting-edge WiFi 6E router could be the answer you need.
The latest standard in wireless networking, WiFi 6E takes the full suite of congestion-relieving technologies introduced with WiFi 6 and adds one more: access to the newly-freed 6GHz band. This wide-open stretch of spectrum has only recently been opened in select regions, and it offers a wide-open alternative to the 2.4GHz and 5GHz bands used by last-gen routers and devices.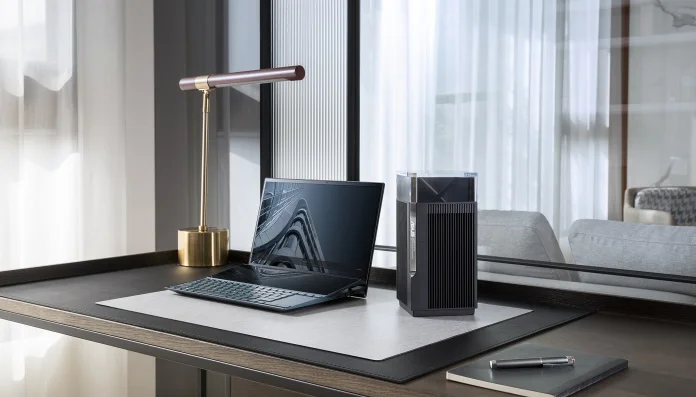 We have everything you need to rise above the congestion that's getting in between you and the fast, reliable WiFi network you need. In this WiFi 6E buying guide, we'll walk you through our options so that you can find the router that best fits your needs and budget. Then, we'll help you find compatible laptops, smartphones, and motherboards so that you can take full advantage of everything WiFi 6E has to offer.
The best WiFi 6E routers for gaming
Nothing ruins a match of Valorant or Apex Legends quite like a spotty internet connection. For today's competitive online gamers, we have two high-performance wireless routers from the Republic of Gamers.
ROG Rapture GT-AXE16000
Let's start at the top with the ROG Rapture GT-AXE16000. As the world's first quad-band WiFi 6E gaming router, it boasts a full arsenal of tools to elevate your gaming experience. Its 6GHz band offers data rates as high as 4,804 Mbps to compatible WiFi 6E devices, and it has two 5GHz bands with the same bandwidth on top. Together with the 2.4GHz band's 1,148 Mbps, that's 16,000 Mbps of aggregate throughput waiting at your beck and call.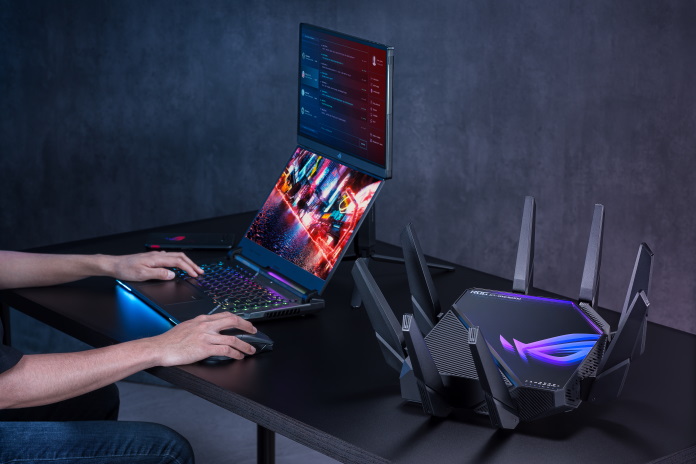 The GT-AXE16000's wired connections wield hard-hitting data rates, too. It boasts a pair of 10 Gbps ports, four 1 Gbps LAN ports, and a 2.5 Gbps WAN port for flexible connectivity. A variety of configuration options empower you to get maximum bandwidth exactly where you need it. Information is shuttled through the router using a new quad-core 64-bit CPU operating at 2GHz. This same platform also accelerates applications running on the GT-AXE16000, like AiProtection Pro and Instant Guard. Game Boost adaptive quality-of-service makes it easy to prioritize gaming traffic with the click of a toggle. And integrated gamer VPN tech connects the GT-AXE16000 to gaming servers over optimized routes for less lag.
ROG Rapture GT-AXE16000
Availability (USA)
ASUS
ROG Rapture GT-AXE11000
For a more mainstream option, consider the world's first WiFi 6E router: the ROG Rapture GT-AXE11000. This tri-band router boasts aggregate speeds up to 11,000 Mbps. Access to the new 6GHz frequency band, with its wider channels and higher capacity, means you get to enjoy higher performance, lower latency, and less interference.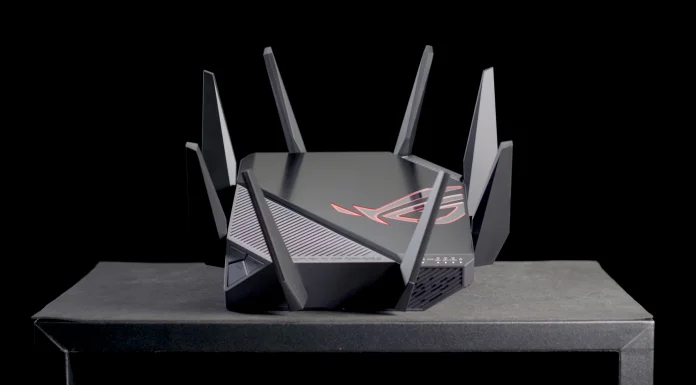 Since many gamers position their router close to their primary gaming PC, the GT-AXE11000 includes a flexible 2.5G WAN/LAN port. All network traffic through this port is given top priority—so connect it to the device that matters to you the most and enjoy a seamless connection. As with the quad-band GT-AXE16000, you'll also enjoy triple-level game acceleration, a robust suite of security tools, and the performance benefits of having a quad-core CPU running your network.
ROG Rapture GT-AXE11000
Availability (USA)
ASUS
The best WiFi 6E routers for productivity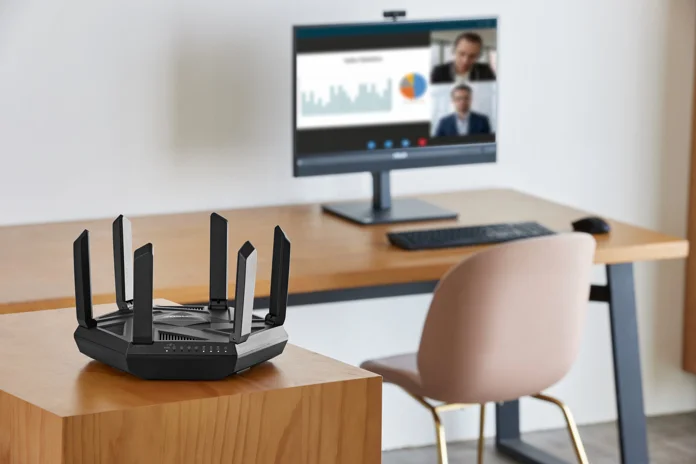 Hybrid workers, small businesses, and busy households all need a high-performance wireless network with room to grow. The ASUS RT-AXE7800 wireless router delivers the cutting-edge performance of WiFi 6E with speeds up to 7800 Mbps, and its 2.5G WAN port lets you take full advantage of your high-bandwidth internet plan. As an extendable router, it gives you a free subscription to ASUS security and parental control features — not to mention the ability to greatly increase the range of your network down the road through AiMesh.
ASUS RT-AXE7800
Availability (USA)
ASUS
The performance of your home WiFi network might be held back by more than just the number of nearby networks and the sheer quantity of connected devices. It might also struggle with the size or construction of your home. Our mesh WiFi systems neatly solve this problem by using multiple units, spaced throughout the house, to manage a single network. Behind the scenes, the routers determine in real-time which node offers the best signal to your device. They communicate with each other wirelessly or through a wired Ethernet connection (called a "backhaul") so that you can ensure that every room has reliable internet.
To make sure that everyone in your household has a reliable connection for their remote work and online education needs—not to mention their after-hours entertainment and gaming hobbies—one of our ZenWiFi mesh WiFi systems might be perfect for your needs. To learn more about all the options in the family, check out our full guide for ZenWiFi mesh WiFi systems, but if you're looking specifically for the combination of WiFi 6E and mesh WiFi tech, here are two models to consider.
ZenWiFi ET8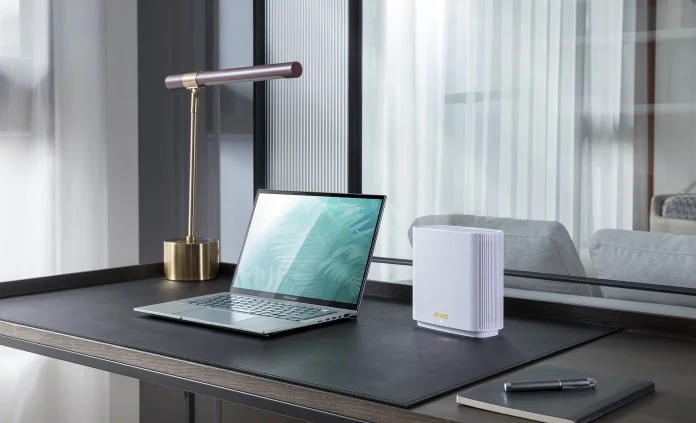 For most folks, the ZenWiFi ET8 will be an excellent starting point. After a quick and easy setup process, you'll have a whole-home wireless network that intelligently ensures the best signal to all your devices. Flexible configuration options let you take advantage of WiFi 6E in two ways. Out of the box, the ZenWiFi ET8 devotes its 4×4 WiFi 6E radios to backhaul, giving you reliable connections no matter which access node your devices connect to. After you've upgraded your device selection with WiFi 6E-compatible models, you can quickly tweak the network settings to give your upgraded devices access to the 6GHz band.
| | ZenWiFi ET8 |
| --- | --- |
| Availability (US) | ASUS |
ZenWiFi Pro ET12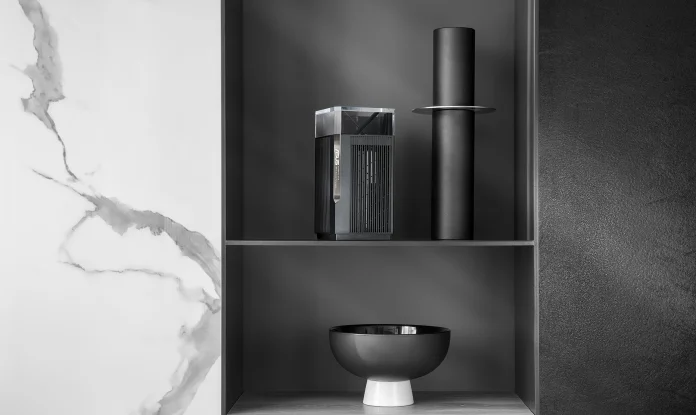 Time is money, so here's an option tuned to the needs of professionals who can't afford the downtime of waiting on their wireless internet connection. The ZenWiFi Pro ET12 uses a dual-band 4×4 antenna array to provide top-end speeds across the 2.4GHz and 5GHz bands and a dedicated 4×4 antenna array to 6GHz spectrum. In select markets, it can also access the recently opened 5.9GHz band for premier speeds in this coveted slice of the spectrum. All told, it can provide an aggregate data rate up to 11,000Mbps. For work-at-home professionals, there's no better choice for a home wireless network.
| | ZenWiFi Pro ET12 |
| --- | --- |
| Availability (US) | ASUS |
| Availability (CA) | Amazon |
The devices you need to take advantage of WiFi 6E
Now that you've found your WiFi 6E router, let's talk about the rest of your devices. To experience everything that WiFi 6E has to offer, you'll need a WiFi 6E router in addition to WiFi 6E-compatible smartphones, laptops, and other tech throughout your house. To be clear, you won't need to upgrade everything right away. WiFi 6E routers are backwards compatible with older devices. But for any of your devices to communicate over the 6GHz band with your new router, it'll need to be compatible with WiFi 6E.
If it's time for you to upgrade your laptop, we've got your needs covered—whether you need a high-powered gaming machine, a fully loaded creative workstation, or a thin-and-light ultraportable, we've got it all. For those who prefer to build their own systems, we offer a wide selection of motherboards, many of which have built in WiFi 6E support. And our PCE-AXE58BT adapter makes it easy to add WiFi 6E support to your existing desktop PC.
Gaming devices ready for WiFi 6E
For gamers on the go, we offer a wide range of gaming laptops, and this year's ROG models feature WiFi 6E connectivity across the board. Click here to learn about our different gaming laptop families and find the one that's best for you. Need even more portability? Check out the all-new ROG Phone 6. This decked-out gaming smartphone boasts integrated WiFi 6E, and it's primed to perform in all your favorite competitive mobile games.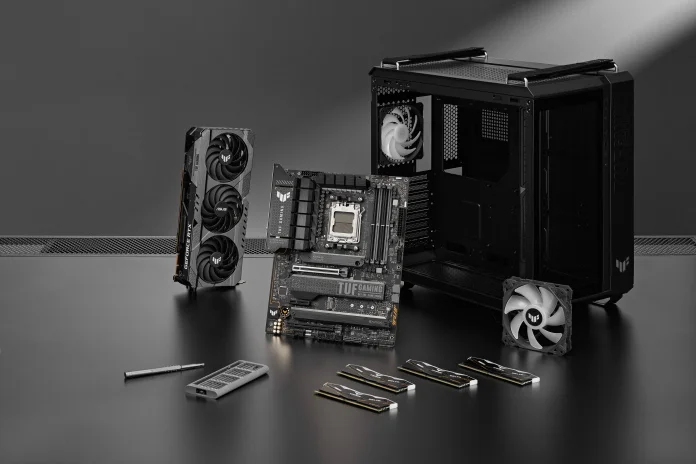 Perhaps you prefer to assemble your own PCs? In that case, you're in luck—builders around the world trust our motherboards to give them the performance and features they need for their machines. You'll find WiFi 6E radios on a broad selection of our Z690 motherboards—and if you have a taste for cutting-edge tech, keep an eye out for the new motherboards we're readying for the next generation of CPUs from Intel and AMD.
Outfit your existing desktop PC with WiFi 6E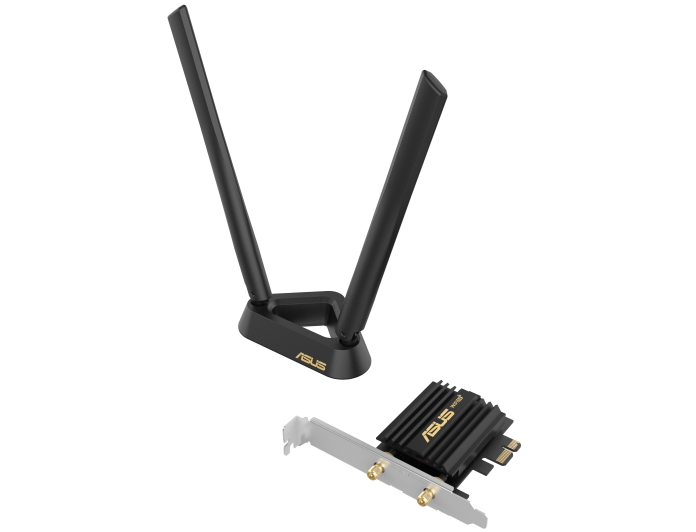 Perhaps you already have a desktop PC that you're perfectly content with—aside, of course, from its lack of WiFi 6E connectivity. The PCE-AXE58BT will quickly get you into the fast lane. Simply install the adapter into an open PCIe x1 slot, connect its antenna module, and you'll be good to go. In addition to outfitting your PC with WiFi 6E, it'll also give you an instant upgrade to Bluetooth 5.2, making it easy to connect your wireless peripherals.
Upgrade your creative potential with WiFi 6E
For creators, we offer a full lineup of laptops ready to streamline your workflow in filmmaking, 3D design, engineering, animation, and many other fields. Creative professionals should start with our ProArt Studiobook series. They provide dazzling and accurate displays, a complete set of ISV certifications, and top-notch performance through their professional-grade components from Intel, NVIDIA, and AMD. Select models, including the ProArt Studiobook 16 H7600, include built-in support for WiFi 6E.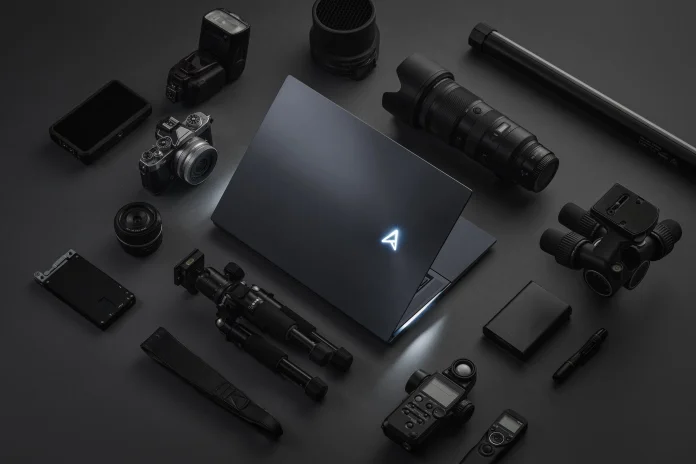 For laptops that meld sophisticated designs, powerful hardware, intuitive inputs, and top-tier OLED displays, look at our Zenbook Pro lineup. And if you're on the hunt for a slim, lightweight laptop that offers effortless everyday computing for a great price, consider our Vivobook S family of laptops. Whichever line best fits your need, you'll find plentiful options equipped with WiFi 6E.