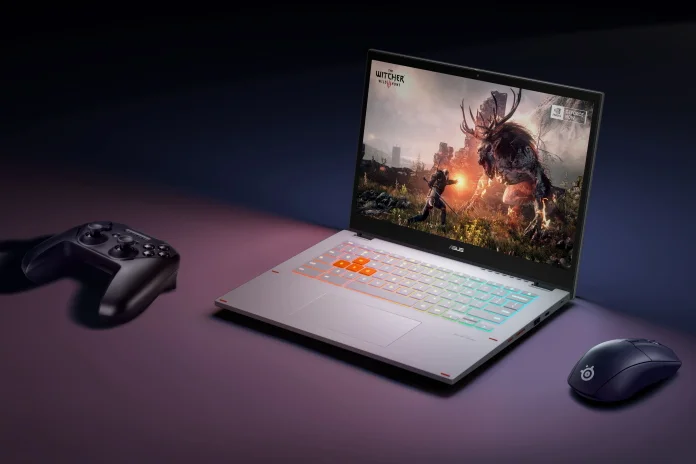 Perhaps you love your Chromebook's familiar, no-fuss operating system. Maybe you love its effortless portability and stress-free security. You almost certainly love how your Chromebook lets you handle everyday computing and web browsing at a great price. But now you have a whole new reason to love your Chromebook: PC gaming. Through Chromebook cloud gaming, you have an easy and affordable way to get in on the PC gaming action with your friends. For CES 2023, we're debuting an all-new ultraportable option to our Chromebook cloud gaming lineup: the Chromebook Vibe CX34 Flip. With its 14-inch display, it's even easier to take on the road than our existing 15.6-inch Chromebook Vibe CX55 Flip, and we added a garaged stylus for increased versatility.
Built for great gaming experiences
Now that the cloud gaming market has matured, the Chromebook Vibe CX34 Flip can give you instant access to over 1000 games through services like GeForce NOW and Amazon Luna — no installations or long downloads required.* We'll kickstart your Chromebook cloud gaming adventures with 3 months of access to GeForce NOW and Amazon Luna+, free of charge.**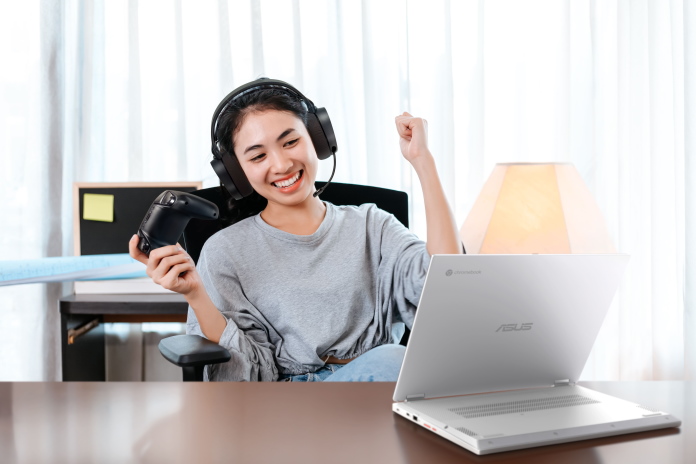 With a solid internet connection, just about any Chromebook can access these cloud gaming services, but the Chromebook Vibe CX34 Flip makes sure that you have the best experience once you're in the game. The key weapon in its arsenal is a premium display with a fluid 144Hz refresh rate. This tech gives you smooth, clear animation in fast-paced games to give you a leg up over the competition. To give you as much screen space as possible in a 14-inch chassis, we use ultra-narrow NanoEdge display bezels and a 16:10 panel to give you a full view of the action.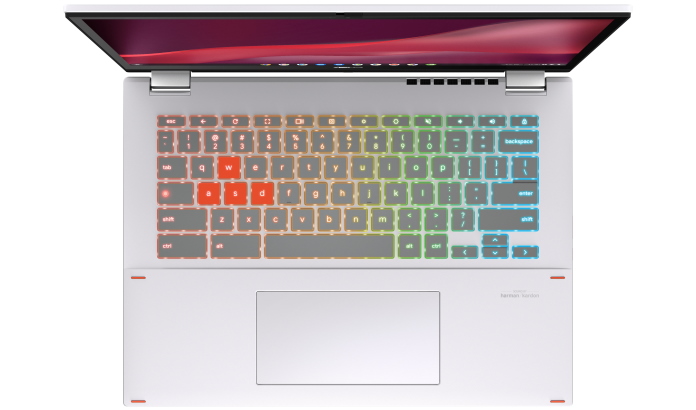 While cloud gaming doesn't require you to have a machine with high-end graphics hardware, but you do need reliable, high-bandwidth internet. That's why the Chromebook Vibe CX34 Flip includes Intel WiFi 6E for premier speeds and uninterrupted gaming when you pair it with a compatible router. The keyboard features 4-zone RGB LED backlighting and anti-ghosting tech so you never miss a keystroke. Looking to put your gaming experiences up on a big display or television? The laptop's HDMI 2.1 port lets you easily connect to a 4K 60Hz display. For great audio experiences in games even when you're not using a headset, the laptop's speaker system, tuned by the experts at Harman / Kardon, draws you in with immersive sound.
Setting up a Chromebook cloud gaming rig is easy and affordable. Click here for more information and recommendations for how you can use the Chromebook Vibe CX34 Flip to get in on PC gaming.
Travels light, does it all
You'll be hard-pressed to find a laptop that matches the versatility of the Chromebook Vibe CX34 Flip. This 2-in-1 convertible laptop features a 360° hinge that lets you use it in clamshell, tent, stand, and tablet modes. Whether you're finishing up a project on the train, relaxing on the couch at home, or taking notes in class, the CX34 will adapt to fit your needs for the moment. As a 14-inch laptop, it's perfectly sized for people on the move. It slides easily into backpacks and satchels without weighing you down, and it's a great size for holding in one hand in tablet mode.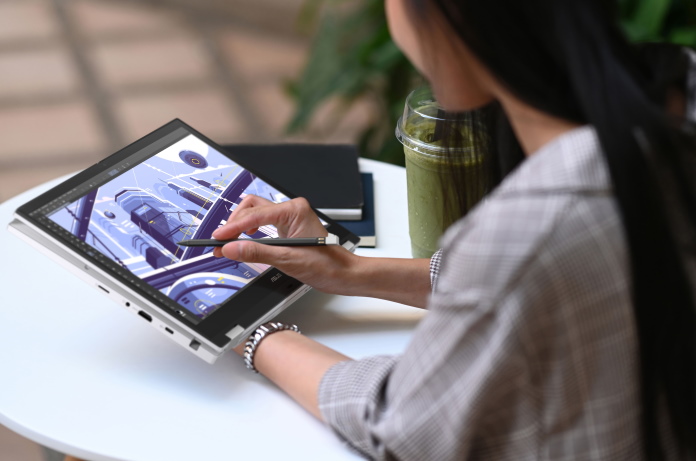 The Chromebook Vibe CX34 Flip's convertible form factor makes it a great fit for stylus work, so we include one in the box. In fact, a stylus garage built into the chassis makes sure that the stylus is always handy when you have an idea to sketch out or some notes to jot down.
No matter where you go, you can count on the CX34. It features our new ASUS Antimicrobial Guard coating that inhibits virus and bacteria growth, including COVID-19, the flu virus, and bacteria, by more than 99% over a 24-hour period.*** The laptop meets or exceeds a range of US military-grade durability standards, so you can trust it to go the distance. And with up to 10 hours of battery life, you can stay on the move with the confidence that your laptop will keep up with you.
Effortless performance
Cloud gaming experiences rely on the specialized hardware used by your gaming platform. For everything else you do with the Chromebook Vibe CX34 Flip, its modern components stand ready. We equip this machine with up to an Intel Core CPU for snappy performance, paired with up 16GB of LPDDR4X RAM so that you can multitask with ease. Up to 512GB of PCIe 3.0 storage makes sure you have plenty room for your projects and other media.
The ultraportable Chromebook Vibe CX34 Flip gives you the tools you need for a great Chromebook cloud gaming experience. For more information on the pricing and availability of the Chromebook Vibe CX34 Flip in your region, please contact your local ASUS representative. Click here to learn about all the products that we announced for CES 2023.
*Availability of cloud gaming platforms may vary by region. Amazon Luna is only available in the mainland U.S.
**Open to participants who have purchased and activated an eligible Chromebook between September 27, 2022 and August 27, 2023, or while supplies last. To activate the offers, open the Explore app on your eligible Chromebook, navigate to the "Perks" tab to locate the offers, then click "Get Perk" and follow the instructions to redeem. Limit 1 redemption per offer per eligible Chromebook device. Promotional trials may be canceled at any time before the trial period is over. Additional terms apply.
*GeForce NOW is currently available in over 80 countries in North America, Europe and in various parts of the world through the GeForce NOW Partner Alliance. Visit the server status page (https://status.geforcenow.com/) for a list of available servers and their current status, or the knowledge base article (https://nvidia.custhelp.com/app/answers/detail/a_id/5023) for a list of supported countries and GeForce NOW Partner Alliance details. Luna is supported across mainland US. Luna currently does not support Hawaii, Alaska, and US territories. For more information and terms of service, please visit https://www.amazon.com/luna/
***ISO 21702 tests for COVID-19, H3N2, H1N1 and ISO 22196 tests for Staphylococcus and E. Coli. ISO 21702 tests for COVID-19, H3N2, H1N1 and ISO 22196 tests for Staphylococcus and E. Coli.