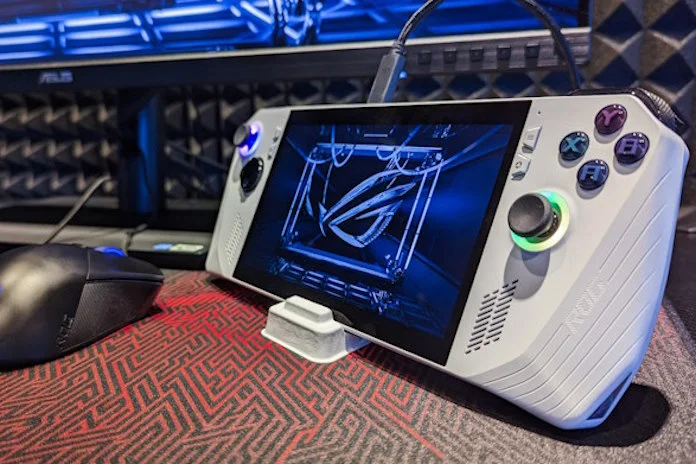 Peek under the hood of the ROG Ally, and you'll see everything you need for a great PC gaming experience wrapped up in a compact handheld device. The higher-end model boasts an AMD Ryzen Z1 Extreme CPU, a muscular chip equipped with 8 cores and 16 threads. AMD RDNA 3 graphics are ready to take on any game in your library, and 16GB of LPDDR5 RAM and a 512GB PCIE 4.0 SSD keep boot and load times snappy. Those powerful components give you a fantastic Windows 11 gaming experience anywhere you go.
You might also be wondering if the ROG Ally has the chops to not only be your gaming handheld, but your daily driver, as well. Can you connect it to a display and peripherals to make it a complete desktop PC? The answer is yes: the ROG Ally easily connects with the rest of your gear. Hooked up to an external display, a mouse, and a keyboard, the ROG Ally can provide a Windows 11 experience just like what you'd expect from a desktop or laptop. Best yet, its versatile I/O options make it easy to put this traveling gaming powerhouse at the center of your full PC setup. Here are three ways to make that happen.
Option 1: The ROG Gaming Charger Dock
Perhaps the simplest way to connect your ROG Ally to the rest of your PC gear is with the ROG Gaming Charger Dock. This adapter lets you recharge the Ally, connect an external display, and plug in your peripherals via USB Type-A, all in one device.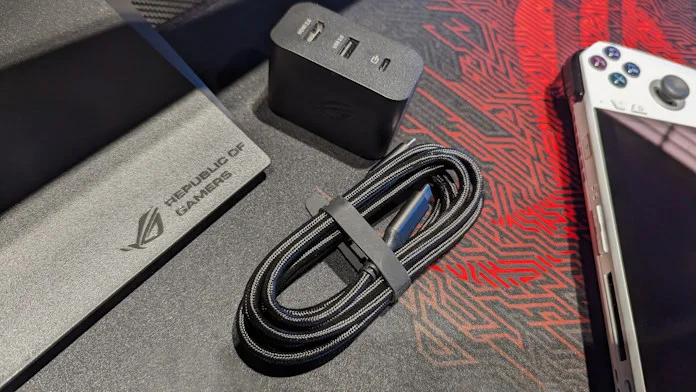 Simply plug the Ally into the ROG Gaming Charger Dock with the included USB Type-C cable. Next, connect your display to the HDMI port on the dock. Then, use the USB Type-A port on the ROG Gaming Charger Dock to connect your mouse and keyboard (or use the Ally's built-in Bluetooth capabilities for your wireless gear). Plug the dock into a handy outlet, and you're off to the races.
Once you have this setup rolling, it'll be incredibly easy to transition from using the ROG Ally as a handheld to using the ROG Ally as a desktop PC. With your display and peripherals connected to the ROG Gaming Charger Dock, all you have to do is connect one USB Type-C cable to your Ally and you're ready to go.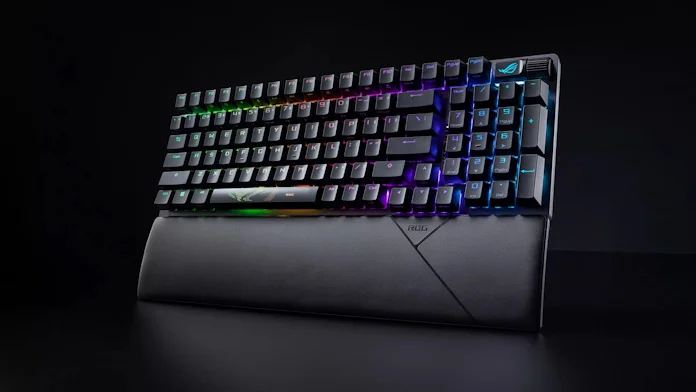 As you're building a desktop gaming setup around the ROG Ally, you might take a moment to assess your collection of peripherals. Wireless options will be the most convenient to connect to the ROG Ally. One easy approach will be to pair the ROG Strix Scope II 96 Wireless gaming keyboard and the ROG Harpe Ace Aim Lab Edition gaming mouse. These peripherals are compatible with the new ROG Omni receiver, which provides an ultra-low-latency connection to both devices through one RF dongle.

Option #2: A display with 65W+ USB Power Delivery
You might not realize it, but the slim USB Type-C ports on so many of today's PCs, smartphones, laptops, and other devices create an exciting set of possibilities. These ports can be configured to transfer data, send a display signal, and recharge a device, all through a single cable. We put this capability to good use on a variety of our monitors so that they effectively serve as a display and a dock, all in one.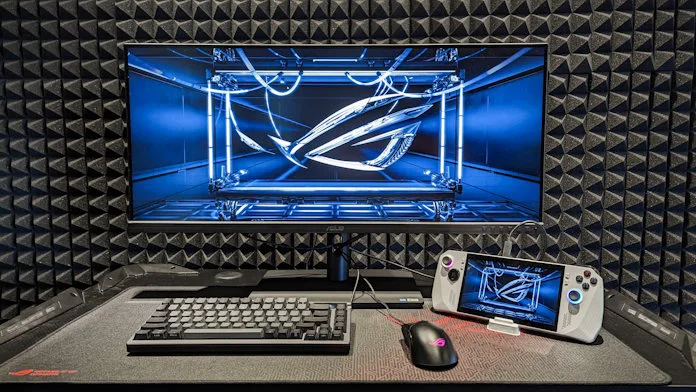 To create a single-cable setup for your ROG Ally, you'll want a display that offers a USB Type-C port with sufficient power delivery to let the Ally run all-out in its Turbo mode. The magic number you're looking for is 65 — if your monitor can output more than 65W through its USB Type-C port, it's a great fit for the ROG Ally.
We offer several options that meet that grade from our ProArt series of monitors. One is the ultrawide ProArt Display PA348CGV. We built this monitor with the needs of game developers in mind, equipping it with a 120Hz refresh rate, ultrawide QHD resolution, and professional-grade color accuracy. With 90W of USB Power Delivery on tap, it can not only fully power the ROG Ally, but many laptops, as well. Another easy option is the ProArt Display PA279CRV, a 27-inch monitor designed for a wide range of creative ambitions.
Both of these monitors have plentiful connectivity options, so it's easy to use them as a hub for your ROG Ally desktop setup. Their USB Type-A ports are perfect for connecting a wired keyboard and mouse. When you're ready to sit down at your desk, you can simply set the ROG Ally in its stand, connect one cable, and enjoy a full-sized display and your desktop peripherals, all while charging up the Ally for your next excursion.
Option #3: The XG Mobile
Back at the comfort of your PC desk, you might want to do more than connect your Ally to your display and peripherals. You might also want to supercharge the performance you have on tap. For you, the best option might be the ROG XG Mobile external GPU and docking station.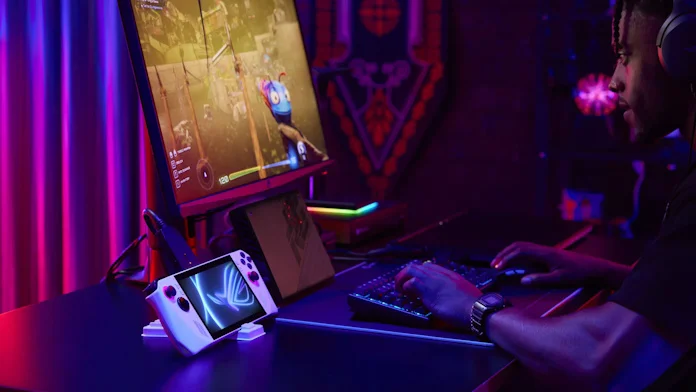 As the most premium option for making the Ally your battlestation, the ROG XG Mobile lets you tap into the power of a discrete laptop GPU for potent graphics performance above and beyond what you get from the ROG Ally's AMD RDNA 3 Graphics. That performance uplift means more FPS in your favorite games, extra resources for cranking up the graphics settings, and the horsepower to game at higher resolutions. The XG Mobile ecosystem includes a variety of options ranging from a unit equipped with a Radeon RX 6850M XT GPU to a model tricked out with a top-of-the-line GeForce RTX 4090 Laptop GPU.
The ROG XG Mobile would earn its place on your desk with its discrete GPU alone, but that's just the start of its toolkit. It's also a fully functional docking station, too. Thanks to the plentiful bandwidth provided by a PCIe connection, it also serves as an I/O expansion hub. HDMI 2.1, DisplayPort 1.4, four USB 3.2 Gen2 ports (one of which is Type-C), an SD card reader, and a 2.5G ethernet port transform your ROG Ally into a true battlestation with just one cable. It also delivers power directly to your Ally with an integrated 330W power adapter.
If you need a PC setup that travels, the ROG XG Mobile has your needs covered there, too. It's just about the same size as a hardcover novel, so it's easy to slip into a backpack. A vapor chamber on the GPU die makes sure this slim device offers substantial cooling in a small package. Pair the ROG Ally and XG Mobile with a portable display and compact peripherals, and you have a complete desktop PC that you can carry in a backpack and deploy anywhere with a handy power outlet.
A versatile — and affordable — gaming PC setup
The ROG Ally makes sure that you can dive into PC gaming anywhere, anytime. Its powerful AMD Ryzen Z1 or Z1 Extreme processor, fast 120Hz FHD display, and built-in controls give you a gaming PC in the palm of your hands. And since it runs on Windows 11, you can access all your gaming libraries.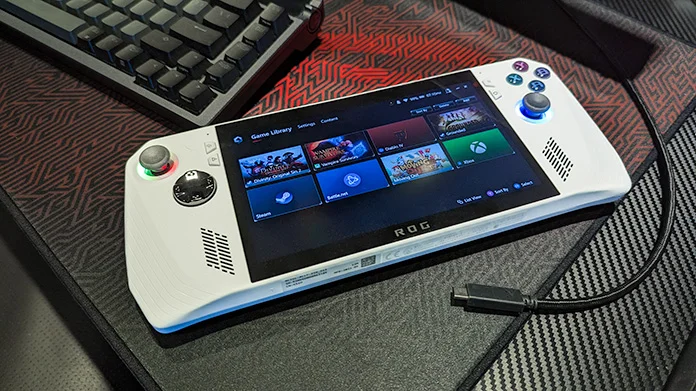 It's also strikingly affordable. $699.99 USD is all you need to get a handheld PC fully equipped for 1080p gaming with a Ryzen Z1 Extreme processor. Invest just a bit more — as little as $64.99 USD for the ROG Gaming Charger Dock — and the ROG Ally can be your primary desktop PC, too. That's a powerful value proposition for anyone who wants both the portability of a PC gaming handheld and the functionality of a full Windows 11 desktop.
If you want one device for gaming on the go and your daily Windows 11 computing needs, there's no better choice than the ROG Ally. Follow the links below to purchase an ROG Ally of your own.