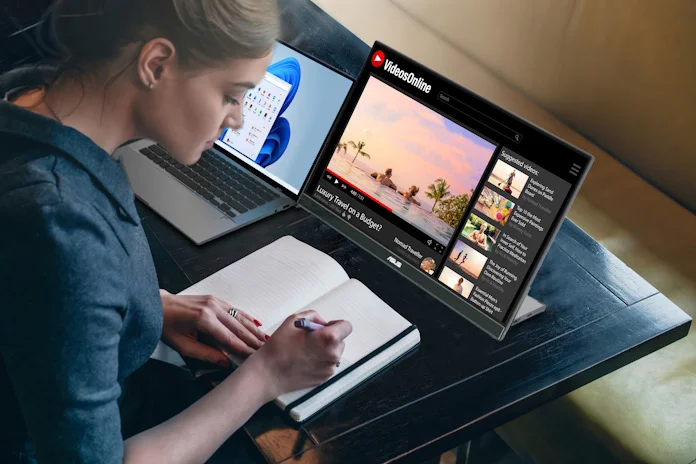 As the manufacturer of the world's bestselling portable monitors, and the creator of the world's first USB Type-C-powered portable monitor, we understand portable monitors. We understand your need for a lightweight, versatile display that goes anywhere. We recognize the different needs of gamers, creators, artists, note-takers, and everyday PC users, and we design ZenScreen, ROG, and ProArt portable monitors so that everyone has an option perfectly tailored for their use cases.
Recently, there's been an uptick in portable monitor options in the market. When you go shopping for one these days, you'll find options from a wide range of brands — some that you know, and many that you've probably never heard of before. As you might suspect, quality can vary dramatically from one option to the next, and the buying process can be confusing, especially when you're trying to ensure easy compatibility with your existing devices.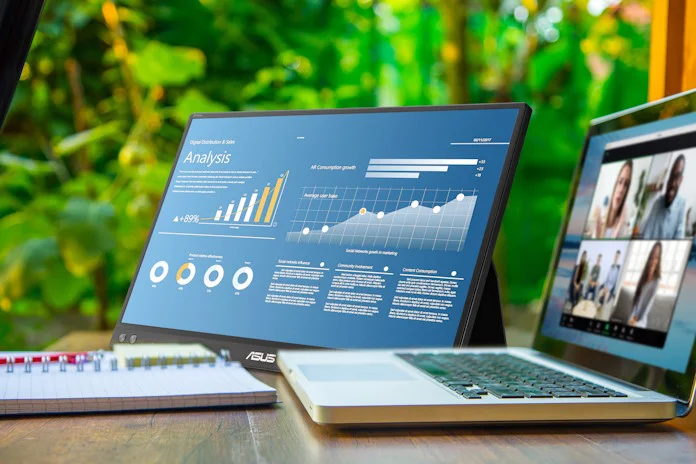 That's why we wrote this guide. We're here to answer your questions about what a portable monitor is, what it can do for you, and what you should know as you purchase one for yourself. After we clear up some of the confusion you might feel after reading some of our competitors' online listings, we think that you'll agree that ASUS is the right choice for your next portable monitor.
What is a portable monitor? How do portable monitors work?
Just like any other monitor, a portable monitor has a screen that you can connect to a laptop, desktop PC, gaming console, or many other devices. The key difference is that a portable monitor, like the display on a laptop, is exceptionally thin so that it's easy to take with you.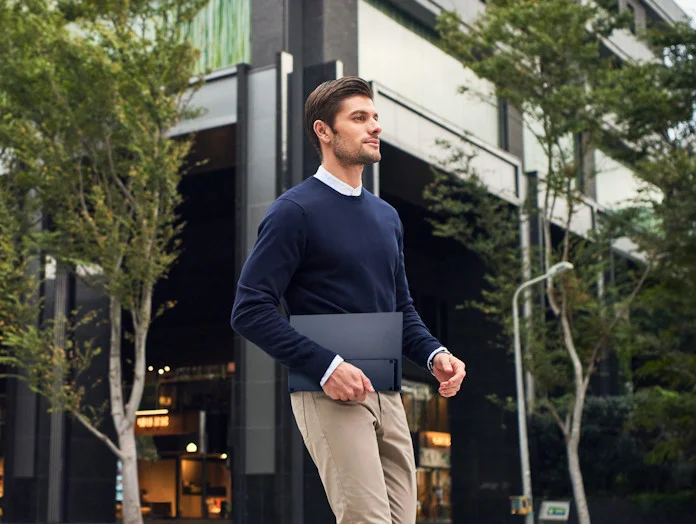 To ensure you can set up your portable monitor almost anywhere, portable monitors include a kickstand mechanism so you can easily prop them up. The latest ASUS ZenScreen portable monitors include a kickstand that gives you excellent versatility, including the ability to orient your monitor in portrait or landscape modes. Additionally, their stepless hinge lets you position the display at a wide range of viewing angles, helping you exactly align the portable monitor with the screen of your laptop.
People use portable monitors in a surprising number of ways:
As a computer display for desktop PCs, Mini PCs, Mac Mini, single-board computers like Raspberry Pi 4, and more
As a gaming monitor for gaming laptops, gaming desktops, and gaming consoles including PlayStation, PlayStation 4, PlayStation 4 Pro, Xbox Series X, Xbox Series S, Xbox One, Xbox 360, Nintendo Switch, Nintendo Switch OLED, and more
As an external monitor for Windows laptops, iMac and MacBook, iPad Pro, and Android smartphones
As a monitor for streaming with Chromecast, Amazon Fire TV, Apple TV, Roku Streaming Stick, and more
As an external camera screen for DSLR, DVR, or NVR cameras
… and much more!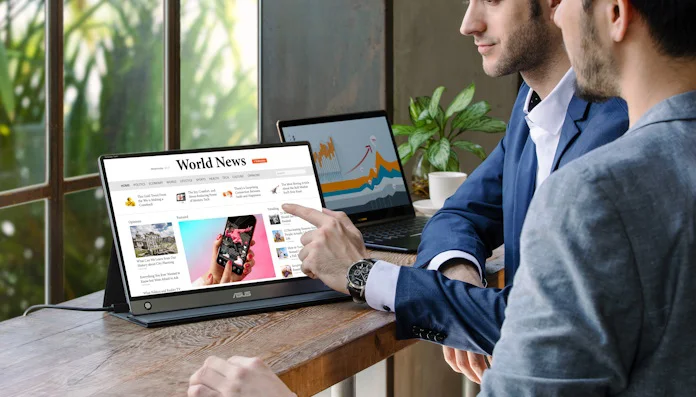 Are portable monitors worth it?
Portable monitors are such versatile pieces of tech that they're absolutely worth it to buy. Whether you're looking to boost your productivity, augment your entertainment experiences, or streamline your creative workflow, your ASUS portable monitor will fit easily in your everyday life.
Many folks find that portable monitors are perfect for scenarios where space is at a premium. A desk that's a bit too small for a full-size desktop monitor likely has room for a portable display. When you're traveling, a portable monitor fits easily into your backpack — perfect for entertainment in any scenario. Are you or your kids enrolled in an online education program? A portable monitor streamlines the learning process whether you're working from the living room couch, the backyard patio, or your bedroom.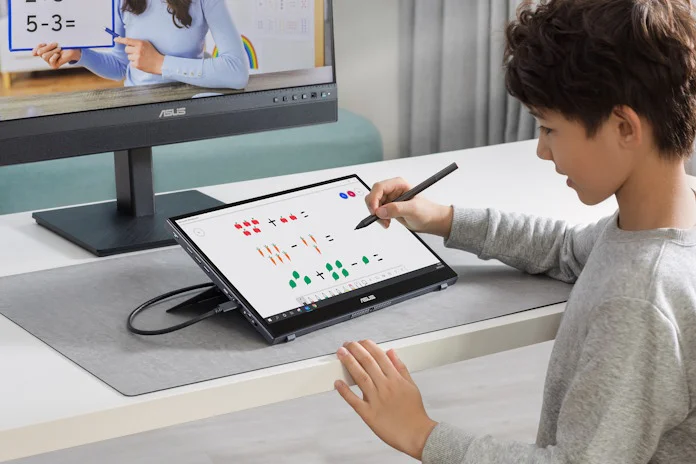 Other people turn to portable monitors when they need to expand the available screen space for their specialized devices. Do you have content on your smartphone or tablet that you'd like to see on a larger or additional display? Do you need a preview screen for your latest content creation project? Are you looking for a display to connect to your DSLR camera? Portable monitors fit neatly into all these scenarios and more.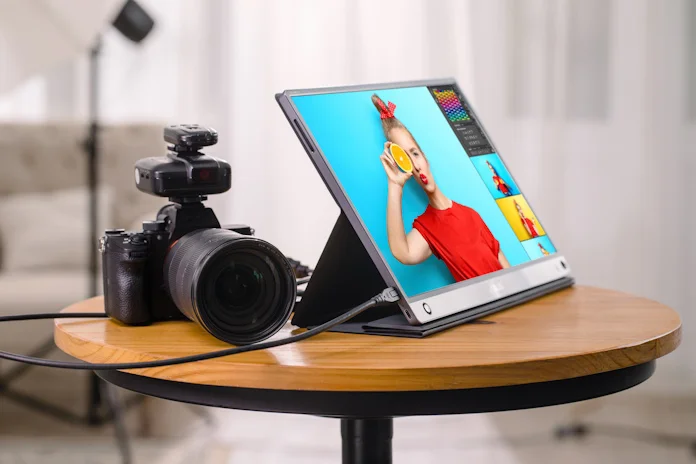 Portable monitors are also invaluable for boosting your productivity, especially if your work frequently takes you away from your office. Here are just a few of the ways that people use portable monitors to get more done every day:
Multitasking. Need to reference multiple web pages or documents while working on a project? Need to keep an eye on email and Microsof Teams while working? Don't lose valuable time to endless switch-tasking. A portable monitor gives you more screen space whenever and wherever you need it.
Remote meetings. Whatever app you use for teleconferencing, it typically requires an entire display — leaving you with no space for meeting notes, email, chat, and reference materials. A portable display smooths out the whole experience by giving you one display for your meeting and one display for everything else.
On-the-go presentations. The big projector built into your company's conference room isn't always an option for sharing ideas with coworkers and clients. Your portable monitor makes it easy and comfortable to present materials to a small group of people without making everyone huddle around your laptop.
Document signage. A portable monitor with a touchscreen and stylus support makes it comfortable and convenient to gather digital signatures.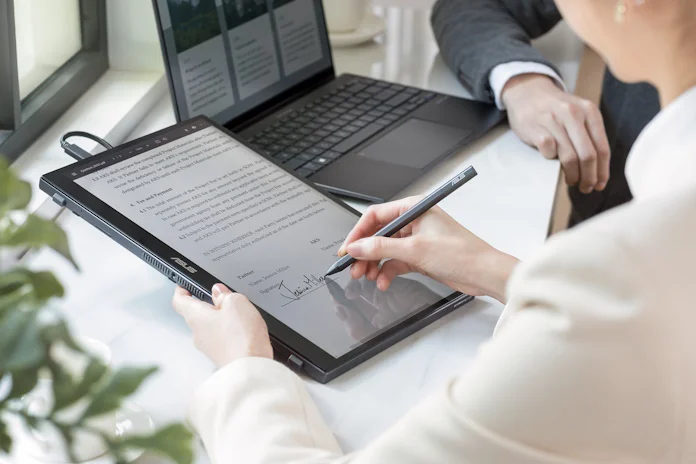 Should I buy a portable monitor?
Everyone's different, so the value that you'll get out of a portable monitor might be different from someone else. But portable monitors are so valuable to certain users that we'd recommend them without hesitation.
Gamers: Gaming consoles offer endless fun connected to your living room TV. But with a portable monitor, you can explore digital worlds anywhere — especially with a portable gaming system like the ROG Ally or the Nintendo Switch.
Digital nomads: In this new era of remote work, people are embracing the freedom to travel and work from anywhere. Nothing boosts your productivity on the go quite like a portable monitor attached to your laptop.
Accountants and lawyers: In any profession that requires you to track a large number of documents, a portable monitor can provide the multitasking capability to stay on top of every moment. But for accountants and lawyers, this capability is all but essential.
Business travelers: Many professionals require a desktop PC setup including multiple monitors and a full set of peripherals for their daily work. With a portable monitor, you can have that full setup no matter where work takes you: on client visits, business trips, and more.
Developers: Today's developers multitask more than ever as they collaborate with their team, consult reference materials, and develop assets in multiple apps. And increasingly, they're doing it on the go. Portable monitors make it all happen.
Designers: Collaboration is central to work of today's designers. With a portable monitor, it's easy to share projects, designs, and ideas with your team.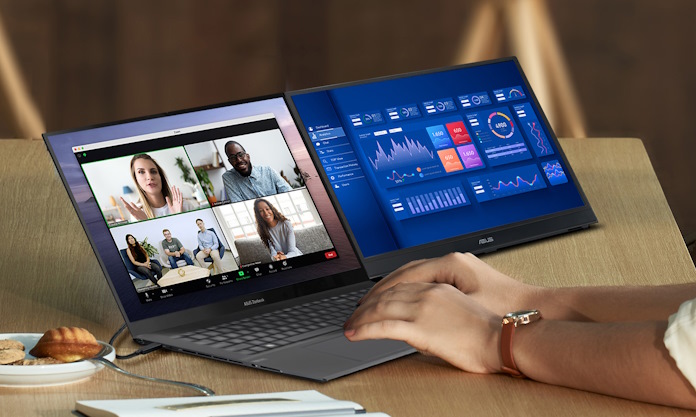 What should I know before buying a portable monitor?
Many factors go into a great display. To help you cut through the noise and pick a long-lasting, high-quality portable device from the many options available to you, let's talk about the specifications, certifications, and design elements that you should keep in mind as you buy a portable monitor.
Display type
Not all display panels are created equal. Without getting too technical, you can pick between many different panel technologies when you're buying a display: twisted nematic (TN), in-plane switching, (IPS), vertical alignment (VA), and organic light-emitting diode (OLED), just to name a few.
Which display type is best for you? If you're an advanced user, you might already have a preference, but for most folks we recommend either an IPS or an OLED model. Both types have excellent viewing angles, which is very important if you're using your portable monitor as a second screen: you need the image to be clear and bright even if you're looking at it from an angle. OLED panels offer a premium viewing experience with their exceptional contrast, vivid colors, and astonishingly low motion blur.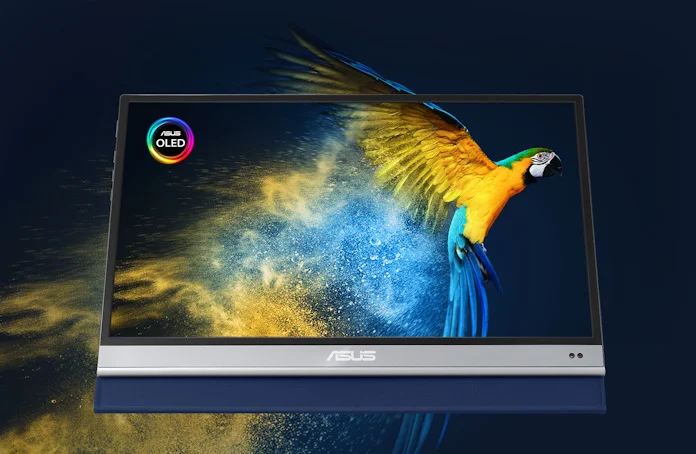 Even if budget is your primary concern, we recommend steering away from portable monitors with TN panels. This display type is very affordable, but the cheap price will likely come at the expense of narrower viewing angles and duller colors. IPS displays are not all that much more expensive, and they offer so much more.
Resolution
A monitor's resolution tells you how many pixels it has in each dimension, horizontally and vertically. These days, monitors with a 1920×1080, or Full HD, resolution, are fairly standard – we wouldn't recommend a display with a lower resolution, and in many instances we'd suggest that you aim higher. QHD and 4K displays offer great pixel density, which translates to more readable text and more lifelike images.
Screen size and aspect ratio
Just like any other type of display, portable monitors come in many different sizes and shapes. If you're planning to use your portable monitor primarily with your laptop, you might appreciate the symmetry of having your portable monitor be the same size as your laptop's display. But there's also value in going larger – especially in the vertical dimension. A portable monitor with an extra-tall 16:10 aspect ratio lets you see more at a glance without scrolling, which is perfect for professional work.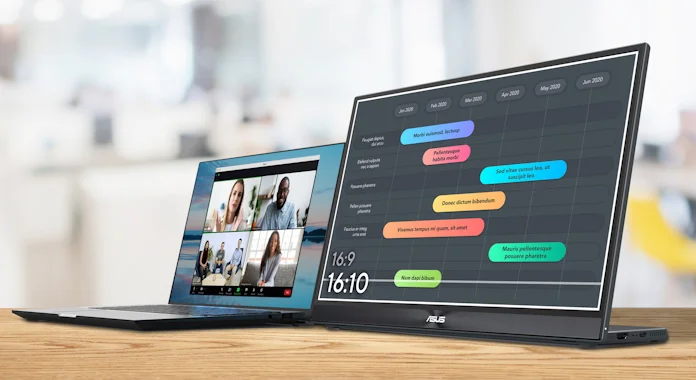 Refresh rate and response time
A display's refresh rate tells you how many times per second it can refresh the image on the screen. On a display with a faster refresh rate, moving images are more fluid. We recommend a 120Hz or 144Hz display for most users. It'll give you a better experience for everything from browsing social media feeds to watching video with fast-paced action, and many people report that higher-refresh rate displays reduce eye strain.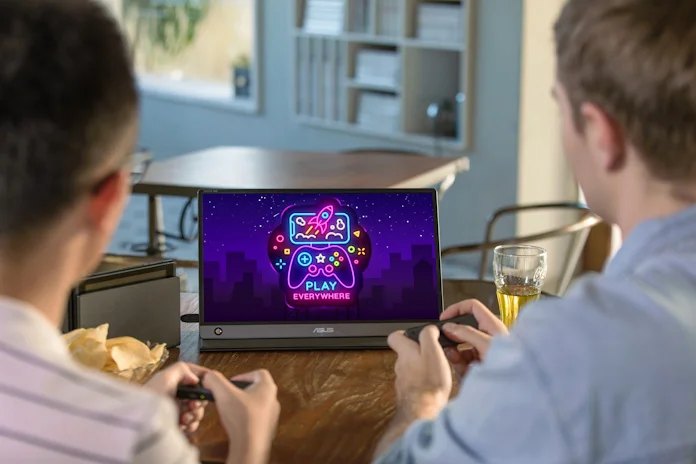 If you intend to use your portable monitor for gaming, definitely go for a display with a higher refresh rate. Additionally, look for a model with FreeSync to eliminate screen tearing, and pay close attention to the display's response time. Some less-reputable competitors will call their portable monitor a "gaming" display even if its response time is so slow that moving images are a blurry mess. Our ROG portable gaming monitors, for contrast, offer a 3ms response time for clear animation that keeps you on top of the action.
Special features
If you're shopping for a portable monitor with a speaker array, built-in battery, touchscreen, or stylus support, it's important to note that these features don't come standard. To keep prices low, many manufacturers only offer these features to customers who specifically need them. Pay close attention to the portable monitors that you're considering to make sure you get the full set of features that you're interested in.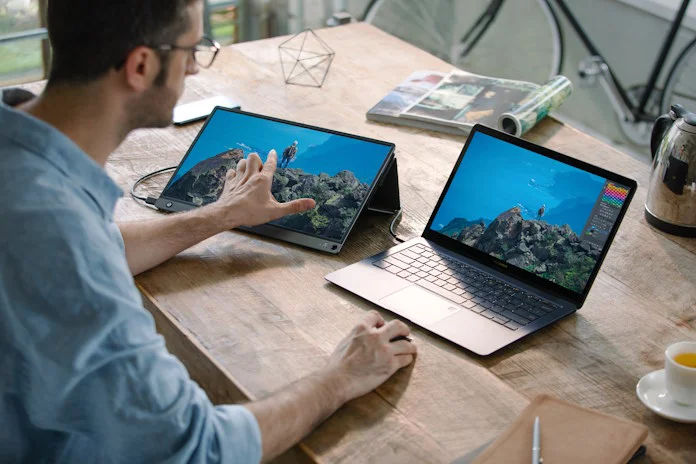 User-friendly, ergonomic design
Here's a concern that you should be front-of-mind as you purchase a portable monitor: user-friendly design. Budget models from off-brand competitors are notorious for offering limited options for setting up and using your portable monitor.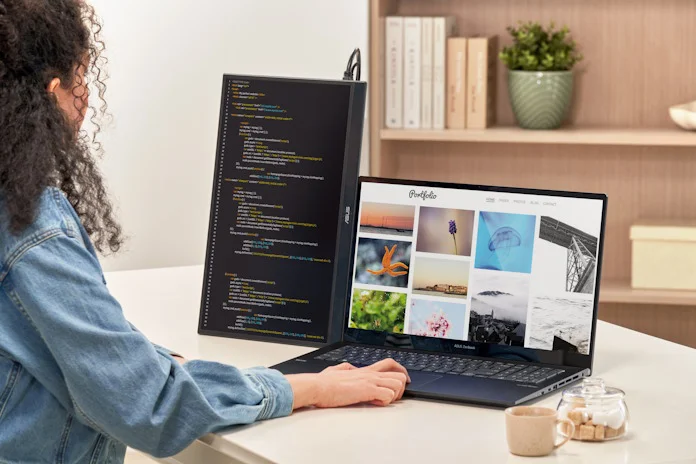 Cut-rate portable monitors might include a kickstand that only lets you prop up your portable display at one or two angles. Our latest ZenScreen options have a stepless hinge that lets you precisely and sturdily position your screen at the perfect viewing angle. Budget competitors often put all their ports on one side of the display. The latest ZenScreen designs put a USB Type-C port on opposite sides of the display so that it's easy to connect your display and keep it close to your laptop's screen, no matter which side you prefer. Every ZenScreen monitor includes an embedded G-sensor that lets you use the ASUS DisplayWidget Center* app for convenient auto-rotate functionality, giving you easy, seamless switching between landscape and portrait modes. Off-brand competitors often don't offer software support at all.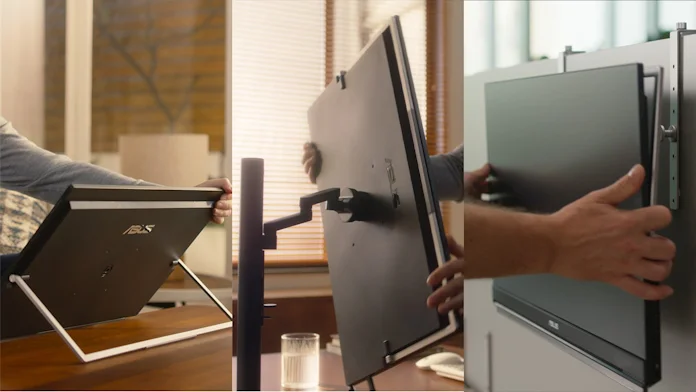 For versatile mounting options, ZenScreen portable displays go above and beyond. You'll find VESA mount compatibility and standard tripod sockets on most models so that it's easy to deploy your portable monitor in a wide variety of scenarios. The versatile ZenScreen MB249C even offers a partition hook kit and a c-clamp stand with a highly adjustable arm in the box to give you even more options.
Durability and build quality
When you purchase a portable monitor, you need a display that's built to go the distance. A portable monitor needs a sturdy construction that can handle the daily bumps and jostles of being transported in a backpack or laptop bag. A cheap plastic chassis won't cut it. ZenScreen monitors use premium materials with a sleek yet slim design that's built to last. We install A-grade panels in ZenScreens so that you can trust that you'll get a great experience from your portable monitor for years to come.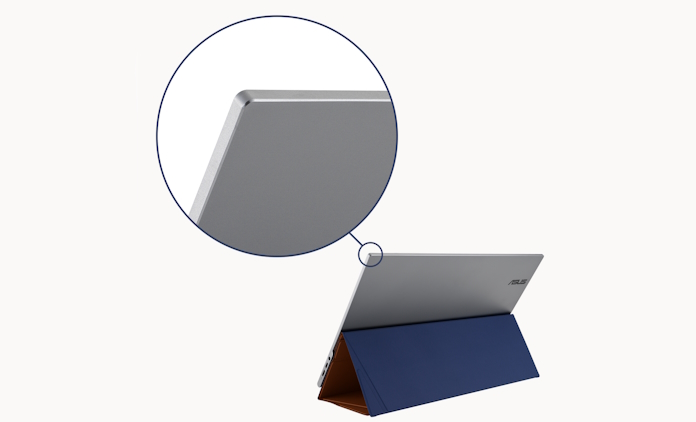 We're so confident in ZenScreen portable displays that we back them with a three-year warranty, and we provide extensive resources to help you get the most out of your purchase. With our off-brand competitors, you're unlikely to get any support at all outside of the exchange period offered by the retailer.
Safety and certification
Many portable monitor options out there lack basic certifications from trusted third parties. As a purchaser, you're left on your own to read the company's own description and reviews left by users and make a gut decision about whether they're trustworthy.
There's a better way. A variety of independent companies offer certifications that attest to whether or not a product achieves a certain level of quality. You don't have to take a manufacturer's word on the accuracy of the colors produced by the display. You can look for Pantone Validated displays that give you the confidence that you'll be looking at accurate colors as you touch up photographs, edit videos, and watch your favorite shows.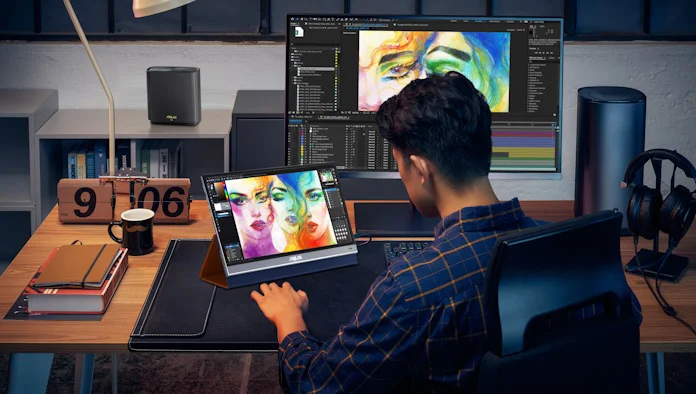 Anyone who works in front of a computer monitor should be careful to select a monitor that takes care of their eyes. You could take a display manufacturer's claims about flicker-free and low blue light tech at face value — or you could look for a model certified by the internationally respected organization TÜV Rheinland. When one of our ZenScreen displays sports an Eye Care badge, you can trust that it provides mitigating measures against exposure to blue light and uses a flicker-free backlight.
Sustainability
Across all our business operations, ASUS is committed to leading the way toward a sustainable future. Our ZenScreen portable monitor lineup showcases many of our latest efforts toward sustainability. Their fundamental design is built around the concept of repairability so that we can get extra value out of these products, even if they should end up back in our repair shop. We ship our products in packaging made with materials sourced from sustainably managed forests. And we focus on energy efficiency so that our products not only give you a great user experience, but help to keep your carbon footprint lower, too.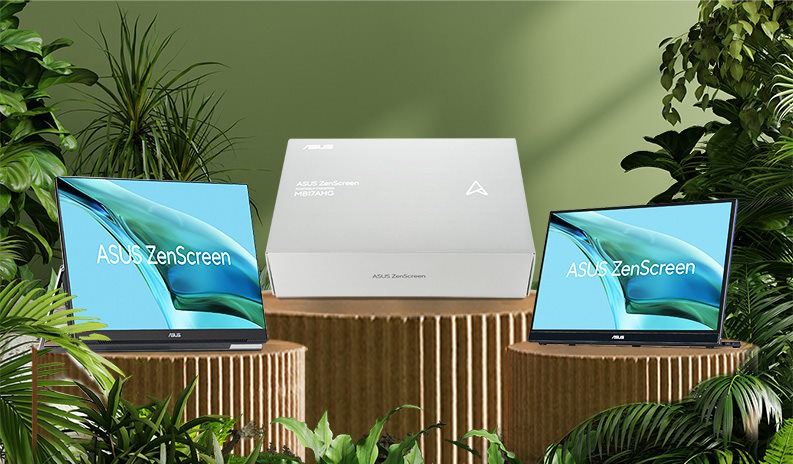 How do I use a portable monitor as a second screen?
With Windows 11, it's easy to use a portable monitor as a second screen. There's no special software or installation required. Connect a display cable from your laptop or PC to the portable monitor, and then connect a power cable if necessary. In moments, you'll be able to use your portable display just like any other monitor you could connect to your PC.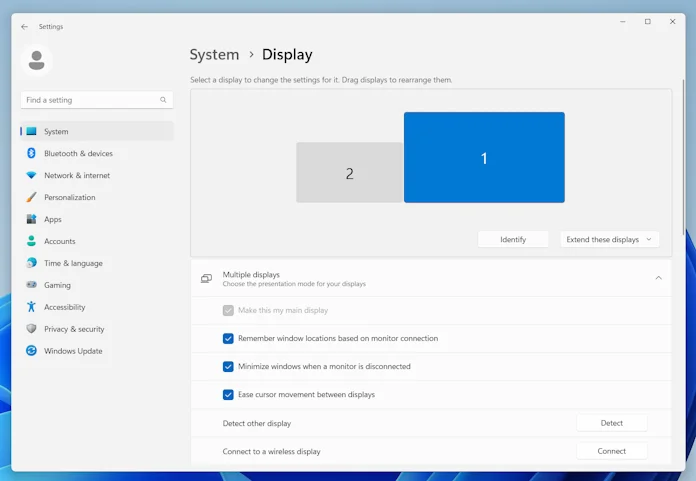 Some quick tips for getting the most of your portable monitor: in Windows 11, you have a range of options for fine-tuning your experience. Right-click on your desktop, select "Display settings," and you can adjust several parameters to best fit the moment. Importantly, you can choose to either extend your two displays, meaning that they can display separate content, or you can duplicate them so that they both show the same content.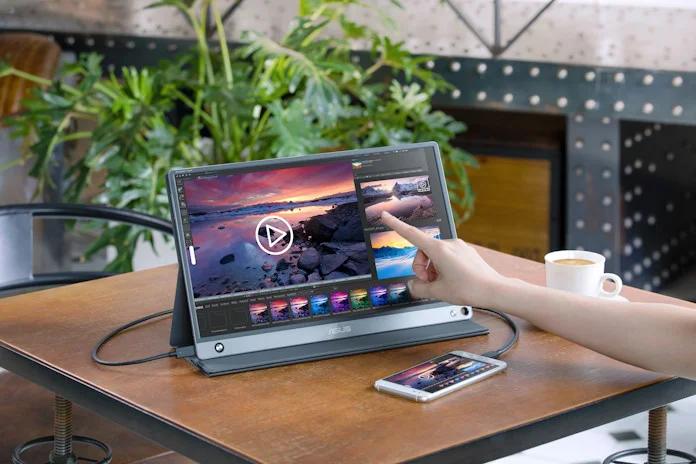 Which portable monitor is the best?
For so many people, a portable monitor is an invaluable part of their full PC setup. For work-at-home employees, people who regularly make use of co-working spaces, frequent business travelers, and digital nomads, a portable monitor provides the multitasking power that they need in a form factor that doesn't weigh them down.
Portable monitors aren't just for software engineers, healthcare professionals, accountants, marketers, and other professionals — they're fun, too. They can be an easy way to get a larger, fully featured screen for gaming, entertainment, and more.
On top of all that, many portable monitors are surprisingly affordable. While you can certainly find higher-end options with specialized features, you can also find a durable, versatile option that provides a great experience for a great price. Use the table below to find the ZenScreen portable monitor that best fits your needs, and find out today just how much a portable monitor can streamline your everyday computing.