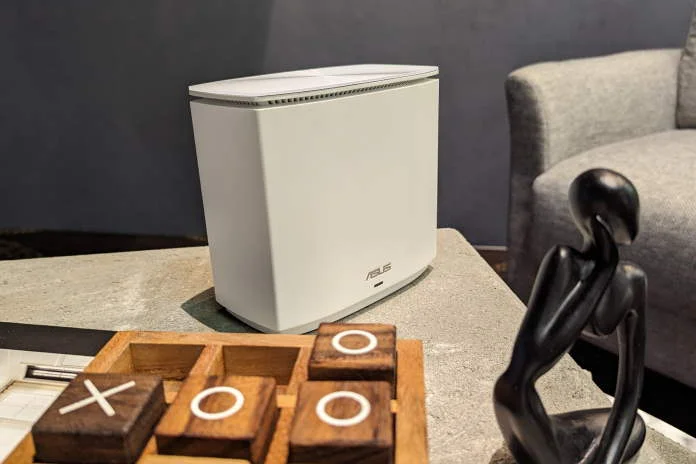 The thick stone, brick, or concrete walls of your home offer substantial comfort against the elements, a feeling of security and resilience that only comes from a building made to last. Those same walls can be a major impediment to your home's WiFi network — unless you have a router purpose-built for the occasion. Our new ZenWiFi AX Hybrid XC5, debuting at CES 2023, is ready to run the gauntlet of obstacles thrown in its path by dense construction materials and give you high bandwidth, reliable internet access throughout your home.
Brew a cup of MoCA
All ZenWiFi mesh WiFi systems offer key advantages to homeowners working to get full-home WiFi coverage in buildings where traditional routers struggle. Instead of one centralized router, mesh WiFi systems use multiple units spaced throughout your home to manage your network. You might get a similar result with WiFi extenders, but then your devices must log in to different networks depending on your location. With a mesh WiFi system, all your devices will be automatically connected to the unit that provides the best signal, and it all happens on one network.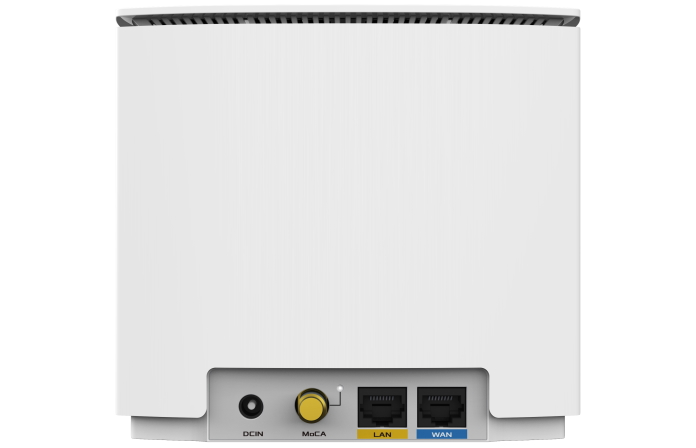 The ZenWiFi AX Hybrid XC5 adds a secret ingredient to the ZenWiFi sauce: support for tech from the Multimedia over Coax Alliance (MOCA). The two units in the ZenWiFi AX Hybrid XC5 can communicate with each other over coaxial cable using MOCA 2.5. If you or a previous owner had run these wires back in the heyday of cable television, you can give them a second run at life by using them as the backhaul for your WiFi network. Since these units can achieve reliable, high-performance 2.5Gbps speeds over a wired MoCA 2.5 backhaul, you'll get great coverage from every unit that you connect this way.
With the ZenWiFi AX Hybrid XC5, it'll be easy to expand your coverage down the road, too. Go ahead and renovate your basement or build out the backyard patio of your dreams — by adding another unit, you can extend your network into new frontiers. If you have an existing ASUS AiMesh router, you can also make use of it alongside your ZenWiFi AX Hybrid XC5. Since this system is also equipped with AiMesh, you can mix and match your compatible routers to make a powerful and flexible whole-home WiFi solution.
All the advantages of WiFi 6
With your ZenWiFi AX Hybrid XC5 units positioned and connected over a MoCA 2.5 backhaul, you'll be ready to reap the benefits of WiFi 6 technology. Built from the ground up for today's connected homes, WiFi 6 ensures that every device enjoys uninterrupted signal. Tech like OFDMA allows the router to serve different clients at the same time within just one channel. For you, that means that your smartphones, tablets, smart TVs, PCs, security cameras, and smart home devices can all coexist on the same network without interference.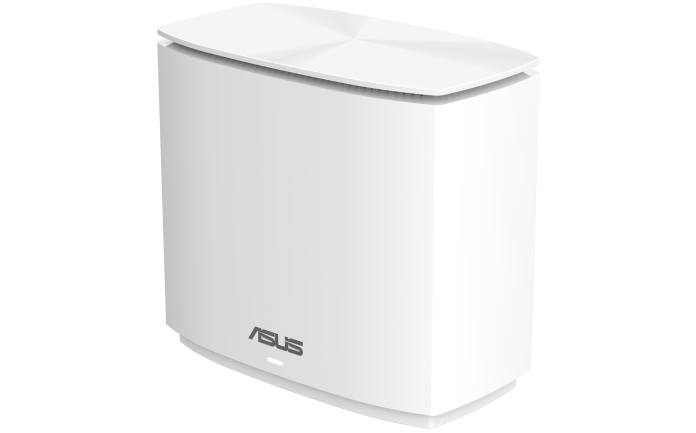 WiFi 6 offers great transfer speeds, two. One of the headlining features of the standard is the use of 160MHz channels. As devices demand more data for online gaming, 4K streaming, and more, you need a router that's ready to deliver plentiful bandwidth. With 2,500Mbps over MoCA, 2,402 Mbps over the 5GHz band, and 574Mbps over the legacy 2.4GHz band, you'll have up to 5,500Mbps aggregate bandwidth on tap.
Easy setup, robust security
Getting your home network started with the ZenWiFi AX Hybrid XC5 couldn't be easier. With our registration-free setup process, all you have to do is set up one of the units and then the rest will automatically sync. The ASUS Router app guides you through three quick steps, and then you're done. The one-tap topology optimization process will establish the most ideal connection to each node in the AiMesh system.
Once up and running, your ZenWiFi AX Hybrid XC5 mesh WiFi system will work behind the scenes to protect your devices and your data. Powered by a lifetime of free cloud-based updates from Trend Micro, your system will help block unwanted content from reaching your devices. You'll enjoy WPA3 encryption, and if an already-infected device connects to your router, AiProtection will detect it and block it from the network.
If your existing router just can't handle the challenges posed by the stone, brick, or concrete construction materials in your home, it's time for a new solution. The ZenWiFi AX Hybrid XC5 mesh WiFi system uses WiFi 6 tech and the existing coax cables in your home to give you whole-home coverage. For more information on the pricing and availability of the ZenWiFi AX Hybrid XC5 in your region, please contact your local ASUS representative. Click here to learn about all the products that we announced for CES 2023.