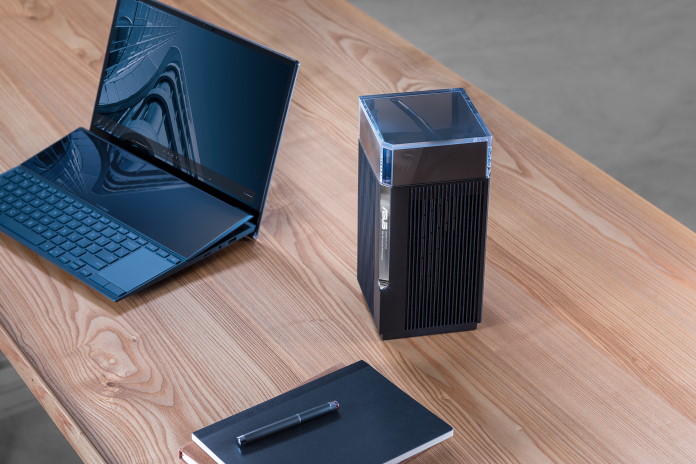 If you live in an average-sized single-floor apartment, traditional wireless routers are an effective choice for setting up a home network. Larger multi-story homes can take some more planning to ensure coverage to every room. The best ASUS mesh WiFi systems eliminate the internet dead zones in your home, all without the hassles and frustrations of extenders and repeaters. Our ZenWiFi series of wireless routers give you a range of mesh WiFi options so that you can find the one that best fits your bandwidth needs, the decor of your home, and the construction of your building.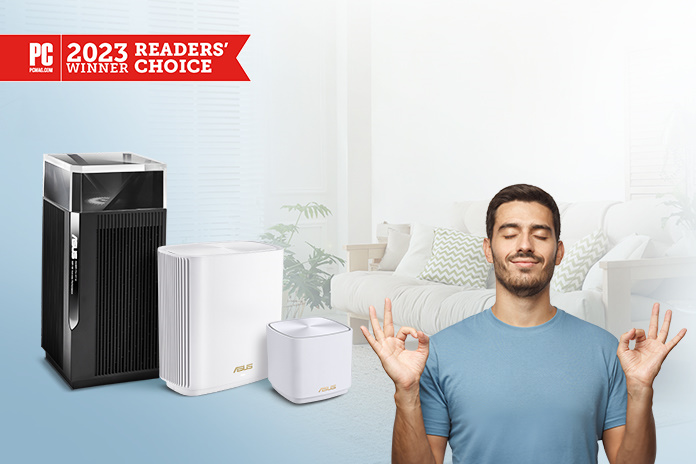 Our mesh WiFi systems stand out from the pack with their rich feature set and long-term value, but you don't have to take our word for it. Our ZenWiFi mesh routers have won a coveted PC Magazine 2023 Readers' Choice Award. This authoritative publication reported that "ASUS takes a clear lead in this category," with the highest scores "for both overall satisfaction and likelihood to recommend." PCMag added, "ASUS scores exceptionally high for mesh coverage, WiFi speed and network management."
Mesh WiFi gives you high-speed WiFi in every room
The speed of your home wireless network depends on many factors. What level of service does your internet provider offer? How many devices are connected to your network? What wireless standard does your router use?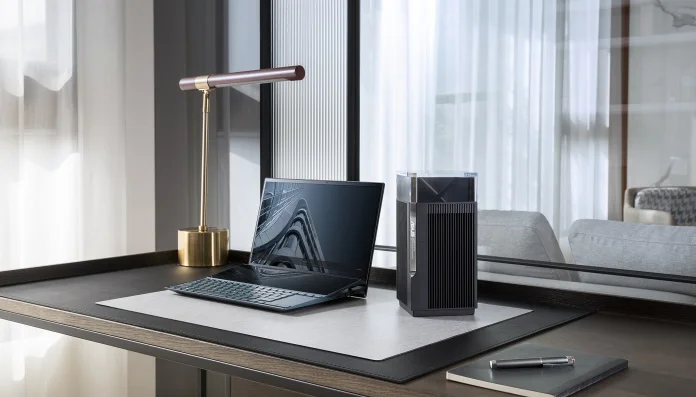 One of the biggest factors, though, is the distance between your device and the wireless router running your home network. All routers have an effective range — you'll enjoy the fastest and most stable connections when you're close to it. That's why a router that served you well in an apartment or a smaller home might be struggling to reach all the rooms of a new, larger location.
Repeaters or range extenders can help to eliminate internet dead zones in your home, but often with a penalty to performance and convenience. A mesh WiFi network is a much cleaner solution. Put simply, the best ASUS mesh WiFi systems use multiple units, spaced throughout the house, to manage a single network. Behind the scenes, the routers determine in real-time which node offers the best signal to your device. They communicate with each other wirelessly or through a wired Ethernet connection (called a "backhaul") so that you can ensure that every room has reliable internet.
Fast speeds and effortless style, all in one package
Your home is your refuge, the place that you decorate with elements that fit your style and personality. A wireless router works best when it's placed in the rooms where you spend the most time on your devices, so it's important to pick a router that fits the look of your home. If you hide it in a closet or the corner of your basement to keep it out of sight, you may not get the wireless performance that you're hoping for.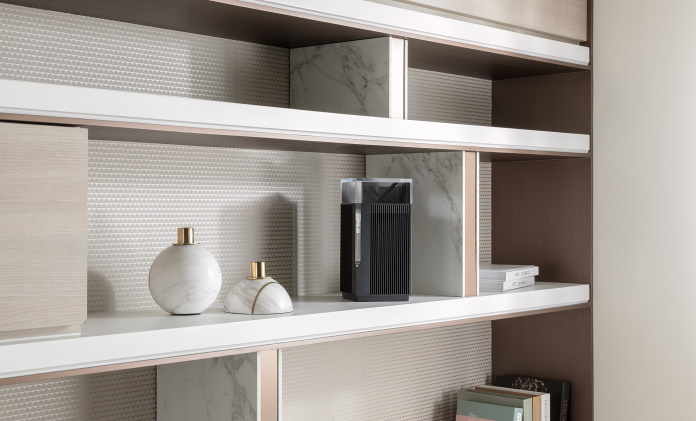 That's why ZenWiFi mesh systems feature understated designs that meld effortlessly with a wide range of interior decor, whether contemporary, minimalist, or modern. We tuck the antennas inside smart, unobtrusive shapes that never look out of place. Depending on the model, you'll also find black and white color options for easy coordination.
The ZenWiFi series rewards close inspection with elegant design details. Their metal-like coating with a brushed finish offers a pleasing texture that fits in easily with your decor and other devices. And the concentric-circle design on top of the unit reflects the calm and peace of mind that you enjoy in a well-designed space.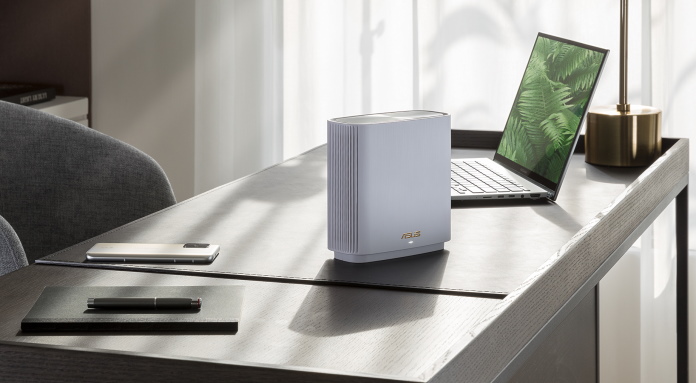 These design elements offer practical benefits, as well. An overheating router might offer lower performance or need to be rebooted more often, so we implemented specially designed vents behind the tall vertical lines on the side of ZenWiFi mesh routers. These vents allow for plentiful airflow to the circuitry and double heatsinks inside, giving you quiet yet effective thermal performance for reliable operation — all in a design that you won't mind having out on an end table.
Mesh WiFi systems ready for any home layout
With a single traditional router, you generally have to place it near the center of your home and hope that it has the range to reach every room. The best ASUS mesh WiFi systems give you the flexibility to set up the best mesh WiFi network for the layout and shape of your home. Here are some tips for getting the most out of your system.
As with any other router, it's best to position the units away from concrete walls, large metal objects, and other obstructions that might degrade signal quality. If your home has multiple floors, place the nodes high and close to stairs for better cross-floor signal coverage.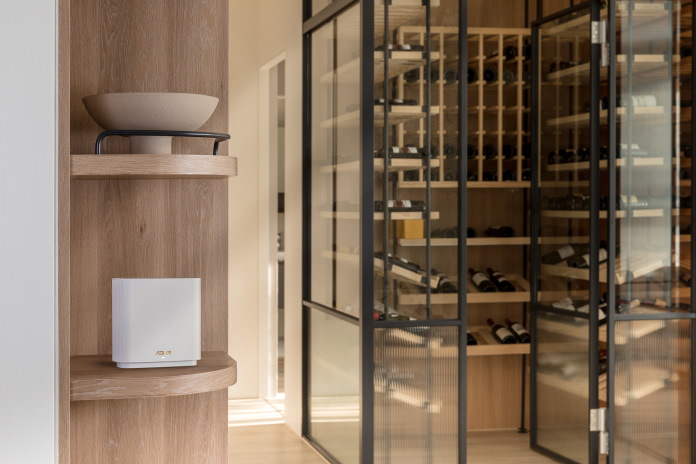 Arrange the ZenWiFi system strategically to get house-wide WiFi connectivity. For best performance, the optimal distance between mesh nodes is no more than 30-45 feet. If possible, make sure that there's a clear, obstacle-free line of sight between the nodes. Remember that it's easy to expand a mesh WiFi system with additional units, so if you renovate your basement or build an addition, you can make sure that you can get high-speed wireless connectivity there, too.
The ZenWiFi AX (XT8) offers award-winning performance
For today's smart homes, plentiful bandwidth is crucial. Your smart speakers, security system, smartphones, laptops, and other devices all need reliable connections to perform their work. Perhaps your loved ones all enjoy watching videos from TikTok or YouTube from the comfort of their own devices — not to mention high-resolution 4K content from Netflix, Disney+ or other streaming services. On top of all that, there may be someone in your home who relies on a high-speed connection for conferencing for work or for competing in online games. If this sounds like your home, the ZenWiFi AX (XT8) will deliver the plentiful bandwidth you need in an easy-to-deploy mesh WiFi system.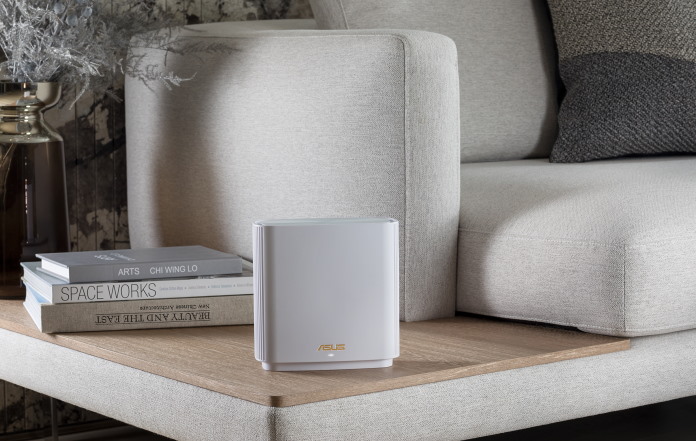 This award-winning tri-band system is perfect for a home of power users. Since it has two separate 5GHz bands, the ZenWiFi AX offers 6600Mbps of aggregate bandwidth, and it can use one 5Ghz band for a dedicated backhaul and the other to communicate with your devices. For even more reliable performance, you can use a wired Ethernet backhaul as well. The ZenWiFi AX is one of the best mesh WiFi routers for larger homes, as well. Just two of these units gives you whole-home coverage for 6+ rooms.
For even higher performance with a similar feature set, we offer the ZenWiFi XT9. As an upgrade to our award-winning ZenWiFi XT8, the ZenWiFi XT9 offers faster speeds of up to 7800 Mbps. It stakes its claim as one of the first mesh WiFi systems on the market to support the newly opened UNII-4 spectrum, also known as the 5.9 GHz band.* With this third, interference-free 160 MHz channel, the ZenWiFi XT9 fully harnesses the power of WiFi 6, delivering improved wireless backhaul performance and even more reliable connections for your wireless devices. With the 160 MHz channel's signal range boosted by up to 20%*, you can enjoy the fastest WiFi 6 speeds across your smart home.
Extended range for a great price: the ZenWiFi XD5, XD4, and XD4 Plus
When some folks go shopping for the best mesh WiFi system, they're more concerned about getting reliable coverage to a large area than they are with raw networking speed. If your bandwidth needs are more modest, but you need a home network with plenty of range, consider the budget-friendly ASUS ZenWiFi XD5, ASUS ZenWiFi XD4, or ASUS ZenWiFi XD4 Plus.
These dual-band mesh WiFi systems offer high performance and extended range through their 5GHz and 2.4GHz bands. The ZenWiFi XD4 and XD4 Plus offer up to 1,800Mbps of aggregate bandwidth, while the higher-end ZenWiFi XD5 offers up to 3,000Mbps of aggregate bandwidth.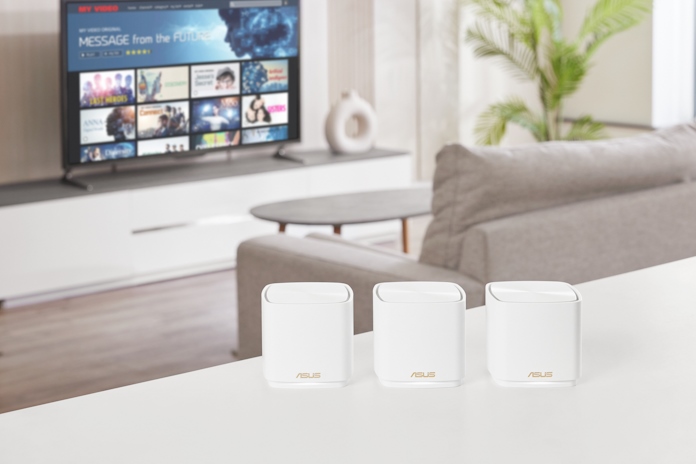 The standout feature of these three mesh WiFi systems is their range. They're a strikingly affordable way to get three mesh WiFi nodes in one package. The three-pack can handle homes up to 4800 square feet. It's a great way to make sure you have excellent internet not only in your primary living spaces, but in an attached garage and backyard patio, as well. You can also pick up one node as a standalone purchase or in a two-pack, as well. Whatever option you pick, the nodes come with mounting holes and a screw pack that make it easy to position the units right where they're needed.
The ZenWiFi XD6 brings mesh networking to a broader audience
Perhaps your bandwidth needs are more modest — you and your loved ones primarily connect to the internet for basic web browsing and social media, and when you do stream a movie or show, you tend to watch it together. Or perhaps existing built-in Ethernet wires in your home make it easy to set up a wired backhaul, making a third wireless band more of a luxury than a necessity. In either scenario, the ZenWiFi XD6 offers the performance you need at a great price.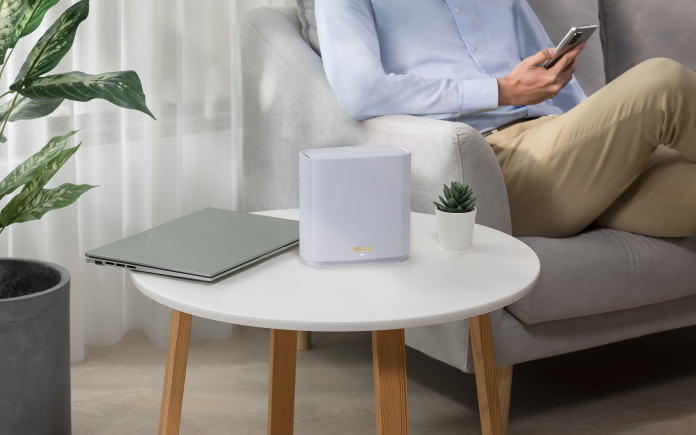 This dual-band mesh WiFi system offers up to 5400Mbps of aggregate throughput. Through its 5GHz and 2.4Ghz bands, it offers both high performance and extended range. Its two nodes are great fit for homes with 4+ rooms. Depending on your region, you may also be able to grab a ZenWiFi XD6 equipped with wall mounts that make it easy to position the units right where they're needed.
Older construction is no problem for the ZenWiFi AX Hybrid (XP4)
Older homes with thick or metal-reinforced walls might need a specialized solution for wireless networking. The ZenWiFi AX Hybrid (XP4) is the best mesh WiFi solution for these buildings. Even in a home with thick stone walls, reliable high-speed internet connections can still be a reality.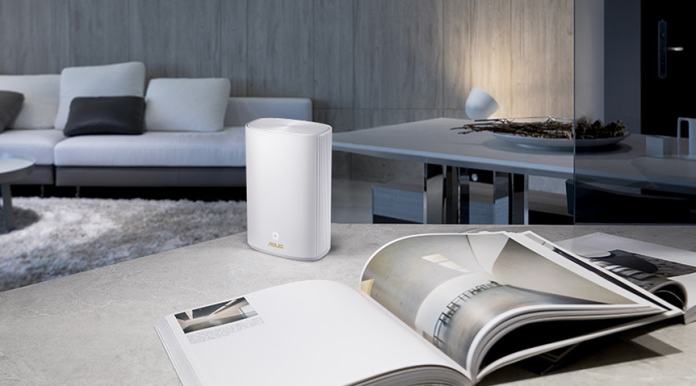 The key trick up the ZenWiFi AX Hybrid's sleeve is a wide array of backhaul options. As with the other ZenWiFi systems, you can use a wireless or Ethernet backhaul, but with this system you can also use powerline networking. With HomePlug AV2 support, you can use the existing electrical wiring in your house as network backhaul—giving you the stability of wired Ethernet with the convenience of a wireless connection. Through the AC power outlets in your home, you can make sure that your nodes can connect to each other and get wireless networking coverage to every room.
| | ZenWiFi AX Hybrid (XP4) |
| --- | --- |
| Availability (US) | ASUS |
Rise above the fray with the ZenWiFi Pro ET12 or the ZenWiFi ET8
If you live in a condo or an apartment building, you might need a more specialized solution. In a building crowded with devices, your neighbors' wireless networks might be interfering with your own. In select regions, there's a new technology ready to combat this problem: WiFi 6E. In a nutshell, WiFi 6E routers can use the wide-open 6GHz band rather than the congested 2.4GHz and 5Ghz bands, giving you the seamless internet access you desire.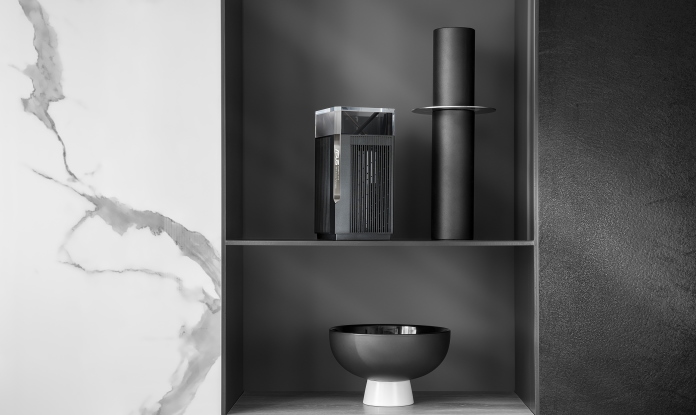 If congestion in the 5GHz band is interfering with your livelihood, and you live in a region that's opened up the 6GHz band, it might be time for you take the full plunge into WiFi 6E. The ZenWiFi Pro ET12 uses a dual-band 4×4 antenna array to provide top-end speeds across the 2.4GHz and 5GHz bands and a dedicated 4×4 antenna array to 6GHz spectrum. In select markets, it can also access the recently opened 5.9GHz band for premier speeds in this coveted slice of the spectrum. All told, it can provide an aggregate data rate up to 11000Mbps.
These days, there are many WiFi 6E devices that you can pair this exceptional router. Many of the latest smartphones and laptops are equipped with WiFi 6E. Get started with the ROG Ally or the Zenbook S 13 OLED, or build yourself a PC with a WiFi 6E motherboard to put yourself back in the internet fast lane.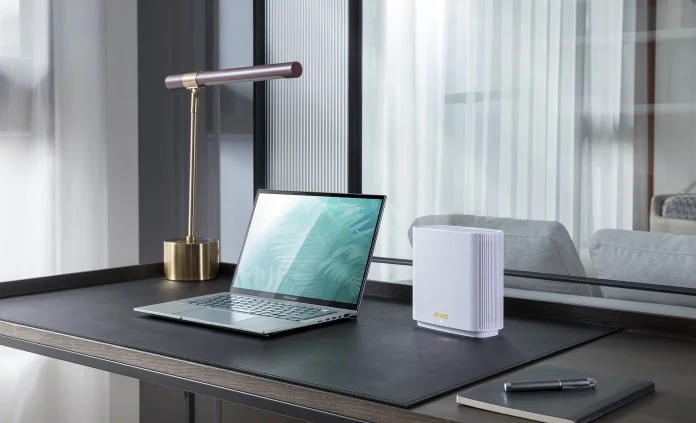 Since WiFi 6E is a relatively new standard, you might not have compatible PCs and phones that can communicate in the 6GHz airspace. For you, the ZenWiFi ET8 might be the perfect starting point. Out of the box, the ZenWiFi ET8 devotes its 4×4 WiFi 6E radios to serving as the backhaul, giving you reliable connections no matter which access node your devices connect to. Down the road, you can quickly tweak the network settings to give your upgraded devices access to the 6GHz band.
Easy setup, advanced features
Whichever ZenWiFi system you choose, the setup process is a breeze. Our free ASUS Router app takes care of all the technical details — just connect one node to your modem, plug both units in, and follow the steps in the app. Flexible naming options will let you name your WiFi networks as you prefer: a single name for everything, or separate names for each frequency band.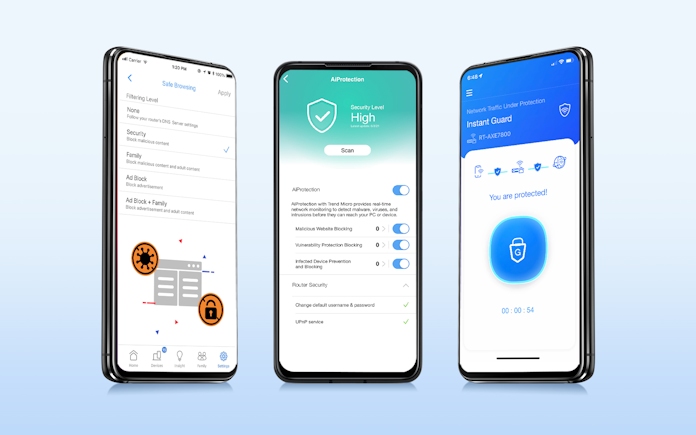 ASUS mesh WiFi systems also go above and beyond to give you long-term value for your investment with their generous warranties and included bundle of free features. These ZenWiFi systems enjoy robust AiProtection network security features, a commercial-grade suite that leverages powerful cybersecurity solutions and cloud data centers from Trend Micro to shield your smart home and all connected devices from cyber threats. You get free automatic security updates, malicious site blocking vulnerability protection, and built-in tools to detect and block infected devices — all without a subscription fee. And it's all easy to set up and use with the ASUS Router app.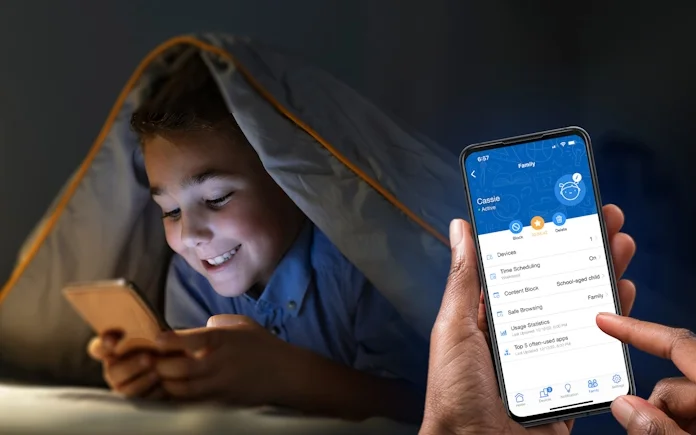 Parents will apreciate the robust, common-sense, hassle-free parental controls they get with a ZenWiFi system. These free parental controls takes the guesswork out of protecting your kids. In the ASUS Router app, you'll find preset profiles based on age that will automatically apply filters for inappropriate content and set suggested daily screen time schedules for your kids' devices. Through the included internet activity dashboard, you can easily keep tabs on your kids' browsing behaviors.
Advanced security features and parental controls are just the start — you'll get built-in VPN features, the Instant Guard mobile app for secure browsing on public WiFi networks, and more. Click here to learn more about the suite of features you get for free with an ASUS mesh WiFi system.
The best mesh WiFi systems
For larger homes, homes with multiple stories, or buildings with thick and dense walls, a traditional wireless router might not have what it takes to deliver a reliable, high-speed signal to every room. While wireless repeaters and extenders are an option, they're often frustrating to use on a daily basis. For most people, a mesh WiFi system just makes more sense.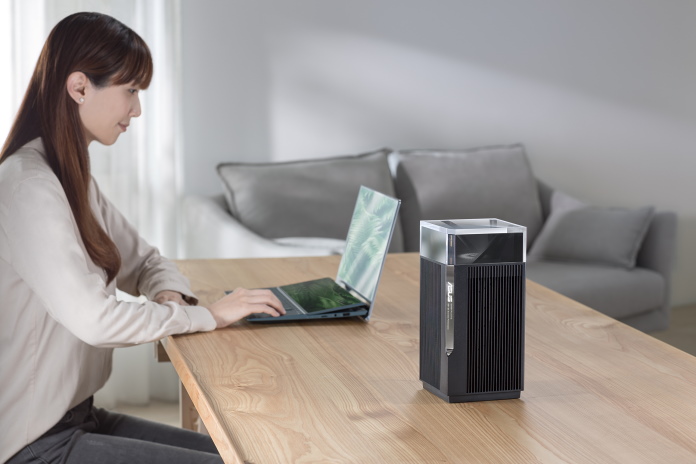 ZenWiFi mesh wireless systems make it easy to set up a home network that delivers the bandwidth you need to every floor and every room. They offer elegant style that coordinates easily with your home decor. And the free and easy-to-use ASUS Router app offers hassle-free setup and robust security options. If you're struggling with internet dead zones in your home, upgrade your home network with a ZenWiFi mesh WiFi system to enjoy high-bandwidth, reliable wireless connectivity in every room of your house.
*UNII-4 spectrum support not available in all regions due to current regulatory restrictions.