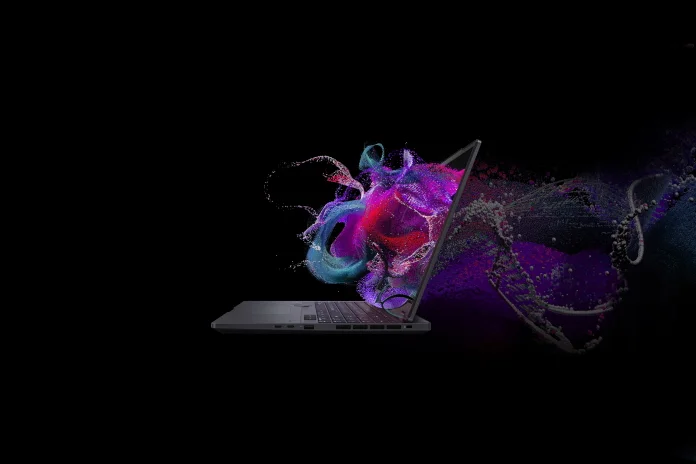 Some of the most exciting creative work being produced today is in 3D. The epic film Avatar: The Way of Water showcases revolutionary technology for 3D movies. Games like Half-Life: Alyx provide stunningly immersive VR experiences. Modern product design and architecture workflows increasingly start with 3D rendering, and metaverse pioneers are reimagining the very concept of presence with digital spaces where people can interact, work, and play as digital avatars. For creators in these fields and many more, there's a growing need for better visualization techniques. Creators need to be able to see their digital 3D creations in a new way — and now, with ASUS Spatial Vision, they can. Debuting in our new ProArt Studiobook 16 3D OLED and Vivobook Pro 16X 3D OLED, this revolutionary tech allows creators to see their work in three dimensions, no bulky glasses required.
See the future today with ASUS Spatial Vision
Forget what you think you know about 3D display technology. ASUS Spatial Vision revolutionizes the entire experience. We make use of lenticular-based autostereoscopic 3D technology to create three-dimensional images that you can perceive without the need for glasses.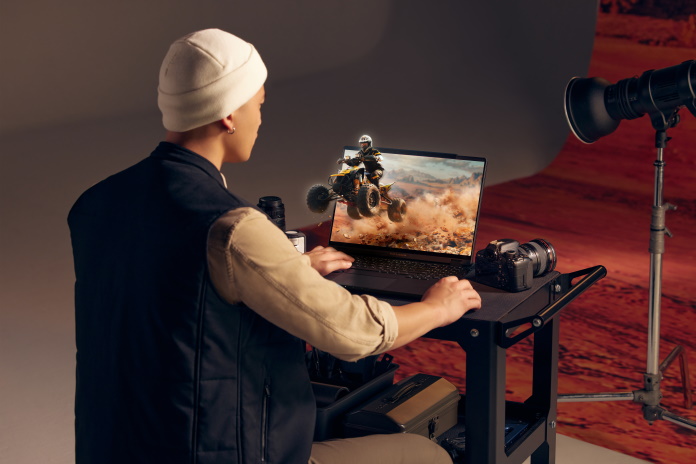 Three key technologies come together to make ASUS Spatial Vision a reality. First is a microscopic layer of lenticular lenses built into the display panel. Unlike past 3D display solutions, there are no drawbacks to this additional layer during ordinary usage. When you toggle 2D mode on the ProArt Studiobook 16 3D OLED or Vivobook Pro 16X 3D OLED, you'll get the same great experience you expect from a high-end OLED display.
Second, ASUS Spatial Vision uses real-time eye-tracking technology. Using that information, a set of images for each are created and directly projected through the lens to create the 3D effect. Even as you move around in front of the laptop for a different perspective on your project, ASUS Spatial Vision will adjust to maintain the magic.
Finally, the characteristics of our premium OLED display panels ensure a seamless experience as you create in 3D. Users of one of our many laptops equipped with an OLED display already enjoy their extremely low pixel transition times, exceptional contrast, and (on select models) smooth 120Hz refresh rate. Those same qualities minimize any crosstalk between the images for your left and right eye, resulting in surprisingly lifelike and detailed 3D graphics.
Ready for creative work
Creators in many fields stand to benefit from being able to instantly visualize 3D objects. Whether you're a digital artist creating assets for a video game, a mechanical engineer crafting a new project, or a filmmaker incorporating CGI effects, ASUS Spatial Vision lets you see your work as a three-dimensional image, not a mere 2D representation.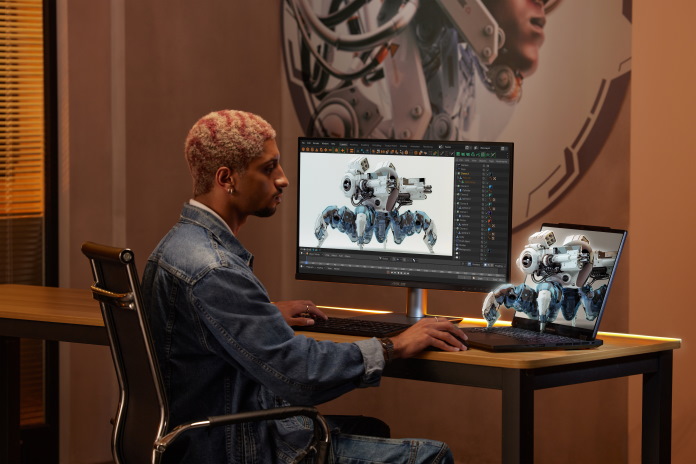 This revolutionary tech is ready for seamless integration into your 3D workflow with out-of-the-box compatibility with the platforms, apps, and file formats that you care about the most. ASUS Spatial Vision supports Unreal Engine, NVIDIA CloudXR, Unity, and SteamVR, just to name a few, and it supports over twelve popular creation apps including Blender, Omniverse Create XR, and Autodesk VRED. And it supports over 10 file formats to ensure that a wide range of creators can seamlessly integrate this tech into their workflow.
ASUS Spatial Vision arrives in a creator laptop near you
Easy, glasses-free 3D tech has long felt like a far-off technology. Now, we're shipping ASUS Spatial Vision in two laptops: the ProArt StudioBook 16 3D OLED and the Vivobook Pro 16X 3D OLED.
ProArt Studiobook 16 3D OLED
The ProArt Studiobook 16 3D OLED delivers professional-grade performance with up to an Intel Core i9-13980HX CPU and up to an NVIDIA GeForce RTX 4070 Laptop GPU. Up to 64GB of DDR5 RAM empowers you to multitask with ease and load up complex projects, while up to 8TB of speedy PCIe 4.0 storage gives plentiful room for your project library. You'll get NVIDIA Studio Driver support to ensure maximum performance, rock-solid reliability, and broad software compatibility.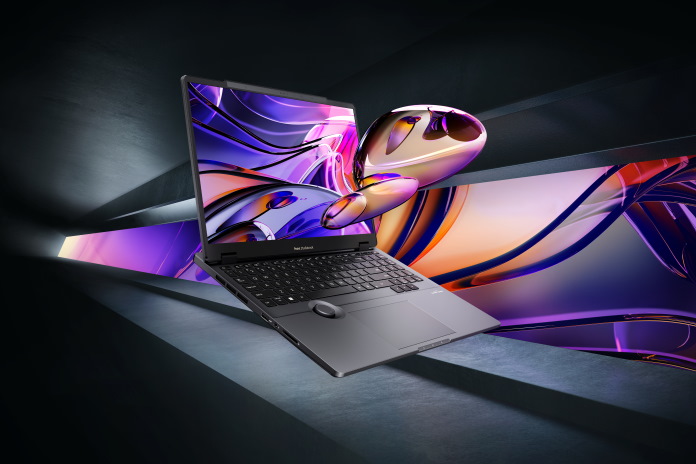 ASUS IceCool Pro tech unleashes the full performance of your hardware with exceptional cooling. The per-key air-intake design directs cooling air right where it's needed while keeping the keys cool and comfortable under your fingers. Liquid metal thermal compound, painted with our precision, automated process, more effectively transfers heat out of the CPU than traditional thermal pastes. All told, this technology allows for a combined 150W TDP between the CPU and GPU (65W+85W) in Performance mode under full load — perfect for getting demanding creative work done efficiently.
ASUS Spatial Vision headlines the spec sheet for the ProArt Studiobook 16 3D OLED's display, but that's just the start of what it offers for creators. This 16-inch display has a 16:10 aspect ratio that gives you extra space in the vertical dimension — perfect for getting work done. Its roomy 3.2K resolution brings out the fine detail in your projects, and its 120Hz refresh rate offers smooth animation.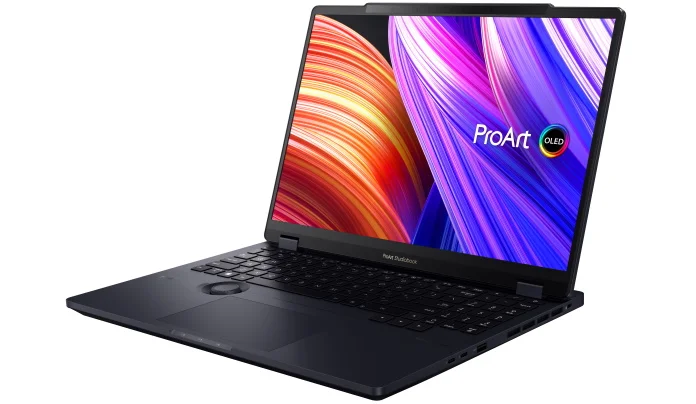 This display is prepped for exceptional color performance, too. It's factory calibrated, Pantone Validated, and Calman Verified to achieve an average ΔE value of less than two for professional-grade color accuracy. The moment you pull it out of the box, you can trust it to paint each pixel with precision. For vibrant, lifelike colors, it covers 100% of the cinema-grade DCI-P3 color gamut, and it offers Dolby Vision support for your work in HDR.
ASUS-exclusive features make sure that you always have the best tool for the job at hand. The ProArt Studiobook 16 3D OLED features an integrated ASUS Dial. This rotary tool provides quick, intuitive control over your most commonly used functions in creative, productivity, and entertainment apps.
The upgraded touchpad is ready to empower your work. We enlarged it by 28% over the last generation to expand your workspace, and equipped it with LRA haptic technology for the most precise feedback. Finally, we equipped it for stylus work by giving it the same aspect ratio as the display, making it intuitive and natural to sketch your ideas.
A host of conveniences make working with the ProArt Studiobook 16 3D OLED a daily delight. Its FHD IR AI camera allows for instant biometric login, and its ErgoSense keyboard and touchpad make everyday computing comfortable and ergonomic. Per-key even backlighting ensures you can always find the right key, even in low-light conditions. And you'll find a complete set of I/O ports, including Thunderbolt 4, HDMI 2.1, and SD Express 7.0, for connecting your full workstation.
Vivobook Pro 16X 3D OLED
Vivobook Pro laptops give creators everywhere a complete toolkit for taking their work to the next level. The Vivobook Pro 16X 3D OLED takes the series to new performance heights with an Intel CPU up to the Core i9-13980HX and an NVIDIA GPU up to the GeForce RTX 4070 Laptop GPU. NVIDIA Studio drivers ensure broad app compatibility and exceptional stability.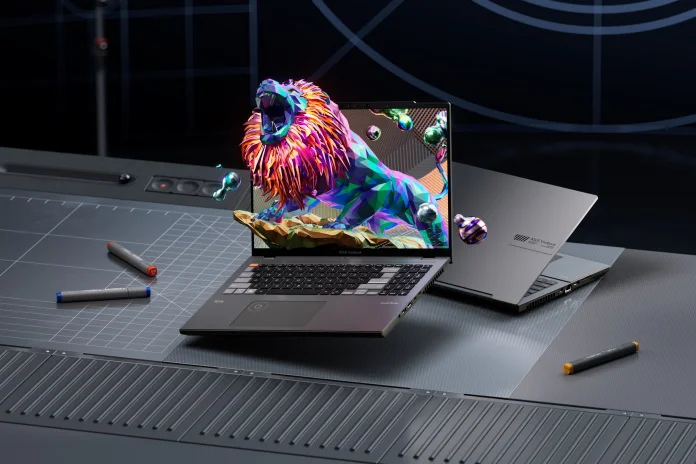 Great cooling gives you the full performance of these high-end components. The ASUS IceCool Pro system uses two fans, five heat pipes, and four vents to efficiently and quietly exhaust heat from the system, enabling a 150W TDP in performance mode.
The Vivobook Pro 16X 3D OLED empowers your creative work with a professional-grade display. On top of ASUS Spatial Vision, this 16-inch display offers you a 16:10 aspect ratio, a 3.2K resolution, and a fluid 120Hz refresh rate. It's factory calibrated and Pantone Validated to achieve an average ΔE value of less than two for accurate colors, and it covers 100% of the cinema-grade DCI-P3 color gamut.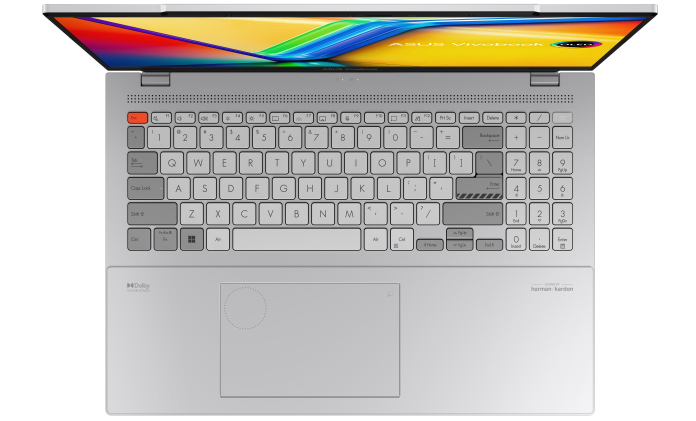 Everyday laptop users might not need to connect anything more than a wireless mouse to their PC, but as a creator you might have a full workstation of displays, peripherals, and control surfaces that you use on a daily basis. The Vivobook Pro 16X 3D OLED makes sure that you have the I/O selection that you need. It offers two versatile Thunderbolt 4 ports and two USB 3.2 Gen 1 Type-A ports. You'll find an HDMI 2.1 port which supports Fixed Rate Link (FRL) to achieve higher uncompressed resolutions. And to give you convenient access to assets from other devices, there's a built-in SD card reader, too.
The Vivobook Pro 16X OLED allows you to work with ease and comfort. Through the ASUS DialPad integrated into the touchpad, you'll have precision control over parameters in your favorite creative apps at your fingertips. The ASUS ErgoSense keyboard is tilted at an ergonomic angle for comfortable typing. And our Antimicrobial Guard Plus coating on the laptop's most commonly touched surfaces inhibits 99% of COVID-19, flu virus, bacteria for better hygiene.
ASUS Spatial Vision accelerates 3D workflows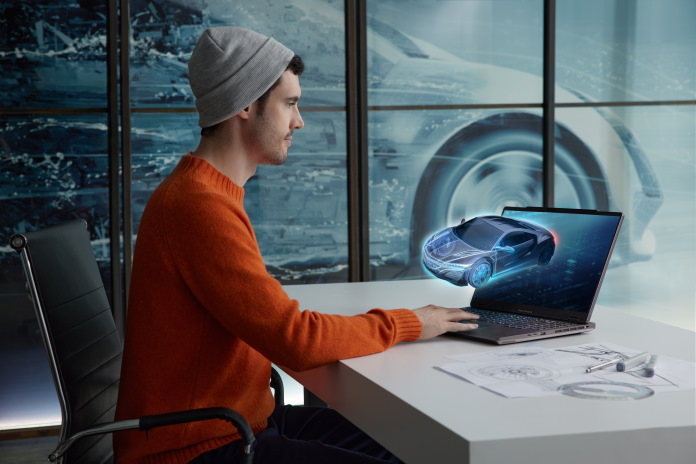 On top of their cutting-edge components, powerful cooling, and complete connectivity, the ProArt Studiobook 16 3D OLED and the Vivobook Pro 16X 3D OLED bring revolutionary ASUS Spatial Vision technology to creators who need a new way to visualize their projects. For more information on the pricing and availability of the ProArt Studiobook 16 3D OLED and Vivobook Pro 16X 3D OLED in your region, please contact your local ASUS representative. Click here to learn about all the products that we announced for CES 2023.
* * ISO 21702 tests for COVID-19, H3N2, H1N1 and ISO 22196 tests for Staphylococcus and E. Coli.