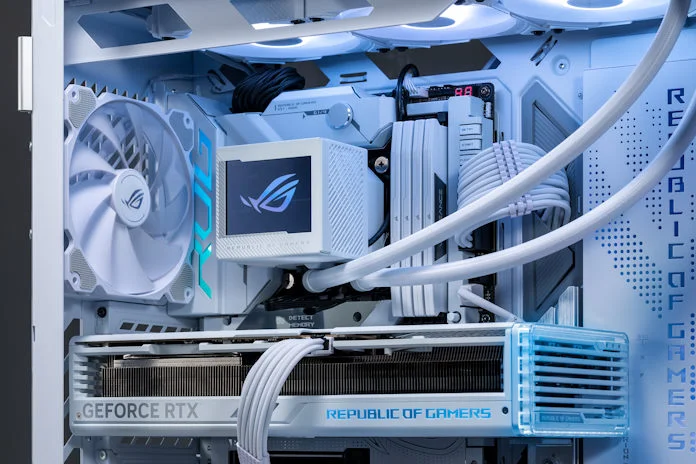 Traditional memory overclocking methods fall into two primary categories. Through frequency overclocking, users improve memory read and write performance with an increase in memory frequency. By tightening timings, users improve copy and latency performance by adjusting memory parameters. Yet with cutting-edge DDR5 RAM kits, overclockers are hitting temperature-related obstacles with these traditional methods as they work to maximize the performance of their kits. With select options in our latest portfolio of Z790 motherboards, we give enthusiasts a powerful new way to overclock their memory: DIMM Flex.  
This new feature employs specialized hardware circuitry to address the stability issues in DDR5 memory caused by temperature sensitivity. When temperatures permit, it can maximize memory performance and efficiency, and when temperatures increase, it can adjust memory performance downward to maintain stability.  
DIMM Flex can have a profound effect on memory-sensitive professional workloads — and it can have a large impact on your FPS when gaming, too. It's easy to get started with DIMM Flex, yet its robust configuration options let you fine-tune its operation for perfect control. 
A familiar foe
Like your CPU and GPU, DDR5 RAM modules produce heat when they're under load, especially when they're overclocked. As with those other components, you might not get the full performance from your DDR5 RAM sticks if you don't deal with that heat effectively.  
In our internal testing, we've found that as DDR5 RAM heats up under a heavy workload, memory performance can drop by upwards of 22%. On our test system, MemTest Pro reported a 32 T cover speed of over 2000 MB/s at DDR5-8000 with 17.42% average coverage. Using the same system, memory speed, and memory timings, but with a much more thorough 91.28% average coverage, MemTest Pro reported a 32 T cover speed of 1577.70 MB/s — and the DIMM modules were 4 to 5­° Celsius hotter.  
Saving the day with a well-placed sensor
To be clear, you're unlikely to encounter thermal issues with your DDR5 RAM if you're running your memory at default settings. What we're looking at here is behavior at the bleeding edge of memory performance. If you encounter instability with your system while overclocking your RAM, you always have the option of scaling back your ambitions. 
But we know that enthusiasts with memory-sensitive workloads are hungry for as much performance as they can get out of their DDR5 RAM. That's why we developed DIMM Flex. DIMM Flex dynamically adjusts memory controller behavior based on current memory temperature to optimize performance while ensuring stability. 
It starts with a thermal sensor integrated close to the memory slots. This sensor feeds real-time temperature data to an ASUS embedded controller, which in turn sends frequency adjustment instructions to the CPU. (Currently, DIMM Flex is only compatible with Intel CPUs.) The Intel CPU accordingly alters the memory controller behavior, and the DRAM completes the frequency adjustments.  
This process is both dynamic and continuous. While DDR5 modules have their own temperature sensor, the thermal sensor used by DIMM Flex offers the low-latency reports necessary to respond in real-time to temperature fluctuations. Regardless of the system environment or the presence of multiple system loads, it can monitor temperatures and adjust memory settings to provide optimal performance at any given moment.  
Boost your memory performance — and FPS — with DIMM Flex
To assess the performance impact of DIMM Flex, we went back to MemTest Pro. Using the same testing parameters as before, but with 175.84% average coverage, MemTest Pro reported a 2112.10 MB/s 32 T cover speed. That's 5.3% higher than what we saw in our quick performance test without DIMM Flex, and a whopping 25.3% higher than we saw in our longer-running test without DIMM Flex.  
DIMM Flex makes some noise in synthetic testing — and it's capable of some jaw-dropping performance increases in real-world workloads, too. To assess its impact on everyday use, we put DIMM Flex to the test in a variety of games. Not every title responds equally to memory performance, but many games are sensitive to memory speed and latency.  
Game 

Average FPS

(Default settings)

 

Average FPS

(XMP)

 

Average FPS

(DIMM Flex)

 

Metro Exodus
Extreme preset
2560×1440 

132.14 

133.92

 

155.38 

Counter-Strike: Global Offensive




MAX FPS preset




3840×2160

 

190

 

200

 

210 
Depending on a few factors, including the game you're playing, the resolution you're playing at, and your in-game settings, DIMM Flex can have a substantial effect on frame rates. What we're seeing is that with DIMM Flex, double-digit FPS performance increases are on the menu. Compared to default settings, we saw 17.59% higher FPS in Metro Exodus with DIMM Flex enabled. This feature offers impressive gains even compared to the XMP profile — in the same test, toggling XMP boosted performance by 1.35%.  
Not all the games we tested enjoyed the same performance boost from DIMM Flex as did Metro Exodus. Yet it's clear that the performance advantages offered by DIMM Flex aren't limited to games with bleeding-edge visual effects. When testing Counter-Strike: Global Offensive at a 4K resolution, the XMP profile was able to boost FPS by 5.26%, while DIMM Flex boosted FPS by 10.53%.  
How to set up DIMM Flex
DIMM Flex requires specific onboard hardware to operate, so you'll need one of our latest ROG or ROG Strix Z790 motherboards to get started with the feature. Use the table below to find a model with the requisite sensor and embedded controller. To help you pick memory that will give you a great experience with DIMM Flex, we've compiled a QVL list here. 
Motherboard 

Key Features 

ROG Maximus Z790 Formula 

Supreme gaming performance
HybridChill VRM Cooling
White-themed style 

ROG Maximus Z790 Dark Hero 

Supreme gaming performance 
Bold gamer style
Front-panel USB 20Gbps connector with up to 60W PD/QC4+
Onboard PCIe 5.0 M.2 slot 

ROG Maximus Z790 Apex Encore 

Exceptional memory overclocking
Onboard PCIe 5.0 M.2 slot
ROG DIMM.2
ROG DDR5 Fan Kit 

ROG Strix Z790-E Gaming WiFi II 

Powerful gaming performance 
Upgraded M.2 Combo-Sink
Exceptional USB port selection 

ROG Strix Z790-F Gaming WiFi II 

Powerful gaming performance 
Balance of performance and value
5 x M.2 slots 

ROG Strix Z790-A Gaming WiFi II 

Powerful gaming performance
White-themed style
5 x M.2 slots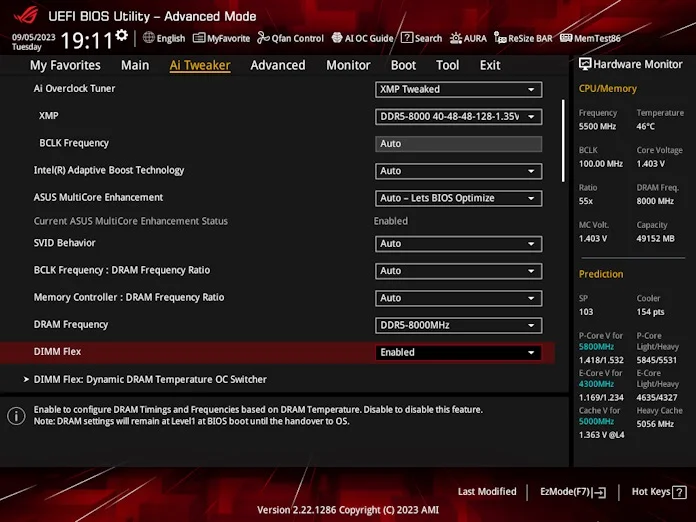 Inside the BIOS, you'll find the options you need to configure DIMM Flex in the Ai Tweaker tab. Start by enabling DIMM Flex. Then, AI Overclock Tuner will automatically switch your memory profile to XMP Tweaked, the best configuration for DIMM Flex. If you're using non-XMP RAM, you can choose either the AEMP II profile or DIMM Flex in the Ai Tweaker tab inside BIOS.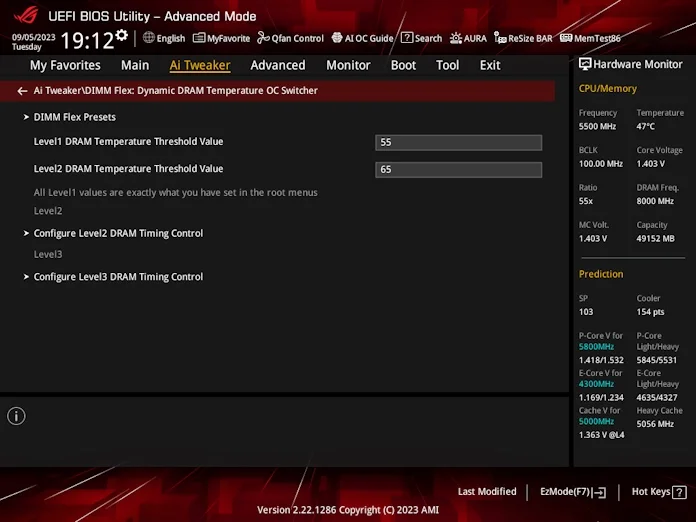 With DIMM Flex enabled, you'll be able to fine-tune its operation with temperature control points and timing settings. DIMM Flex defines three levels of settings based on customizable temperature breakpoints, allowing you to dial in extreme performance settings when temperatures are low, less-aggressive settings for when your memory kits start to warm up, and more conservative settings for when temperatures exceed the higher of the two thresholds. Level 1 settings follow what you've established in the root DRAM menus. For Level 2 and Level 3, you can set subtiming values to adjust memory performance for the scenario. 
DIMM Flex helps you get the most out of your DDR5 RAM
The thermal issues that we're seeing as we push DDR5 memory kits to the absolute limits stand as a reminder that great cooling matters as much for PC building today as it ever did. Investing in memory modules with good heat spreaders will pay off, as will ensuring stable airflow through your case — we embed a fan into the pump housing of ROG Ryujin III AIO liquid coolers for good reason.  
DIMM Flex adds another powerful weapon to your arsenal of tech for keeping your critical components operating at a comfortable temperature. But DIMM Flex does more than just tame the heat — through it, we can offer increased memory performance, as well. This dynamic tool will optimize your memory as temperatures permit, ensuring that you get the best possible performance moment by moment as it adjusts memory frequency based on available thermal headroom.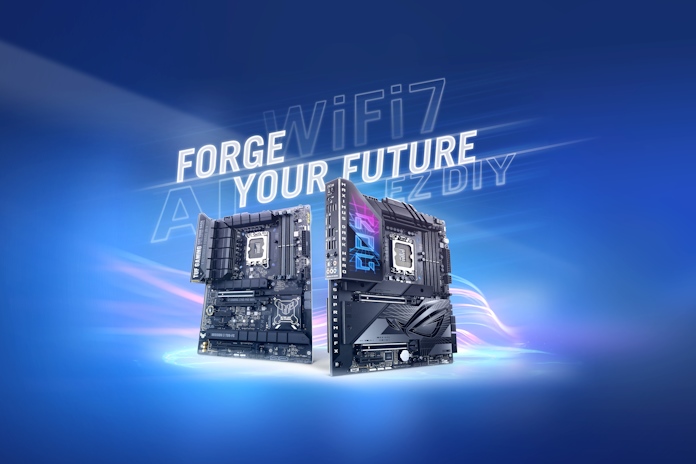 Ready to get started with DIMM Flex? Your ticket to the show is an ASUS Z790 motherboard equipped with the necessary onboard hardware. Head over to our Z790 motherboard guide to find a model equipped with this game-changing feature.