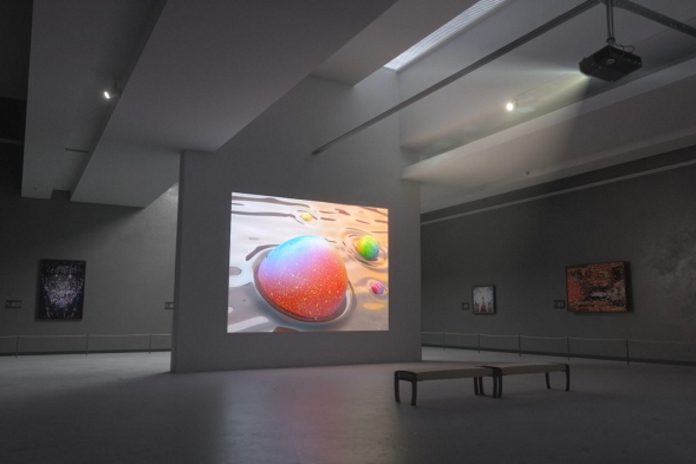 ASUS participates in several affiliate programs, including the Amazon Associates program, and may receive affiliate fees for qualifying purchases.
In many scenarios, a projector offers much more versatility than a traditional display. For a home theater, a classroom, a conference room, or a museum installation, a projector can deliver big-screen immersion and comfortable visibility of content for even a large room of people. If you're looking for a display that travels, whether for work or play, a portable projector might be just the ticket. They're small enough to pack up in a satchel, yet they'll project a large, vivid image anywhere from the kids' playroom to a business client's office.
The best ASUS projectors give you the key features you need in any of these situations.  Our full lineup makes sure that there's an option for every user, no matter whether you're shopping for your kids, your home theater, your business, or your educational institution. In this guide, we'll help connect you with the right projector for your needs.
The best ASUS projector for portable family entertainment
In many homes, the competition for the family room TV can be intense—especially over the holidays when friends and family are visiting. With different folks clamoring to claim the big display for streaming their favorite shows, playing console games, or bingeing on YouTube videos, someone's bound to be disappointed.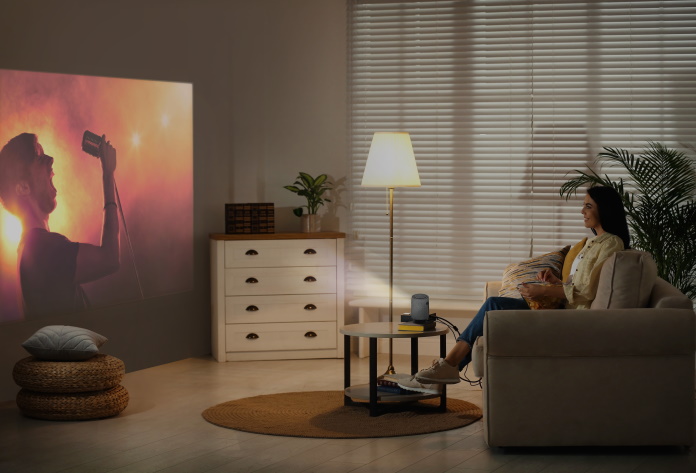 Rather than sending everyone off to the isolation of their own phones, consider the ZenBeam Latte L1 projector instead. This portable projector makes it easy to set up a display in just about any room of your house. Its short-throw lens lets you project a 40" image from a distance of only 1 meter, making it a compelling choice even in smaller spaces. Give it a little more room, and it'll give you big screen entertainment. From 3.2 meters away, it'll project a 120" HD resolution image with 300 LED lumens output. Its built-in 10W Harman / Kardon speakers will draw in everyone nearby with clear audio, or you can use the integrated 3.5mm headphone jack when you're watching something by yourself.
An HDMI port and support for wireless mirroring let you connect the ZenBeam Latte L1 to a wide range of devices—everything from smartphones to gaming consoles to PCs. Its USB Type-A port lets you recharge connected devices. With Bluetooth on tap, the ZenBeam Latte L1 also serves as a standalone speaker for listening to music or podcasts.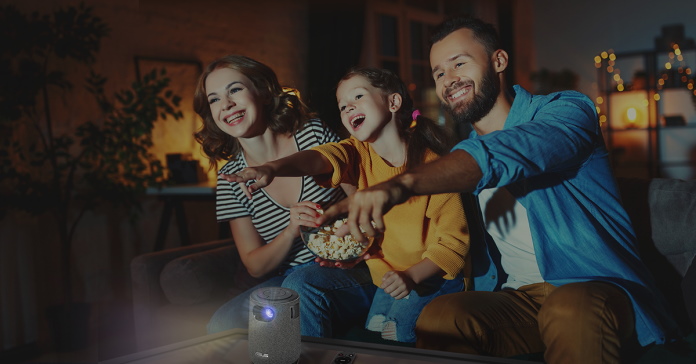 The ZenBeam Latte L1's easy portability opens up even more options. This coffee-mug-shaped projector is lightweight and compact, and it comes with a convenient carrying pouch. The built-in battery provides up to 3 hours of nonstop entertainment in Eco mode. So schedule an outdoor movie watching party with family friends. Bring the kids' favorite movie along on a camping trip. No matter where you go, you can take great entertainment along with you.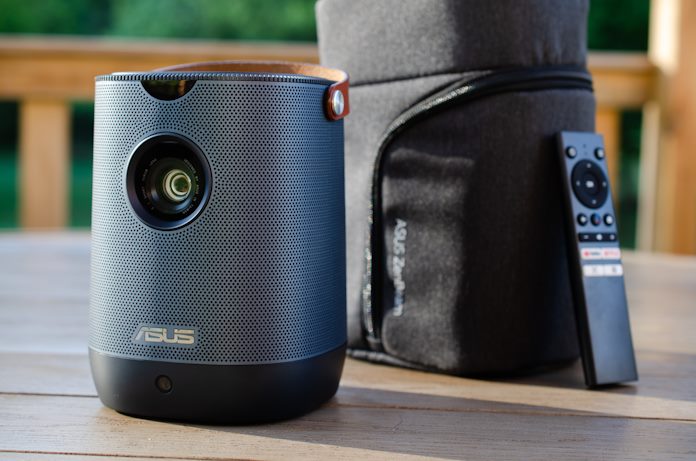 Another great option for family fun is the ZenBeam L2. With 960 LED lumens output and a Full HD native resolution, it offers an amazing cinematic experience. Although it's not quite as small as the ZenBeam Latte L1, it's still eminently portable with its built-in carrying strap and included carrying bag. Click here to read more about how the ZenBeam L2 provides easy entertainment anywhere you go.
The best ASUS projector for vertical video
It seems like everyone these days loads up TikTok for a dose of quick, fun entertainment. The platform's iconic vertical videos are catching on with other services, too—odds are, you're likely to encounter vertical content on Snapchat, Instagram, and Facebook, as well.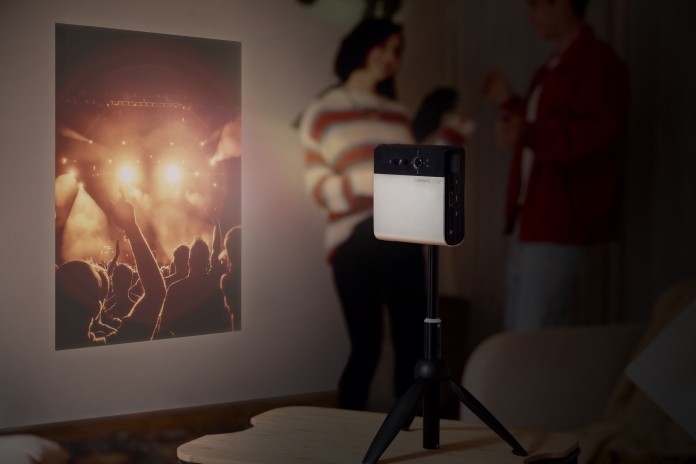 Looking for a way to share a viral vertical video with nearby friends and family—without handing them your smartphone? Try the ZenBeam E2. This portable projector's automatic portrait projection mode makes it ideal for viewing social media content. Connect it to your phone in wireless mirroring mode, and you can change the projector's orientation while in use. You'll enjoy up to 100" projections and rich audio through the integrated 5W speaker, all without fussing or tinkering with settings. The ZenBeam E2 automatically removes black sidebars as the projected image smoothly transitions from horizontal to vertical orientation.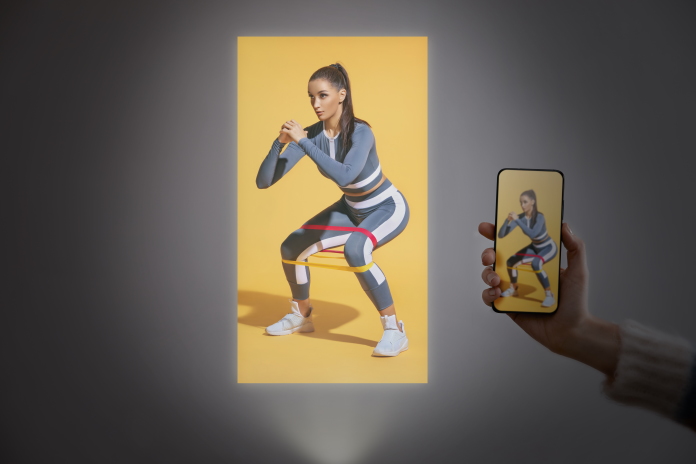 Like the ZenBeam Latte L1, the ZenBeam E2 travels anywhere. This palm-size projector comes with a protective pouch so that it's easy to pack up and take with you. Its integrated battery serves up to four hours of video playback (in Low mode usage) on a single charge. Between its wireless mirroring support and its HDMI port, you can connect it to a wide range of Android, Windows, and iOS devices. And its USB port allows you to recharge other devices.
The best ASUS projector for traveling professionals
Our portable projectors offer fantastic entertainment experiences, but they're ready for business, too. If you routinely travel to make presentations to clients and coworkers, consider augmenting your setup with the ASUS ZenBeam E2.  This projector's portable design, plentiful connectivity options, and bright output make it a natural choice.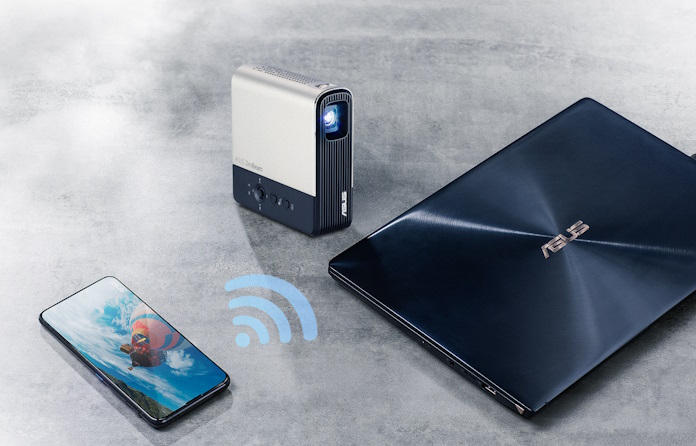 The ZenBeam E2 puts everything you need for on-the-go presentations into the palm of your hand. It's a mere 410g, yet it'll project an image up to 100". The last thing you want to do when presenting to a client is fuss with projector settings to get a clean, readable image. The ZenBeam E2 handles the heavy lifting for you with automatic vertical keystone corrections that ensure perfect projections. Thanks to its substantial battery, you'll get plenty of projecting time in between charges. It offers up to 4 hours of usage on a single charge in ECO mode.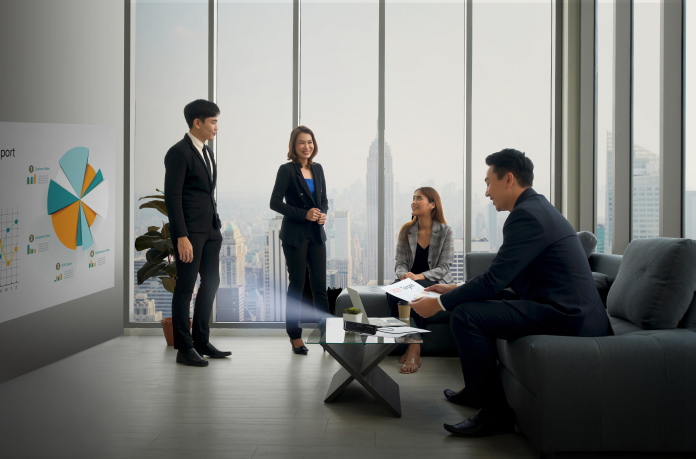 Easy connectivity makes it a snap to set up the ZenBeam E2. The bundled USB WiFi dongle les you effortlessly stream content from Android, iOS, and Windows 10 or 11 devices, and the HDMI port will let you connect just about any other device you might own.
The best ASUS projector for the office
For businesses equipping their workspaces with a projector system for conferencing, training, and much more, the ASUS H1 projector stands ready. Its projection range spans from 40 inches all the way up to 200 inches, giving everyone in the room a clear field of view.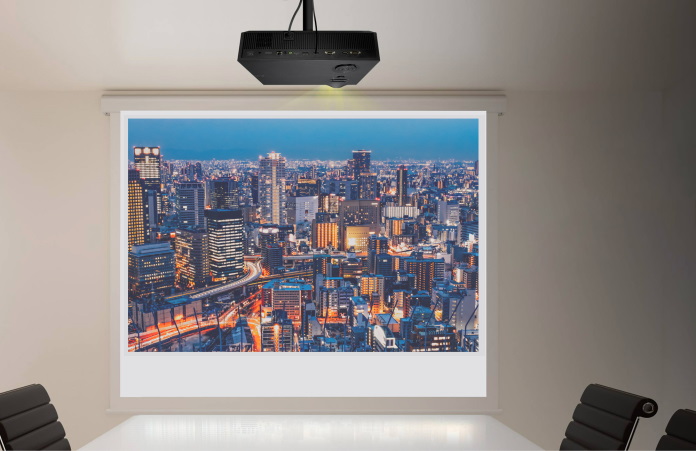 The H1 offers an exceptionally bright Full HD image—powered by a 3000 lumen LED light source, it projects vivid, clear images even in rooms with ample daylight streaming in through the windows. We built this projector to deliver high-quality imagery for the long term, too. A mercury-free RGB LED light source ensures gorgeous, fade-free projections for up to 30,000 hours—about 20 years of real-world use for most folks.
The H1 also makes it easy to manage multiple projectors across your office space. It offers an RJ45 Ethernet port that's compatible with Crestron RoomView Express, enabling remote management of up to 250 projectors on the same network. You can view lamp life, send notifications, or set an operational schedule, all from a remote PC.
The best ASUS projector for home theater and gaming
It's never been more affordable to build an immersive home theater setup. The ASUS H1 projector makes it easy to bring a big screen into your family room. It projects a Full HD image up to 200 inches—much larger than just about any television on the market.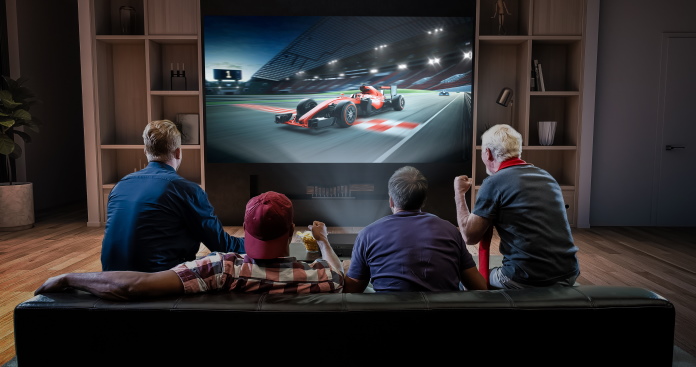 The H1 will bring your favorite shows and movies to life, and it's ready to fuel your passion for gaming, too. Run-of-the-mill projectors don't refresh their image quickly enough to suit the tastes of most gamers—but the ASUS H1 is ready for action. Its 120Hz refresh rate delivers ultrasmooth animation that puts you in command of fast-paced games. Whether you're connecting this projector to your gaming PC or a next-gen gaming console, you'll get the gaming experience you crave.
The best ASUS projector for professional installations
In many professional contexts, color accuracy is vital. If you're presenting artwork at a gallery, for example, or equipping classrooms at an art or design school, you need a projector that's capable of painting every pixel with precision.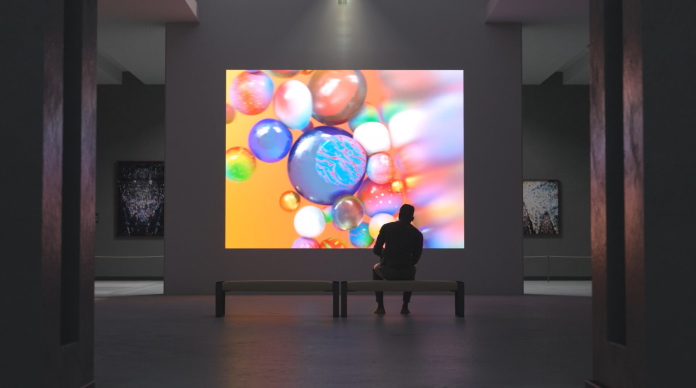 That's exactly what makes the ProArt Projector A1 the ideal choice for these contexts. As the world's first Calman Verified projector, it's factory-calibrated to achieve a ΔE of less than 2 for professional-grade color accuracy. It covers 98% of the sRGB and Rec.709 color spaces so that you can view projects in these color spaces exactly as their creators intended. And with its 3,000 lumens LED light source, rated for a 30,000-hour lifespan, you'll get bright, vivid images for a lengthy term of use.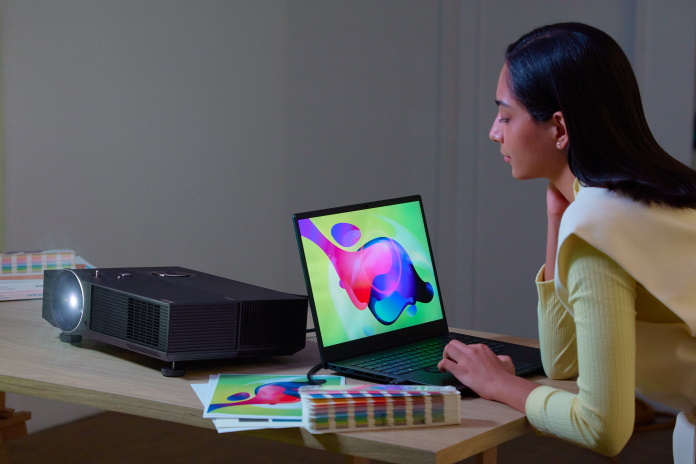 Easy connectivity options and controls make it easy to set up the ProArt Projector A1. With its bundled USB WiFi module, you can effortlessly stream content from your Windows, Android, or iOS device through wireless mirroring. Two HDMI ports and a VGA port give you even more options. To give you perfectly rectangular projection when it is positioned off-center, the ProArt Projector A1 offers four-corner and 2D keystone correction, plus a 1.2X zoom ratio for projecting images in a confined space.