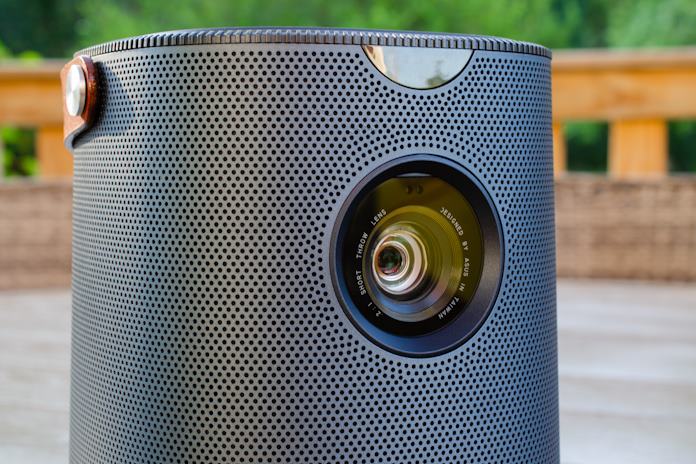 I've started to look at walls differently. When I see a relatively open surface in my house, I think: that could be a screen. When I'm cooking dinner, when I'm relaxing on the deck in the back yard, when I'm hanging out with the boys in the family room, I keep finding wall spaces that I could use for watching a video or playing a game. But it's not because I have a pile of televisions waiting to be mounted to these walls, nor any burning desire to go out and buy a trunkful of them. It's because I have the ASUS ZenBeam L2 portable projector, and at a moment's notice I could use any of these walls as a projection screen.
The ZenBeam L2 is a convenient, lightweight projector with a wide range of connectivity options, so it's easy to set up and use. Since it has a built-in high-capacity battery, I can even deploy it in places without a nearby power outlet. And with its bright 960 LED lumens output, 1080p resolution, and 120% sRGB coverage, I get a vivid, immersive image in any scenario.
That all adds up to a device that I end up using in a surprising number of ways. Sometimes it keeps me entertained when I'm spending time in a room without a TV or PC monitor. Sometimes it sets an ambiance for a room with its integrated ASUS Light Wall functionality. Other times it gathers the whole family together for a movie — or an evening of Overcooked 2 — in an unexpected location. No matter where and when I use the ZenBeam L2, I'm impressed with how easily and quickly it gives me the experience I'm looking for.
The ZenBeam L2 provides an easy setup process
I've had the "pleasure" of setting up traditional projectors before, and every time I've been frustrated by how much work they take to get up and running. Standard projectors need a long projection distance to deliver a reasonably sized image. They require me to manually set the focus and carefully position the device so that it projects an image without distracting geometric distortions. And I always find myself playing a high-stakes game of Jenga as I stack books and boxes under the projector to get it to the right height and angle.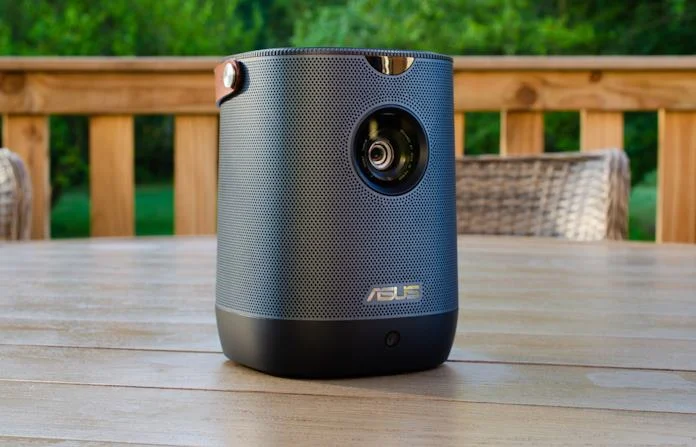 The ZenBeam L2 takes the hassle and guesswork out of the setup process. Since it has a short-throw lens, it needs a surprisingly short projection distance. It can project a 40-inch image from a distance of only three feet, and when I can give it ten feet to play with, it rewards me with a massive 120-inch image. This makes the ZenBeam L2 equally at home for backyard movie nights and for setting a YouTube dance party in the kids' playroom. Its built-in kickstand lets me tilt it upward for a better viewing experience, and it has a standard ¼" threaded socket on the bottom so that I can position it perfectly and securely with a tripod.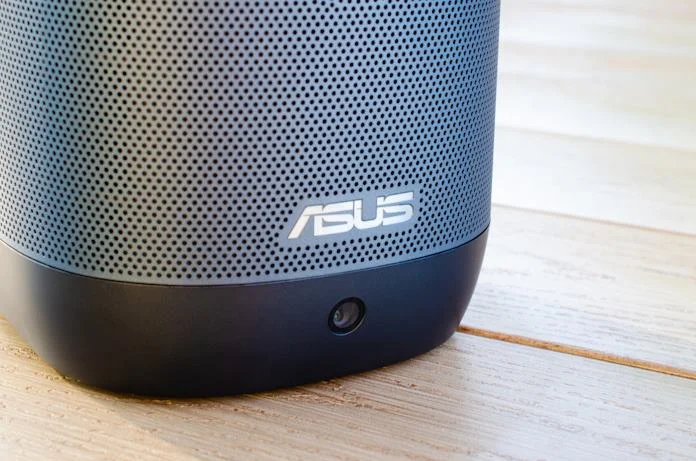 The ZenBeam L2 makes sure that I don't have to fuss with the image settings, either. After I turn the unit on — or after it detects that I've changed its position — it goes through a fast and automatic 3-second process to give me a perfect image. Its embedded focus sensor measures the distance between the projector and the screen and adjusts the focus automatically. The image from a traditional projector looks like a funky trapezoid if the unit isn't positioned perfectly on center, but the ZenBeam L2 corrects as necessary if the projector is positioned at an off angle, applying geometric and four-corner corrections with horizontal and vertical keystone adjustments. It'll even automatically adjust the size of the screen to avoid any obstacles in front of the projection screen.
I can't overstate how convenient it is that the ZenBeam L2 doesn't need to be front and center in order to project an image correctly. Traditional projectors always forced me to place them in the middle of the room, no matter how awkward or uncomfortable that was. I've spent more than one backyard movie night worrying the entire time about kids tripping over the projector. With the ZenBeam L2, I can place it wherever is easiest and most secure and let its automatic corrections take care of the rest.
The ZenBeam L2's versatile connectivity options — more on those in a moment — ensure that I can use the projector with just about any device in my house. Most often, though, I use it for Netflix. The process for loading up a show on this streaming platform couldn't be easier. I point the projector at a wall and turn it on. After its fast automatic image process is done, I tap the Netflix button on the remote and pick a show. With certain models from competitors, I have to navigate a couple interfaces just to get to my latest obsession. The ZenBeam L2 gets me there almost immediately.
Project a bright, colorful image anywhere with the ZenBeam L2
My family is more than a little competitive, so we love to play split-screen games like Mario Kart 8 Deluxe together, especially now that the booster course pass has added a stunning number of courses to the mix. But as large as our living room screen is, I always find myself wishing for something a bit larger when I'm playing a game in split screen mode.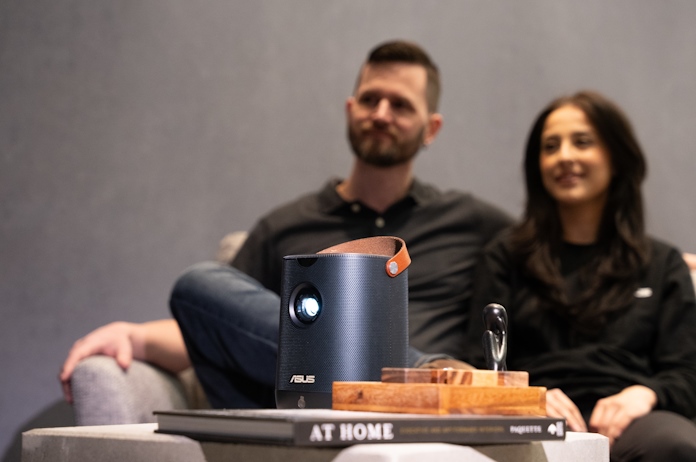 With up to a 120-inch projection size, the ZenBeam L2 gives us the image size we want for gaming on the couch together. Its Full HD resolution is a perfect fit for many gaming consoles, even for devices that output at 4K. That's no hassle for the ZenBeam L2 — it's seamlessly compatible with 4K HDR content, no manual adjustments required.
The first time I sat down to game with ZenBeam L2, I was stunned with the image quality. It offers 960 LED lumens of brightness, making it powerful enough to project a vivid picture even with competing ambient light. Its 120% coverage of the sRGB color gamut means that colors are bright and saturated, perfect for colorful games and media.
A wealth of convenient connectivity options
The ZenBeam L2's selection of connectivity options ensures that I can hook it up to just about any device that I own.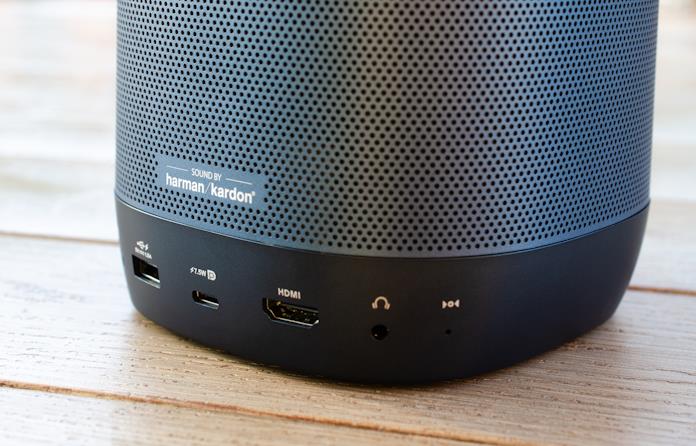 The HDMI port stands ready for gaming consoles, laptops, streaming boxes, and so much more. It has two USB Type-C ports, one for recharging the ZenBeam L2, and one that's wired for accepting a display signal over DP Alt Mode. Should I need to recharge the device that I'm projecting from, I can plug it into the USB Type-A port.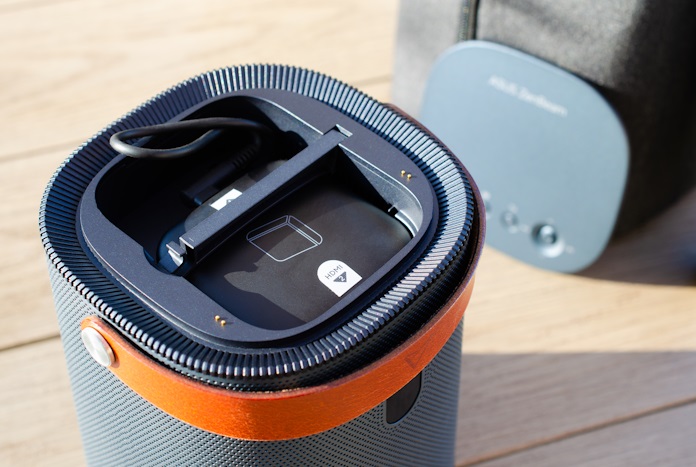 Those are just the wired connectivity options. The ZenBeam L2 lets me ditch the cables for even more convenience. It includes a free Google Certified Android TV box. There's a holder for it cunningly hidden under the top panel. To install it, I simply plug in the Micro USB cable, slide it into place onto the micro-HDMI connector, and secure it with the latch. With the hardware installed, I logged into my Google account and could instantly stream my favorite content through the ZenBeam L2. The included remote control allows for easy menu navigation. Alternatively, I can use the ZenBeam L2's built-in support for Chromecast to use my smartphone or tablet to wirelessly control the content displayed with the projector.
No matter what device I connect to the ZenBeam L2 or what connection I use, this portable projector gives me great audio. For small gatherings, I prefer the convenience of its Harman Kardon-certified 10W speaker. Without any fuss or extra setup, it delivers enough volume and clarity to keep us engaged. The built-in audio jack gives me more options, whether I want to plug in headphones or connect to a larger sound system to keep an entire crowd entertained.
Taking this show on the road
The ZenBeam L2 easily connects to the gaming console and speaker system in my family room to give me an outsized entertainment experience. But it's by no means limited to scenarios with a handy power outlet. Its built-in 65Wh battery opens a world of possibilities for where I might put it to use.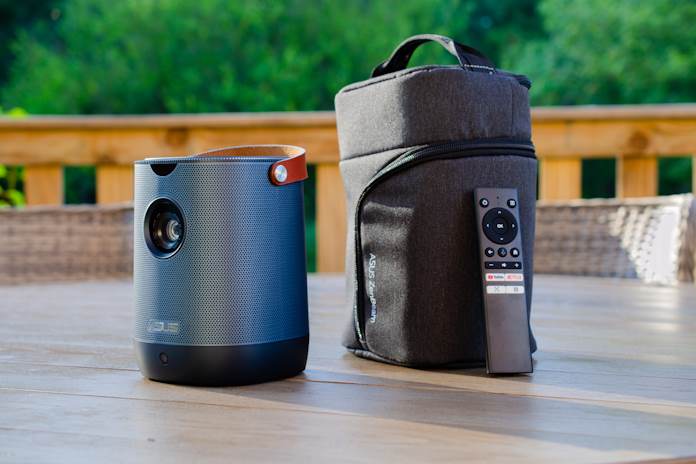 With up to 3.5 hours of projection time in its Battery Low mode, the ZenBeam L2's ready for backyard movie night. I can take it on family road trips. The kids can take it to the playroom to laugh at YouTube and TikTok videos together. I can give a brief presentation to clients or coworkers without making them huddle around my laptop screen. And I don't need a single cable for any of these scenarios.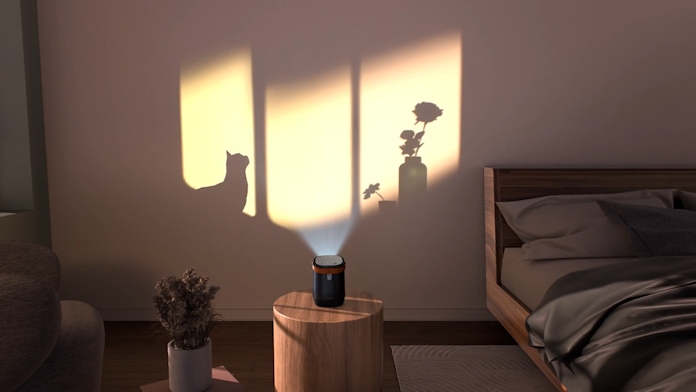 I've also found the ASUS Light Wall feature to be strikingly effective at setting a mood in a room. This integrated functionality gives me 26 built-in content options that turn any wall into a virtual window with colorful effects. On a gray and rainy day, Light Wall gave me a welcome dose of sunshine. It's made a small and cramped room feel more open and comfortable. And it's brought a chill and cozy vibe to spaces where I needed to relax.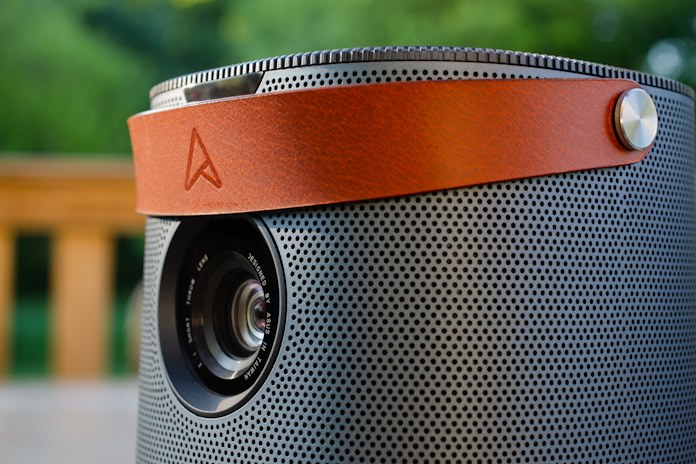 To make traveling easy and safe, the ZenBeam L2 includes a sturdy leather strap attached to the top of the device that lets me carry it with confidence. Additionally, there's a convenient carrying case included in the box that's big enough to hold the projector, its power adapter, and the remote control.
The ZenBeam L2 offers a world of fun in a portable package
Every year, my family goes on a road trip to celebrate New Year's Eve with a family that we've known for years. It gets to be more of a production each year, in no small part because our families have gotten larger. Now that we have two kids and they have four, there's ten human beings under one roof whenever we get together — and that's before we invite any of our adult friends over. To keep everyone entertained, happy, and enjoying time together, we go all out on food, board games, backyard fun, movies, and more.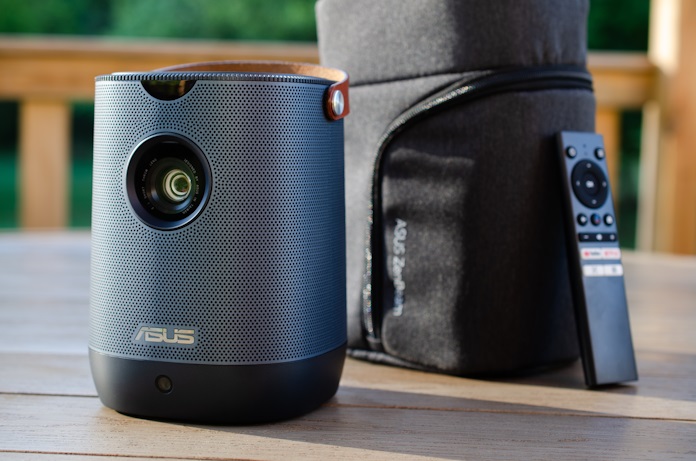 This year, the ZenBeam L2 portable projector is my secret weapon for bringing the fun on our weekend-long holiday trip. This lightweight, compact projector will pack up easily with the rest of our gear, but it'll provide more entertainment options than anything else we bring. With versatile connectivity options and Android TV, it can take the content from any of our devices and put it up for everyone to share. It sets up anywhere I can project an image, even smaller rooms or spaces where I need to project from an off angle. And since it has a high-capacity built-in battery, I can even use it in places without a handy outlet.
If you have a family life like mine, you probably already have a list of ideas for how you could use the ZenBeam L2 projector. Based on my experience of using it for several weeks, I'm confident that you'll keep finding new reasons to pull it out of its included carrying bag. For anyone looking for a portable projector ready to provide a large, bright picture wherever you need it, the ZenBeam L2 offers everything you're looking for. Purchase one of your own to get in on the fun.