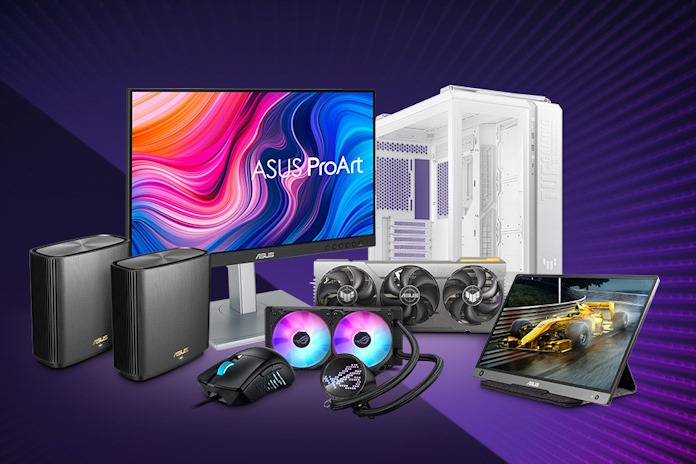 The Linus Tech Expo (LTX 2023) is just around the corner, and we couldn't be more excited. Between the main stage presentations, hands-on experiences, and meet-and-greets with Linus staff and others from the community, it'll be a jam-packed event. You'll find us there on July 29th and 30th in booth #36 with our latest hardware from ROG, TUF Gaming, and ProArt. Drop by to try out our gear for yourself, participate in a wide range of activities, and check out our PC DIY discussions we're hosting with PC World.
But even if you can't make it to the Vancouver Convention Centre for LTX 2023, there's still plenty of ways that you get in on the fun. Read on to learn about our exclusive giveaway for the event, a wide range of hot deals on upgrade-worthy hardware, and a livestream hosted by PC World.
ROG, TUF Gaming, and ProArt make a bold entrance at LTX 2023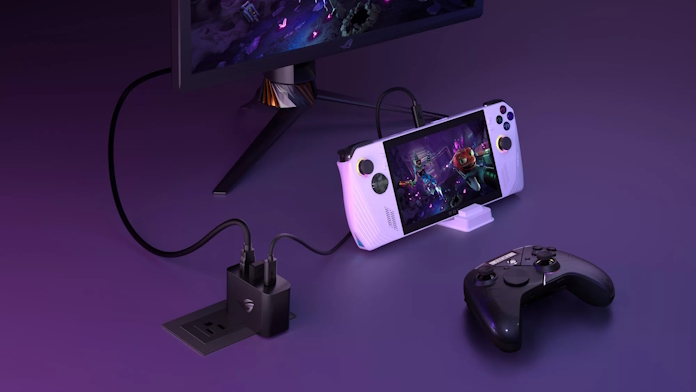 We're packing our booth at LTX 2023 to the brim with our latest hardware for gamers and creators. We have some exciting ROG announcements that we'll share at the event, but not before — apologies for playing it coy. But we'll have a special demo station for the ROG Ally where you can learn what it's like to enjoy couch co-op gaming with this powerful Windows 11 gaming handheld and our very own ROG Raikiri Pro controller.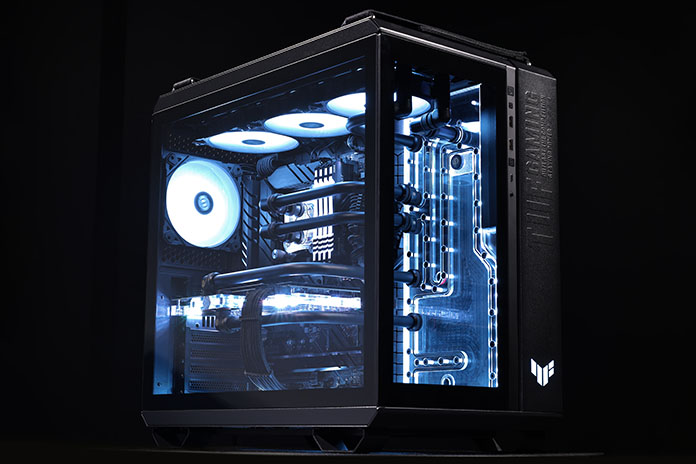 We'll also be showing off our latest solutions from TUF Gaming and ProArt. With their ruggedized, military-themed aesthetic, great performance, and essential gaming features, TUF Gaming components let PC builders everywhere get in the game. Check out how our versatile TUF Gaming GT502 chassis gives you a wide range of options for cooling your build and customizing its look.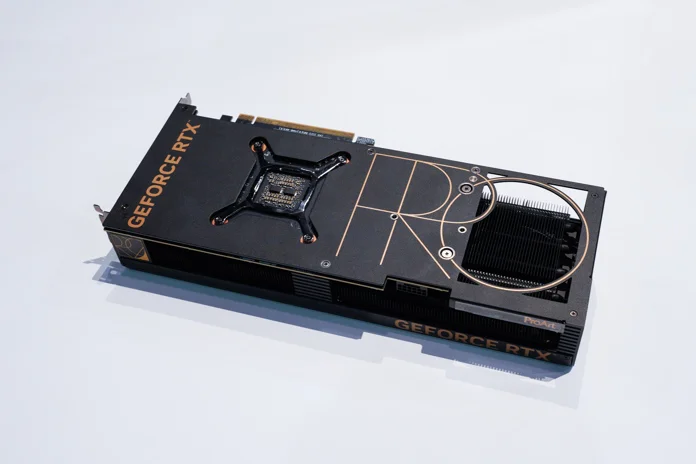 Our ProArt family of displays, laptops, motherboards, and desktop PCs gives creators high-performance, professional-grade equipment ready to empower their creative ambitions. This year, we expanded the family with a new line of ProArt graphics cards laser-focused on the needs of creators. More compact and slim than our gaming-first models, ProArt graphics cards deliver excellent performance in elegant designs.
With a little help from our friends
The world of PC building is constantly changing and evolving. We've teamed up PC World for a series of PC DIY discussions at our booth to cover a wide range of topics related to tech, gaming, and the latest hardware. If you can't make it in person for these discussions, join us online during PC World's livestream.
Just for fun
In and around our booth at LTX 2023, you'll find a wide range of fun activities. In addition to the ROG Ally couch gaming area, we'll have computer stations for you to check out ROG, TUF Gaming, and ProArt builds. A dedicated ROG Ally "Pro Time" demo showcases how you can use the ROG XG Mobile and your favorite ROG peripherals to create a complete desktop gaming experience. We'll also host a scavenger hunt at our booth for attendees — don't miss out on the free giveaway for completing the hunt.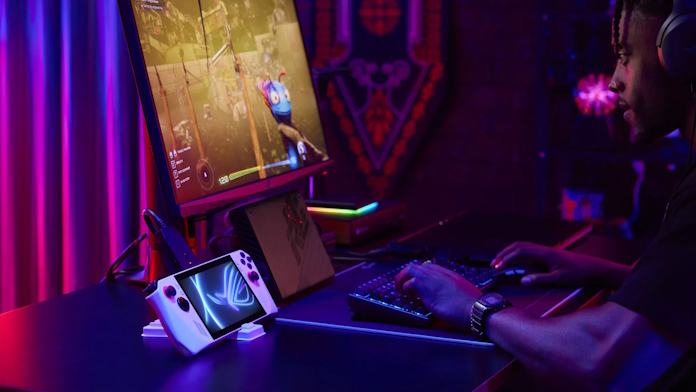 An expo like LTX 2023 is a great time to get competitive. At the event's Midway area, we're going to give attendees a once-in-a-lifetime challenge: use a pile of our motherboards to try and stack the tallest motherboard pyramid of the day. The record holder for each day will win a motherboard at the main stage — on one day, we'll give away the TUF Gaming Z790-Plus WiFi, and the other, we'll give an ROG Strix B650E-F Gaming WiFi to one talented motherboard stacker.
Score some great deals and enter our online giveaway for LTX 2023
We promised to let the folks at home get in on the action, and we're here to deliver. In celebration of LTX 2023, we're giving away a dream ROG gaming accessories package to one lucky winner. This bundle includes the ROG Harpe Ace Aim Lab Edition gaming mouse, the ROG Hone Ace Aim Lab Edition gaming mousepad, the ROG Delta S Animate gaming headset, and the ROG Strix Flare II Animate gaming keyboard. Head over to our Gleam giveaway page for all the details, and don't wait too long — this giveaway won't last forever.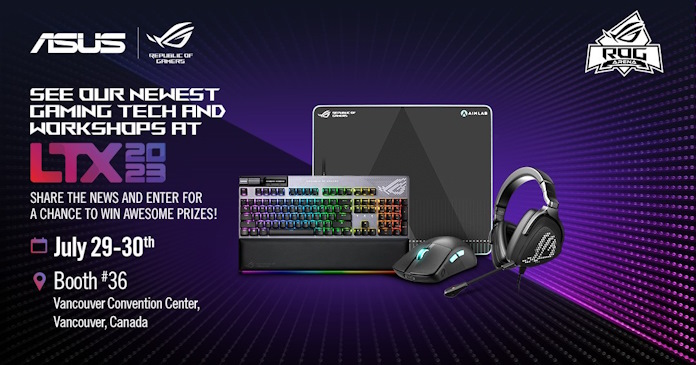 LTX 2023 might have you thinking about an upgrade for your own PC setup. We have a wide range of deals running right now at the ASUS eShop to slake your thirst for new PC hardware. Right now, we're running unbeatable discounts on broad selection of ProArt displays, including the already affordable ProArt Display PA279CRV. This 27-inch 4K monitor gives you a wallet-friendly option with 99% DCI-P3 color gamut coverage and professional-grade color accuracy. We're offering the ROG Phone 6 and ROG Phone 5S at can't miss prices, and if you're building a new high-performance gaming PC, you owe it to yourself to check out the all-new ROG Hyperion chassis.