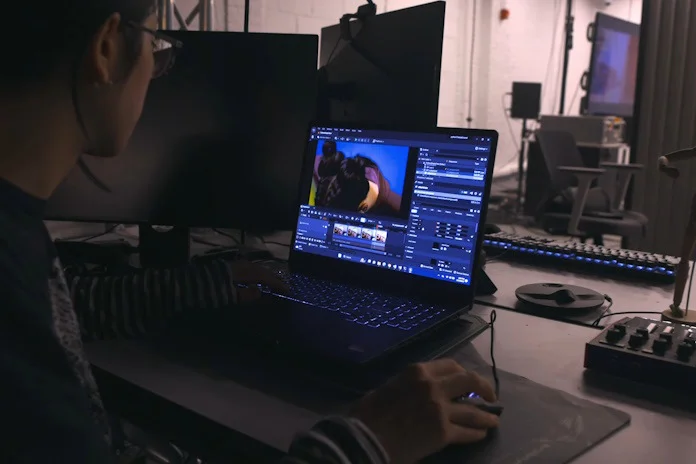 In some ways, the classrooms and laboratories of the Integrated Design and Media (IDM) program at NYU Tandon School of Engineering look like what you'd expect from an engineering school. Students cluster around tables full of powerful laptops, their eyes fixed on industry-standard software tools. High-tech labs offer cutting-edge research opportunities. Yet in other ways, you might be forgiven for thinking that the IDM program at NYU Tandon focuses exclusively on the arts. Students engage in artistic projects using digital media of all kinds, learning how to realize their creative visions using modern tools.
But it's not one or the other — it's both. NYU Tandon's IDM program straddles the worlds of design and engineering to offer students a unique opportunity. It allows them to explore the intersection of art and technology as they experiment with emerging media technologies like virtual reality and volumetric video.
To take their projects all the way from concepts to finalized, professional-grade products, students in the IDM program need specialized hardware that's equally at home in the disciplines of engineering and design. The school found what it needed in our ProArt lineup of laptops, desktops, and monitors. Precision-engineered for professional creators at the bleeding edge of artistic practice, the ProArt portfolio empowers NYU Tandon's IDM students to create without limitation.
Performance and connectivity where they matter the most
For Todd Bryant, the Director of Production of the IDM program at the NYU Tandon School of Engineering, the college's home city plays a large role in what they do. "We're teaching designs to engineers, integrating with all the cultural institutions in New York City, living in New York City, working in New York City," he explained. "It would be criminal to not have an engineering department in support of the arts in New York."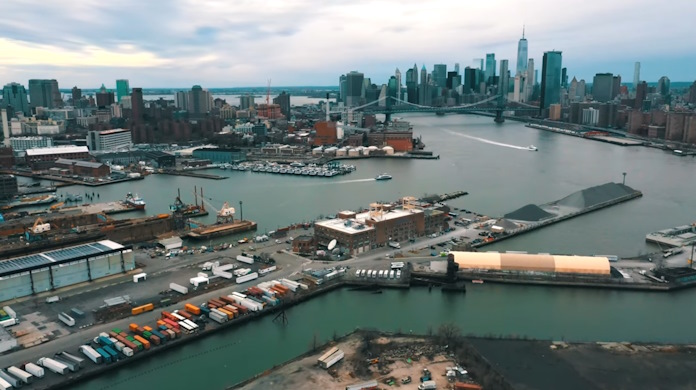 Like the city, the IDM program's student body is quite diverse — and, like the city, fascinated by what's new and what's next in design and technology. Todd said that over half of their students and half of their faculty are women, a very unique situation for an engineering school. "The students are very eager to know what's the next thing that's coming out. They want to make sure they have that on their portfolio, and they want to make sure that they know how to do it well," he said. "We always communicate what is industry standard and what they'll be expecting when they go into the field."
As they prepare to go into the field, the students need to learn to expect more from their everyday laptops. For most of them, the laptops that took them through high school and even their early years in college just weren't sufficient for their new endeavors. "They were working on subpar machinery that wasn't going to prepare them for what computing can do in the real world," Todd indicated.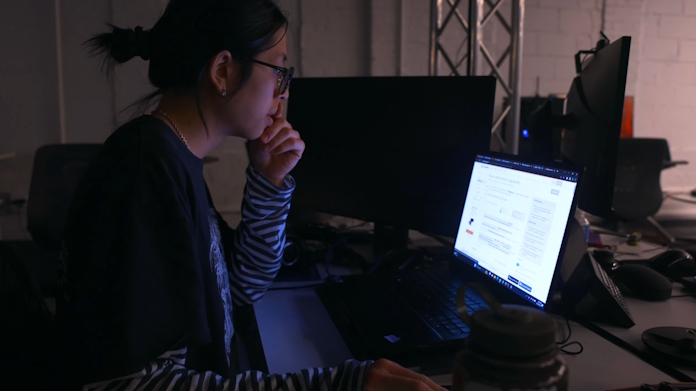 With ProArt Studiobook 16 OLED laptops available to them, all that changes. Equipped with advanced Intel Core processors, NVIDIA GeForce RTX graphics, ultra-fast memory, plentiful storage, and superb I/O options, these creator-focused machines let students do more, no matter where their projects take them. "The students love the portability," Todd explained. "Being able to have the same kind of processing power and graphical power in a portable package? It's unparalleled. They can have a workhorse with them on their back, take it anywhere they want to go, and do their projects."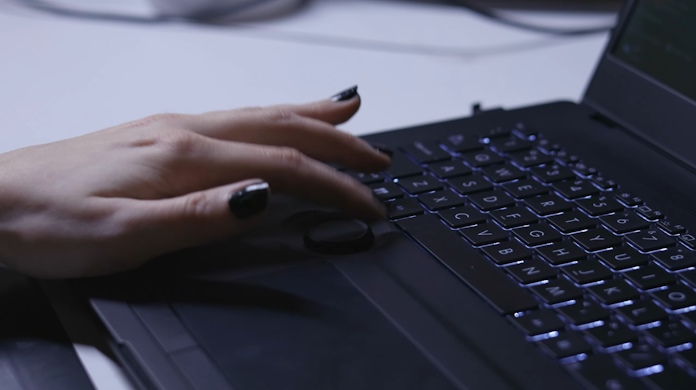 The versatile ASUS Dial boost the students' capabilities even further. Built right into the laptop next to the clickpad, this rotary tool provides quick and intuitive access to functions that creators use all the time in apps like Adobe Premiere Pro and After Effects. "The students find the ASUS Dial very intuitive to use with their non-linear editing," Todd told us. "They use it to scrub their timelines in the playhead."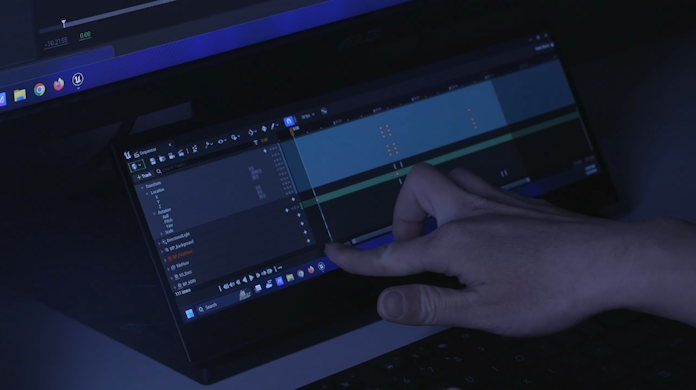 NYU Tandon students are also taking advantage of ProArt portable displays to open even more options for their creative workflows. The ProArt Display PA147CDV, with its 32:9 aspect ratio, is the perfect partner for a student who uses it as his sequencer for his animation project. Another student uses the ProArt Display PA148CTV as a second monitor for his thesis project so that he's able to simultaneously display both a third-person camera and what a user in VR would see. Crucially, he's able to do this on the road, allowing him to work on his project — and show it off — anywhere he goes.
Stepping it up with desktop PC power
The portability of laptops makes them essential pieces of kit for creators, whether for students or professionals. But for their most cutting-edge labs, Todd's students need the exceptional processing power and unparalleled connectivity of a desktop PC. "We just started using the Puget Systems Ryzen X670E ATX with a ProArt motherboard," Todd said. "This system is hot off the press — it didn't exist three weeks ago. We put it to action immediately."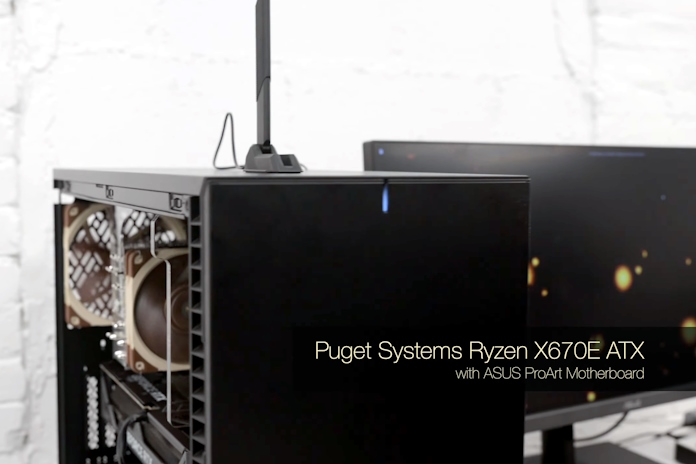 Puget Systems is one of the world's premiere systems integrators for creative professionals, and they put together an incredible PC for NYU Tandon. Armed with a ProArt X670E-Creator WiFi and one of AMD's latest Ryzen 7000 Series CPUs, this beastly machine offers the performance these students need for work in demanding creative apps. It was also ready and waiting to be connected to a large range of monitors, controls, and devices. "It has so many inputs and outputs," Todd indicated. "We can run four monitors very easily off of it should we need to. We have our reference monitor, and we have a very large TV in front of the ride system. We're using all the USB ports in the front for our USB interfaces that are running the 64 channels of audio. The students can run really large projects in real time off of external drives going over USB 3."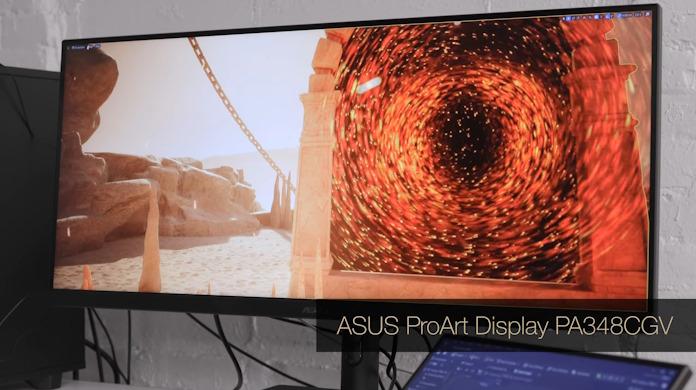 The displays in the lab play a vital role in the students' workflows, both for inspiring their creativity and giving them professional-grade color accuracy to ensure a high-quality end product. "We have the Puget Systems computer connected to the ProArt Display PA348CGV," Todd said. This monitor is factory calibrated and Calman Verified to achieve an average ΔE of less than two so that students can trust it to paint each pixel to perfection. What's more, this display streamlines their workflow with its ultra-wide form factor. "The ultra-wide display allows us to look cinematically into the students' creations. We can put our software anywhere we want to on the screen."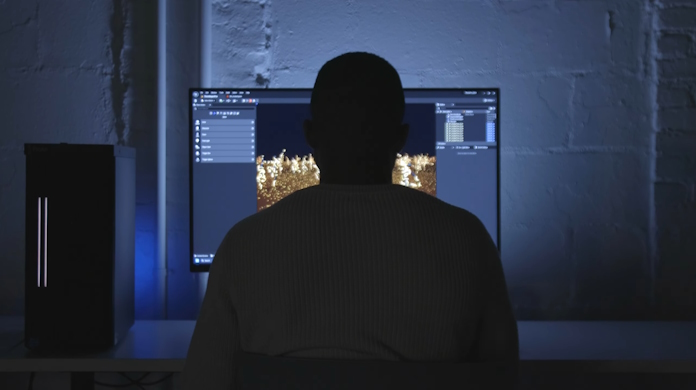 Many of the program's students work on virtual and augmented reality projects, so NYU Tandon has a dedicated station for their XR lab, and it's all powered by ASUS technology. At the heart is the powerful and versatile ASUS ProArt Station PD5 prebuilt desktop PC. One student explained the value of having such a potent machine at his fingertips: "Having that processing power and not having to compile shaders with two minutes of downtime allows me to see the mistakes that I've made, fix them quickly, and get back on course."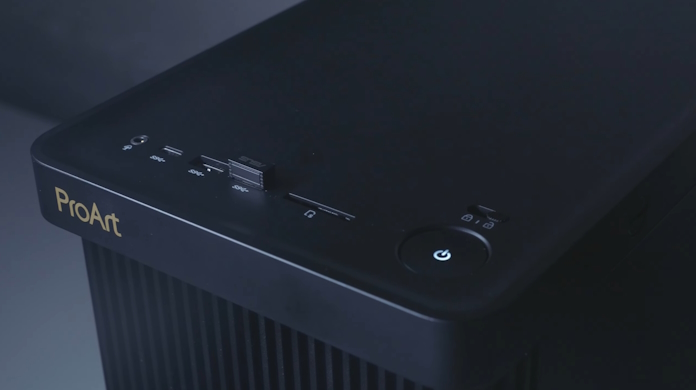 "VR requires a lot of connections, so having all the USB ports in the front made it very easy for us to connect our devices and get everything power and ready to go," Todd said. "We've connected the workstation to a ProArt Display PA328CGV. The students can now look at the virtual worlds at 165Hz." A fast, fluid refresh rate is essential for creators building 3D assets for digital environments. The display's HDR capabilities are proving their worth to the students, as well. "The Calman Verified and factory calibrated screen allows the students' virtual spaces to really pop. The blacks are pure black, and we don't lose everything in the white."
Glorious color for cutting edge video
For NYU Tandon's IDM students, the quality of the ProArt displays came as a revelation. When you work with digital media, you're limited by the ability of your display to reproduce lifelike colors. Many students come to the program used to the limitations of the screens in their laptops. "They didn't realize what color was supposed to look like," Todd told us. "It was an awakening to them. We call it the 'eyes light up' moment. You could see visibly in their eyes the awe and inspiration that these colors are giving them."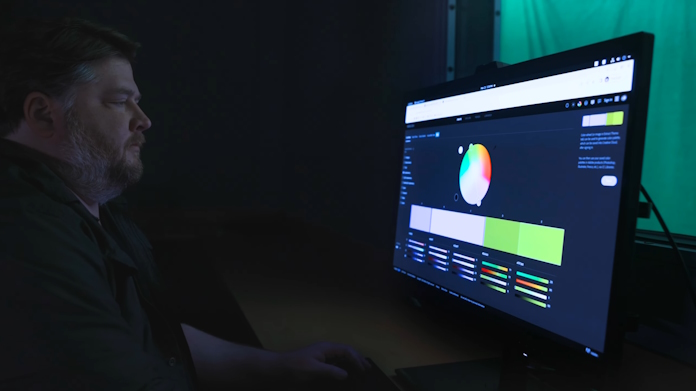 In the school's volumetric video lab, students have access to one of the most prestigious monitors in the ProArt lineup: the ProArt Display OLED PA32DC. Equipped with a stunning 4K OLED panel, this premium display gives creators a large, accurate canvas that's easy to keep at a high level of accuracy with its built-in colorimeter. "Its true 10-bit color depth and million to one contrast ratio provide volumetric footage with true color accuracy," Todd explained. "The flicker-free low blue light technology is a lifesaver for students' eyes when they work late at night and burn the midnight oil."
Creativity and engineering without limits
The Integrated Design and Media program at the NYU Tandon School of Engineering needed a set of hardware with a very exacting list of capabilities. They needed desktop PCs and laptops with high-end performance, wide connectivity options, large pools of RAM, and fast storage arrays. They needed displays with professional-grade color accuracy. And they needed input options that met the needs of students tackling a wide range of content creation projects.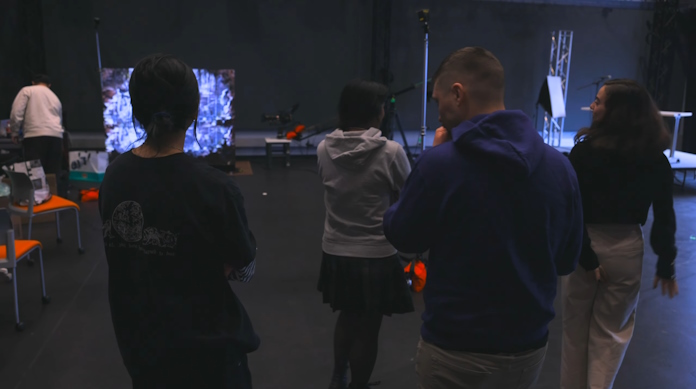 NYU Tandon found what it needed in ProArt desktops, laptops, and monitors, as well as a Puget Systems workstation powered by an ASUS ProArt motherboard, and this set of hardware made all the difference for the students. "It's great to see that they're not being limited by hardware," Todd said. "The products have facilitated them to be able to make their wildest creative dreams come true."
For educational institutions, professional studios, engineering firms, and more, ProArt products deliver an unbeatable combination of features, performance, and sophisticated design. Click here to learn more about the full ProArt family of creator-focused products.