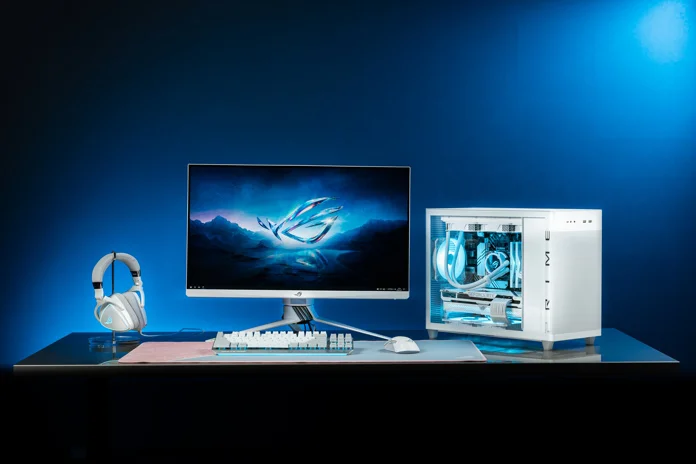 Launched in 2022, the ASUS Prime AP201 chassis gives PC builders a microATX option with a compelling blend of thermal performance, refined aesthetics, and broad compatibility with high-performance hardware. Now, we're ready to expand the family with the ASUS Prime AP201 Tempered Glass edition. This new model boasts industry-leading spatial efficiency, extensive cable management options, and many of the cooling optimizations of the original, and adds one more element to the mix: an unhindered view of your carefully chosen system components.
You'll find the ASUS Prime AP201 Tempered Glass chassis in two variations, one styled inside and out in pristine white, and the other draped in solid black. For a stylish, coordinated look, the included cables are color-matched with the case, whether you pick the black model or the white model. These two color options give you a perfect foundation for building a harmonious PC with a premium look and feel.
Optimized for excellent cooling
Today's PC builders have a wealth of high-performance hardware to consider for their next build. New multi-core CPUs scale uncharted heights, and game-changing graphics cards carve out new performance territory. The ASUS Prime AP201 Tempered Glass case gives you more options for cooling your cutting-edge rig than you might expect from a microATX chassis. With support for 280 and 360mm radiators, this compact enclosure lets you install a potent AIO liquid loop cooled by up to six fans for efficient and effective airflow.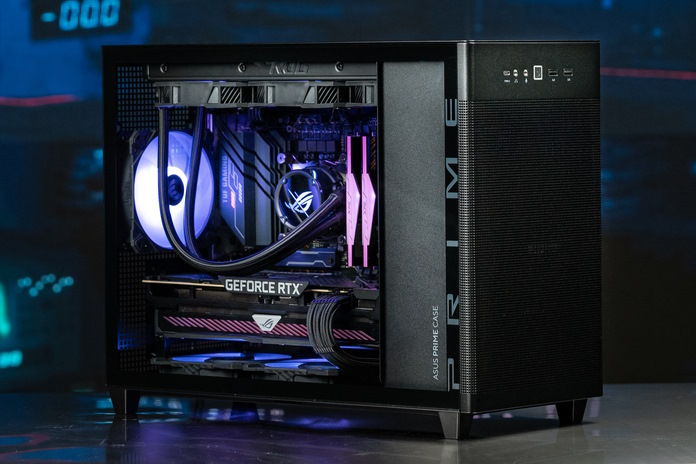 With your internal components on full display, you'll want to keep those parts clean and operating comfortably. To make that easy, we include a large dust filter for the two 120mm fan mounts at the bottom of the AP201. It'll pop out easily when it's time for cleaning.
Tool-free side panels
Some cases on the market, especially barebones budget models, make you wrestle with a row of screws or potentially awkward hinges every time you want to open your case. The ASUS Prime AP201 Tempered Glass edition keeps it simple with a secure clip mechanism for both side panels. They're easy to remove when you want to access the interior of the chassis while still offering substantial resistance to being accidentally dislodged.
Ample space in a compact chassis
Standard ATX and monster EATX cases offer plentiful room for airflow and premium-sized components, but they demand more desktop real estate than many folks prefer. Smaller cases are readily available, but many of them place too many restrictions on the components you're able to install. The ASUS Prime AP201 Tempered Glass version offers the best of both worlds. As a microATX case, it'll keep a low profile on your desk, yet its industry-leading spatial efficiency makes sure that you have plenty of room for a wide range of internal hardware.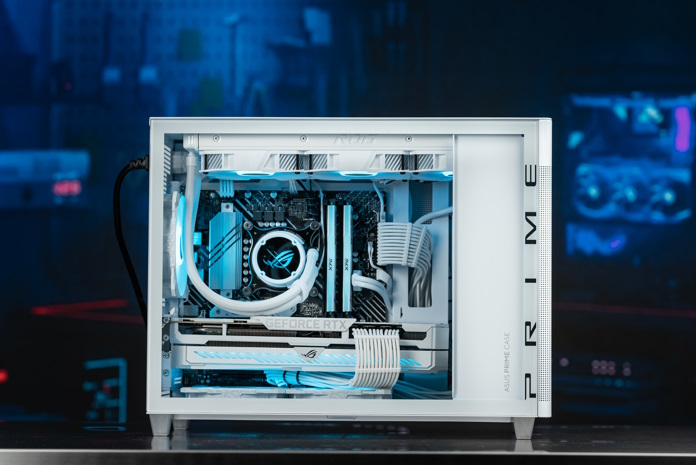 When you're building with the AP201, shopping for a power supply is easy. It supports standard ATX PSUs up to 180mm long. The top panel supports large 360mm radiators, allowing you to get the high-end CPU cooling that you need. There's a surprising amount of space available for graphics cards, as well. With up to 338mm available for your graphics card, the AP201 can comfortably accommodate next-gen units like the ROG Strix GeForce RTX 4070 Ti.
Not only can the AP201 fit all this high-end gear into a compact 33L volume, it also provides ample room for cable management. A 32mm-wide compartment behind the power supply mounts gives you a comfortable space to route cables. Conveniently placed motherboard tray cutouts make it easy to tuck the cords and cables out of sight and create a clean aesthetic for your build.
Great connectivity
So many of today's devices rely on USB Type-C. Through this versatile port, you can recharge devices, send display signals, access high-speed external storage, or connect peripherals like your favorite gaming headset.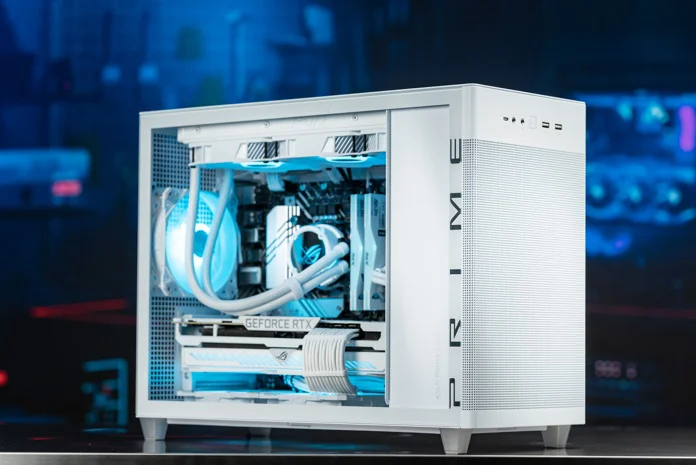 The Prime AP201 Tempered Glass chassis offers a front-panel USB Type-C port, ensuring that all these options are ready to hand. Select a motherboard with the front-panel connectivity you need, and you'll be off to the races. Additionally, there's a pair of USB Type-A ports and jacks for a microphone and headphones, all on the front panel rather than the top — the most convenient arrangement for a desktop PC.
Level up your microATX build
Small doesn't have to mean cramped. The ASUS Prime AP201 Tempered Glass case makes efficient use of its dimensions to offer you the performance, elegance, and convenience that you demand. Its tempered glass side panel offers a head-turning window to your interior components, while the case's all-white or all-black design provides a clean aesthetic. Its petite 33L volume gives it a compact profile while still accommodating full-size graphics cards, large liquid-cooling radiators, and ATX-sized PSUs.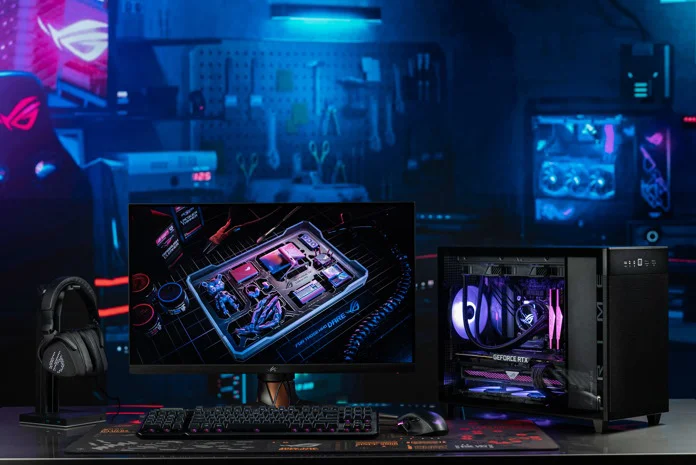 With the addition of this new tempered glass version, the ASUS Prime chassis family now offers a full lineup of microATX case options to PC builders. Whether you'd prefer a version wrapped in our striking quasi-filter metallic mesh or a version outfitted with a tempered glass wide panel, there's an ASUS Prime AP201 case for you. Take your pick of white or black options, and you're ready to build.