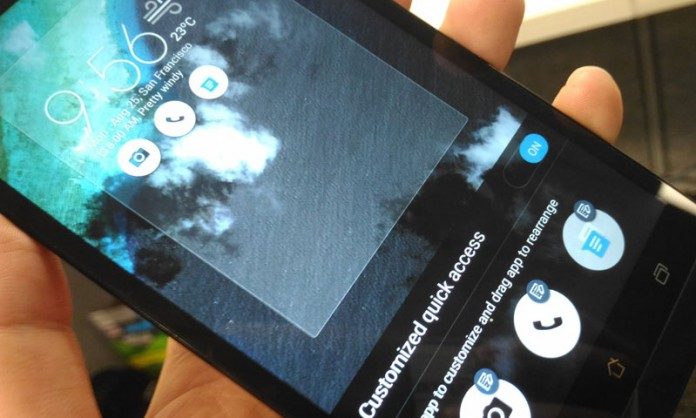 WHAT IS ZENUI, AND HOW DO I USE IT?
So now that you've got an ASUS ZenFone, you'll immediately see a slightly different user interface than you're used to if you're coming from stock Android. ASUS has created a simple and useful customized launcher known as ZenUI and it aims to give you an easier, customizable experience that also keeps you productive. In this article, we'll go through five features that make ZenUI a must-have.
What's Next – Stay ahead of your appointments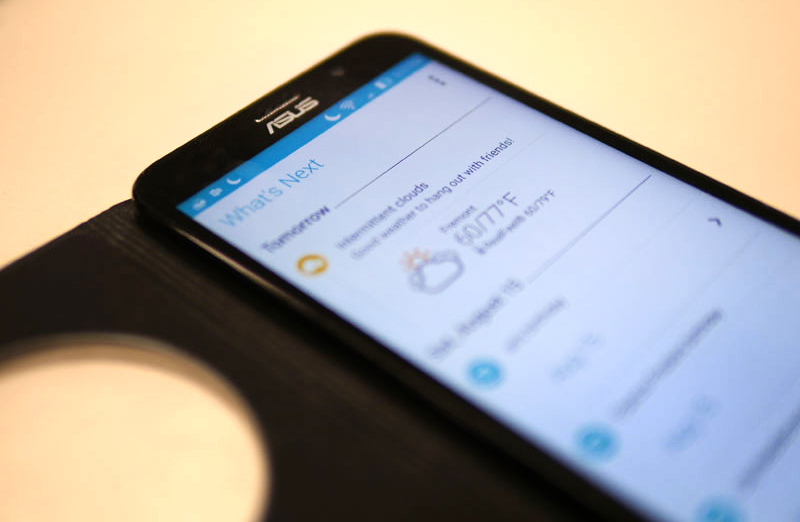 What's Next pulls information from your calendar and the latest weather data to provide a snapshot your next few appointments on your schedule. The widget has a clean interface and is easy to glance at when you're on the go. Here's how to use it:
Enable What's Next by opening the app and going into settings

You can choose to show the weather, vibrate on notifications, and change the reminders based on your time zone

Once enabled, being putting all your appointments into the Calendar app

Head to a blank page, or create a blank one using the pinch-zoom feature

Once you're there, swipe upwards to pull up the "Manage Home" menu

Tap on Apps & Widgets

Tap on Widgets at the Navigation Menu

Slide over until you see the What's Next Widget

Then touch and hold the widget and drag it to the page

You can resize the widget if you wish by pressing and holding on the widget and then dragging the sides
Now, you'll be able to see your next appointments with ease!
Quick Settings Customization – When turning on Airplane Mode ain't fast enough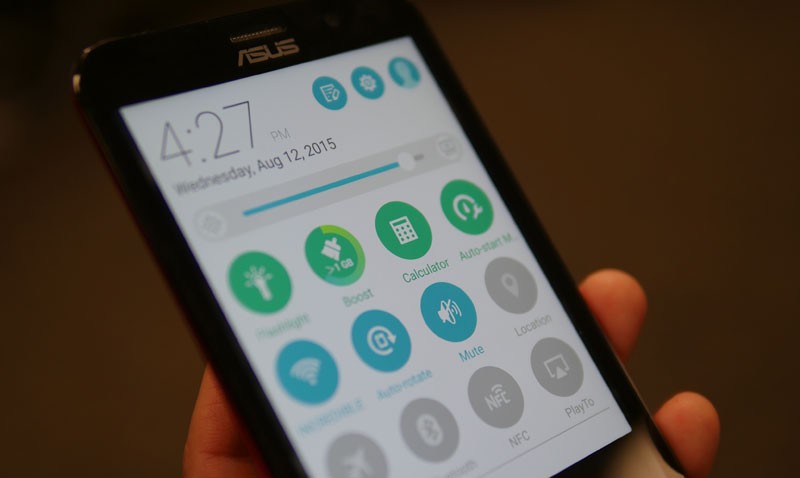 ZenUI allows for a really personalized experience through the quick settings menu. If there are some settings you want to change, or switch out, here's how to do it:
Pull down the notification shade and tap on the settings icon (the gear)

Once, you're in the settings menu, scroll down to "ASUS customized settings" and tap

Scroll down to "Quick Setting Options"

On the right side, you can can drag the settings around until you're happy with the settings that you want featured!

Note: You can have a maximum of 4 pagtools and 12 settings available in the notification area
ZenMotion – Your favorite apps…only a swipe away
Accessing your apps after opening up the lockscreen, tapping on the app drawer icon, and flipping through the different drawer pages to find the app you want might be somewhat of a lengthy process. With your ZenFone's screen off, you can swipe your finger in specific motions to pull up apps that you frequently use. For instance, a "C" gesture will pull up the camera, and an "e" will pull up your email. You can even customize the gestures to open apps of your choice. Here's how:
Go into Settings > ZenMotion (Under the Device Category)

Tap to turn on Touch Gesture

Tap "Touch Gesture" and many options will open up

Scroll down to see the Suspend Mode apps that open up on gesture

Tap them to the "ON" position to enable the gesture

To change the app that opens up, just tap on the app icon currently selected for the gesture and a menu appears with different apps
Now let your phone go idle, and the screen turn off and try those gestures out! Also, in case you didn't already – Enable that double tap to wake feature!
Do it Later – A simple task manager for doing things…later!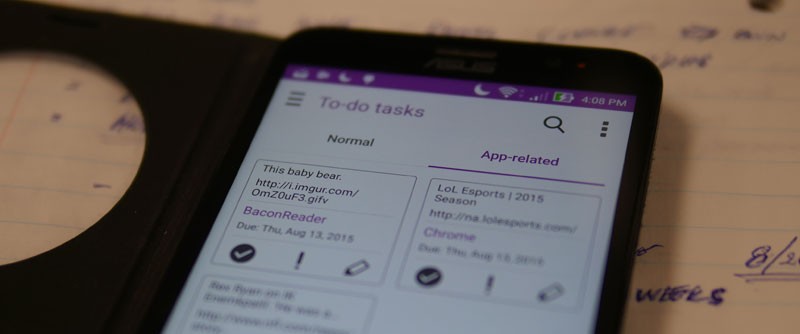 Sometimes when you've got something on your mind that you can't get to, Do it Later can help you save those thoughts and things-to-do and remind you when they're due! You can create your own reminder, or you can save a link to website to read later.
To create a task with a reminder:
Open the Do It Later app

Tap on the + sign at the bottom right corner

Add the summary for your task like "Walk the Dog"

Add any notes if you wish

Tap on the due date to pull up a Calendar and choose the date you want. Hit OK.

Tap on Reminder to add any reminder date and time

You can also choose the importance of the task and it will prioritize them for you
To save a website to read later:
If you're already on a website and you have to finish reading that article later, click on the Menu button for your browser (I will use Chrome in this example)

The Menu button will pop open a window with a Share option

Tap on "Share"

There will be an option to Share using the Do it Later application

Tap on Do it Later

It will automatically add it to your Do it Later list

If you need to check on it, go into the Do it Later application

Tap on "App-related" – You will find your task there

You can also proceed to edit it, add reminders and notes to further customize your task
Snap View – For the James Bond-types…or really just to have one account for work and the other for play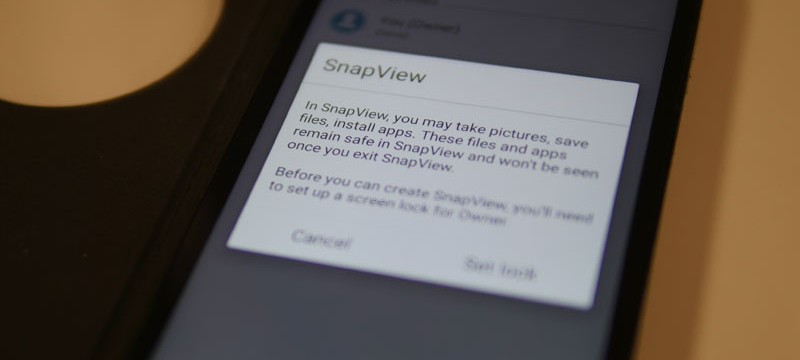 Snap view is by far our favorite feature of ZenUI. It essentially allows you to have two phones in one. If you need a work account, but don't want two phones, you can enable Snap View to allow you to access all your apps and files while in one account, and then switch over to your personal account with just a swipe. The thing about it is that the two accounts are separate and can't access each other. So if you took pictures in while in one account, your gallery in the other account can't see your photos. Here's how to enable Snap View:
Go into Settings and scroll down to Users

Tap and then tap on Add User

Tap on Snap View

A prompt will ask you to set up a Lock on your phone

Choose a pattern, pin, or password – You'll do this for both the Owner and the Snap View

You will then set up your phone again for the new account
Once you're in SnapView, you can then customize the settings to help you distinguish between the two accounts
Access SnapView settings (while you're in that account) by tapping on the Snap View notification in the Notification Shade

Once in the settings, there are different "Visual Hints" that allow you to quickly recognize which account you are in (i.e., Showing avatars on the lock screen or even set an Obvious or Subtle decoration mode)
Those are some of the major features for ZenUI – Take advantage of them to make your lives easier! Now it's your turn – Tell us what your favorite ZenUI feature is and why, or let us know if there are any features you want to know more about! Thanks for reading!