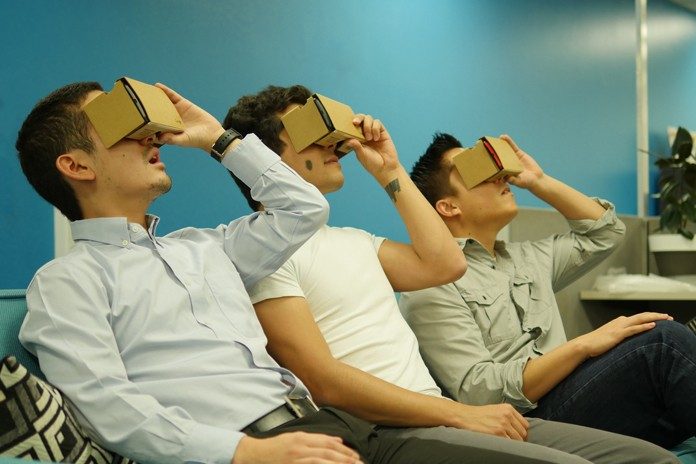 At PAX Prime, ASUS demoed a dozen systems, but the one that always had a massive line was the Virtual Reality machine hooked up to the HTC Vive. VR was a big thing this past year, and it's obvious that it will only get bigger and bigger.
With Google always trying to enhance our experience and making a push it in Education, VR has the opportunity to really take off. Classrooms have integrated Google's Cardboard contraption into their curriculum and made it into a travel portal – taking students and teachers to places they would never otherwise see. The best thing about Cardboard is just how simple and inexpensive the idea is.
THE DEVICE – Remember to wipe that oil from your forehead first…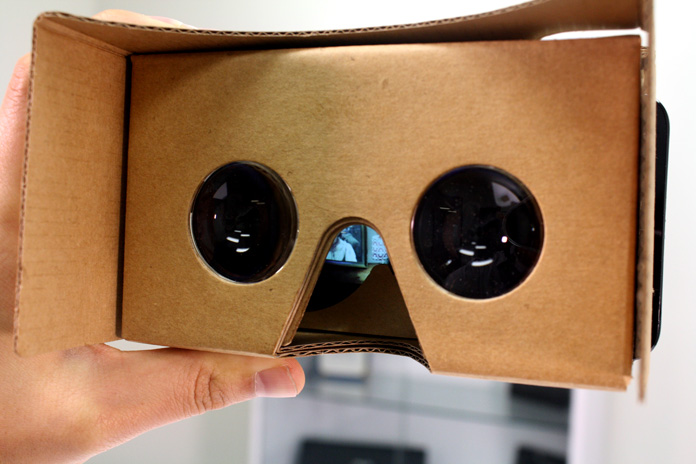 Google Cardboard and the different iterations run about $15, give or take, and you can find one that suits your style here: https://www.google.com/get/cardboard/get-cardboard/
The model we have was straight from "BIG G" themselves and it comes as a simple package. Just open it up by pulling on the top tab, rotate the side panels to cover the lenses, and velcro them into place. Next, once you have your VR content ready to go, place your phone – display facing the lenses – into the holder, and sandwich it into place by affixing the velcro portions from the top tab together.
Pro-Tip: make sure to wipe that oil off of your face first, because it's pretty grimy when you have five other oily-faced coworkers smushing their face against the cardboard. It just soaks the oil up and leaves a nasty looking stain.
THE EXPERIENCE – Moar VR please!
The ZenFone 2 with its 1080p screen and 400+ ppi makes for a pleasurable VR experience. And with a good set of headphones you feel immersed. After downloading some VR-specific apps, and checking out the videos available on YouTube, I proceeded to swim with some dolphins, get creeped out by zombies, and took a trip through our solar system. Not only was this super educational (okay – minus the zombies) it was really fun!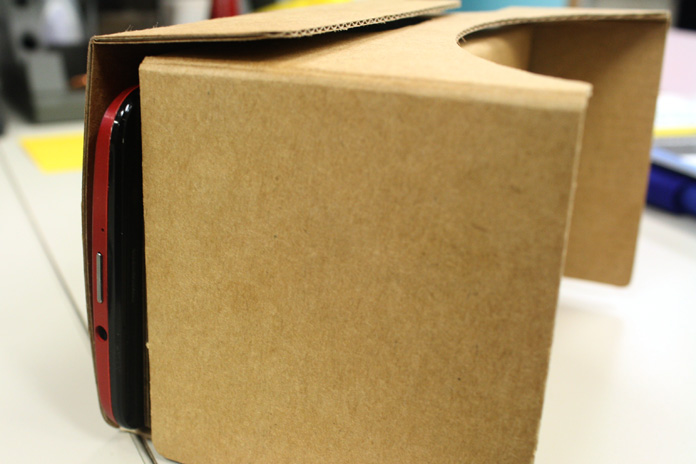 Another good thing about about using your ZenFone 2 with the Google Cardboard set up is that the ZenFone has a great size and fits Cardboard perfectly. Also, because the power button is at the top of the the ZenFone 2, NOT at the side, the power button doesn't get pressed. With other phones, when you close the main flap, it also touches the power button, which shuts it off. That isn't the case here. You can watch VR videos all day without any worry!
So, if you've got kids, or are just a big kid at heart, grab one of these and combine it with your ZenFone 2 for a really unique experience and one that will get you saying, "Wow."