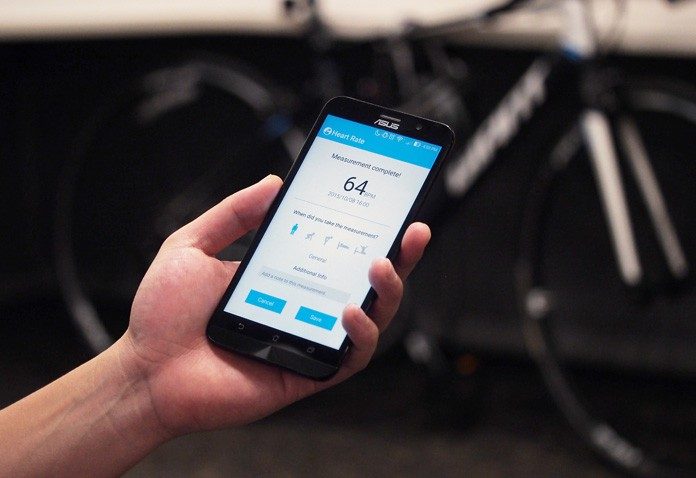 With the announcement and launch of the ZenWatch 2, a smartwatch that is an incredible value starting at $129, it made me think about my own fitness because the watch can track your steps and calories burned. I wanted to also take a look at my heart rate too – that's where my ZenFone 2 came in handy.
"Wait…wut?" You might ask. YES! Your ZenFone 2 can measure your heart rate. The whole process takes less than 10 seconds!
Download the ASUS Heart Rate app
Place your pointer finger on the camera lens
Tap the heart beat icon and wait about 10 seconds
The app will output your heart rate and you can choose to save this in your history and provide some more detail by tapping on the when you took the measurement icons and writing in additional info in the provided field.
I sat at my desk and measured my heart rate three times, each resulting in 64bpm. I then tried some mountain climbers for about 10 seconds and measured my heart rate again, thinking, okay it probably won't go up THAT much. Lo and behold, my heart rate was at 105bpm! Check out the GIF.
Although the ZenWatch 2 doesn't feature a heart rate monitor, it does track some different fitness metrics and the ZenFone 2 can compliment it by allowing you to measure your BPM through the Heart Rate application in the Google Play Store. It's a great tool for those of you who just need an easy way to track your health without purchasing an extra device.
Note: This will only work with phones that have a flashlight feature because it measures the differences in color (assuming blood flow here) in your fingertip and correlates that to heart beats.
Of course, this doesn't really replace a doctor's expertise or a cuff, but it can help give an indication of your health. Try it out and let us know how accurate you think it is!