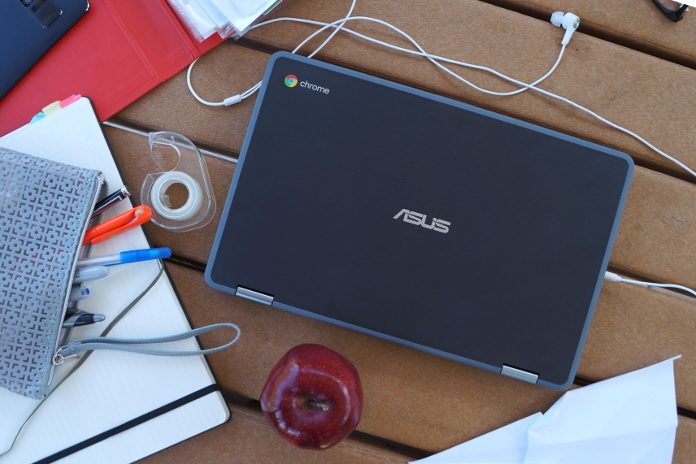 Every year is the same: just when you're getting used to iced coffee, cold beer, and the smell of sunscreen, September appears on the horizon, ready to wash in with the next tide. Early mornings and groups projects are still a ways away, but trust us when we say it's better to get your prep out of the way now, so you can enjoy the remaining weeks of freedom.
Among the essentials for another year of enrichment is a laptop that will see you through finals and the Netflix binges that make those all-nighters bearable. Shopping for a computer is a bit like choosing a major. It's easy to get caught up in what everyone else is doing and forget about what it is that you really want. Some students will need a laptop portable enough to take to class but powerful enough to play games, while others will be able to do all their work with just a $200 Chromebook. Every student's needs are a little different, but we've got plenty of options for everyone. Whether you're looking for sleek laptop that moonlights as a sketchbook, or a professional notebook that will stay with you after you graduate, this guide will set you up for success for the year ahead.
Whole lotta laptop love
If you've already narrowed the list down to a regular notebook as opposed to a 2-in-1, tablet, or Chromebook, you're halfway there. While priorities on price, performance, and portability are going to vary from person to person, all of these notebooks make for excellent study buddies. They're light, have beautiful displays and comfortable keyboards, and easily run desktop productivity apps like Word, Powerpoint, and Excel. With the essentials taken care of, we've got options for everyone, from the commuting grad student to the gamer who won't have room for their desktop PC in a cramped dorm room.
Refine your style with the Zenbook UX330
The 13" ZenBook UX330 is perfect if you're looking for a lightweight, stylish laptop to accompany you to class, coffee shops, and on trips home on the weekends. Weighing in at just over 2.5 lbs and measuring only 13.5 mm thick, the UX330 easily slots into a backpack or tote bag. The elegant spun-metal finish on the lid is eye-catching without being too flashy and comes in a soft Quartz Gray.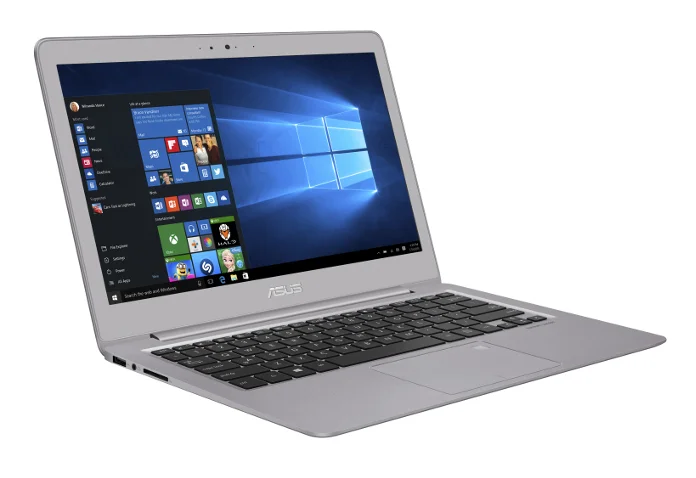 Based on a dual-core Core i5-7200U processor with Intel HD 620 graphics, along with 8GB of RAM and a 256GB SSD, the UX330 is plenty powerful for classwork as well as any browsing or streaming you do in your free time. A backlit keyboard makes late-night productivity as comfortable as possible, and integrated dual band 802.11 a/b/g/n/ac ensures you can connect to the web and upload assignments from anywhere. The array of ports includes USB-C, a Micro SD card reader, and Micro HDMI for when you want to hook your computer up to a projector or external monitor.
Priced at $699 USD, even the baseline UX330 has a full HD display with wide viewing angles and an anti-glare coating. Shoppers in the US have the option of upgrading to a QHD+ display for just $80 more. Canadian shoppers have the option of either a Core i7 model for $1299 CAD, or a Core M3-7Y30 configuration for just $899 CAD.
ZenBook UX330UA-AH54
ZenBook UX330UA-AH5Q
ZenBook UX330UA-DS74
ZenBook UX330CA-RHM1-CB
CPU
Dual-core Intel Core i5-7200U 2.5GHz (Turbo up to 3.1GHz), four threads via Hyper-Threading
Dual-core Intel Core i7-7500U 2.70 GHz (Turbo up to 3.5Ghz), four threads via Hyper-Threading
Dual-core Intel Core M3-7Y30 1GHz (Turbo up to 2.6GHz)
GPU
Intel HD 620
Intel HD 615
Display
13.3", 178° viewing angle
Resolution
Full HD 1920 x 1080
QHD+ 3200 x 1800
Full HD 1920 x 1080
Full HD 1920 x 1080
Memory
8GB DDR3
16GB DDR3
8GB DDR3
Storage
256GB SSD
512GB
256GB
Networking
802.11ac Wi-Fi with 2x2 antenna
Connectivity
2 x USB 3.0
1 x USB 3.1 Gen1
1 x Micro HDMI
1 x SD card reader
1 x Audio combo
Battery
57Wh
Weight
2.6 lbs
Dimensions
8.7" x 12.7" x 0.5"
OS
Windows 10 (64-bit)
Price
$699 USD

$779 USD
$1299 CAD
$849 CAD
Availability (USA)
Amazon
Amazon
N/A
N/A
Availability (Canada)
N/A
N/A
Canada Computers
Memory Express
NCIX
Amazon
London Drugs
Newegg
Visions
Amazon
Staples
Best Buy
Memory Express
The Source

Go semi-pro with the VivoBook Pro N580
The VivoBook Pro N580 kicks things up a notch with a powerful quad-core CPU and discrete graphics while still keeping the scales below 5 lbs. Under the hood, you'll find Intel's Core i7-7700HQ quad-core CPU along with 16GB of RAM and NVIDIA's GeForce GTX 1050 GPU. If you're doing photo or video editing as part of your classwork, you'll appreciate the GPU acceleration that the GTX 1050 brings to the table, especially when working on more complex projects. The 15.6″ full HD display offers 100% sRGB coverage and enough detail for photo editing without the need to connect to an external monitor, although a full-sized HDMI port is on hand if you want to use the fancy 30″ 4K displays in the computer lab.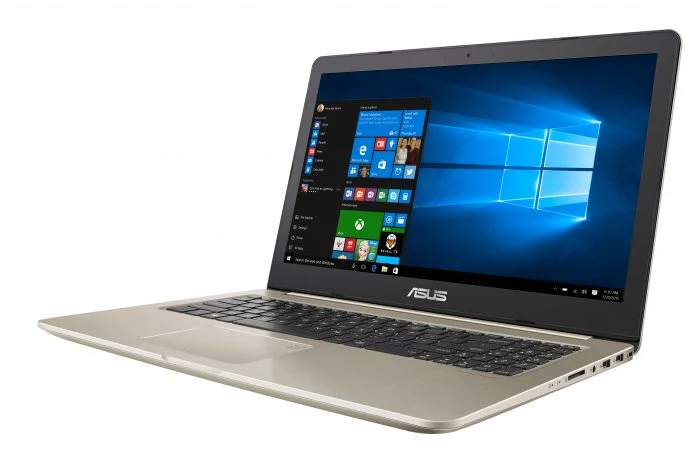 For students more interested in gaming than content creation, this laptop packs enough power to scratch the itch. It's not designed specifically for gaming (check out the GL502 a little ways below if you're looking for a proper gaming laptop), but its GTX 1050 GPU still plays most titles on medium or higher details. If you want to keep up with the latest blockbusters, the VivoBook Pro will get the job done, and less demanding but popular games like Overwatch and Rocket League will run very well. A 512GB M.2 SSD ensures fast boot and load times, but there's also support for 2.5" drives, so you can add more storage and not worry about uninstalling programs or moving old files to the cloud en masse. Dual-band 802.11ac WiFi ensures you'll be able to connect to wireless networks on the 2.4GHz band as well as the less crowded 5GHz band, and a Gigabit Ethernet port serves as backup wired access when the library internet is creaking under the pressure of finals week because everyone is frantically downloading lecture notes from Moodle and procrastinating on Netflix.
The VivoBook Pro N580 is priced at $1299 USD or $1699 CAD and will be available later this month.
VivoBook Pro N580
CPU
Intel Core i7-7700HQ,
2.8 GHz (6MB cache, up to 3.8 GHz)
GPU
NVIDIA GeForce GTX 1050 2GB
Display
15.6" Wide View touchscreen
Resolution
Full HD 1920 x 1080
Memory
16GB DDR4 2400MHz
Storage
512GB SSD
Networking
802.11ac Wi-Fi with 2x2 antenna
Connectivity
2 x USB 2.0 Type-A, 1 x USB 3.0 Type-A, 1 x USB 3.1 Gen1 Type-C, 1 x audio jack combo, 1 x full-sized HDMI 1.4, 1 x SD card reader, 1 x Gigabit RJ-45LAN

Dimensions
14.96" x 10" x 0.75"
Weight
4.9 lbs
OS
Windows 10 (64-bit)
Price
$1299 USD
$1699 CAD
Availability (USA)
Amazon
Mobile Advance
Excaliber PC
Newegg
Availability (Canada)
NCIX
Canada Computers
Best Buy
Excellence on a budget with the VivoBook S510
For the budget conscious, the VivoBook S offers a sleek design with Intel's latest generation of Core i5 and Core i7 U-series processors humming under the hood. A brushed aluminum lid shines in champagne gold, highlighting the slim 17.9-mm silhouette. The vivid 15.6″ display has a matte coating to cut the glare from fluorescent classroom lights, and super-thin bezels keep the laptop as compact as possible without sacrificing screen size. The VivoBook's ultrabook-class Kaby Lake processor works in tandem with Intel HD 620 graphics and 8GB of RAM to offer enough muscle for desktop productivity apps like Word, Excel, and Powerpoint. Gamers can take a break from homework with classics like CS:GO and Rocket League, and, of course, that matte screen is awesome for chilling out with some Netflix or Hulu.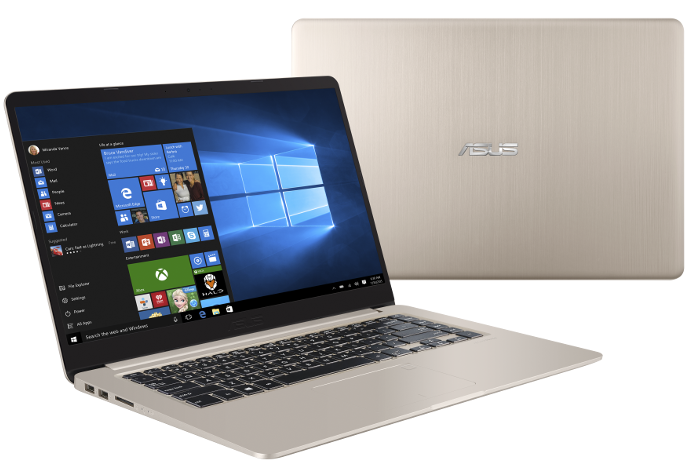 A full suite of ports, including a reversible USB 3.1 Gen 1 Type-C, one USB 3.0 Type-A, and two USB 2.0, offers myriad options for removable storage, though the VivoBook S ships with a minimum of 1TB of internal storage, so you don't need to rely on external thumb drives. If you need more screen real-estate, a full-sized HDMI port is on hand for easily connecting to an external monitor, projector, or even your TV, with no dongle required.
The entry-level VivoBook S is priced at $699 and $1049, though if you want to boost performance, another configuration with a faster Core i7 CPU and M.2 SSD costs just a hundred bucks more in the US or $200 more in Canada. Read all about how the VivoBook S handles day-to-day here.
S150UA-DB71
S510UA-RB51
CPU
Intel Core i5-7500U, 2.5GHz (4MB cache, up to 3.1GHz)

Intel Core i7-7500U, 2.7GHz (4MB cache, up to 3.5GHz)

GPU
Intel HD 620
Display
15.6" non-reflective matte, wide view
Resolution
Full HD 1920 x 1080
Memory
8G DDR4 2133MHz
Storage
1TB 5400RPM HDD
1TB 5400RPM HDD + 128G M.2 SSD
Networking
802.11ac Wi-Fi with 2x2 antenna
Connectivity
1 x USB 3.1 Gen1 Type-C, 2 x USB 2.0 Type A,
1 x, USB 3.0 Type-A, 1 x audio combo jack,
1 x full-sized HDMI, 1 x SD card reader, Bluetooth 4.2

Battery
42Wh
Dimensions
14.2" x 9.6" x 0.7"
Weight
3.5 lbs
OS
Windows 10
MSRP
$699 USD
$949 CAD
$799 USD
$1049 CAD
Availability USA
ASUS
Newegg
B&H
ABT
Mobile Advance
Amazon
B&H
Computer Upgrade King
ABT

Availability Canada
NCIX
Newegg
Amazon
Canada Computers
London Drugs
Memory Express
Newegg
Best Buy
The Source
London Drugs
NCIX
Canada Computers
Add gaming to your curriculum with the ROG Strix GL502VS-DS71
You're supposed to be at school to learn, but that doesn't mean you can't have some fun on the side. The ROG Strix GL502VS-DS71 lets you maintain your hardcore gaming habit with a powerful laptop that's still thin and light enough to take to class. Created by our Republic of Gamers division with an eye toward competitive esports, the GL502VS combines potent NVIDIA GeForce GTX 1070 graphics with an ultra-fast 15.6″ 120Hz G-Sync display to deliver an impeccably smooth gaming experience with low input lag and no visual tearing. The GPU and 1080p resolution are perfectly aligned for true 120-FPS gameplay.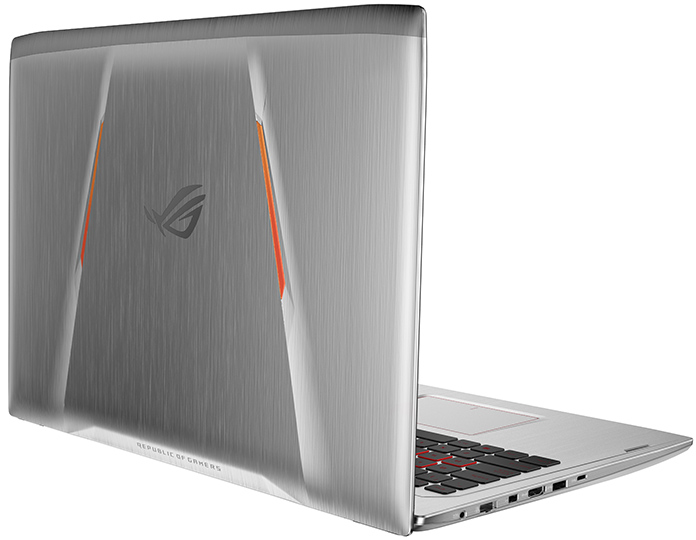 Completing the desktop-like experience is an Intel Core i7-7700K processor packing quad cores and eight threads. The CPU blitzes the conventional workloads required by most classes, and its accompanying 16GB of RAM keeps things running smoothly even with heavy multitasking. The GPU and its own 8GB of dedicated video memory are available to accelerate content creation, rendering, and other demanding computation. Add a 128GB SSD with quick load times for both games and applications, plus a 1TB HDD with copious mass storage, and you've got a well-rounded machine for both work and play.
The keyboard straddles the line between practicality and gaming, offering a numpad for efficient numerical entry, anti-ghosting tech for precise input, and backlighting to illuminate late-night study sessions and gaming binges. You also get enough ports to connect VR headgear and sensors, Gigabit Ethernet for serious LAN gaming, and a DisplayPort out for a dorm monitor. If you're looking for one laptop that does everything, the GL502VS-DS71 has a great all-around spec for $1699 USD and $1999 CAD.
Graduate to the ASUSPRO B9440
You need a dependable workhorse when it's time to buckle down, making our business-oriented ASUSPRO B9440 ultraportable laptop uniquely appealing. Its 14″ IPS-type display offers an expansive workspace with a matte coating that minimizes glare, and slender 5.4-mm bezels make the screen feel even larger while squeezing everything into a compact 13″ footprint. At just 14.8 mm thick and 2.3 lbs, the lithe magnesium body neatly tucks under your arm between classes. Thanks to the extra grip provided by its hinge, you can also hold it open easily with one hand.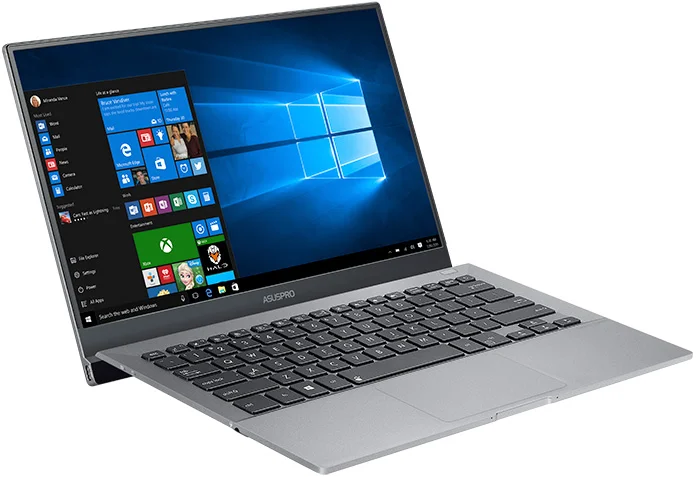 The kicked-up hinge sets the inputs at a comfortable, desktop-like angle for maximum productivity. With full-sized keys, great tactile feedback, and adjustable backlighting, the keyboard is the perfect partner for your last-minute term-paper crunch. It's spill-resistant, too, should caffeine jitters or rowdy roommates cause any mishaps. The B9440 has passed 10 industry-standard MIL-STD 810G durability tests, so it's ready to withstand the rigors of campus life.
All of the most important features are present, from fast-charging that takes the battery to 50% in 30 minutes, to fingerprint authentication that logs you in almost instantly. The well-balanced combination of a Core i5-7200U dual-core CPU with 8GB of RAM and a 512GB SSD ensures snappy all-around performance, and we include a dongle that adds full-sized HDMI and Type-A USB to the dual Type-C ports in the chassis. The only absentee is a webcam, which you were going to put a sticker over anyway. An exceptional machine for serious students, the ASUSPRO B9440 is surprisingly affordable at $999in the USA and $1299 in Canada. Don't miss the full B9440 story, which is already live on EdgeUp.
B9440UA-XS51
CPU
Intel Core i5-7200U 2.5/3.1GHz
GPU
Intel HD Graphics 620
Display
Narrow-bezel 14" IPS-type
Resolution
Full HD 1920 x 1080
Memory
8GB LPDDR3
Storage
512GB SATA M.2 SSD
Networking
802.11ac Wi-Fi with 2x2 antenna
Connectivity
2 x Type-C USB, 3.5-mm audio, Bluetooth 4.1
Battery
4-cell 48Wh
Dimensions
12.6" x 8.5" x 0.58"
Weight
2.3 lbs
OS
Windows 10 Pro
MSRP
$999 USD
$1299 CAD
Availability (USA)
ASUS Store
Amazon
Adorama
B&H
Availability (Canada)
Best Buy
Newegg
Canada Computers
Memory Express
NCIX
No-compromise convertibles
Laptops are pretty much a given in the classroom nowadays, but tablets are a common choice for lots of students thanks to the increasing popularity of ebooks and the ability to annotate and take notes in the margins. Nothing can really replace a pen and paper when it comes to note-taking, though very few students would opt for crippling hand cramps and a legal pad over a nice comfortable keyboard and Microsoft Word. Still, the ability to annotate and draw diagrams is a must for some types of classwork, and some courses and schools (like Virginia Tech's College of Engineering) even have an active digital ink requirement. Convertibles, or 2-in-1s, offer the best of both worlds in a single device, and allow you to handily switch between tablet and laptop mode as needed. In the market for a regular laptop that can handle touch-based input in tent mode? Perhaps you're looking for something with a more precise active stylus? We've got both, and even a convertible Chromebook if you're hell-bent on playing Angry Birds between classes (you can check that out in the Chromebook section of this guide).
Unleash your creativity with the Transformer Pro T304
2-in-1 doesn't fully capture the Transformer Pro T304. Capable of effortlessly switching between notebook, touchscreen tablet, and stylus-equipped notepad, it's a true triple threat ready for a wide range of subjects. Everything from physics to art to brainstorming can benefit from the active stylus, which tracks smoothly across the 12.6″ screen. With a sharp 2160×1440 resolution, vivid colors, and wide viewing angles, the IPS-type display makes a great notepad, sketchbook, and whiteboard. When you need some downtime, the stepless hinge props it up for entertainment everywhere from shallow shelves to cluttered desks.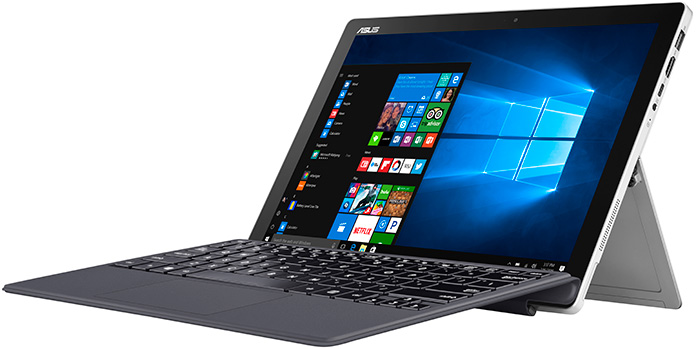 Intel's Core i7-7200U processor delivers dual cores and four threads that make quick work of day-to-day classwork and artistry. There's enough horsepower for casual gaming and light video editing, too. The Transformer's versatility also extends to connectivity, which includes HDMI, Micro SD, and both Type-A and Type-C USB. You don't need to mess with dongles to connect a thumb drive or overhead projector, both staples of school life. And you can quickly recharge between classes, taking the battery from zero to 60% in only an hour.
Unlike some other convertibles, the Transformer Pro T304 includes an active stylus and keyboard cover, so you're ready to go right out of the box. It's remarkably affordable, too, starting at $999 USD for the base model with 8GB of RAM and a 256GB SSD. A second configuration doubles the memory and storage while adding Windows 10 Pro for $1399.99. Canada gets a special version that blends the entry-level spec with Win10 Pro for Canada Computers.
T304UA-XS74T
T304UA-DS71T
T304UA-P72S-CA
CPU
Intel Core i7-7500U (Dual-core up to 2.7GHz, 3.5GHz Turbo)
GPU
Integrated Intel HD Graphics 620
Display
12.6" IPS-type touchscreen
2160x1440 @ 206 PPI
Memory
16GB LPDDR3
8GB LPDDR3
8GB LPDDR3
Storage
512GB M.2 SSD (SATA)
Micro SD slot
256GB M.2 SSD (SATA)
Micro SD slot
256GB M.2 SSD (SATA)
Micro SD slot
Networking
802.11 ac Wi-Fi with 2x2 antenna
Connectivity
Bluetooth 4.1, USB 3.1 Type-C, USB 3.0, HDMI 1.4, 3.5-mm audio
Camera
8MP rear, 2MP front
Battery
39Wh
Dimensions
11.7" x 8.2" x 0.3"
Weight
1.85 lbs
OS
Windows 10 Pro
Windows 10
Windows 10 Pro
MSRP
$1399.99 USD
$999 USD
$1399 CAD
Availability
Costco
ASUS Store
Canada Computers
Amazon
Newegg
Staples
Memory Express

Embrace change with the ZenBook Flip UX360
If don't need the precision of the Transformer Pro's active stylus, the ZenBook Flip UX360 offers the same flexibility in form-factor with a full HD display that works with the kind of stylus that's impossible to lose: your finger. That's not to say the Flip is any less serious of a device, though. The UX360 features an Intel Core i5-7200U processor with Intel HD 620 graphics, which is enough for Photoshop and Lightroom. It's also available with a Core M-36Y30, which knocks $150 off the price. The Core i5 model ships with 256GB of storage, while the Core M version can be configured with up to 512GB of SSD storage, which is plenty of room for all of your files as the semesters march on.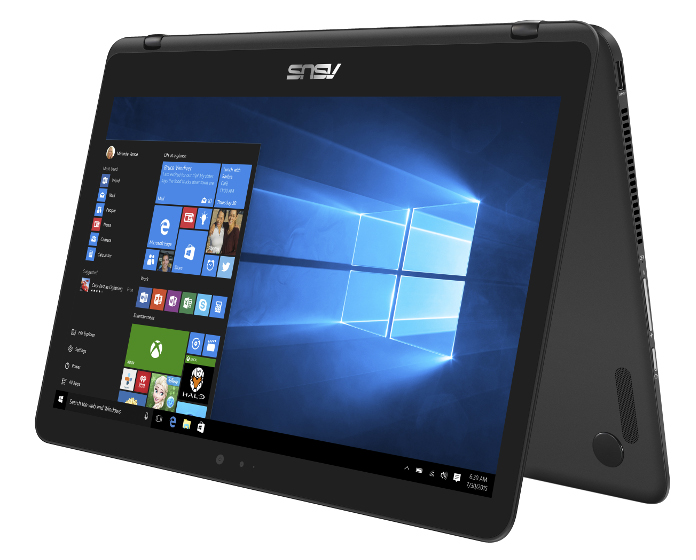 The Flip weighs in under three pounds and measures just half an inch thick, so it's not a tablet in name only. It's light enough that you can actually fold back the keyboard and hold it like a tablet without spraining your wrist. The 360° hinge allows for traditional laptop and tablet modes, but also tent mode and stand mode. The obvious use for tent mode is watching movies or streaming video, but it's also great when chatting over video or presenting to a group. Just flip the screen around and hit play on the keyboard.
The Core i5 version of the UX360 comes with 8GB of storage and a 256GB SSD for $899 USD and $1249 CAD. The Core M model is available for $749 USD or $999 CAD. Check the table below for retailers selling the UX360 in the USA and Canada. For a more in-depth look at life with the ZenBook Flip, check out our hands-on.
UX360UA
CPU
Dual-core Intel Core i5-7200U 2.5GHz (Turbo up to 3.1GHz), four threads via Hyper-Threading
Dual-core Intel Core M3-6Y30 900MHz (Turbo up to 2.2GHz), four threads via Hyper-Threading
GPU
Intel HD 620
Intel HD 515
Display
13.3", 178° viewing angle

Resolution
Full HD 1920 x 1080
Memory
8GB LPDDR3 2133MHz
Storage
256GB SSD
Networking
802.11ac Wi-Fi with 2x2 antenna
Connectivity
1 x USB 3.1 Type-
C Gen1
2 x USB 3.0
1 x HDMI
1 x Audio combo jack
Battery
57Wh
Weight
2.8 lbs
Dimensions
12.6" x 8.6" x 0.5"
OS
Windows 10 (64-bit)
Price
$899 USD
$1299 CAD
$749 USD
$999 CAD
Availability (USA)
ASUS Store
Microsoft
Availability (Canada)
Best Buy
Costco
Best Buy
All Chrome everything
If all you need is access to the internet and a means for writing up assignments, a Chromebook might actually be the best fit. Low cost and backed by Google's suite of cloud-based productivity apps, Chromebooks run on ChromeOS, a lightweight operating system based on the Linux kernel. If you're a Windows or Mac user and that sounds new and scary, don't be alarmed. Anyone who has used the Chrome web browser will be right at home on a Chromebook, and there is a range of options to suit varying budgets and form factors.
Check all the boxes for two hundred bucks with the C202
While some Chromebooks run north of $500, the Chromebook C202 is priced at just $199 USD. Ruggedized to withstand the rough and tumble of life in a backpack, it's perfect as a first laptop and offers access to the same cloud-based software services already being used in classrooms across the country. ChromeOS also supports supervised users, which allows parents to restrict usage to certain apps and block specific sites. All documents are stored in the cloud, so you can login from anywhere and pick up right where you left off.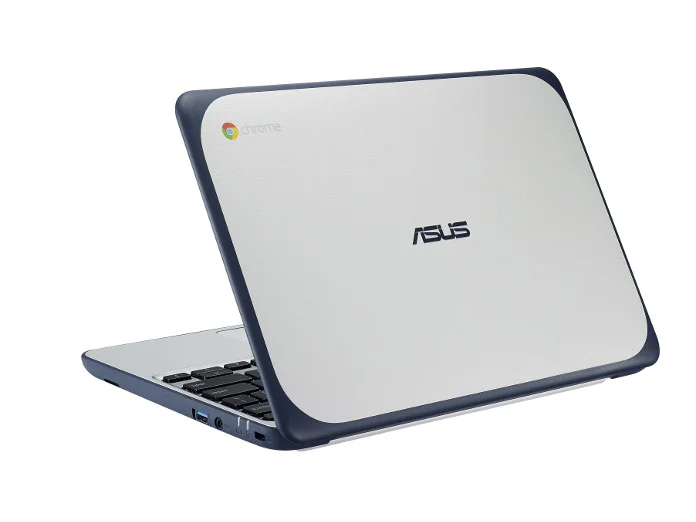 The C202 boasts an 11.6″ 1366×768 display and measures in at just 11.6" x 7.9", so it's compact enough for even kid-sized backpacks. A full-sized keyboard makes for comfortable typing for students of any age, and it's got the added benefit of being water-resistant to minimize the risk of damage due to splashes and spills. On the off chance you do actual damage, the C202 is really easy to disassemble, and its innards are modular enough to repair yourself. The 16GB of onboard storage is complemented by an integrated SD slot and two USB 3.0 ports for transferring media and plugging in external drives. Battery life is a solid 10 hours, which means you can charge once in the morning and be set for the day's classes with enough juice left over for homework.
The C202 costs $199 USD and $299 CAD. Check the table below to see where it's available in the US and Canada.
Chromebook C202
CPU
Dual-core Celeron N3060 1.6 GHz (up to 2.48 GHz)
GPU
Intel HD 515
Display
11.6" anti-glare

Resolution
1366x768
Memory
2GB / 4GB LPDDR3
Storage
16GB eMMC
Networking
802.11ac WiFi
Bluetooth 4.0
Connectivity
2 x USB 3.0 ports
1 x HDMI
1 x SD card reader
1 x Audio jack
Battery
38Wh
Dimensions
11.6" x 7.9" x 0.9"
Weight
2.65 lbs
Price
$229 USD
$299 CAD
Rough it with the Chromebook C213
Just released this summer and priced at $349 USD, the Chromebook C213 combines the ruggedness of the C202 with the versatility of a convertible laptop. Rubberized, grippy edges reduce the risk of dropping when changing from laptop to tablet mode, and the C213 has passed military-grade testing for durability in case it does take a tumble. A water-resistant keyboard also protects against spills and leaky water bottles. If something happens to get jammed in the Micro SD slot or one of the four USB ports, the laptop is easy to take apart and repair.
With an 11.6″ touchscreen and full-sized keyboard, the C213 is handily positioned to do double duty for both work and play. And it's Android-ready once Google gives the green light. A stylus version is coming this month and will be a great solution for taking notes or completing assignments in subjects like math and chemistry, where a keyboard can only do so much.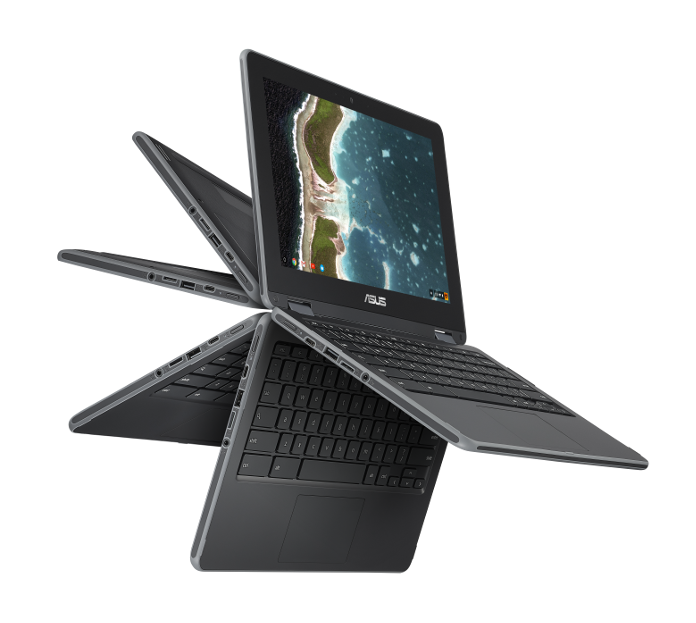 Both the stylus and standard versions run on the same Celeron N3350 processor with Intel HD 500 graphics and 4GB of RAM, more than enough for productivity apps, streaming videos and music, or browsing the web. Chromebooks don't typically have a lot of onboard storage because they're so heavily tied to the cloud. Still, the C213 has 32GB of integrated flash memory, so you have enough offline storage for downloading lecture notes or documents for working offline.
Chromebook C213
CPU
Dual-core Intel Celeron N3350 1.1 GHz (Boost up to 2.4GHz)
GPU
Intel HD 500
Display
11.6" with matte coating
Resolution
HD+ (1600 x 900)
Memory
4GB of LPDDR4 2400MHz
Storage
32GB eMMC + TPM 1.2
Networking
802.11ac Wi-Fi with 2x2 antenna
Connectivity
2 x USB 3.1 Gen 1 Type-C, 2 x USB 3.0 Type-A, 1 x MicroSD card reader, 1 x audio combo jack, Bluetooth 4.0
Battery
42Wh
Dimensions
12.1" x 7.8" x 0.8"
Weight
2.8 lbs
Price
$349 USD
$469 CAD
Availability (USA)
ASUS Store

Availability (Canada)
Visions
Lighten the load with the versatile but powerful C302
The Chromebook C302 puts a different spin on things with a 360-degree hinge that transforms this sleek Chromebook from laptop to tablet with just a flick of the wrist. It's priced at $469 USD and $649 CAD, which is a little higher than entry-level Chromebooks, but it's much more powerful. The C302 uses Intel's Core M3-6Y30 CPU alongside 4GB of RAM and a whopping 64GB of storage. Thanks to the Sky Lake-based processor, the Chromebook Flip offers a performance boost that lets you extend browsing and streaming across multiple Chrome windows with plenty of power left to run Android apps like Slack and Skype in the background. Compatibility with the Play Store promises to deliver thousands of apps, from photo editing to games, and with official Android support just around the corner, the future has never been brighter for ChromeOS. Since Android apps are designed to run on less powerful smartphone hardware, C302 users will appreciate the ability to multitask and hop between Android's most demanding apps without any slowdown.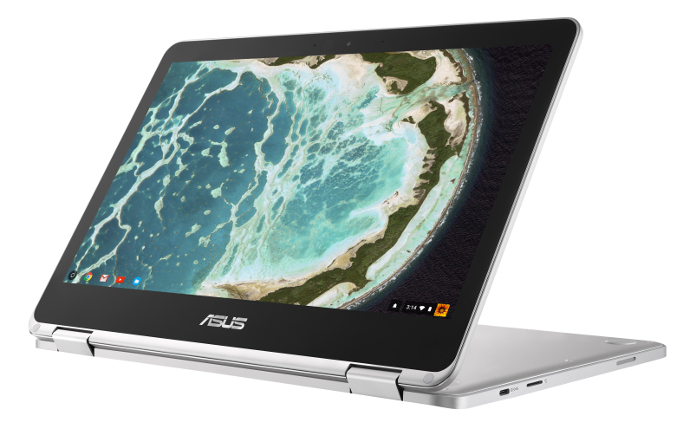 The Flip's roomy 12.5″ 1080p touchscreen shines in tent mode, whether you're reviewing lecture notes or watching the latest episode of House of Cards, while wide viewing angles and side-mounted speakers make presenting to an audience easy. Solo, late-night work sessions are made more comfortable by the backlit keyboard, and battery life is a solid 10 hours (even with its beefier processor), so you don't have to give up one of the good seats in the library to hunt for an outlet.
The C302 weighs in at just over 2.6 lbs and features a lightweight aluminum chassis that lends a premium feel despite the sub-$500 price. A matte finish hides smudges and fingerprints from the pizza you ate at lunch, ensuring the stylish but professional aesthetic can make the trip from cafeteria to class without a second thought. Check the table below for retailers stocking the Chromebook Flip in the US and Canada. You can read more about the Flip here.
C302CA-DHM4
C302CA-E91T-CB
CPU
Intel Core m3-6Y30
Dual cores up to 2.2GHz, four threads via Hyper-Threading
Intel Pentium 4405Y
Dual cores up to 2.2GHz, four threads via Hyper-Threading
GPU
Integrated Intel HD Graphics
Display
12.5" IPS-type touchscreen, 1080p resolution
Memory
4GB LPDDR3
Storage
64GB internal eMMC flash
Micro SD card reader
32GB
Wireless
Dual-band 802.11ac Wi-Fi
Bluetooth 4.0
Ports
2 x USB Type-C
3.5-mm audio
Battery
2-cell 39Wh
Dimensions
11.9" x 8.3" x 0.59"
Weight
2.65 lbs
Operating system
Google Chrome OS, Android-ready
Price
$469 USD
$649 CAD
$599 CAD
Availability (USA)
Amazon
B&H
Best Buy
Micro Center
Newegg
N/A
Availability (Canada)
Amazon
Best Buy
Newegg
NCIX
Walmart
Visions
Staples