ROG and Strix software
Shared across the ROG family, there's an impressive software bundle for gamers. The features are so comprehensive that it'd take a separate article to detail them all. For sake of brevity, we've picked out the salient utilities and provide a quick explanation of their function. Rest assured that the complete bundle offers more features than any other manufacturer.
Starting with audio, there's the Sonic Studio package, which offers a gargantuan array of processing options, including accurate surround emulation for headsets, DSP options to enhance in-game sound effects, and noise cancellation for online communications. To give you a distinct edge in first person shooters, there's Sonic Radar II, a highly configurable in-game overlay that shows the direction that footsteps and gunshots sounds are originating from.  It's a handy utility if you need to keep volume levels low, or if you favor visual rather than aural information during the heat of battle.
Networking and storage get software enhancements, too. Our Gamefirst IV software allows you to prioritize network packets to applications that need the bandwidth most.  And for storage, there's RAMCache, which intelligently utilizes system memory to drastically improve the access times of frequently used files.
ROG Strix motherboards
Sporting more of a gaming-oriented focus than the conservatively modelled Prime Z270-A, the Strix series is comprised of five models, spanning the entry-level to mid-range market segments in ATX, m-ATX, and mini-ITX form factors. Today, we're going to look at one model from each form factor.
Being part of the family, there are some tangible features that the Strix series inherits from its high-end ROG brethren. Aura RGB lighting is featured throughout the Strix series, and there are up to two onboard 5050 RGB strip headers that can work independently or in tandem with the onboard lighting. Unlike the ROG Maximus motherboards, you don't get independent control over each 5050 header, but the full gamut of control and effects remains intact.
SupremeFX 1220A audio also makes its way to the Strix. Utilizing the Realtek S1220A codec and isolated signal and power pathways to eliminate noise, our latest audio implementation is capable of driving all the latest gaming headsets, so you don't need a dedicated headphone amp to get the best sound from your cans.
The benefits of the ROG team's overclocking expertise also trickles down to the Strix models, delivering a smooth overclocking experience whether you're using our 5-Way Optimization software, or tuning the system manually.
Strix Z270I Gaming
Strix Z270G Gaming
Strix Z270E Gaming
CPU support
Intel® Socket 1151 for 7th/6th Generation Core™
Chipset
Intel Z270
Memory
2 x DDR4 up to 4266MHz
4 x DDR4 up to
4000
4 x DDR4 up to
3866
Onboard VGA outputs
1 x HDMI (1.4b)
1 x DP (1.2)
1 x HDMI (1.4b)
1 x DP (1.2)
1 x DVI-D
1 x HDMI (1.4b)
1 x DP (1.2)
PCIe 3.0 x16 slots
1
2 (supporting x16, x8/x8)
2 (supporting x16, x8/x8)
PCIe 3.0 X 16 (x4) slots
-
-
1
PCIe 3.0 X 1 slots
-
2
4
Multi-GPU
-
2-way SLI/CrossFireX
2-way SLI/CrossFireX
Gigabit Ethernet
1 x Intel
1 x Intel
1 x Intel
Wireless
2 x 2 802.11ac
Wi-Fi
Bluetooth v4.1
2 x 2 802.11ac
Wi-Fi
Bluetooth v4.1
2 x 2 802.11ac
Wi-Fi
Bluetooth v4.1
Storage
2 x M.2
4 x SATA
2 x M.2
6 x SATA
2 x M.2
6 x SATA
USB 3.1
1 x Front panel connector
1 x Type-C
1 x Type-A
1 x Front panel
1 x Type-C
1 x Type-A
1 x Front panel
Audio
SupremeFX S1220A
SupremeFX S1220A
SupremeFX S1220A
Aura lighting
Onboard + 1 x strip headers
Onboard + 2 x strip header
Onboard + 2 x strip headers
Form factor
Mini-ITX
m-ATX
ATX
Price
$180
$199
$199
ROG Strix Z270I Gaming: When size matters
The Strix Z270I Gaming may be the smallest motherboard featured in today's article, but it's certainly not lacking in features or innovation. Cramming 802.11 AC Wi-Fi, front panel USB 3.1, SupremeFX 1220A audio, four SATA ports, and dual M.2 into the mini-ITX footprint, it gives up almost nothing to its ATX-sized elders. Well, less the obvious memory slot and PCI Express port count.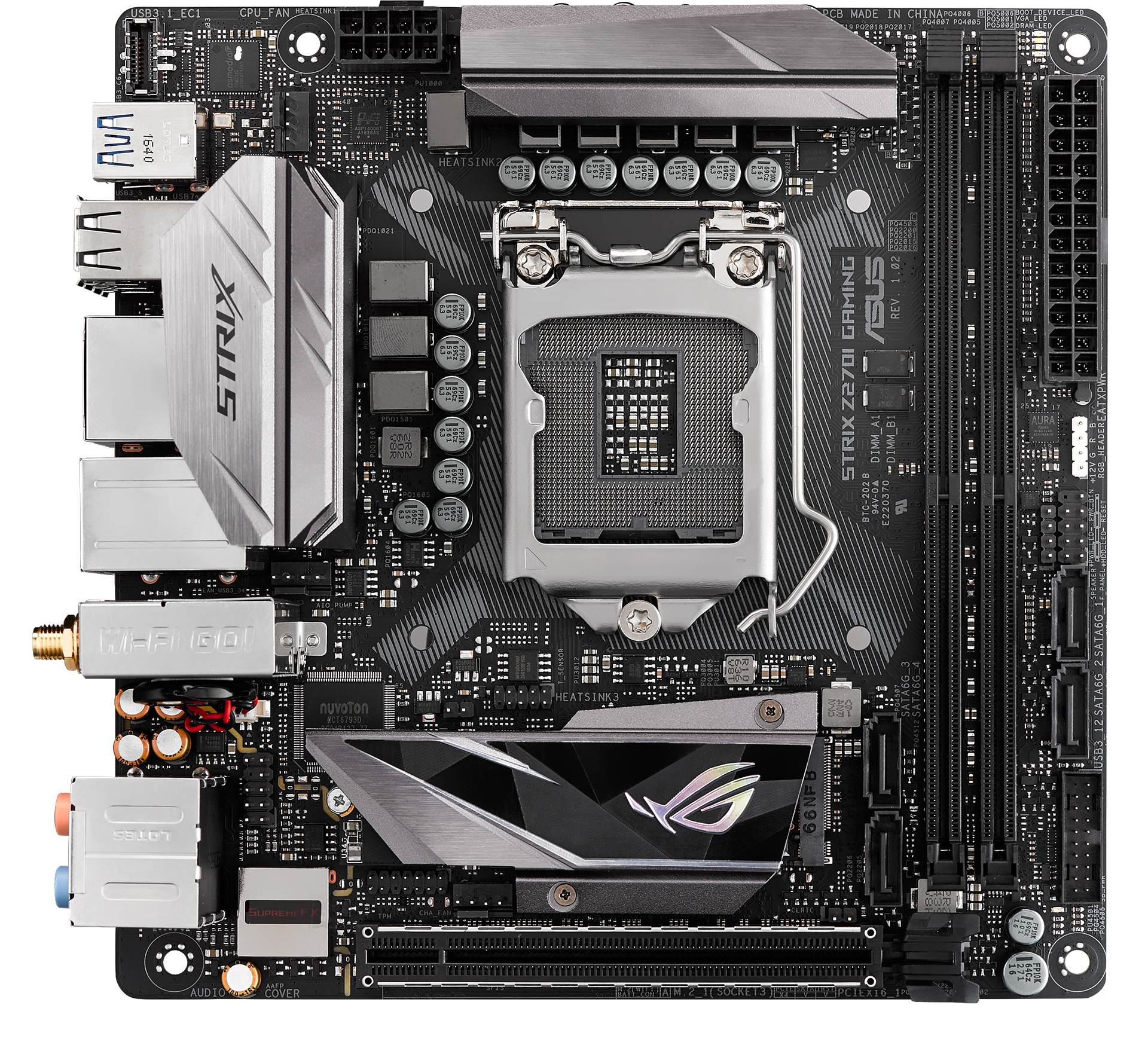 Interestingly, the Strix Z270I's dual slot memory layout manages to match the Maximus Apex for officially supported memory speeds, although the latter is capable of lower latencies due to a tweaked design. It's impressive to see, nevertheless. More importantly, the Z270I's power delivery is capable of sustaining 5GHz overclocks with a willing i7-7700K CPU. There's no denying the prospect of a mini-ITX system running those speeds is highly attractive.
Obviously, there's more to a PC build than just overclocking – storage also matters. As stated earlier, the Strix Z270I, features two M.2 slots. One at the front of the board, and another at the rear. The front-facing slot sits below the CPU socket, adjacent to the PCH, and features a double-decker heatsink that cools both the PCH and the M.2 drive. The M.2 portion of the heatsink is thermally isolated from the PCH, to avoid cross-influence of temperatures. Final drive temps will, of course, depend on ambient temps, but a good mini-ITX chassis with reasonable airflow should be sufficient to keep temperatures well below throttling point.
Given mini-ITX systems are likely to be moved around from time to time, it's also comforting to know that the Strix Z270I's lone PCI Express slot is built to ASUS SafeSlot standards. That means you can use the heaviest of expansion cards without fear of slot damage due to weight or the odd "transportation accident."
Even Aura RGB lighting makes its way onto the Z270I, with a row of LEDs at the right edge of the board, and a 5050 header for light strips, which is more than enough to light up a mini-ITX chassis.
If you're strapped for living space or just like to keep things small, load up a Strix Z270I with a decent graphics card, a PCIe X4 M.2 drive, plus a Kaby Lake CPU, and you'll have the best per-inch user experience money can buy.
ROG Strix Z270G Gaming: The middle ground
The mini-ITX form factor may turn more heads due to its bijou dimensions, but, there are times when its single PCI Express slot just isn't enough. Sometimes, you need more room for additional expansion cards.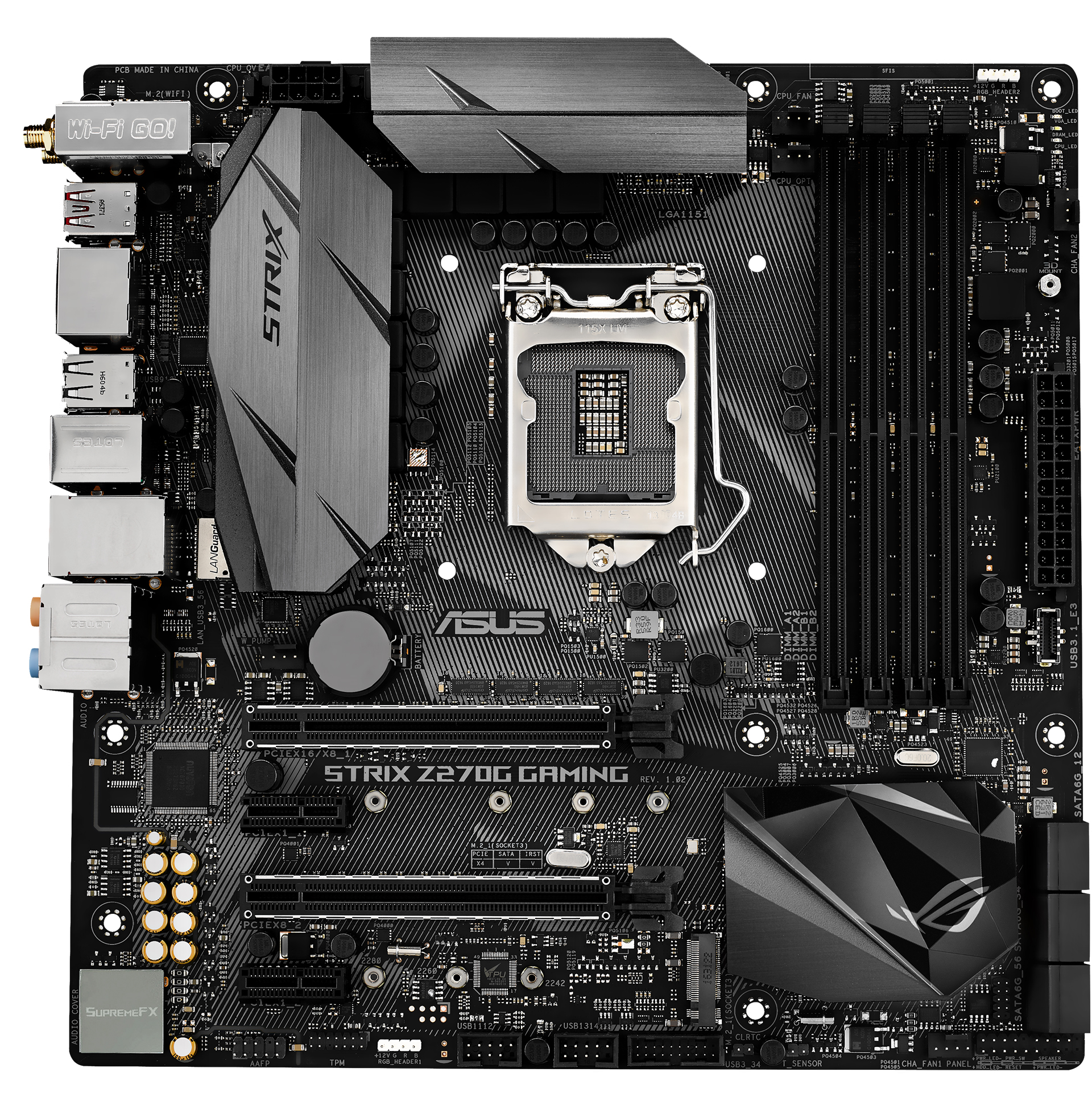 The nicely-proportioned Strix Z270G is one of the most attractive boards in the ASUS 200-series lineup. And it's just as good-looking on the feature front. Like the Strix Z270I you get 802.11ac Wi-Fi, Bluetooth 4.1, and front panel USB 3.1. Stepping up to the Z270G gets you six SATA ports, two USB 3.1 ports on the rear panel, three additional PCI Express slots, and you get the platform's full array of four memory slots. Naturally, Aura sync also makes the transition, supporting an onboard lighting zone, plus two 5050 RGB headers. You still get dual M.2, as well, although slot location is more compromised than ATX sized alternatives.
If you're looking for a smaller-than-ATX build that's capable of driving the latest high-resolution monitors at consistently high frame rates, the Strix Z270G's ability to house two graphics cards makes it an obvious choice.
ROG Strix Z270-E Gaming: A sizeable chunk of all things ROG
Landing at a cool $199, the Strix Z270-E builds upon the foundation laid by the Prime Z270-A, adding some ROG goodness into the equation.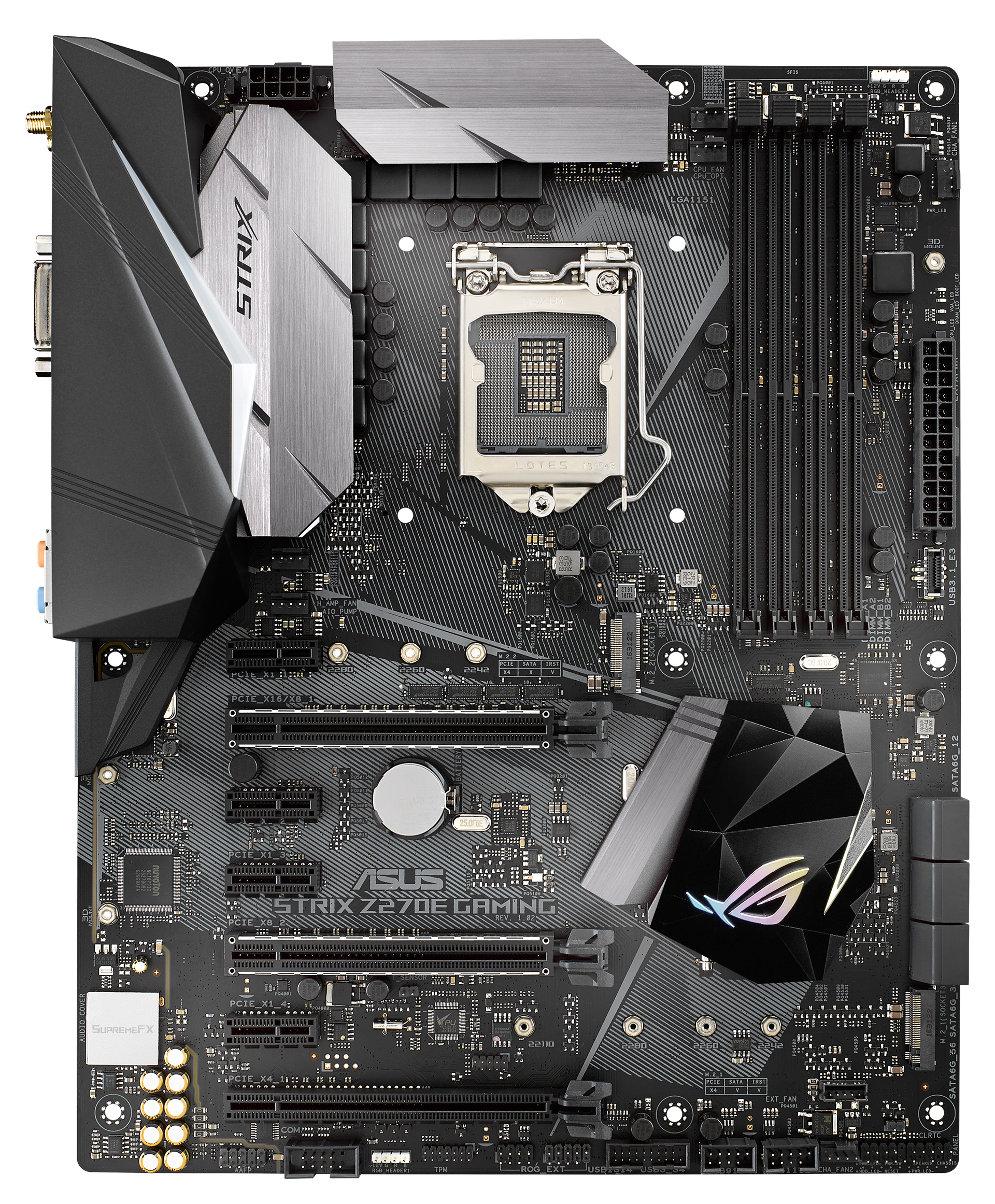 The Z270E has 802.11ac Wi-Fi, Bluetooth 4.1, and also features a front panel USB 3.1 connector. And there's the option to add the ROG Front Base, or OC Panel via a dedicated onboard header, providing access to overclocking and fan profile changes at the touch of a button.
A subdued monochromatic theme and edgy, angular heatsinks, give the Z270-E a striking appearance. Aura RGB lighting is also upgraded over lower-priced rivals, featuring an RGB light bar which shines through a diffuser within the IO shroud. Instead of the Z270-A's single 5050 RGB header, the Z270E provides two, making it more suitable for lighting full-tower PC cases with Aura effects.
Overall, the Z270-E delivers a solid mouthful of ROG flavor, before we enter the realms of the high-end, where things become more niche.