The ROG Maximus IX Apex and Maximus IX Extreme
Historically, ROG boards bearing the Extreme moniker have been designed to serve two audiences;  the first, extreme overclockers, and the second, performance enthusiasts that want bleeding-edge features. For the most part, each iteration of the Extreme has served both roles well, maintaining top dog status by setting numerous world records, and being the board of choice to experience the latest in tech.
However, the industry is evolving. Extreme overclocking has become more complex, requiring streamlined layouts and component choices to break world records. On the flipside, the water cooling scene has also expanded to the extent that there's a sizeable demand for aftermarket monoblocks that fit specific motherboards. Developing a catch-all model to cater to both segments simultaneously would lead to serious compromises; too many to be considered a true enthusiast product by either user group. As a result, it makes sense to divide and conquer. For sequel IX of the Maximus series, extreme overclocking duties are tackled by the Maximus IX Apex, while the Maximus IX Extreme makes a concerted assault on the enthusiast water cooling scene.
ROG Maximus IX Apex: Streamlined for performance enthusiasts
In today's competitive market, designing any enthusiast-oriented motherboard is a game of compromise. Certain features have to be tacked-on to add value, and while they broaden appeal to a wider audience, their payload can impinge upon outright performance. The ROG Maximus IX Apex is streamlined to shed such excess.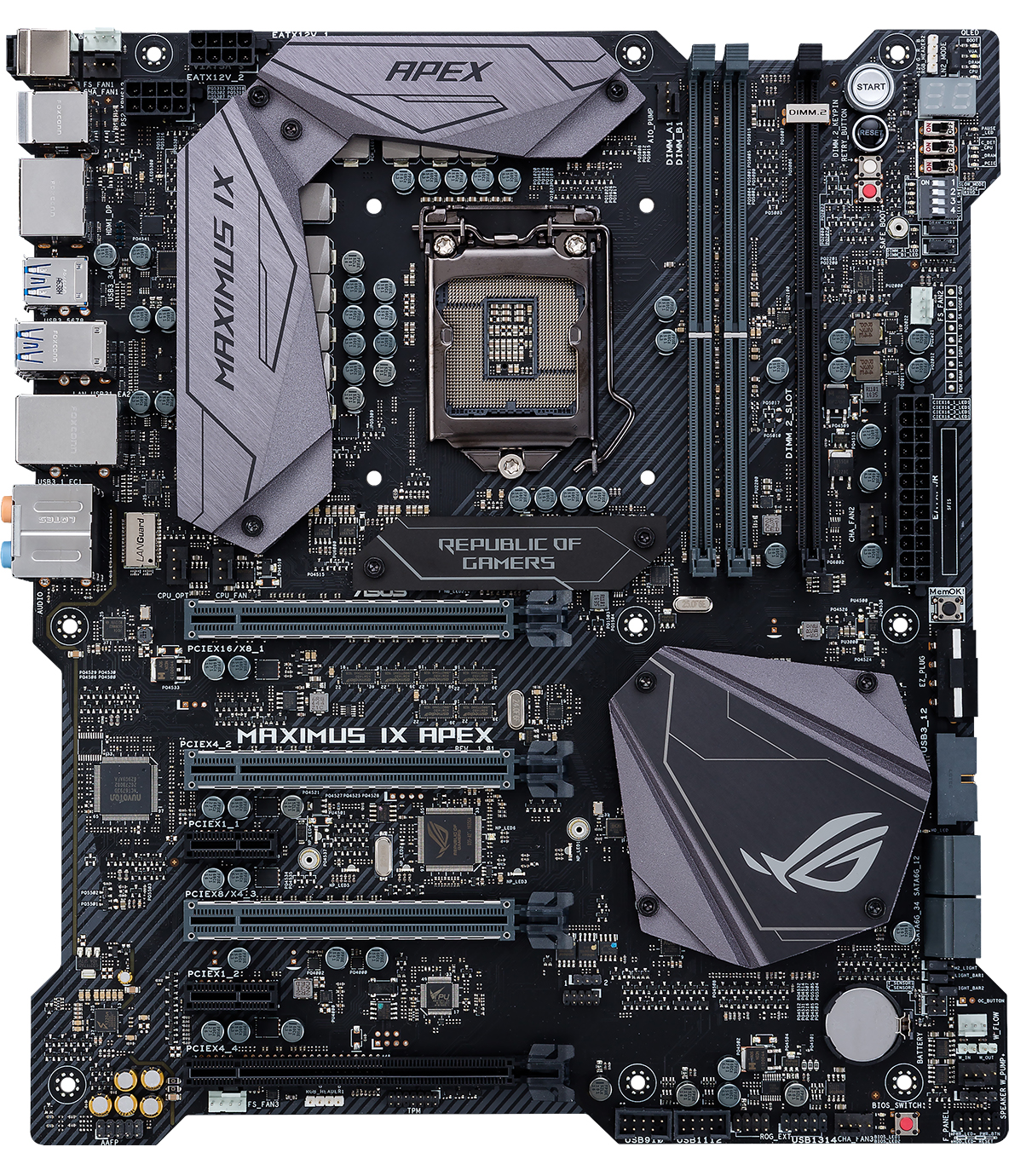 The board's primary purpose is to shatter performance boundaries and to look good while doing it. Breaking ATX form factor conventions, the Apex adopts a three-DIMM design, instead of using the platform's full compliment of four memory slots. Actually, only two of those slots are for memory modules, the third, we'll get to in a bit. So, let's try that again… Adopting a two-slot design on an ATX sized motherboard allows us to use a highly optimized memory trace layout; minimizing noise, and improving signal integrity.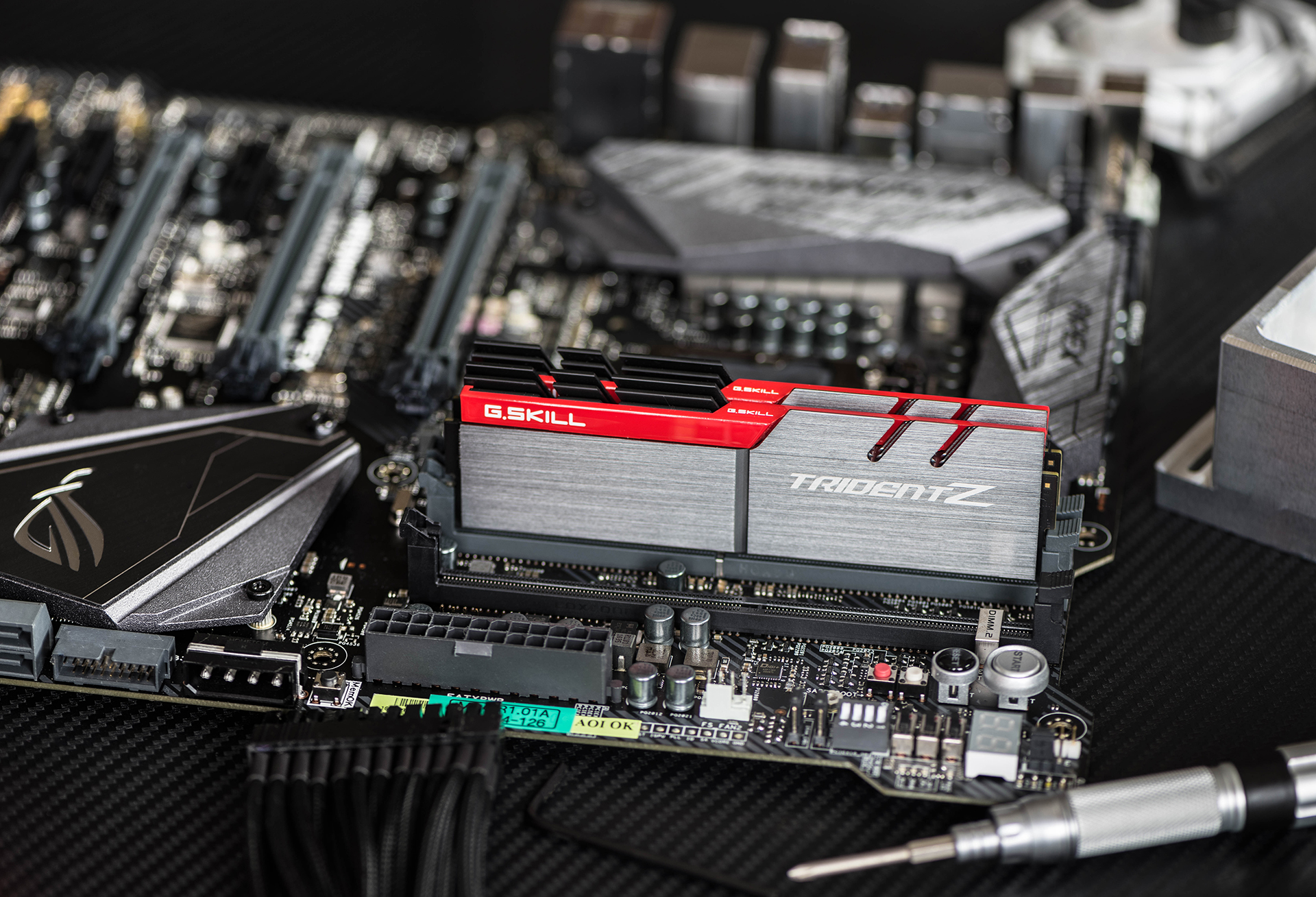 Perfect partners – the Apex and GSkill's 16GB DDR4-4266 TridentZ memory kit
The improvements usher in support for memory frequencies well beyond DDR4-4266. In-house, we've already achieved perfectly stable speeds of DDR4-4415 with select memory modules. The oscilloscope captures below compare the Apex's signal integrity to a four-slot memory layout.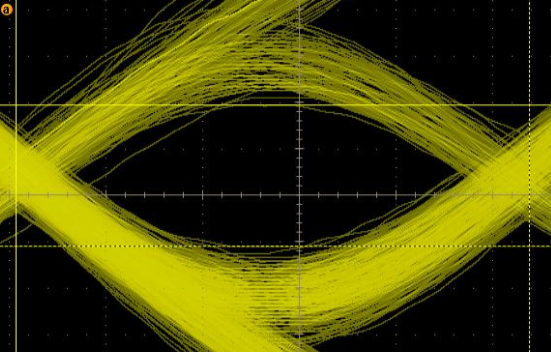 DQ signal eye for a four-slot Maximus series motherboard – taken at DDR4-3733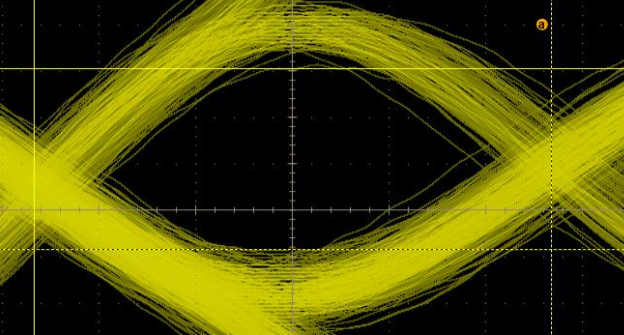 DQ signal eye for the Maximus Apex – taken at DDR4-3733
The images were captured by carefully attaching a probe to a memory module with an exposed trace for one of the DQ signal lines. Using the same module and configuration for both motherboards, the scope was configured to capture 1000 samples and display them onscreen. The capture from the Apex clearly shows a cleaner "eye" diagram than the four-slot layout. The explanation for what this means is complex, but in the shortest form, it tells us the memory is more stable on the Apex.
Of course, it's what happens in the real world that matters most. In that regard, the Apex has already smashed a number of world records in memory sensitive benchmarks, achieving frequencies and latencies that are beyond the capabilities of any four-slot motherboard. This early in the game, the Apex's achievements are impressive, to say the least. As the platform matures, we can expect even more.
Streamlining the feature set also provides space to move thermally challenged technologies into locations that can receive more airflow. It's time to discuss the purpose of that third "memory slot."

The third slot (DDR4) is wired directly to the PCH and is partnered by a riser card named DIMM.2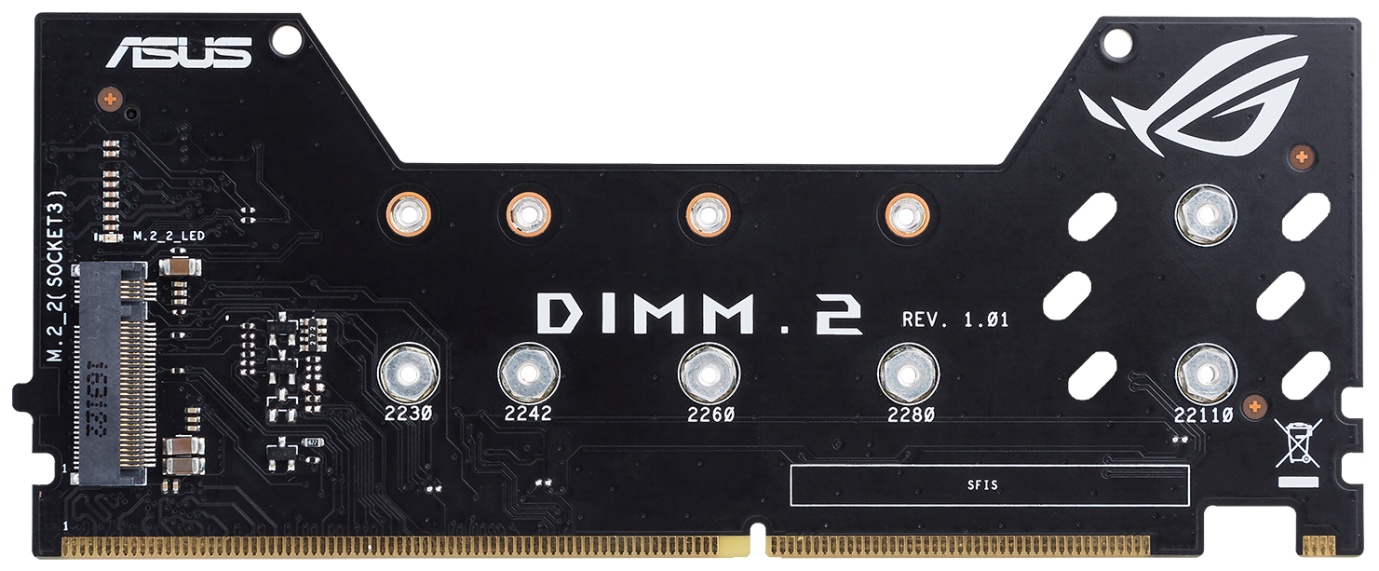 As the name cheekily implies, DIMM.2 is used for mounting M.2 drives.  The card features an M.2 slot on either side, capable of housing two drives in all sizes (up to 22110). An additional advantage of using a DDR4 slot is that it permits users to mount a memory cooler directly over the drives, helping to reduce temperatures. The riser card also features two embedded thermal sensors that can be mapped to the motherboard's fan headers to keep noise levels in check. Topping it all off, a physical failsafe in the form of a small metal bracket straddles the DIMM.2 slot, preventing accidental use of DDR4 memory modules.
Functionally, the Apex is lighter in weight than the Hero and Code; two of the rear USB ports are traded for PS/2 support, in order to allow the use of legacy peripherals during extreme overclocking sessions. Believe it or not, disabling USB ports when pushing a system to the limits can help eek out a few MHz of headroom.
The audio side also gets a trim, lacking the ESS Sabre DAC and the dedicated headphone amp that find a home on the other ROG boards. Given the Apex is likely to attract die-hard enthusiasts as opposed to mainstream mindsets, the absence of these features likely won't cause concern.  Extreme overclockers aren't interested in onboard audio, while die-hard enthusiasts favor USB DACs or dedicated soundcards as opposed to integrated solutions.
The full spread of onboard ROG overclocking features is also present. Dual BIOS chips allow you to experiment with different firmware versions and provide a path for recovery in case one becomes corrupt. There's also an LN2 mode switch to aid POST at sub-zero temperatures, and a Slow Mode switch to help stability at critical moments when at the ragged edge. If that's not enough, we've also added a condensation detection circuit to alert you of moisture ingress when using cryogenic cooling.
Aesthetics tend towards the radical, too. Shedding excess controllers, lane switches, and ports, frees up PCB space around the perimeter of the motherboard. Rather than leave those areas barren, the ROG R&D engineers cut them away, and carefully placed Aura-controllable RGB LEDs around the indents to create a subtle glow.  The VRM area, ROG logo and nameplate area, PCH, and DIMM.2 module also have AURA RGB LEDs, and there are two 5050 RGB headers. All zones and the 5050 headers can be independently controlled or set to display the same colors and effects.  The end result is a motherboard that's just as at home as the centerpiece of a high-performance gaming rig as it is on a benching table for extreme overclocking sessions.  If either of those scenarios appeals to you, look no further than the Apex.
ROG Maximus IX Extreme: For dream rigs
Following in the footsteps of the Maximus IX Formula, the series IX Extreme supports water cooling out-of-the-box. Again, the best approach is for us to co-work with one of the leading water cooling specialists, melding their expertise with ours to develop an integrated solution that surpasses lone efforts.  The partner of choice this time is Bitspower, who are at the forefront of today's enthusiast water cooling scene. It will come as no surprise that our collaborative effort takes things to another level.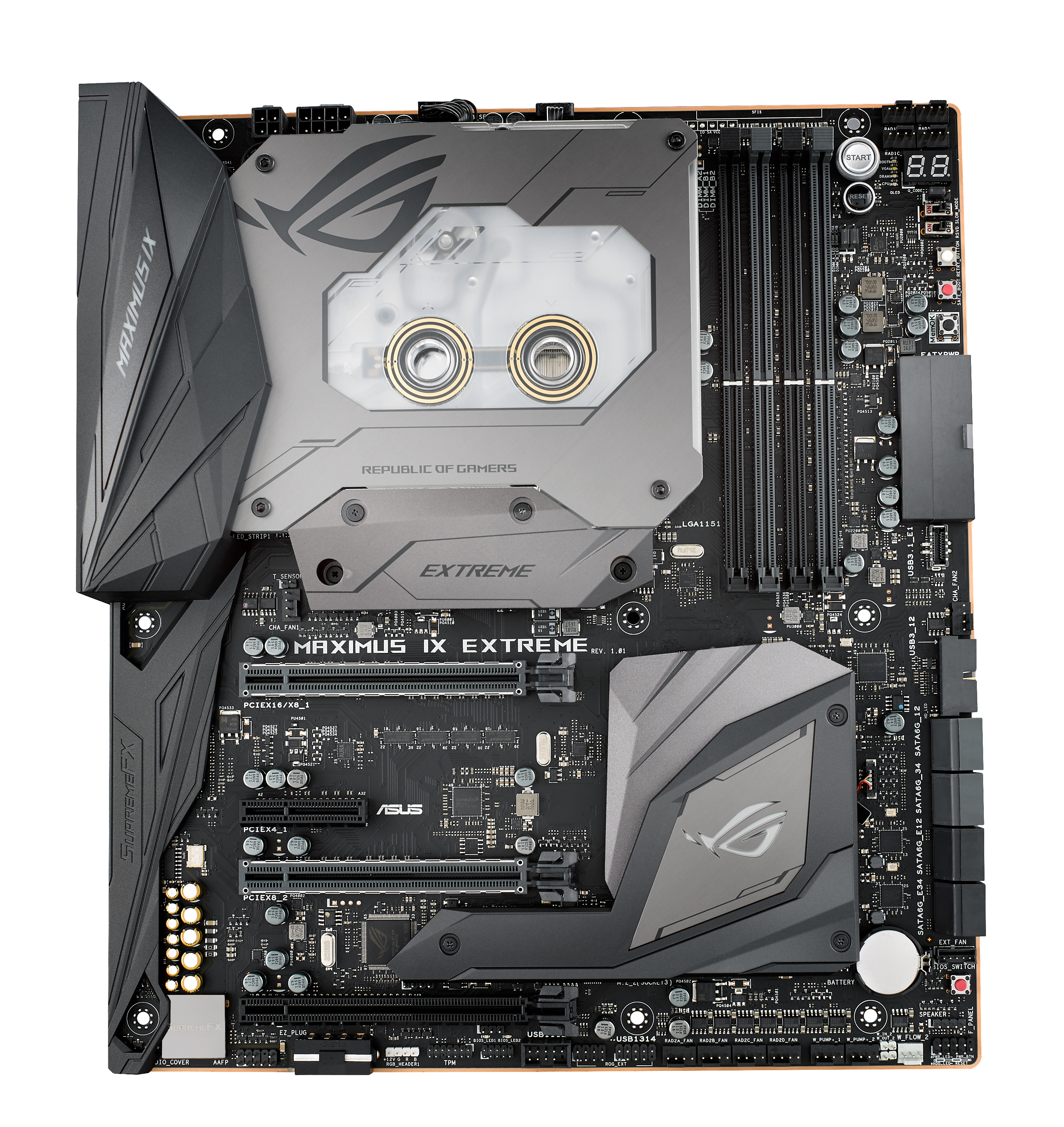 The Maximus IX Extreme's monoblock incorporates RGB lighting, and also integrates flow rate, water leak, and temperature sensors. When installed, the block cools the CPU, the main power delivery circuitry, and there's an attachable heatsink for M.2 drives, completely negating the need for supplementary airflow to keep things cool.
The benefits of collaboration go a lot further than that, though.  Both the flow meter and leak detection sensor connect to dedicated headers on the motherboard, allowing monitoring and control from firmware or our Fan Xpert IV software. The detection sensor is capable of turning the system off in the event of a leak, and the user can use Fan Xpert to configure options for shutdown timing and alerts. Features of this magnitude usually require expensive standalone controllers and multiple add-ons to provide the same functionality. Here, it's all seamlessly integrated to keep cable and wiring complexity to a minimum.
The monoblock's integrated lighting is also Aura controllable, along with the IO cover area, PCH logo, and a 5050 RGB header, which modders are sure to make use of.
Onboard fan connectors are also intelligently located for water-cooling radiators, with eight headers divided between the top and lower edges of the board. At the mid-board location, there are two fan headers, conveniently placed for chassis fans. Two additional headers are placed at the lower edge of the board for water pumps although they can also be configured to control fans. That brings the total number of fan headers to an unparalleled, twelve. There are also options to attach additional flow rate and temperature sensors for a secondary loop. Should that not be enough, you can also use the bundled ASUS Fan Extension card, which adds three more fan headers and a complimentary array of thermal probe connectors to the mix.
Like the Formula, the Extreme also includes a pre-mounted IO backplate for convenience.  However, there's a novel lighting twist in the rear IO cluster, thanks to the addition of color co-ordinated LEDs within the 3.5mm audio jacks, saving you from fumbling around in the dark when plugging in a headset.
On the connectivity front, 802.11AC WiFi, Bluetooth 4.1, Intel Ethernet, and two USB 3.1 ports, also make a showing. Upping the ante, the rear panel Type-C USB 3.1 connector doubles up as a Thunderbolt 3 port, delivering speeds up to 40gbps through a single cable. Internally, you also get eight SATA ports, dual M.2 slots for storage, and a front panel USB 3.1 connector, so you're covered for high-speed IO in every conceivable way.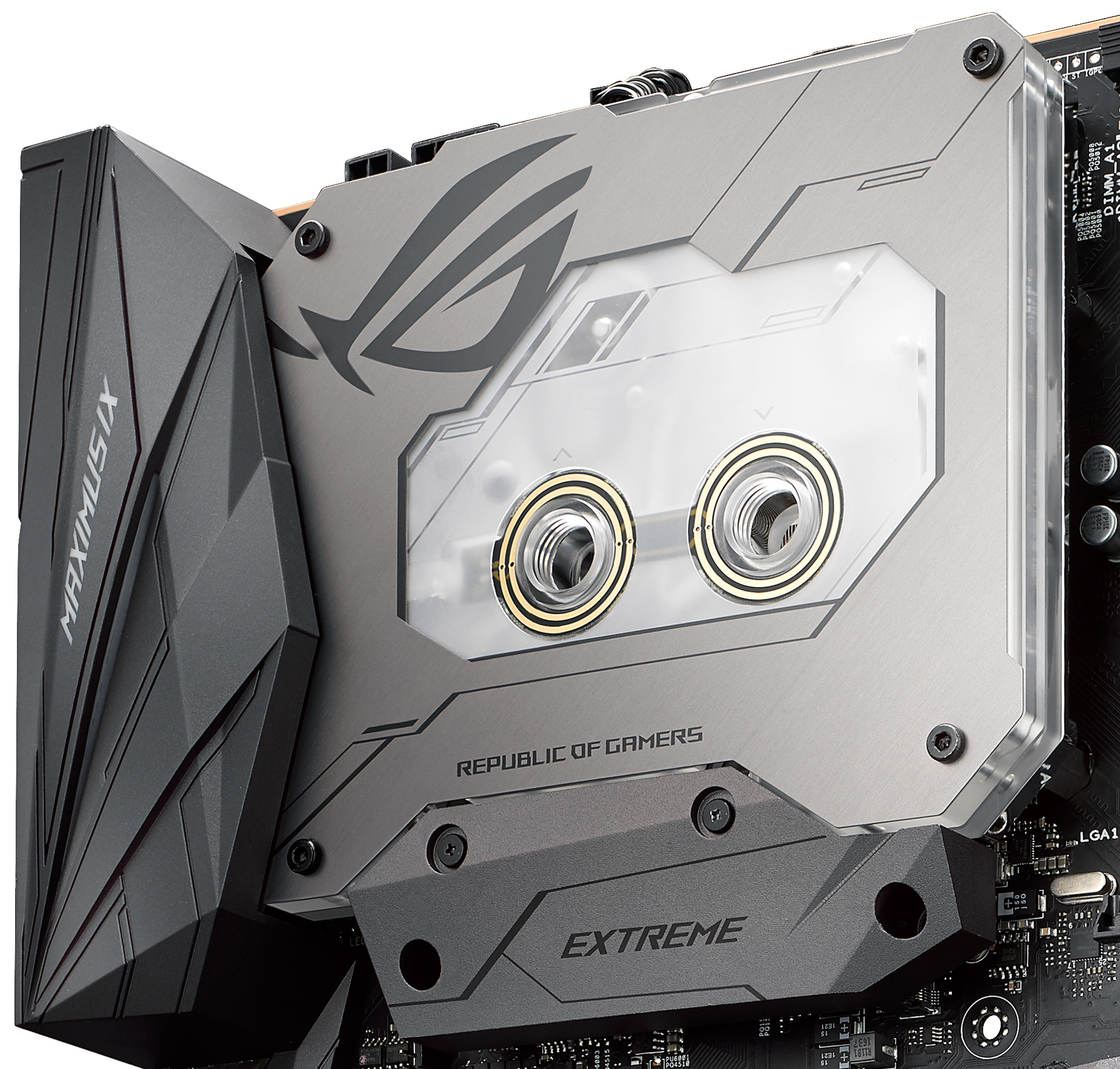 The target audience may have changed, but the level of innovation and attention to detail is sure to place the Maximus IX Extreme at the top of consumer wish lists.