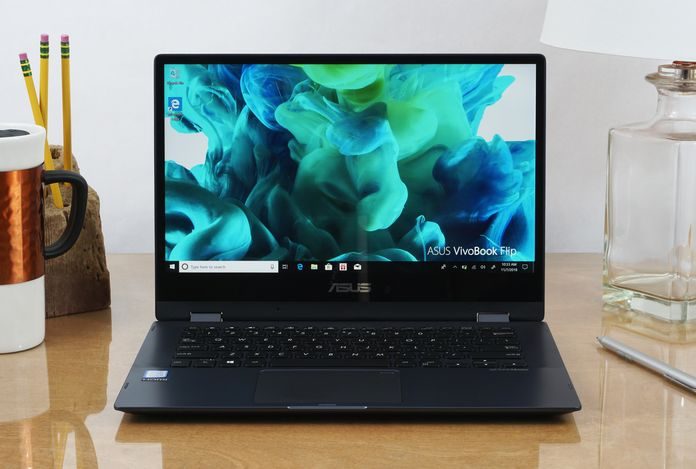 When it comes right down to it, most people need two things from their laptop: versatility and value. High-end style, sexy paint jobs, and outlandish gaming performance are all great, but for a great many students and professionals, the perfect laptop is one that runs all of their applications without skipping a beat, fits in a form factor compatible with their mobile lifestyle, and doesn't cost an arm and a leg.
Design that works
Mid-range laptops don't have to be boring or utilitarian-looking. For the VivoBook Flip 14 TP412UA, we sought inspiration from our own designs and borrowed some of their best features. With its classy metal chassis, the Flip 14 has a mature design, like the ASUSPRO P5540, and the smooth, ever-so-slightly curved top evokes the VivoBook S series. Little details of the Flip 14's design reflect deliberate consistency. For instance, the keycaps, large touchpad, and fingerprint sensor all employ the matching rounded corners. The 360° stepless metal hinge is tested through 20,000 open-and-close tests to ensure it won't loosen over time.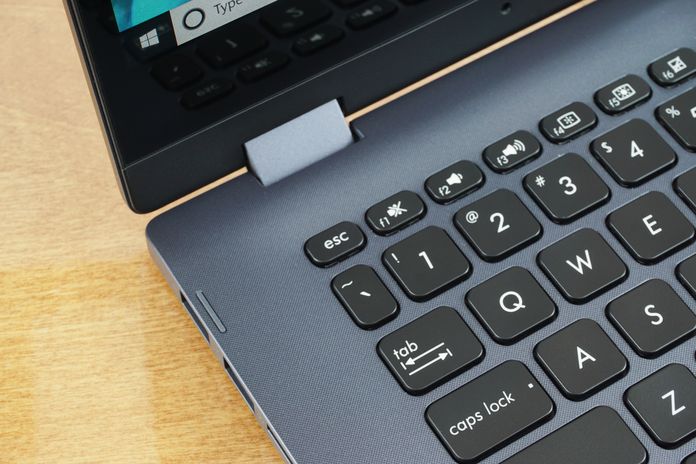 NanoEdge bezels started in our ZenBook line but made the jump to our more affordable VivoBooks this year. These narrow bezels allow us to fit a 14" display into a chassis that's less than 13" wide, maximizing screen real estate while keeping the laptop nice and compact. The Flip's display features a Full HD 1080p resolution, and is touch-enabled, allowing you to use the laptop in a conventional clamshell configuration or folded over on itself like a tablet. Wide 178° viewing angles ensure the colors stay vibrant and rich, whether you're seated squarely in front or have multiple people crowding around in tablet mode.
Performance to live by
The VivoBook Flip 14's processor, memory, and storage complement each other for impressive performance across the board. The sample I tested had an 8th Generation Core i5-8250U with four Hyper-Threaded cores running at up to 3.4GHz and is primed for serious multi-tasking, but there's also a Core i7 module available, too. Both versions come with 8GB of low-power DDR4-2400 and 256GB of solid-state storage for a fast boot and quick load times for applications.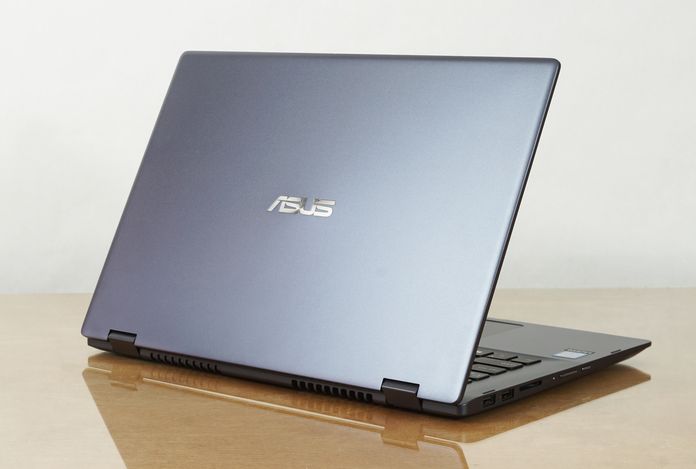 More affordable laptops have a reputation for being slow or underpowered, but the VivoBook breezed through everything I threw at it. I was able to work on an article with more than a dozen browser tabs and several photos open. I added streaming video to the mix, and all of my apps still felt snappy. When I needed to do some serious photo editing, the VivoBook juggled several dozen open images as I resized and cropped to my heart's content. Then, I put together a 30-second video with text and some basic effects. The system never slowed down, and I exported the whole project in under 19 seconds.
Typically, powerful laptop hardware demands a trade-off in battery life. But even after subjecting the Flip 14 to a myriad of single- and multi-threaded workloads as I produced various forms of media for my story, the laptop's battery held out for nearly 10 hours.
Do everything and more
Sure, the VivoBook Flip 14 has classy, cool looks and a strong spec sheet, but it's also a lot more versatile than a conventional laptop thanks to its 360° hinge. I like to put the Flip 14 in tent mode and stream sports while I clean up the kitchen. The reverse laptop mode is great for when I'm showing a presentation to a small group around a conference room table.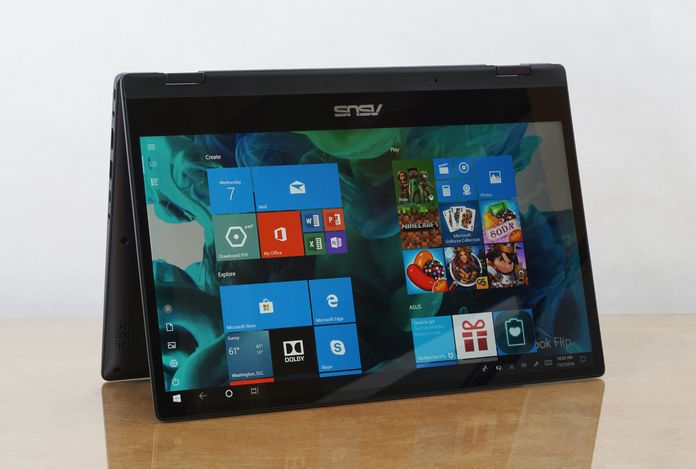 The Flip's touch-enabled display makes it possible to fold the screen over and use the laptop like a tablet, too. I can watch a show on it while rocking in a chair on the front porch or run around a convention floor with it nestled in the crook of my elbow, jotting down notes using the ASUS Pen.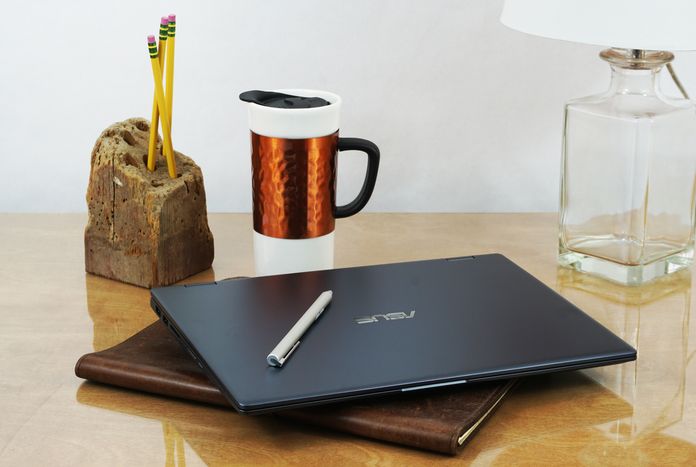 The ASUS Pen really brings an added dimension to what you can do with the VivoBook Flip 14. Windows 10 has strong support for handwriting input with a stylus, and I used the ASUS Pen on everything from Google Docs to my web browser and photo editor. The stylus is optional, so you don't have to pay for something you're not going to use, but we think it makes an excellent companion to the Flip 14's specialized screen.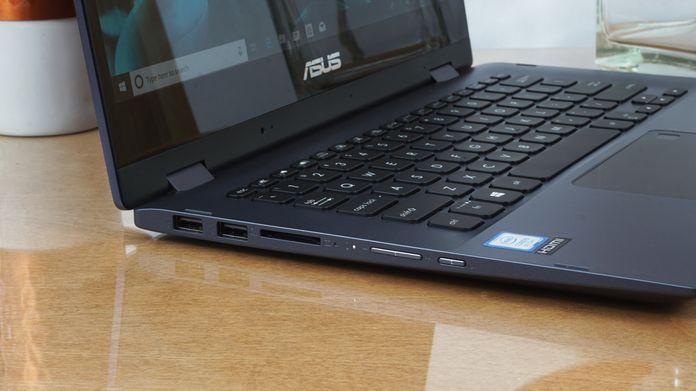 Of course, the VivoBook is equally comfortable as a good-old-fashioned laptop. Its chiclet-style keys are spaced well, and their 1.4mm of travel makes the typing experience more comfortable than you'd expect from such a slim laptop. If you have a favorite mouse and keyboard combination you like to use when you get home from the office, the Flip 14 is loaded with one USB 3.1 Type-A port and two more USB 2.0 port for plugging in peripherals, and there's also a reversible USB 3.1 Type-C connector for newer flash drives and external storage.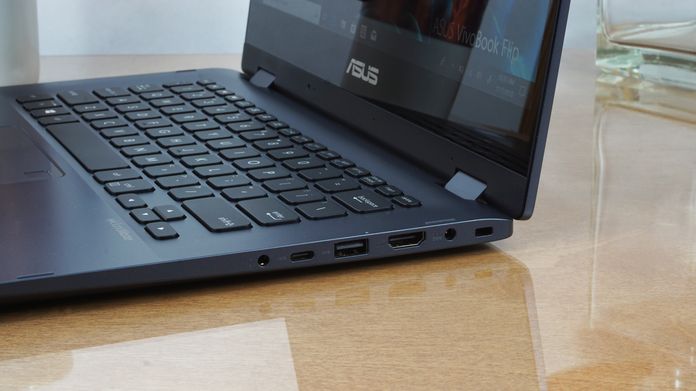 An HDMI output ensures that you can connect to the monitor at your desk, a TV in the living room, or a projector in the conference room at work. For people like me who shoot lots of photos and video, and prefer to pop the camera's memory card directly into a laptop, the Flip 14's SD card reader is a must-have.
TP412UA-DB51T
TP412UA-DB71T
CPU
Intel Core i5-8250U, 1.6GHz (6MB cache, up to 3.4GHz)
Intel Core i7-8550U, 1.8GHz (8MB cache, up to 4GHz)
GPU
Intel UHD Graphics 620
Display
14", 178° wide viewing angles
14", 178° wide viewing angles
Resolution
Full HD 1920 x 1080
Full HD 1920 x 1080
Memory
8GB DDR4
Storage
256GB SSD
Networking
802.11ac Wi-Fi with 2x2 antenna and BT 4.0
Connectivity
1 x HDMI
1 x USB 3.0 Type-A
2 x USB 2.0 Type-A
1 x USB 3.1 (Gen1) Type-C
1 x Audio combo
1 x SD card
1 x DC Jack

Dimensions
327 x 224.75 x 17.6 mm
Weight
3.3 lbs
OS
Windows 10
MSRP
$749 USD

$849 USD
$1,099 CAD
Availability (USA)

US Vendors




US Vendors



Availability (CAD)
N/A

Canada Vendors



On a budget, no need to fudge it
The VivoBook Flip 14 was designed to be a versatile, flexible, and powerful tool. A long list of well-balanced specifications promise to deliver responsive performance for years to come. And there is no shortage of ways to use the Flip 14 thanks to its 360° hinge. Whether you're getting work done, showing your work to others, or simply enjoying some downtime outside of work, the VivoBook bends to fit your needs.
It'd be difficult to beat such a multitalented device at its $749 USD price point. If you're in the U.S. can buy the configuration we tested from the retailers listed in the table above. If you find yourself craving additional performance, step up to the Core i7-8550U-based model for ​$849.99 USD​ and $1,099 CAD. It serves up higher frequencies, more L3 cache, and a slightly faster UHD Graphics 620 engine.