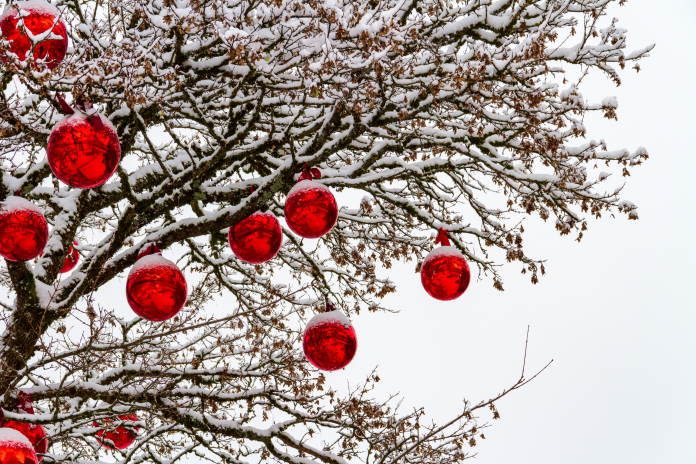 With the hectic Black Friday and Cyber Monday shopping in the rearview mirror, it's time to take a deep breath and finish crossing off your holiday shopping list. Odds are, you're still figuring out what to get for one or two people, especially if you're hoping to wrap up some exciting new technology for a friend or loved one. Here's where we can help. In this year's holiday gift guide, we tailored our recommendations by thinking about a range of different people who might be on your shopping list.
In the computing world, there are very few one-size-fits-all kinds of presents. More than ever, technology like new notebooks, PC components, and smartphones is tailored to the individual needs of specific users.
Are you buying a gift for a budding artist, a dedicated creative, an esports fanatic, or a frequent flyer? With our broad range of content creation PCs and peripherals, battle-proven ROG products, ultraportable notebooks, and innovative phones, we're sure to have a gift that will fit the specific needs and desires of anyone on your list.
For the tech novice
Are you the de facto tech support line for someone in your family? Are you the first one they call when they encounter a problem with their computer or smartphone? Do you suffer through the experience of cleaning out and updating your relative's old PCs every Thanksgiving and Christmas?
Perhaps it's time to replace that aging computer with one of our easy-to-use and affordable Chromebooks. They're ideal for people who primarily use a laptop for email, social media, and content consumption. They boot up quickly, they have a simple, intuitive interface, and Google keeps them protected with automatic updates and built-in virus protection. If you want to replace someone's aging notebook with an easy-to-maintain machine, Chromebooks are an easy choice.
Chromebook Flip C434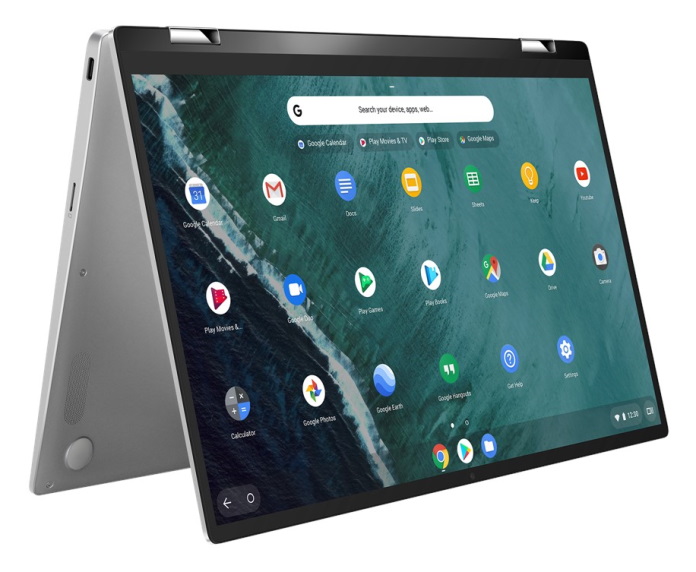 Our Chromebook Flip C434 is a flexible, attractive notebook that's a sure bet for spreading some holiday cheer. Its all-aluminum body will look stunning under the glow of your decorations. Open it up in notebook, tent, or tablet mode and you'll find a bright 14" FHD touchscreen. Ultra-slim display bezels let us slip this large screen into a compact body, so it's perfect for watching a holiday flick while curled up on the couch.
Take it to work or school, and you'll find that the Chromebook Flip C434 offers snappy performance thanks to its Intel Core m3-8100Y processor and 4GB of RAM. With its 64GB of eMMC storage, the notebook provides all the space you need to explore the app selection on the Google Play store.
Chromebook C423NA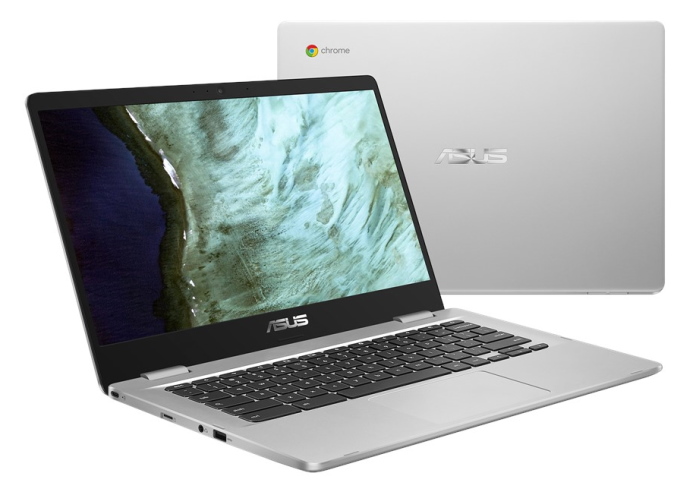 Chromebooks are also fantastic gifts for kids. Public schools have been adopting Chromebooks at a fast pace, so kids often know how to use them before they even have one of their own. Through its Family Link software, Google provides some of the best parental controls in the business, allowing you to set reasonable limits on screen time and shield young eyes from the darker corners of the internet.
A kid's first notebook should be durable and intuitive to use, and our Chromebook C423NA-DH02 fits that bill. This is a slim, portable 14" notebook that weighs in at just 2.6 pounds. It's powered by a capable dual-core Intel Celeron processor that provides a fine balance of performance and efficiency. Thanks in part to this power-sipping chip, the C423 offers all-day battery life—up to 10 hours on a single charge in our tests. All told, this notebook is easy to use, highly durable, and a cinch to maintain.
For the photographer or videographer
ZenFone 6
For amateurs and professionals alike, it's an exciting time to be passionate about photography, graphic design, and videography. It's never been easier to create and share professional-quality visual art. If you're shopping for someone who's always snapping pictures, doodling surprisingly good pictures in their notebooks, or hoping to break out into the exciting field of video, a new device might be just the thing to help them turn their private hobby into a passion they share with the world.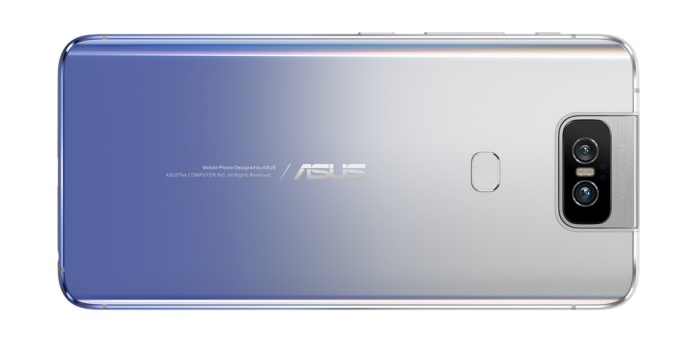 The ZenFone 6 is a fantastic gift for the person who might refer to their smartphone as their "smartcamera." As fun as it is to snap, edit, and share selfies, the front-facing cameras on most phones produce lower-quality images than the rear-facing cameras.
The innovative Flip Camera module allows the ZenFone 6 to take the same high-quality images with its 48MP main camera and 13MP ultrawide second shooter, whether you're taking a world-facing shot or snapping a holiday selfie with your family. The camera module simply flips forward 180° when you need it to face forward, and tucks itself back in when you don't.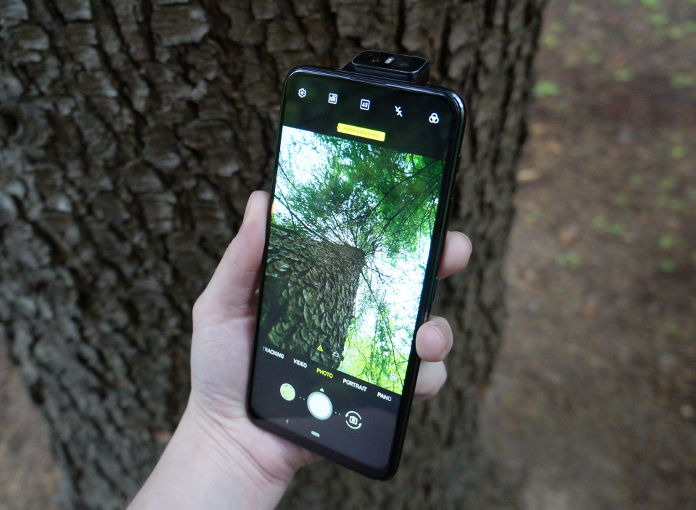 To power the ZenFone 6's camera experience—and everything else you use a smartphone for—we outfitted the device with Qualcomm's Snapdragon 855 SoC. Paired up with up to 8GB of RAM and up to 256GB of fast storage, this mobile platform provides a flagship smartphone experience at a surprisingly affordable price. The ZenFone 6 has a spacious 6.4" IPS display that's uninterrupted by notches, bezels, or hole punches. It's sure to bring a smile to the face of that selfie-snapper in your life.
ProArt PA32UC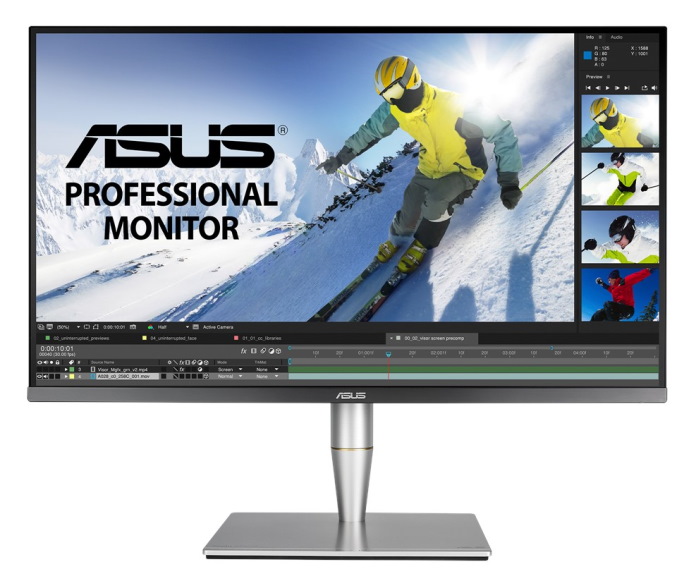 Of course, there's a whole world of photo and video editing that happens outside of the smartphone arena. As video, in particular, has become a prominent tool for expression and creativity across the internet, creators have been looking for tools that help them take raw footage and process it into professional-quality results.
A professional-grade display will brighten the holiday of any serious videographer. Our ProArt PA32UC delivers the accurate, brilliant colors that you need to produce high-quality images and video. It starts, but hardly ends, with a high-resolution 32" 4K panel. Most footage these days is shot in 4K, if not an even higher resolution, so you need a display that can actually show off those pixels. More importantly, video editors look for displays that can produce a broad range of colors at high accuracy. The average monitor might display most of the sRGB color gamut, but the PA32UC can do much more. On top of 100% sRGB coverage, it can reproduce 95% of the cinema-ready DCI-P3 color gamut and 99.5% of the Adobe RGB gamut.
Increasingly, it's also important to have an HDR display on hand for content creation and entertainment alike. As an Ultra HD Premium certified monitor, the ProArt PA32UC vividly reproduces the contrast between the light and dark elements of an image, creating remarkably dark shadows and bright, vivid highlights. The difference between conventional and HDR displays is unmistakable, and it undoubtedly represents the future of content creation.
ZenBook Pro Duo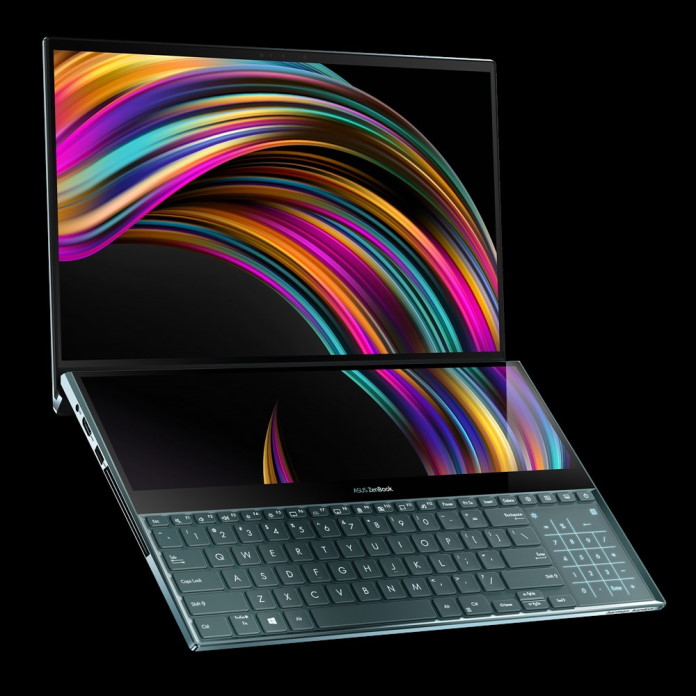 If you're looking to help the creative professional in your life take their work on the road in a portable notebook—or give them all the tools they need for content creation in one box—take a peek at our groundbreaking ZenBook Pro Duo. To give creators unprecedented control and flexibility for their workflow, we developed the ScreenPad Plus, a large secondary display that works seamlessly with the main 4K OLED screen. Whether you're arranging inspectors in Photoshop or keeping an eye on a YouTube tutorial video while working on a new project, the ScreenPad Plus' 3840×1100 touchscreen gives you a convenient secondary space for controls and windows. Multitasking on a notebook has never been easier.
Creative work often requires powerful hardware, especially when processing high-resolution digital images or editing video footage. To meet these needs, we outfitted the Pro Duo with an eight-core Intel Core i9 processor that delivers both the single-threaded and multi-threaded performance that users need to complete their projects swiftly. In many applications, the GPU is equally important, so we enlisted NVIDIA's GeForce RTX 2060. This powerful GPU is best known for its gaming prowess, but it's equally capable in content creation. Finally, speedy storage is vital for folks working with large raw photos, high-resolution video footage, or other large projects. The Pro Duo has a 1TB NVMe SSD, and with its Thunderbolt 3 USB Type-C port, it'll connect to high-bandwidth external storage as well.
For the esports fanatic
Those of us who grew up passing controllers back and forth with our friends in front of the family television understand all too well how video games bring out the competitive side of people. These days, competitive gaming has graduated from the family room and into international professional leagues that compete for huge prize pools in front of millions of viewers.
Unlike many fans of traditional sports, esports fans are more than just viewers. They're participants. They analyze and discuss the plays of the professionals, watch the live streams of their favorite players and personalities, and work with their friends to implement high-level strategies into their own games. When you help an esports fan upgrade their hardware, you're helping them forge a deeper connection to their community.
ROG Zephyrus G GA502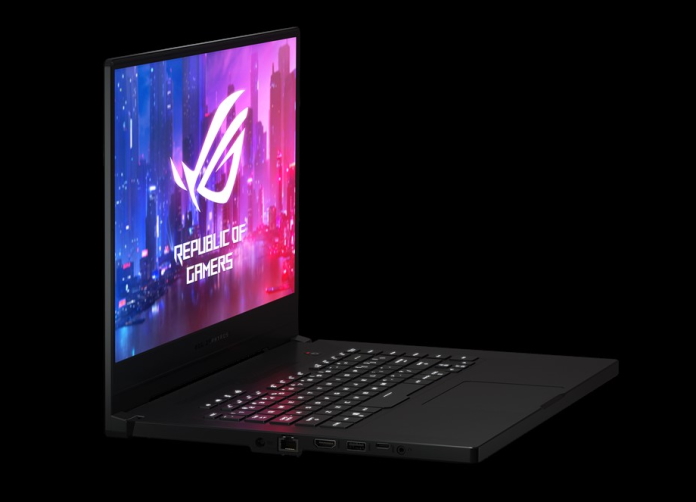 A gaming notebook like our ROG Zephyrus G GA502 gives skilled gamers everything they need for esports excellence. From a fast display to a potent combo of CPU and GPU, the GA502 provides everything esports athletes need to elevate their play in competitive games.
The Zephyrus G houses a carefully-curated complement of capable gaming hardware that'll produce high frame rates in esports titles without breaking the bank. Games like Overwatch, Fortnite, and Counter-Strike: Global Offensive have less-stringent hardware requirements than the latest triple-A titles, but that doesn't mean it's time to skimp. A system that can produce high frame rates in these games will provide a distinct competitive advantage. The GA502's speedy 120Hz display can refresh twice as fast as a conventional 60Hz monitor, allowing for crisp, clear visuals and smooth motion reproduction. To keep the display fed, we outfitted the Zephyrus G with AMD's potent Ryzen 7 3750H processor and NVIDIA's GeForce GTX 1660 Ti graphics processor. This dynamic duo will not only deliver high-refresh-rate gaming in titles like Overwatch—it'll serve up solid 1080p gaming in triple-A titles.
Too often, gaming notebooks at the Zephyrus G's price point cut corners. We committed to giving gamers the complete package. In our tests, this notebook is capable of up to 7 hours of web browsing through a Wi-Fi connection, making it more than capable of a full day of work at school or the office. Despite having a slim 20mm chassis, the Zephyrus G delivers high performance thanks to our Intelligent Cooling design philosophy. Dedicated heat pipes on critical components channel heat into a pair of fin stacks cooled by a pair of high-surface-area 83-blade fans. And with 512GB of high-speed storage, it'll accommodate a full gaming library.
ROG Strix SCAR III and ROG Strix Hero III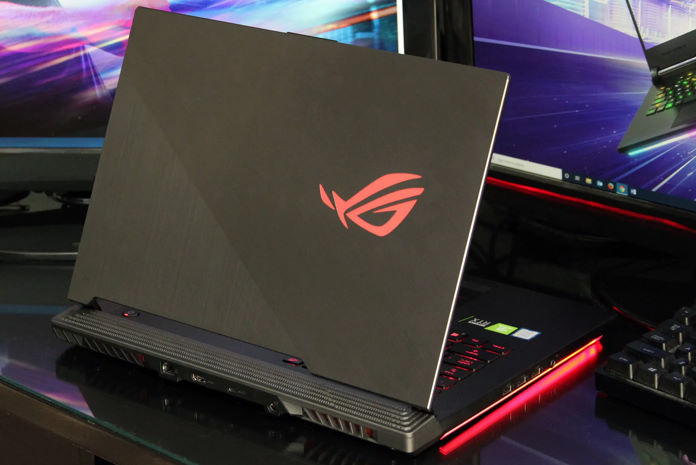 The upper echelon of professional gamers and streamers process and react to fast-paced gameplay far more quickly than the average person. For these individuals, we develop hardware that helps them realize their full potential. The ROG Strix Hero III and ROG Strix SCAR III set the standard for what professional gamers expect from a notebook.
Both notebooks harness NVIDIA's GeForce RTX 2070, one of the most powerful GPUs available for gaming notebooks. Empowered by ROG Boost and our innovative Intelligent Cooling design, the RTX 2070 in the SCAR III and Hero III is poised to run at its maximum potential. Alongside its potent partner, Intel's Core i9-9880H CPU, the RTX 2070 is capable of producing the high frame rates competitive gamers need in esports titles, allowing the SCAR III and Hero III to deliver a gaming experience that's as fast as your reflexes.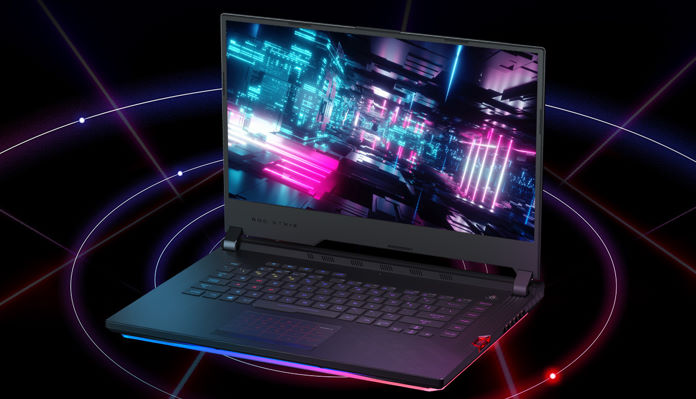 Esports gamers, in particular, look for every competitive advantage they can find, so we hooked up the SCAR III and Hero III with 240Hz displays capable of reading out frames four times as fast as conventional monitors. We selected these displays after close collaboration with professional esports teams and top tournament venues to ensure that these notebooks deliver a professional gaming experience.
Gamers who share their experiences through social media or live streams want hardware that's not only powerful, but looks the part, too. The SCAR III bears a gunmetal finish to accompany its aluminum lid, while the Hero III is decked out in black with an ROG cyber-text motif on its palm rest. Both models sport an eye-catching wraparound RGB LED light bar under the front and sides of their chassis, and feature an asymmetrical cut-out beneath the display that helps ensure unrestricted airflow through the cooling system.
ROG Strix XG248Q
If the esports fanatic in your life already has an eye-wateringly powerful gaming system, you might consider ordering them a new display instead. A fast display like the ROG Strix XG248Q might be just the ticket, particularly for someone who's still gaming with a plain old 60Hz monitor.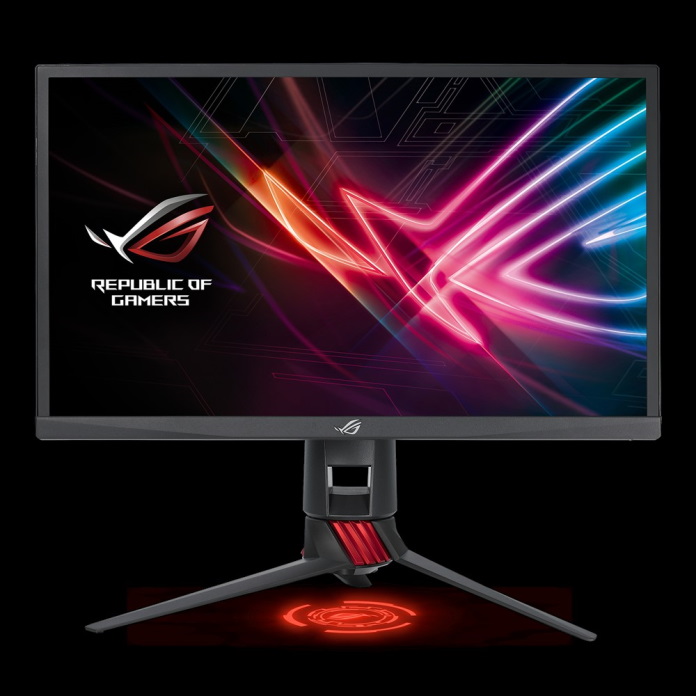 Teamed up with the right graphics settings and capable hardware, a high-refresh-rate display can deliver the fluid, responsive, up-to-the-millisecond visuals that competitive gamers need to perform at their best. With its 1-ms response time and 240Hz refresh rate, the XG248Q is fast enough to keep up with the high frame rates that powerful PCs are capable of producing in esports titles like Overwatch.
NVIDIA G-SYNC synchronizes the XG248Q's refresh rate with the GPU's frame delivery, eliminating tearing artifacts without introducing input lag. Or if your recipient is particularly sensitive to motion blur, our ELMB backlight-strobing technology can be enabled instead for extra-clear imagery. If you're still using a monitor with outdated panel technology, you'll immediately notice how clear and sharp moving images are on the XG248Q. Even just moving the mouse cursor is a smoother experience.
ROG Spatha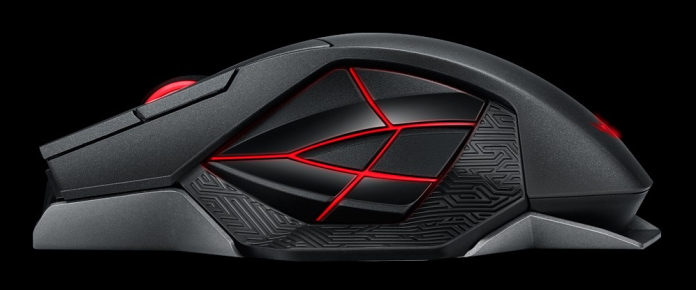 Speaking of mice, our ROG Spatha Gaming Mouse could be another welcome upgrade for the gamer in your life. A mouse is a PC player's primary tool for aiming, so it needs to be precise. The Spatha's 8200 DPI laser sensor can track under 30gs of acceleration at a 2000Hz polling rate in wired mode, so it's sure to catch all of your recipient's precise movements.
The Spatha offers a variety of customization options. First, it operates with or without a wired connection. It has six customizable thumb buttons, and with Aura Sync, you can coordinate its RGB LED lighting effects with the rest of your ASUS gear. Finally, users with a 3D printer can take things a step further by printing and mounting custom finger rests of their own design.
ROG Strix Flare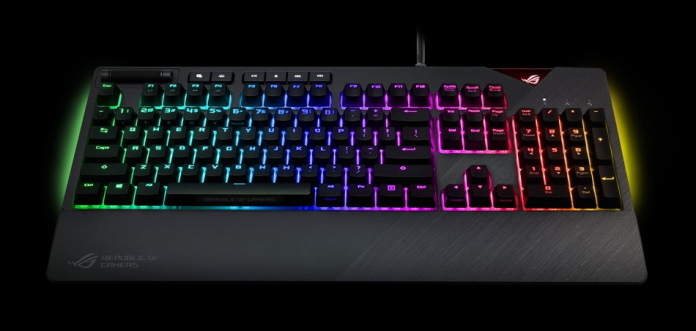 You might overlook the importance of a keyboard if all you're used to is the bland membrane-switch unit that likely came with your office PC. If the gamer in your life is hammering away on such a keyboard after hours, it's time for an upgrade.  A premium clicker like the ROG Strix Flare won't be overlooked when it's set up and glowing with Aura Sync RGB LED lighting effects, and it provides a superior typing and gaming experience.
It's no secret that typists and gamers the world around prefer the feel, sound, and precision of mechanical Cherry MX switches. The Strix Flare is equipped with your pick of six different types of Cherry MX RGB switches, allowing users to select the switch that best fits their use case and typing habits. Gamers often gravitate to Cherry MX Red switches, as they allow for fast actuation with minimal noise, but Cherry MX Brown switches are an excellent all-around choice for typing and gaming.
We laid out this keyboard with gamers in mind. Dedicated media keys are situated on the left side for quick access to audio controls. You can program macro buttons on the fly, and there's a USB passthrough that gives you a convenient port to plug in a headset or mouse.
The Strix Flare has practical features and real benefits for games and work, but make no mistake: this is a keyboard that was made for the limelight. If its per-key RGB LED illumination wasn't enough, we went ahead and installed vibrant underglow LEDs. You can even customize your own badge to replace the illuminated ROG logo in the upper right hand corner of the keyboard. The Strix Flare is a great holiday present, but be careful. It just might outshine the rest of your holiday decorations.
ROG Delta Core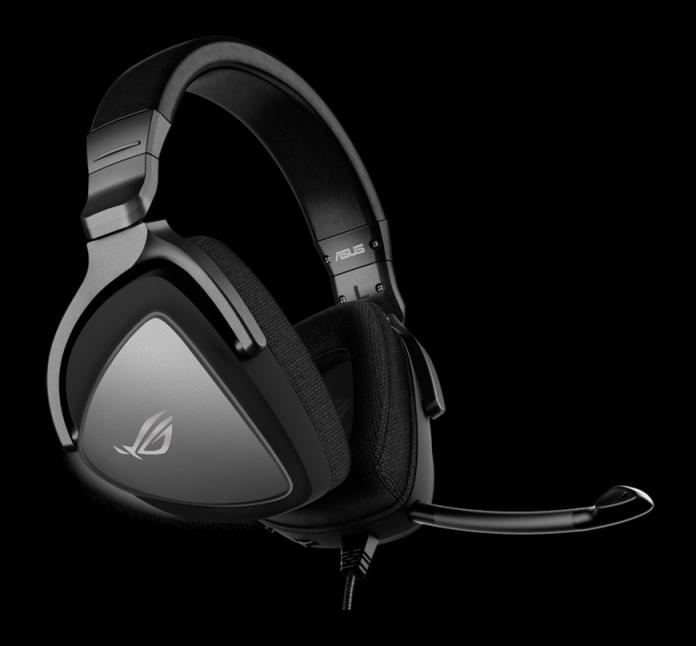 As a final gift suggestion for the esports fanatic in your life, we heartily recommend a great headset. If you're tired of hearing the chattering of gunfire from a loved one's laptop, you can almost think of this as a present for yourself. But for the person receiving the headset, you're giving the gift of high-quality, immersive, and private audio.
We have a fair number of headsets in our portfolio, but we'll highlight the ROG Delta Core,  an affordable pair of cans that will work with a wide variety of gaming systems. Our exclusive ASUS Essence drivers deliver deep, punchy bass that's vivid and immersive. Thanks to its tried-and-true 3.5mm jack, the Delta Core will plug into just about any system.
The Delta Core is also quite customizable. Not everyone's ears and head are the same shape, so we include two differently-shaped ear cushions in the box. There's a detachable boom mic that will send clear audio to squadmates, and convenient microphone and volume controls on the ear cup. It's hard to imagine a gamer of any age who wouldn't appreciate a fresh headset.
For the new professional
You've taught them how to craft a presentable resume. You've supported them through college and helped them navigate the job market. Now it's time to help them take that battered, sticker-covered notebook they toted all through college and replace it with a notebook that projects professionalism in the workplace.
VivoBook S512FA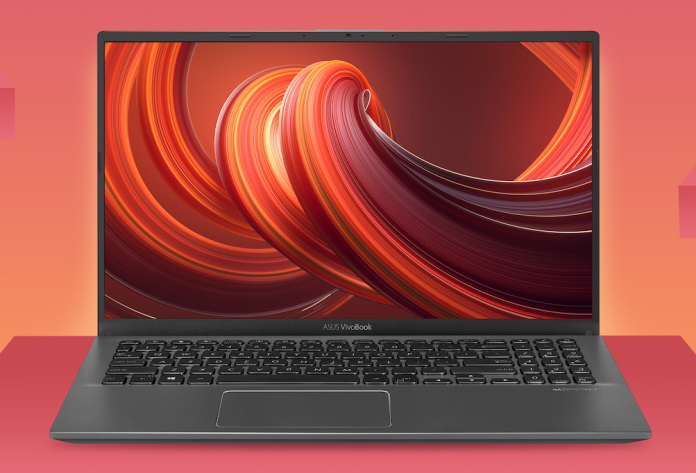 For a notebook with the right balance of personality and functionality, consider our VivoBook lineup. The VivoBook S512FA, in particular, is a capable notebook with a cheerful design and a striking display. Available in a variety of colors, the S512FA has ultra-slim NanoEdge bezels around its 15.6" FHD display. This narrow frame not only immerses you in the bright display, but it allows us to fit a 15.6" screen in a smaller, more portable chassis than you'd expect.
The VivoBook S512FA isn't just out on a charm offensive, though. It's ready for work. Its innovative ErgoLift hinge raises the rear of the chassis as you open the lid, lifting the keyboard to a natural typing angle. A Core i3 processor will competently tackle typical office work, and its 128GB SSD will help ensure that apps and files open quickly. And with dual-band Wi-Fi 5 (802.11ac), the notebook will maintain a steady Wi-Fi signal throughout the business day.
ZenBook 13 UX331FA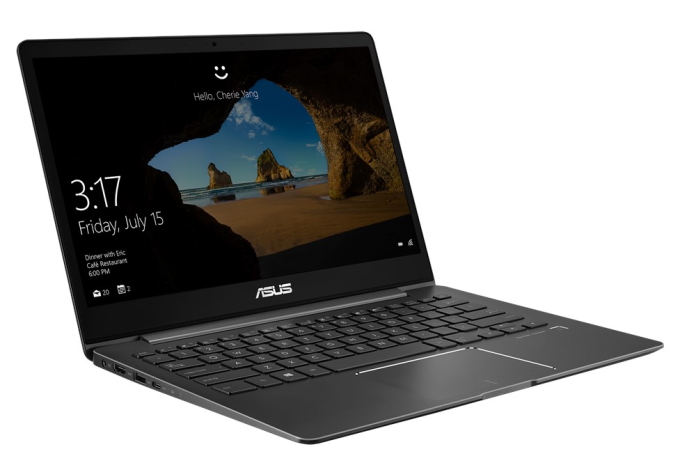 For a smaller notebook that still exudes elegance and sophistication, we recommend the ZenBook 13 UX331FA. This ultralight 1.12kg notebook is just 13.9mm thin and dressed to impress. With its classic slate grey finish and iconic spun-metal pattern on the lid, it immediately communicates professional status.
13" notebooks are all about portability and flexibility. The ZenBook 13's small footprint slips easily into a bag, but its surprisingly spacious 1920×1080 screen remains ready for real work. Its 50Wh Li-polymer battery is ready for business, as well. In our tests, it was good for up to 14 hours of work.
Speaking of work, the ZenBook 13 doesn't skimp on the processing power, either. An eighth-gen Intel Core i5 beats at the heart of this particular model alongside 8GB of RAM. Go ahead and multitask with a variety of open applications—this notebook will keep up. And with a 512GB PCIe SSD, applications will open quickly and files will transfer with a snap of your fingers.
ROG Zephyrus M GU502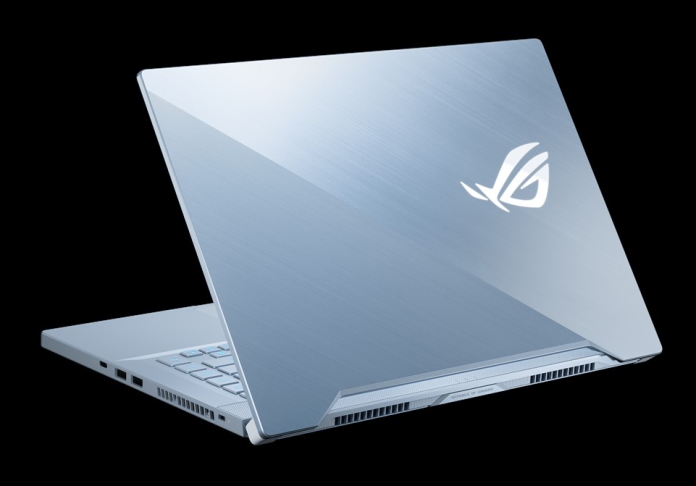 Gaming hardware might not have fit into the boardrooms of the past, but the latest ROG laptops leave no reason to keep separate notebooks for work and play. If you're shopping for a notebook that harnesses potent gaming hardware in a chassis that communicates sober professionalism, look no further. Our Zephyrus M GU502 lets you have the best of both worlds: a powerful gaming notebook that's tailored to make a great first impression on clients and coworkers alike.
Outwardly, the GU502 is an elegant laptop with premium finishes. It has a sturdy, fingerprint-resistant magnesium-alloy chassis, distinctive Zephyrus hairline textures, and a softly-glowing Republic of Gamers logo on the lid. Its good looks are only enhanced when the lid is open. The 15.6" 1920×1080 IPS display is framed with slim 6.2mm bezels, and it shines with vibrant colors from any angle.
Tucked under this sleek exterior are powerful gaming components. To keep the high-refresh-rate 144Hz display fed, we turned to NVIDIA's GeForce RTX 2060. This GPU enables ray-traced effects in supported titles and provides an improved experience when gaming and streaming simultaneously thanks to a cutting-edge media encoder. Intel's Core i7-9750H CPU offers impressive performance both at work and at play.
For the traveling gamer
For some, travel is just a way of life. Hardly a week goes by without a few hours on a plane and many more in a hotel. Evenings they used to spend connecting with friends over a few rounds of Call of Duty are now spent browsing channels in a hotel room.
An obligation to travel doesn't need to separate people from the games they love. The ROG Phone II and our robust lineup of gaming notebooks ensure that it's easy to take a great gaming experience with you wherever you go. A gift of one of our portable gaming systems will allow your friend or family member to stay connected with their gaming passion and the friends and family they game with.
ROG Zephyrus S GX531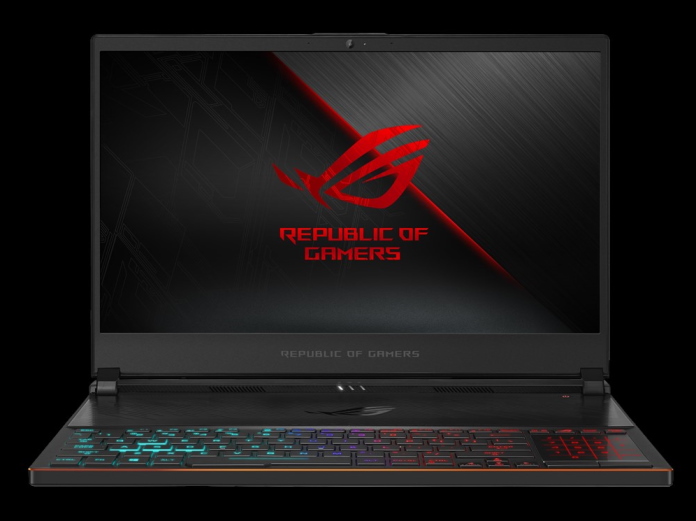 People refer to some gaming notebooks as "desktop replacements." They offer the full arsenal of hardware necessary to dive into PC gaming, but they can be a bit too heavy and awkward to throw in a laptop bag, so they typically end up living on a desk. To give someone a truly portable PC gaming experience, you need to find a gaming notebook that provides uncompromised performance in a slim and light chassis.
Enter the ROG Zephyrus S GX531. Despite having a slim-and-trim chassis that's only 16.15mm thin, it's bristling with powerful, efficient components and a cleverly-designed cooling system. We tapped Intel's Core i7-8750H for processing duties, and one of NVIDIA's GeForce RTX GPUs for pixel-pushing power. At the high end, you can select the GeForce RTX 2080—an incredibly powerful graphics processor for a notebook this portable.
Our Intelligent Cooling design approach keeps this hardware performing optimally even in a thin chassis. When you open the laptop's lid, our unique Active Aerodynamic System opens up extra venting at the rear of the chassis. A pair of 83-blade fans pulls cool air across four heatsinks, while our Anti-dust Cooling System collects and ejects debris from the chassis before it can build up on fans and other internal components. High-surface-area heatsinks dissipate the heat wicked away from the laptop's vital components by five thick heatpipes. Put it all together, and you have a cooling system that greatly exceeds your expectations for a notebook.
To complement this potent hardware, we implemented a variety of technologies sure to warm the heart of any gamer. The 15.6" 1920×1080 display refreshes at a speedy 144Hz rate and has a low 3ms response time. WIth 100% sRGB coverage, it offers vivid and accurate colors. Four-zone RGB LED lighting provides opportunities for customizing the look of the laptop, and smart amplifier technology helps a pair of front-facing speakers deliver impressive volume with deep bass.
ROG Phone II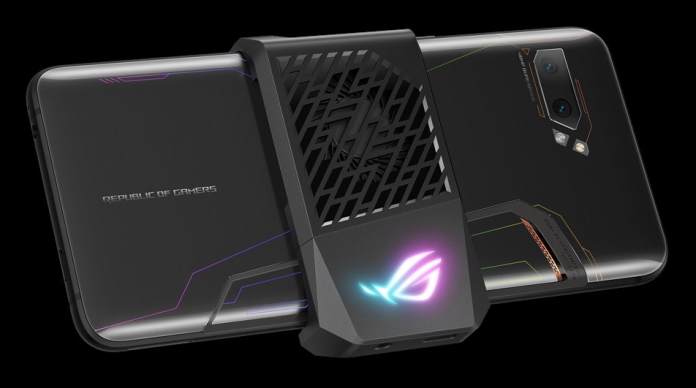 Many, if not most, of us play games on our smartphones quite regularly. The trouble is that the average smartphone isn't good for much more than casual games. Competitive titles like Fortnite can make short work of a smartphone's battery, and they can cause the phone's application processor to throttle over time thanks to insufficient cooling. The ROG Phone II overturns all expectations for gaming on a smartphone. With its powerful components, innovative cooling system, unparalleled screen, and flexible accessories, this device sets a new standard for mobile gaming.
Qualcomm's Snapdragon 855 Plus mobile platform provides snappy performance and a level of pixel-pushing prowess rarely seen in the mobile market. But it's our thermal design that keeps the ROG Phone II performing at its full potential even after hours of gaming. The GameCool II heatsink system inside the phone employs a 3D vapor chamber to dissipate heat, and for on-demand cooling power, we include the ROG AeroActive Cooler II in the box. This clip-on fan helps keep the phone's rear cover cool, particularly above the hottest internal components. If your hands get sweaty in the heat of battle, you'll appreciate the extra airflow from this cooler, too.
A behemoth of a battery and a top-notch display round out the ROG Phone II. The phone is equipped with a 6000mAh battery that's more than enough to power the efficient Snapdragon 855 Plus for a full day of work and play. We selected an ultra-responsive 120Hz AMOLED display for the phone. With its 1ms response time and 49ms of touch latency, it'll deliver fluid, blur-free gaming and entertainment.
For the household suffering from bad internet
In a busy household, the number of internet-connected gadgets can add up quickly. As smartphones, notebooks, gaming consoles, and smart home devices all compete for bandwidth, it's sometimes more than the family router can handle.
Maybe it's your household that suffers from a bad case of internet congestion. Maybe a friend's house has such bad Wi-Fi coverage that you don't even bother to connect when you visit. No matter where you encounter spotty Wi-Fi connections, the good news is that a solution is only a new router away. Empowered by mesh networking and Wi-Fi 6 technologies, our latest wireless routers offer you the opportunity to give the gift of fast, reliable internet.
RT-AX58U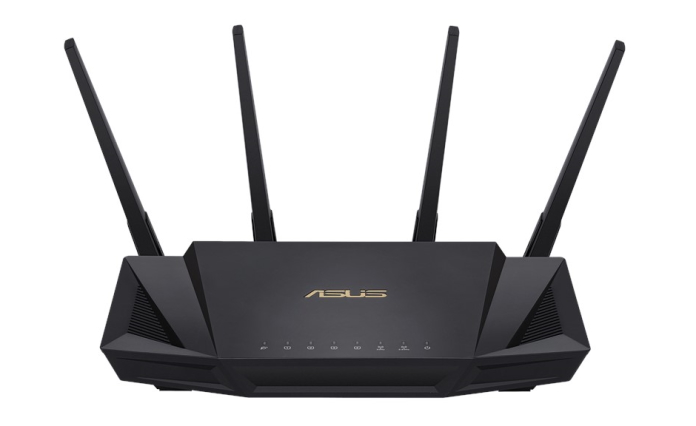 If you only connected your smartphone to the household router, odds are you'd have all the bandwidth you needed. The problem is often that a host of devices are all competing for that same signal. That's why the new Wi-Fi 6 standard focuses on alleviating congestion. If you were already planning a network upgrade—or helping a loved one upgrade theirs—grab an RT-AX58U. Empowered by Wi-Fi 6 802.11ax technology, this router will ensure that phones, laptops and smart devices of the future deliver the best possible performance when you upgrade. When it's juggling data among Wi-Fi 6 devices, the RT-AX58U can provide up to four times the network capacity than older routers when you compare them in traffic-dense environments. The sub-channel transmission technology enabled by OFDMA also lets our routers provide better coverage to Wi-Fi 6 devices—a range increase of up to 80%.
For our new lineup of routers, we're also focusing on security. With the purchase of an RT-AX58U, we include a lifetime of free security updates through AiProtection Pro. Powered by Trend Micro, a leader in computer security software, this software scans the traffic passing through the router to protect connected devices and their data from internet threats.
AiMesh AX6100 Wi-Fi System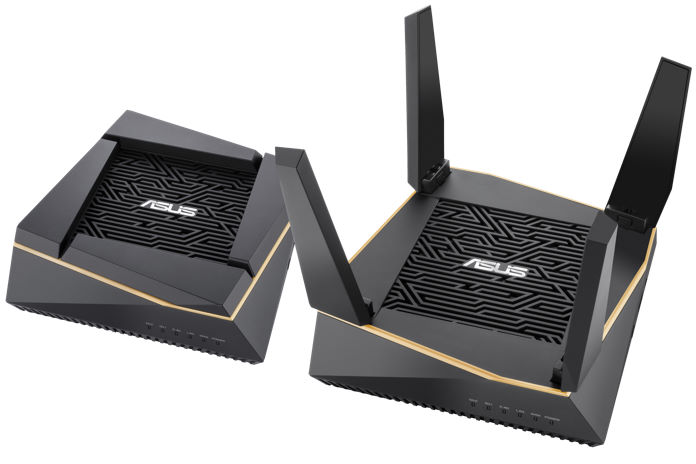 There are many households where one Wi-Fi router just doesn't cut it. Perhaps the house is just too large for one router to blanket in a high-quality signal. Maybe it's a multilevel home with a distinct dropoff in bandwidth from one floor to the next. Whatever the cause, an inconsistent signal can be a constant source of frustration.
For all these situations, the best answer is a system of routers connected with AiMesh technology. Our AiMesh AX6100 Wi-Fi System harnesses the power of Wi-Fi 6 and mesh networking to make sure that every nook and cranny of a household has reliable signal coverage. Mesh networking works by pairing two or more routers together over a wired or wireless link of their own, extending coverage farther than a single access point can. The routers will track devices across the household and keep them seamlessly connected to the access point that provides the best signal. Beyond an easy initial setup, users won't have to fuss with finding the strongest signal. The system will just keep their devices connected.
Such a system requires a strong signal between the routers. In the AiMesh AX6100 system, we take advantage of Wi-Fi 6 to establish a wireless backhaul between the two AX92U routers. This dedicated, high-bandwidth link makes sure that the wireless network is stable and reliable, even with a large number of connected devices. As with the RT-AX58U, users will enjoy a lifetime of protection thanks to active monitoring and security updates through our AiProtection Pro software.
For the DIY enthusiast who has it all: ROG Aura Terminal
It's often quite tricky to give a present to a PC builder, because do-it-yourself-ers are typically buy-it-yourself-ers. Odds are, if they're really interested in a product, they've already bought it. You don't have to resign yourself to a lifetime of buying them gift cards and comfy socks, though. Here's a gift suggestion that will warm the heart of almost any PC builder.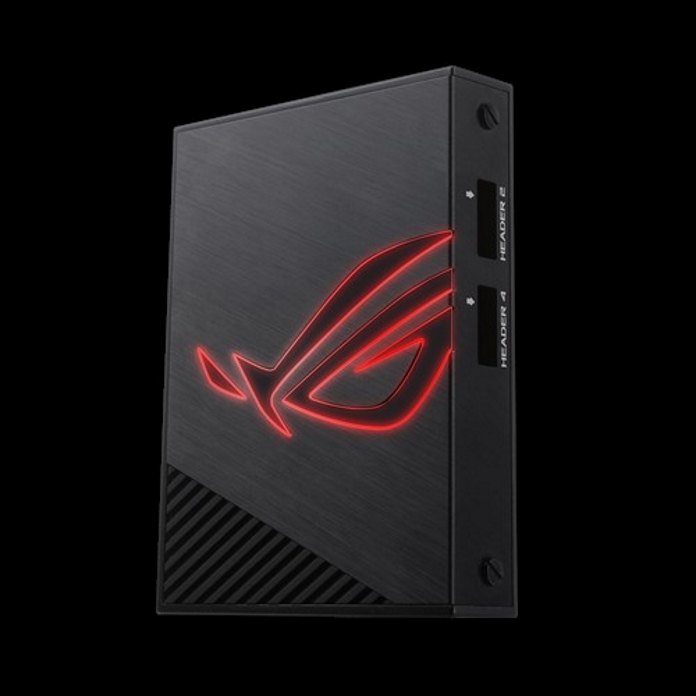 If you're looking for an affordable stocking-stuffer for your tech-obsessed friend or family member, look no further. This is as close to a sure thing as you're going to find on this shopping season. The ROG Aura Terminal is a slim hub that provides powerful and flexible options for connecting addressable RGB LEDs to a PC.
The Aura Terminal has a variety of uses, but here's my favorite: putting a Halo effect behind a monitor. To make this happen, you attach the three ROG Addressable LED strips included in box to the rear of a monitor, following the edges along the sides and top. The LED strips connect to your PC through the Aura Terminal, and then our Halo utility takes everything from there. The software uses the LED light strips to add illuminated ambiance behind the monitor, matching the colors with the image on the display. The light display is particularly striking and immersive, and it also helps with eye strain by reducing the contrast between your bright display and the wall around it.
Of course, this is just one use for the Aura Terminal. It'll happily occupy a 2.5″ bay inside of your chassis and provide extra headers for RGB LED strips, should your motherboard not happen to provide enough for your ambitions. No matter what plans your friend or family member might have for the RGB LED illumination of their build, the Aura Terminal will fit right in and expand the possibilities available to them.
For the armchair cowboy
New releases from legendary developer Rockstar Games always make a splash. You just might have a friend or family member who's champing at the bit to dig into Red Dead Redemption 2, the Western epic that just recently launched on PC.
This game isn't your typical console port, though. To run RDR2 at the consistent 60 FPS that PC gamers expect, independent media reviews suggest that you need a beefy gaming system sporting some serious horsepower.
ASUS TUF Gaming GeForce GTX 1660 SUPER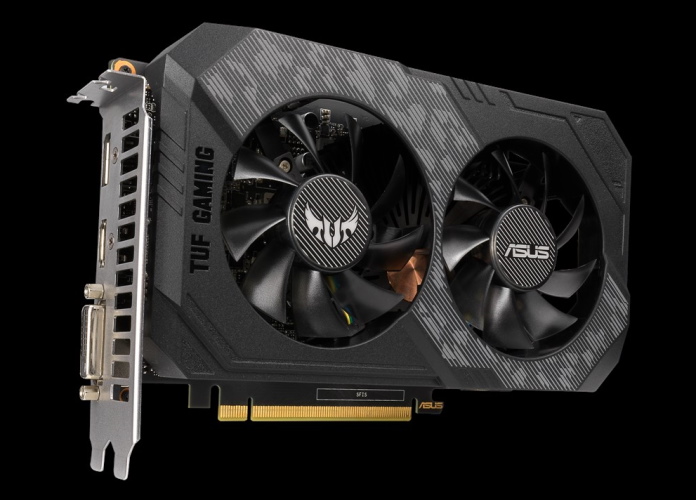 For a good experience at 1920×1080, we recommend the ASUS TUF Gaming GeForce GTX 1660 SUPER 6GB as a starting point. The GTX 1660 SUPER boasts 1408 CUDA cores and 6GB of GGDR5 memory. To enable boost clocks up to 1845MHz in OC mode, we outfitted this graphics card with a dual-fan cooling system that keeps a generous supply of air moving over the heatsinks. Part of this card's charm is that it's only 8.1″ long. It'll fit into many cases without issue.
| | ASUS TUF Gaming GeForce GTX 1660 SUPER |
| --- | --- |
| Availability (USA) | Amazon |
ROG Strix GeForce RTX 2060 SUPER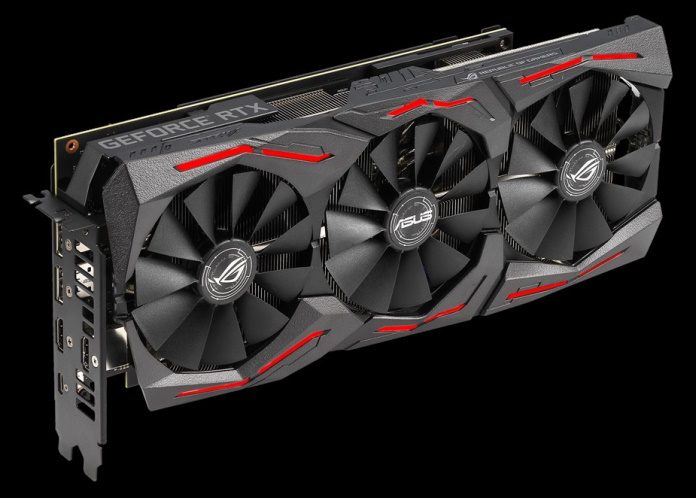 Part of the fun of having Red Dead Redemption 2 on PC is its wide range of improved graphics over its console release. With appropriately powerful components, you can enjoy an unlocked frame rate, increased draw distances, and HDR support, among many other options. Some of these settings will challenge even the finest hardware available today. For a rock-solid experience gaming at 1080p at high graphics settings, independent benchmarks suggest that the ROG Strix GeForce RTX 2060 SUPER is a fine choice.
Opting for a GeForce RTX card gives you access to the full suite of features in NVIDIA's Turing architecture. The GPU's RT cores enable real-time ray tracing effects, while Tensor Cores make use of AI techniques for technologies like Deep Learning Super Sampling. The RTX 2060 SUPER offers gamers 8GB of GDDR6 memory running at 14Gbps. As games hunger for more and more RAM as time goes on, it's good to have this extra helping of memory on hand.
To keep this card cool, we rigged up a triple-fan cooler atop a fat stack of fins. Six heat pipes work their way through the fin stack, drawing heat away from the hot components through our full-coverage contact plate. Our comprehensive cooling solution allows the GPU to perform at its full potential even during lengthy gaming sessions.
ROG Strix GeForce RTX 2070 SUPER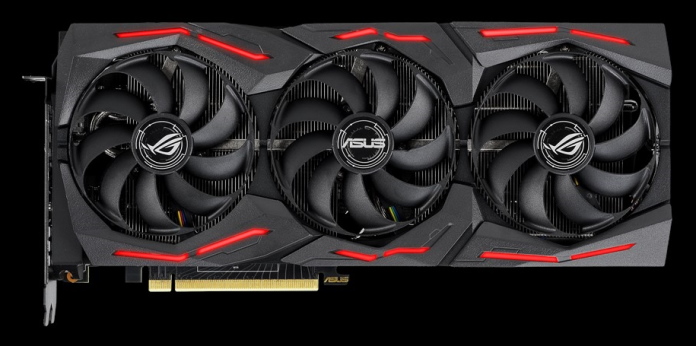 Cowboys looking to take their digital horse to the old town road on a 2560×1440 display will need a graphics card that's even more powerful yet. For this resolution, independent reviews suggest that it takes a GeForce RTX 2070 SUPER to serve up a consistent 60 FPS experience.
We offer several variations of this graphics card, starting with the ROG Strix GeForce RTX 2070 SUPER. 2560 CUDA cores give the RTX 2070 SUPER even more muscle than the capable RTX 2060 SUPER. A high-performance heatsink topped with a trio of Axial-tech fans allow the RTX 2070 SUPER to really stretch its legs. And with RGB LED accents and an ROG logo prominently placed on the card's backplate, it's built to be noticed.
Builders of small-form-factor systems might prefer the Turbo GeForce RTX 2070 SUPER EVO instead. An open graphics card cooler like the one on the Strix is highly effective in a case with wide-open spaces and excellent air-moving power, but in a small build, it's often a better choice to use a graphics card with a blower-style cooler that vents heat out directly out the back of the chassis. The TURBO EVO employs a centrifugal blower fan to direct air over a fully enclosed heatsink on its way out the back of a case.
For the most deserving person on your gift list: yourself
You can be honest with us. Have you been scanning our holiday gift guide, secretly hoping to find something for yourself? You don't have to be embarrassed. Honestly, one of the best parts of being a grownup is that you get to give yourself the best presents. If you're looking to spoil yourself this holiday season, you've come to the right place. We've saved some of our most exciting gift suggestions just for you.
ROG Swift PG35VQ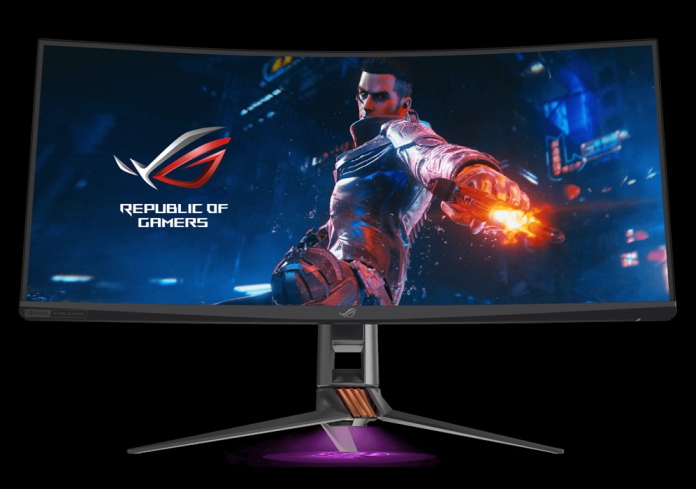 Standard-dynamic-range displays have served us well for many years, but their static brightness levels and limited range of colors and tones limit the sense of realism and immersion they can impart to viewers. HDR content changes all that. With inky blacks, squint-inducing whites, and a more vivid range of colors, games and movies on an HDR display look truer to life than ever before. Our ROG Swift PG35VQ is not only VESA DisplayHDR 1000 certified, it's also decked out with game-changing technologies that'll make it impossible for you to go back to your old display.
In addition to offering the 1000-nit peak brightness, full-array local dimming backlight, and wide color gamut necessary to earn the DisplayHDR 1000 badge, the PG35VQ is an ultrawide 35" monitor. Its 3440×1440 panel curves immersively around the edges of your peripheral vision. As a G-SYNC ULTIMATE monitor, it offers GeForce gamers variable-refresh-rate technology in addition to vivid HDR. It's overclockable to 200Hz, and has a low 2ms response time.
ROG Crosshair VIII Hero (Wi-Fi)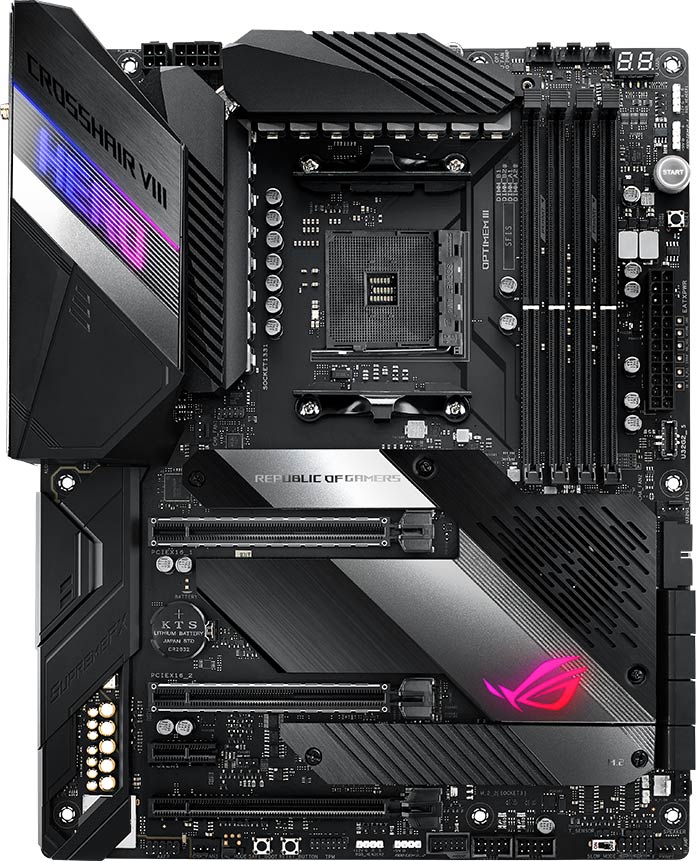 It's no secret that AMD's Ryzen processors have shaken up the CPU landscape. If you've been eyeing one of AMD's many-core Ryzen 3000 monsters, you should take a look at a motherboard that's ready to fully unleash that CPU.
We designed the ROG Crosshair VIII Hero (Wi-Fi) with AMD's most powerful Ryzen processors in mind—even the 16-core Ryzen 9 3950X. To keep all those cores fed with a steady, stable supply of power, we employ 16 IR3555 PowIRstages cooled with large VRM heatsinks. In addition to the VRM heatsinks, there's an active chipset heatsink, dedicated heatsinks for two M.2 slots, and a bevy of hybrid fan headers. From top to bottom, the cooling credentials of this motherboard are impeccable.
With the X570 platform, AMD ushered in the era of PCI Express 4.0 connectivity for desktop PCs. PCIe 4.0 slots double the theoretical throughput of PCIe 3.0—up to 31.5GB/s in raw bandwidth from the typical PCIe x16 slot. This bandwidth will give you access to the next generation of speedy solid-state storage, graphics cards, and peripherals.
You'll also find the latest networking technologies built into the Crosshair VIII Hero. Desktop gamers have historically preferred low-latency wired connections, but new advances in wireless technology just might make them change their minds. Intel's Wi-Fi 6 AX200 adapters, which support the latest 802.11ax protocols, close the historical gap between wireless and wired connections. Wireless is a real option these days, but if a cable is handy Intel's I211AT Gigabit Ethernet controller will provide the most consistent speeds and lowest latency of the networking options on the motherboard.
If you're wrapping this motherboard up for yourself this season, do us a favor. Install it in a chassis with a nice big side window. Its multi-zone RGB LED lighting is too striking to be hidden away. To make your build glow with holiday spirit, take a step further and take advantage of the two Gen2 addressable RGB LED headers. The upgraded headers automatically detect how many LEDs are on an attached device, simplifying setup and allowing Aura Sync to precisely synchronize your LEDs, even with the most striking effect patterns.
ROG Strix GeForce RTX 2080 Ti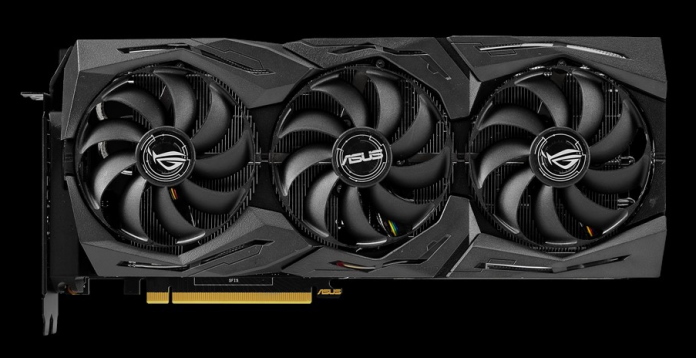 It's lonely at the top. Since its introduction in 2018, the GeForce RTX 2080 Ti has dominated gaming benchmarks as the highest-performance consumer GPU available. It's a beloved favorite for gamers chasing stratospheric frame rates at 1080p or 1440p, or the best experience with ray-tracing effects enabled. Getting a consistent 60 FPS with a 4K monitor is no mean feat when you venture into recent titles, but the RTX 2080 Ti has proved itself in this arena time and time again.
The ROG Strix GeForce RTX 2080 Ti OC Edition takes NVIDIA's winning formula and wraps it in a finely-engineered package. To keep the GPU's 4352 CUDA cores and 11GB of GDDR6 cool, we designed a massive and effective cooling system. It starts with a MaxContact base plate that maximizes the surface area in contact with the GPU for more effective heat transfer. From there, heat is distributed through a dense fin array before being dissipated by the steady air stream emanating from three fans using our latest Axial-tech design. If you're looking for the best take on the best consumer graphics card around, this is it.
Happy holidays to you and yours
By now, we hope that you've found a gift for that hard-to-buy-for person in your life. New tech can be a life-changing gift for someone to receive. Sure, there's the simple joy of receiving an exciting present. But with the right gift, you can really enable someone to take a step forward. Your gift might help them take their passion for music, video, or art to the next level. It might open up new experiences for them in the exciting and ever-changing world of gaming. Or your gift just might keep them more connected with you and the other important people in their life.
Whatever gifts you give and whoever you give them to, enjoy a safe and happy holiday season. After you check off the last items in your holiday shopping list, don't forget to take a moment to slow down and enjoy your time with friends and family—perhaps with one of our devices in hand.