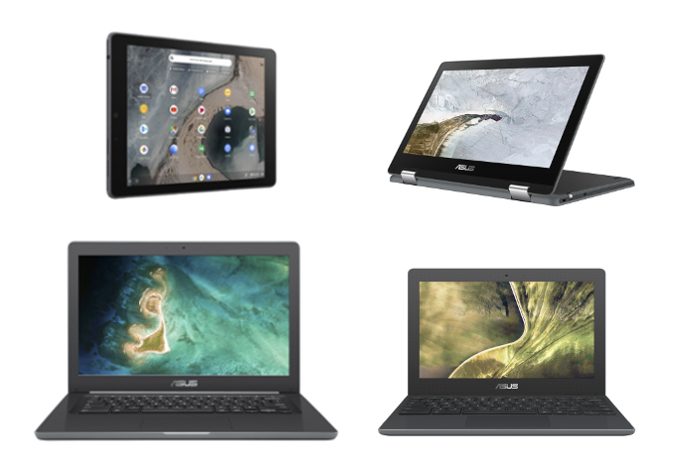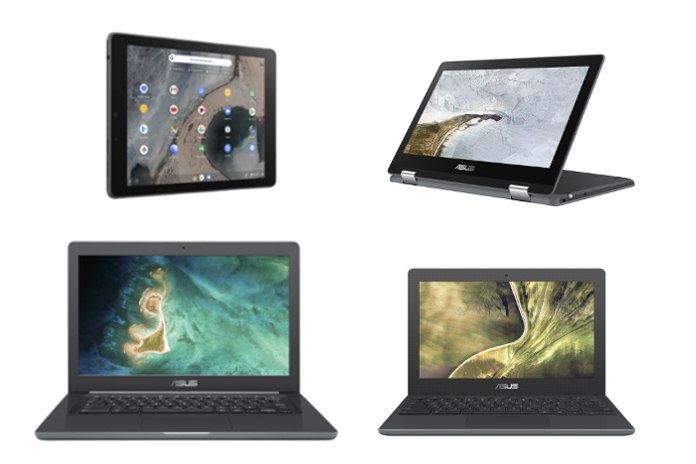 Chromebooks are everywhere these days. With premium finishes, support for the Google Play Store and high-end specs, these lightweight laptops have evolved into a great alternative for anyone looking to get online for less. However, the first laptops to launch with Chrome OS were aimed squarely at the education market. Widespread deployment of laptops in schools is an expensive endeavor, and in the quest to put a laptop in front of every student, these easy-to-use, easy-to-manage, and cheap-to-deploy computers seemed like the perfect fit. But while Chrome OS, Google Classroom, and G Suite for Education have all the bases covered on the software side, not every student is the same, and the way classes are taught is different from one year to the next. There's a huge difference between a kindergartner learning to write their ABCs and a ninth grader tackling Algebra II.
For CES 2019, we're unveiling an entire family of Chromebooks that caters to all kinds of students. Building on what we learned with our rugged Chromebook C202 and Chromebook Flip C213, these new devices are all designed to withstand the rough and tumble of life in the classroom. But instead of just the standard-issue 11" laptop, we have got a full lineup of ruggedized devices in a range of sizes and form factors, including our first ever tablet. All of them feature Google's Chrome OS and are compatible with the Google Play Store, which means they can run your favorite Android apps right from the desktop, but each one is unique in the experience it offers. This diverse cast of versatile Chromebooks covers every class of student, so come meet the family!
A couple of familiar faces and some brand new students
The Chromebook C204, Chromebook Flip C214, Chromebook C403 and Chromebook Tablet CT100 boast similar specs and a common design language, but with a few crucial differences. The C204 is the successor to our incredibly popular Chromebook C202, an 11.6" laptop made for elementary school kids, while the Chromebook Flip C214 is the follow-up to last year's 2-in-1 convertible, the C213. With a touchscreen display, stylus support, and a 360° hinge, it bridges the gap between laptop and tablet, allowing for laptop learning as well as more traditional lessons based on pen-based input.
The Chromebook C403 is totally new. It plays big brother to the C204, featuring the same specs and design in an enlarged 14" chassis. The larger form factor is ideal for middle schoolers and high school students who can carry around a bigger laptop and benefit from a roomier display on which to work.
At the other end of the spectrum is our Chromebook Tablet CT100. This 9.7" slate with stylus support is our first Chrome OS tablet. It's designed for a much younger student who's just getting a grip on the basics. It's easy to hold and ideal for little kids learning how to read and write.
Toughen up
While the form factor, components, and even screen sizes of our new Chromebooks vary, they share the same tough DNA. The Chromebook C204, Chromebook Flip C214, Chromebook C403, and Chromebook Tablet CT100 all boast military-grade ruggedized designs with reinforced, rubberized edges to protect them against bumps and falls.
The laptops feature water-resistant keyboards to protect them from accidental spills, as well as tamper-resistant keys that use a raised frame around the keycaps to make it harder for bored fingers to pry them off. The CT100 tablet doesn't have a keyboard, obviously, but it's tough in its own right. The soft-touch rubberized back is grippy and it can withstand drops and tumbles just like the laptops.
The Chromebook Tablet CT100 is a tablet tough enough for tots
These days, most kids' first interaction with a computer is with a smartphone or a tablet. Touch-based interfaces are intuitive for small children who don't yet know their way around a keyboard or typical desktop UI, and they can be hugely helpful for learning to recognize shapes and to read and write. But there are very few options for schools that want to keep kids on the same familiar operating system from kindergarten through grade 12.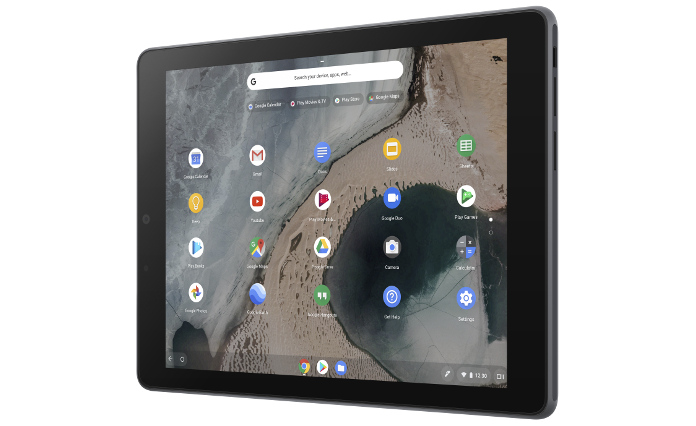 The Chromebook Tablet CT100 is designed to serve as an easy and familiar introduction to technology for young kids. This rugged tablet has the same version of Chrome OS that is available on the notebooks and Chromebox desktops they'll encounter later on, but it's squeezed into a recognizable form factor that's reinforced to withstand life in the hands of your average 5-year-old. The rubberized chassis measures just under 10 mm thick, which means it's easier for small hands to hang onto and less likely to take a tumble as a result. If it does end up in freefall, it's rated for drops up to 100 cm.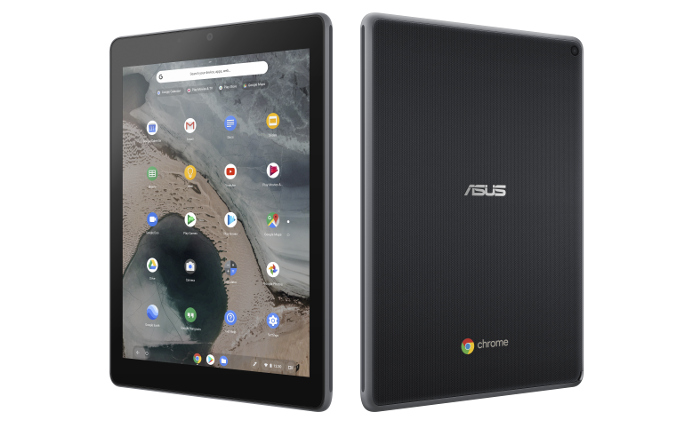 The 9.7" QXGA display features support for stylus input, and the pen slides into a little garage in the tablet's frame for safe keeping when it's not being used for art, tracing letters, or practicing numbers. Inside this slim slate is an OP1 hexa-core processor with two Cortex-A72 cores and four Cortex-A53 cores. That works alongside 4GB of RAM to keep performance smooth as students skip between Chrome windows and Android apps. School work can be stored on the 32GB of onboard storage, which is ample room for files as well as fun games.

The Chromebook Tablet CT100 charges via the same standard USB Type-C connection that's on most smartphones, though the battery will last well beyond the final bell, so kids won't be looking at black screens in the middle of the day. Check with your local ASUS representative for details on availability in your region.
Chromebook Tablet CT100
CPU
OP1 Made for Chromebooks Hexa-core processor,
Dual ARM Cortex-A72 cores and quad Cortex-A53 cores in big.LITTLE configuration

GPU
Mali-T864 GPU
Display
9.7" multi-touch with glass cover
Resolution
QXGA (1536x2048)
Memory
Up to 4GB LPDDR3 1866MHz
Storage
Up to 32GB eMMc
Camera
Front-facing: 2MP
World-facing: 5MP
Networking
802.11ac Wi-Fi with 2x2 antenna
Connectivity
1 x USB 3.1 Gen 1 Type-C (charging, data transfer, display output)
1 x MicroSD card reader
1 x audio combo jack
Bluetooth 4.1
Battery
35Wh
Dimensions
9.4" x 6.8" x 0.4"
Weight
1.3 lbs
Making the grade with the Chromebook C204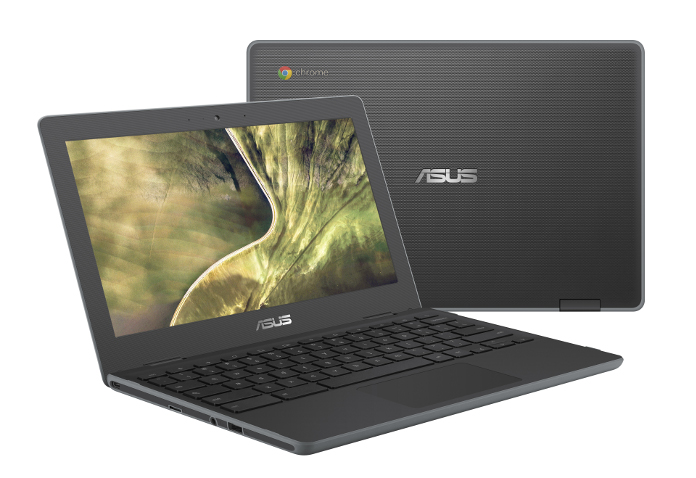 Wrapped in dark grey, the Chromebook C204 strikes a subtler tone for style than its predecessor, the blue-and-white Chromebook C202. The darker profile isn't the only thing that makes it look slimmer, though. We shaved a couple of millimeters off the overall thickness of the chassis to make it even easier to carry around. Despite a thinner body, the Chromebook 204 is just as tough as before. The rubberized chassis is reinforced with thick bumpers on each corner to absorb shock. It can survive falls up to 120 cm when dropped flat, and up to 80 cm when dropped on its sides. A raised rubber rail on the bottom of the laptop makes it even easier to hang onto, so you're less likely to drop it in the first place.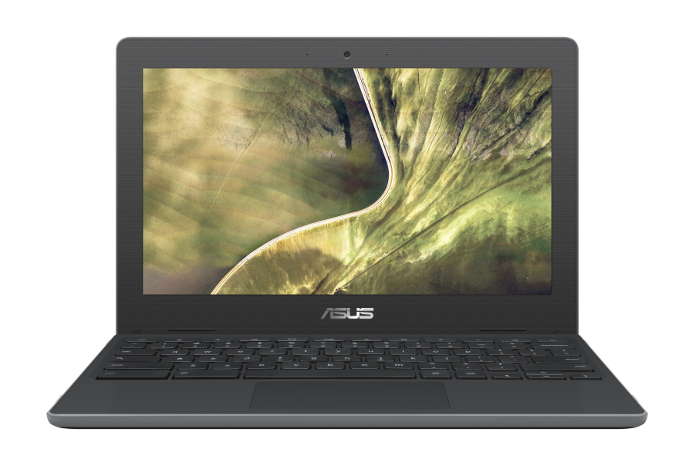 The 11.6″ HD display features an anti-glare coating and is attached to the base via a 180° hinge that allows you to lay the laptop completely flat. This hinge has been tested for 50,000 open and close cycles, so it won't get loose over time. Its wider range of motion makes it easier for kids to share the screen during group work and enables more positioning options for the display when teachers are doing over-the-shoulder checks on students' work. A touch screen variant further expands the display's functionality to facilitate more interactive lessons. The keyboard features a deep 1.5 mm of key travel, which is more than most laptops. The deeper travel makes for fewer typing errors than shallower keys where it's easier to accidentally press the keys.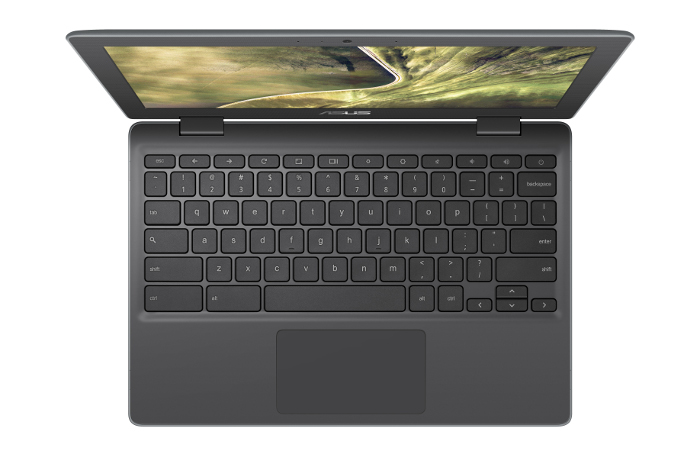 Under the hood, there's a dual-core Intel Celeron processor, as well as 4GB of RAM. That's plenty of power for all the Chrome tabs kids forget to close, and it ensures smooth switching when multitasking across Android apps and Chrome extensions. There's 32GB of onboard storage for studying materials offline, though most kids will spend their time in the cloud working via Google's education apps. Two USB Type-A ports make it easy to connect external storage or plug in a mouse, and there's two reversible USB Type-C ports for newer peripherals or hooking up to monitors in the computer lab or library. The MicroSD card makes it easy to transfer photos from a camera to the cloud, and the audio combo jack lets students plug in to listen to virtual lessons or make video calls using the HD webcam.

Of course, battery life is paramount, so we upped the capacity from 39Wh in the C202 to 50Wh in this year's C204. That's enough to last all day long, no matter how many kids flow through the classroom. To make sure there are no dropped connections interrupting lessons, dual-band 802.11ac WiFi communicates over the 2.4GHz band as well as the less crowded 5GHz frequency.
The C204's durability makes it a perfect fit for the classroom, where shared devices see more wear and tear than the average laptop. But accidents happen, and on the off chance that something unfortunate befalls this little Chromebook, it's extremely easy to repair. The C202 could be taken apart at home with a few basic tools, and we made the C204 even more modular in its design. The mainboard can be accessed in three steps, and we added a service door to make the ribbon cables easier to reach. Repairs this simple are an IT specialist's dream.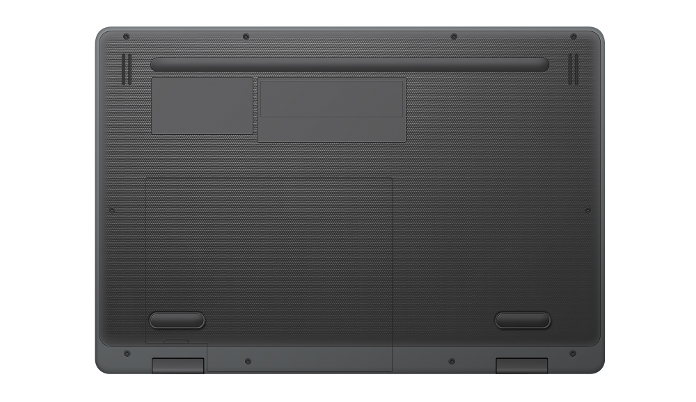 The Chromebook C204 will go on sale later this year. Check with your local ASUS representative for details on pricing and availability in your region.
Chromebook C204
CPU
Dual-core Intel Celeron N4000
GPU
Intel HD 600
Display
11.6" LED backlit with anti-glare coating
220 nits

OR

11.6" wide-view LED backlit with anti-glare coating
250 nits
Touchscreen
Resolution
HD (1366 x 768)
Memory
Up to 8GB 2400MHz LDDR4 onboard
Storage
Up to 32GB eMMc
Camera
HD webcam
Networking
802.11ac Wi-Fi with 2x2 antenna
Connectivity
2 x USB 3.1 Gen 1 Type-C (DisplayPort, and power delivery support)
2 x USB 3.0 Type-A
1 x MicroSD card reader
1 x audio combo jack
Bluetooth 4.2
Battery
50Wh
Dimensions
11.5" x 7.8" x 0.8"
Weight
2.6 lbs
The best of both worlds with the Chromebook Flip C214
Schools often have to choose between laptops or tablets when deploying a fleet of devices for their classrooms, and there are trade-offs associated with both. Laptops are what most kids will go on to use in high school and college. Tablets, on the other hand, offer access to interactive touch-based lessons, more natural pen-based problem solving in subjects like math, and the ability to take notes and practice penmanship. The Chromebook Flip C214 walks the tightrope between tablet and laptop with a 2-in-1 design that effortlessly transforms based on students' needs.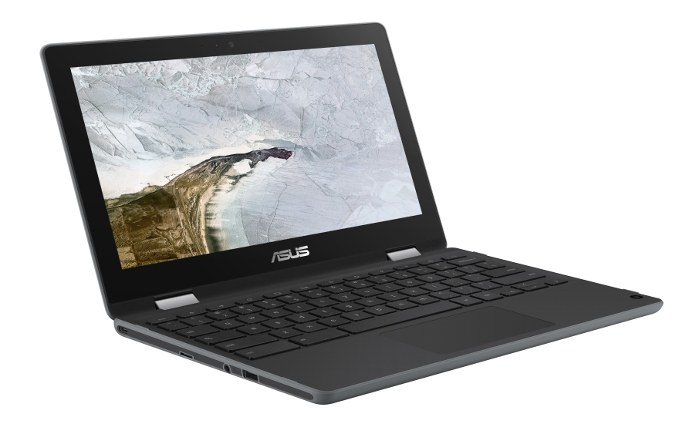 At first glance, it's hard to tell the difference between the C214 and the C204. They have the same rugged exteriors, spill-proof keyboards, and two-tone color scheme. They're even based on identical hardware; the baseline C214 matches the C204 pound-for-pound with a dual-core Celeron, the same 4GB of RAM, and 32GB of storage. However, it can be configured with up to 8GB of RAM and 64GB of storage to streamline multitasking and max out on storage. The C214's storage is complemented by a MicroSD slot and one USB Type-A port on the side. Students can connect to external displays or charge up through either of the two USB Type-C ports, and a stable and reliable internet connection is facilitated by the dual-band 802.11ac radio.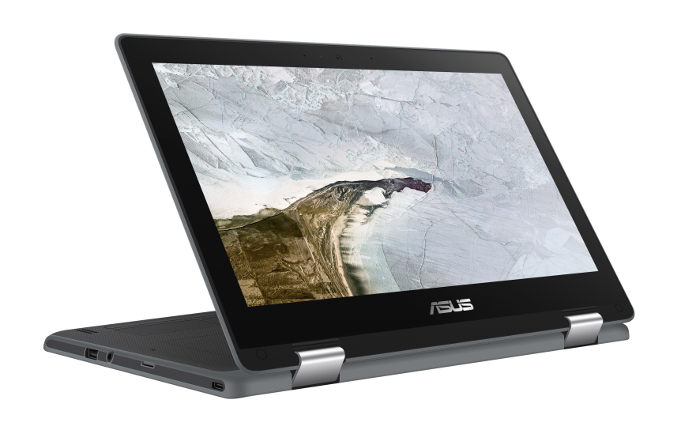 The biggest difference is with the C214 is that its 11.6" HD touch display is anchored by a durable 360° hinge that allows it to seamlessly switch between laptop and tablet mode depending on the type of lesson. The anti-glare display makes working from a variety of environments easier, too. An optional stylus slots into a garage on the side, so teachers don't have to dole out pens for lessons and collect them at the end of class. The stylus version of the C214 comes with a brighter display that makes working outside easier, which is especially important when using the world-view camera embedded in the laptop's base. It's topped with Gorilla Glass 3 for added protection.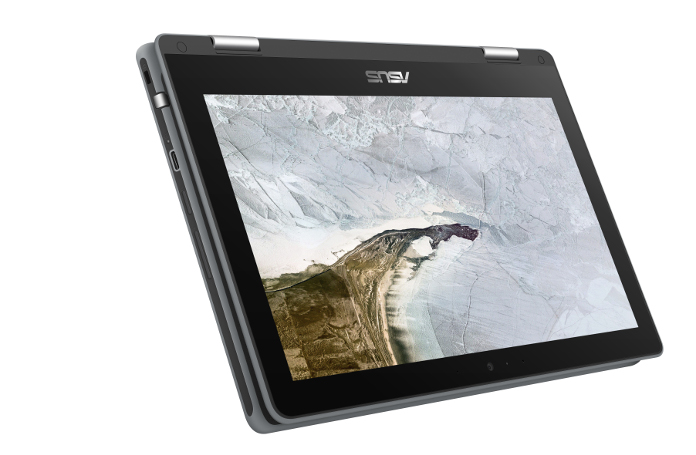 We adjusted the placement of the world-view camera based on feedback from C213 users. Its new location in the bottom-right corner of the palm rest is better suited for video calls and recording when the laptop is in tablet mode. In its old location above the keyboard, it was easily obscured when the computer was turned on its side and help up in portrait. Now kids can grip both sides of the laptop in a portrait or landscape orientation and not worry about blocking the view.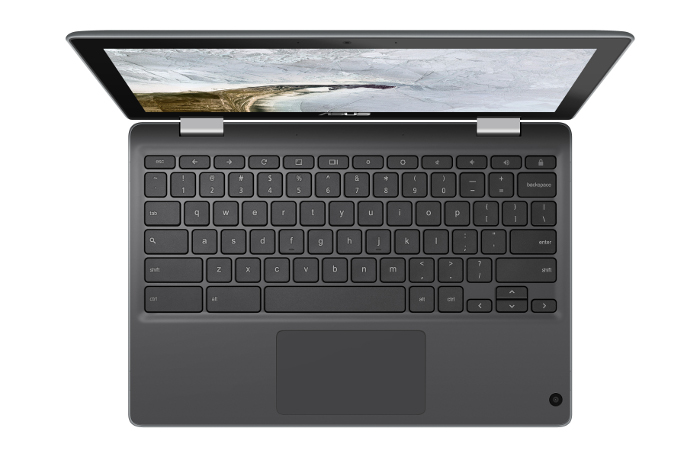 Even though the C214 is reinforced for rough housing, there's bound to be a freak accident, whether it's a keyboard that suddenly stops working "for no reason" or a USB port that endured a few too many upside-down thumb drives. Like the C204, the C214 is easy to repair. With just a few tools, lab techs can replace the battery, motherboard, keyboard, and even the thermal module. Getting inside the laptop takes just a few minutes, which means broken parts can be replaced without taking a computer out of commission for more than a morning.
The Chromebook C214 will be available in late spring. Pricing will vary depending on region and configuration. Check with your local ASUS representative for details on availability.
Chromebook C214
CPU
Dual-core Intel Celeron N4000/N4100 Processor
GPU
Intel HD 600
Display
11.6" wide-view LED backlit with anti-glare coating
250 nits
Touchscreen

Or

11.6" wide-view LED backlit
250 nits
Touchscreen
Wacom EMR support
Gorilla Glass 3
Resolution
HD (1366 x 768)
Memory
Up to 8GB 2400MHz LDDR4 onboard
Storage
Up to 64GB eMMc
Camera
HD webcam
5MP/8MP worldview camera
Networking
802.11ac Wi-Fi with 2x2 antenna
Connectivity
2 x USB 3.1 Gen 1 Type-C (DisplayPort, and power delivery support)
1 x USB 3.0 Type-A
1 x MicroSD card reader
1 x audio combo jack
Bluetooth 4.2
Battery
45Wh
Dimensions
11.5" x 7.8" x 0.8"
Weight
2.6 lbs
The Chromebook C403 is designed for bigger kids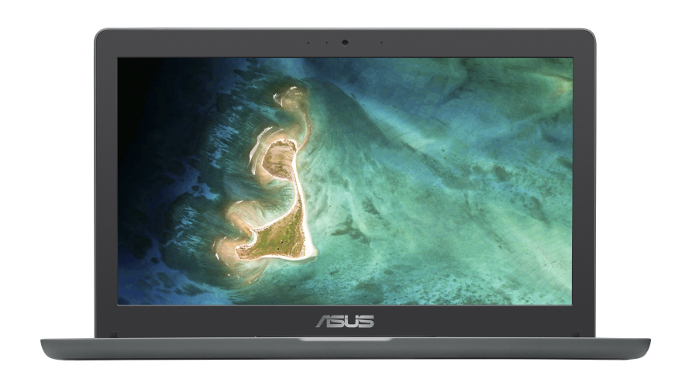 Most Chromebooks are compact, with 11" or 12" displays that easily fit into a small backpack. Those are great for younger children, but these laptops can feel cramped for high school students and teachers, especially if they're used to working on a larger device at home. The Chromebook C403 takes the same rubberized design as the C204 and makes it bigger for, well, bigger people. Its 14" HD display gives windows more room to breathe, making long essays and presentations more comfortable to work on. It has a matte coating to minimize distracting reflections from overhead lights, and a 180° hinge makes it easy to show your work to others.

The C403 features a dual core Celeron and, like its smaller siblings, has 4GB of RAM. There's 32GB of onboard storage for working on assignments offline, and access to Google's suite of cloud productivity apps precludes any "dog ate my homework" situation. The entire semester's projects can be backed up to Google Drive for safe-keeping.
With age comes essay questions, so the Chromebook C403 keyboard features 2 mm of key travel to ensure that long study sessions aren't made any more painful by inadvertent typos from a shallow keyboard. The C403 squeezes in two USB Type-A ports, which means students don't have to unplug their mouse to plug in a USB drive when taking that assignment to the printer.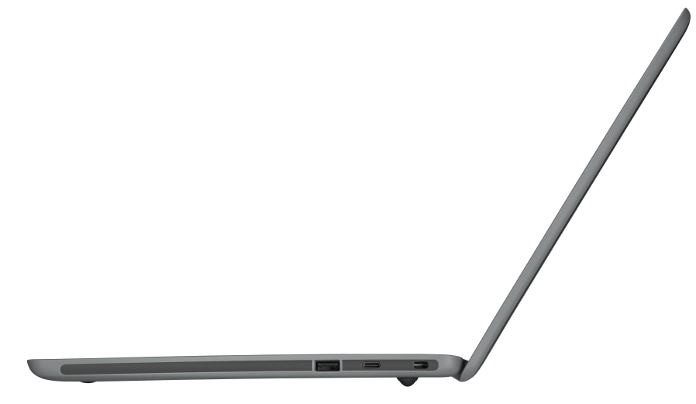 There are also two USB Type-C ports able to drive external displays. Each of those ports can also charge the laptop, though the C403 is rated for up to 11 hours on a single charge. That's a key benefit when you've got a classroom of 25 kids and only four outlets. Rounding out the collection of I/O ports is an audio combo jack for listening to music while working, or watching video presentations. Headphones aren't required for great sound, though. Extra room in the chassis allowed us to fit in more powerful speakers. The C403's drivers feature extra-large resonant chambers able to pump out 80dB of volume.
In keeping with the rest of the family, the C403 is made for life in the classroom. The military-grade durability includes reinforced corners and a rubberized exterior to protect it when it inevitably gets knocked off the desk. The spill-resistant keyboard adds protection during lunchtime study sessions, and the fact that the hinge opens all the way to 180° means no one is going to accidentally break it if they're pulling with a little too much force. The C403 also matches it's little brother for repairability. IT professionals can get inside the chassis and replace components in just a few steps.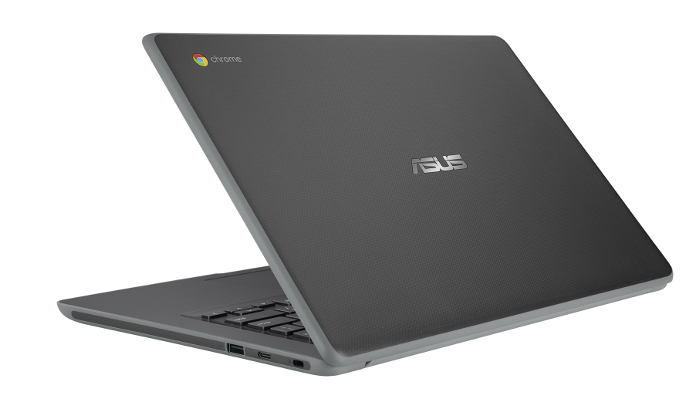 The C403 might be the largest laptop in our new family of tough Chromebooks, but that doesn't mean it's unwieldy. At 13.5" wide and just over 9" deep, it's no bigger than a textbook and easily fits into backpacks or school bags. The Chromebook C403 will go on sale this spring. Check with your local ASUS representative for details on availability and configurations in your region.
Chromebook C403
CPU
Dual-core Intel Celeron N3350
GPU
Intel HD 500
Display
14" LED backlit with anti-glare coating
220 nits
Resolution
HD (1366 x 768)
Memory
Up to 4GB 2400MHz LDDR4 onboard
Storage
Up to 32GB eMMc
Camera
HD webcam
Networking
802.11ac Wi-Fi with 2x2 antenna
Connectivity
2 x USB 3.1 Gen 1 Type-C (DisplayPort, and power delivery support)
2 x USB 3.0 Type-A
1 x MicroSD card reader
1 x audio combo jack
Bluetooth 4.2
Battery
45Wh
Dimensions
13.5" x 9.2" x 0.8"
Weight
3.7 lbs
Don't miss the rest of our announcements from CES 2019. You can see all the newest tech from ASUS and ROG in ths article.