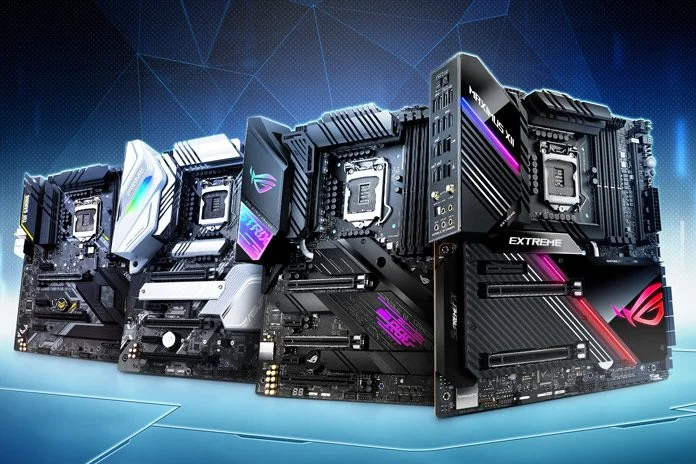 PC enthusiasts often have to think about tradeoffs when they select a new CPU to build around. Should they choose a chip with lots of cores and threads for multi-threaded tasks, or one with high peak clock speeds for gaming prowess and responsiveness at the desktop? The new 10th Generation Intel® Core™ family of CPUs offers the best of both worlds: an intoxicating combination of high thread counts and soaring single-core clocks. We're here to help you make the most of these new chips with over a dozen new Z490 motherboards tuned for the tastes of every builder. Whether you fancy a board from the Republic of Gamers or the ROG Strix, Prime, TUF Gaming, or ProArt families, we'll help you find just the right foundation for your 10th Gen Core build with our Z490 motherboard guide.
The highest-end Core i9 models in the 10th Gen family pack as many as 10 highly tuned cores and 20 threads—a first on Intel's mainstream desktop platform. These chips also offer the fastest single-thread performance on the market, a must for fast-paced games and top responsiveness in desktop applications.
This one-two punch of resources allows for PC builds equally proficient at high-refresh-rate gaming and heavy-duty work. Hyper-Threading across the range not only nets a major boost in productivity applications, but also makes it easier to game and stream all at once or keep resource-intensive tasks like rendering running in the background while you multitask.
The Z490 chipset isn't the only 10th Gen-ready platform Intel is launching, of course. Builders will soon be able to select from a wide range of H470, B460, and H410 motherboards to fit their requirements and budget. You'll find more information on those products soon, but for now, sit back and enjoy a tour of our most innovative Intel enthusiast boards yet.
Now witness the power of this fully armed and operational battle station
All the high-octane cores in 10th Gen CPUs require an appropriate power delivery subsystem. The new LGA1200 socket accepts processors with TDPs up to 125W, and we've tailored the power delivery of our Z490 motherboards to suit those more demanding chips. The Z490 chipset pairs plenty of cutting-edge connectivity options with these new CPUs, including a built-in Wi-Fi controller and abundant USB 3.2 Gen 2 ports. Optane Memory and chipset RAID support report for duty across the entire lineup.
We've always taken pride in fitting our motherboards with quality power delivery and memory circuitry, and we're piling on improvements on both fronts for this generation. The voltage regulator modules (VRMs) for our Z490 boards have been beefed up across the line to deliver reliable, responsive power, and the standard setup across for most models now includes two auxiliary power inputs with ProCool solid-pin connectors.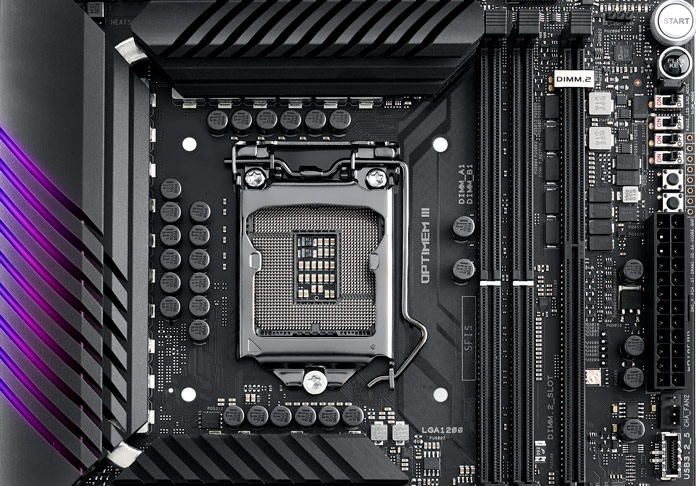 Every board in the line can now run faster RAM than ever, and ROG Maximus XII models are fitted with our proprietary OptiMem III technology with an enhanced trace layout for better signal integrity. That tech means overclockers can enjoy broad compatibility with ultra-fast RAM, and they'll potentially be able to dial in memory speeds beyond 5000MHz on select boards. Most builders choose two-DIMM memory kits focused on speed rather than absolute capacity these days, so all our Z490 boards implement a daisy-chain memory topology for enhanced overclocking potential with one DIMM installed per memory channel.
Overclocking doesn't have to involve frequent reboots or complex calculations. Our AI Overclocking technology can lend you a helping hand in pushing your CPU to its limits with the click of a button. Its proprietary algorithm carefully determines the quality of your CPU's silicon and predicts its optimal clock speed and voltage settings in a compatible motherboard. Dedicated control hardware and software keep an eye on temperature, fan speeds, and power draw to ensure there's enough cooling power for when the system is under load. Additionally, AI Overclocking can adjust its settings over time thanks to continuous algorithm training, adapting to seasonal temperature changes and potential losses in heat dissipation due to circumstances like dust buildup.
Our boards also support 5-Way Optimization, a one-click solution that provides an incremental sequence of increasing clock speeds and voltages until the highest practical values are reached through stress testing. As an added bonus, fan speeds can be set to optimal values during the process.
To boldly go where no fan control system has gone before
A powerful PC requires a well-considered cooling system, and ever-increasing core counts and clock speeds are oftentimes at odds with a quiet system. To help in that endeavor, we've created AI Cooling, an all-new system that can reduce system fan noise by up to 37% under sustained loads. AI Cooling works in tandem with our industry-leading Q-Fan intelligence and kicks in when the CPU is operating under a steady load. It slows fans down while monitoring and maintaining a consistent CPU temperature, ensuring that your cooling system isn't making any more noise than necessary to keep temperatures low. AI Cooling is available across the ROG and ROG Strix lines, as well as select models from other series.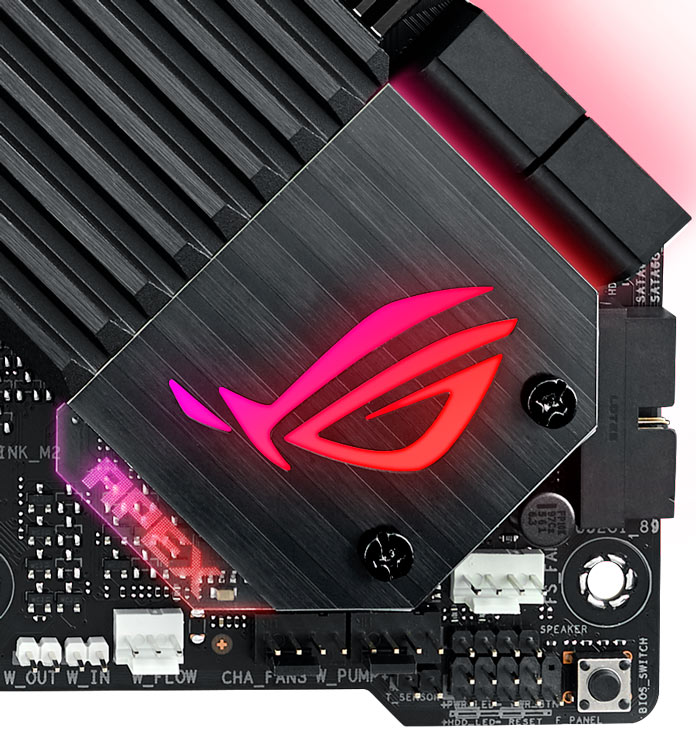 Ample fan and liquid-cooling pump headers are thoughtfully placed throughout our Z490 motherboards. Our most attainable models have as many as five headers, and the fan-control options only broaden from there. You'll find automatic PWM and DC fan sensing in most boards for extra convenience, too. If you need headers dedicated to liquid cooling, including AIO cooler, flow and temperature sensors, and radiator headers, there's an ASUS board with your name on it.
Beam me up, Scotty
Our Z490 boards are filled to the brim with peripheral and network connectivity, both wired and wireless. The baseline Ethernet speed for most models is 2.5Gbps, courtesy of upgraded onboard controllers. A handful of premium models include 10Gbps or 5Gbps Ethernet ports for moving around hefty amounts of data at lightning speed. On models fitted with Wi-Fi, the Z490 chipset's built-in Intel CNVi tech handles air traffic control, providing the potential for multi-gigabit transmissions over the airwaves and Bluetooth® 5.1 support. For builders who want to add Wi-Fi later, most of our Z490 boards have an M.2 E-key slot for an optional Wi-Fi module, too.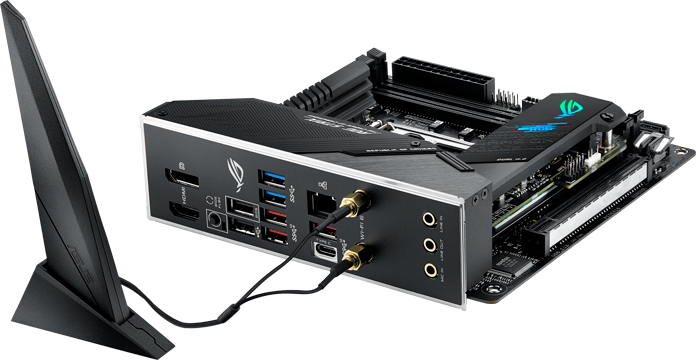 Gamers building their rigs with ROG Maximus XII or ROG Strix models can put GameFirst VI traffic-shaping tech with our new AI Networking intelligence to work. This technology uses AI models to recognize the packet patterns of popular games and prioritizes their traffic for reduced lag and the absolute lowest ping time, even with other bandwidth-intensive applications running. Gamers can select profiles to prioritize different games or applications, and GameFirst VI will dynamically adjust network priority and bandwidth allocation accordingly.
The data must flow
The Z490 chipset offers more USB 3.2 Gen 2 ports, and every one of our Z490 boards offers these next-gen peripheral ports along with USB 3.2 Gen 1 and USB 2.0 connectors. Reversible USB Type-C® ports and front-panel USB 3.2 Gen 2 connectors grace almost every board in the lineup. That's a broad set of options on its own, but we went one step further. Almost all our Z490 boards come with Thunderbolt 3 headers to support a Thunderbolt 3 expansion card. The new ProArt Z490-Creator 10G even has a pair of Thunderbolt 3 connectors right on its back panel.

To make use of that expansion header, you might consider the new ThunderboltEX 3-TR card. It's built around the latest-gen Intel Titan Ridge controller and has two Thunderbolt-infused USB Type-C ports at the ready. The ports support data transfers at speeds up to 40Gbps, as well as DisplayPort output. Two mini-DisplayPort connectors allow builders to pipe in pixels from their graphics processor, while an extra USB-C port offers USB Power Delivery charging up to 100W for compatible devices.
We kicked up our internal connectivity game a notch, as well. NVMe solid-state drives are faster and cheaper than ever, and they're quickly replacing SATA drives as the new standard. A contemporary system is likely to have one of these swift gumstick SSDs as a system drive, and we expect many builders will add a second one down the road. Keeping an eye on the future, our Z490 boards all include at least two PCIe M.2 slots, and some models can use as many as four. To keep those speedy drives cool and performing optimally, we include M.2 heatsinks aplenty across the lineup.
From bright lights to a total blackout and everything in between
Modern desktop PCs can be lit up in any shade of the rainbow (and often several at once) thanks to RGB LED illumination. This visual revolution has grown into a world of RGB LED case strips, diffusers, addressable RGB LED fans, and other photon-emitting accessories. Marshaling all those components into a coherent color scheme can be a chore, though. The solution is Aura Sync, our RGB LED control software that allows you to set up the look of compatible components and accessories with one click.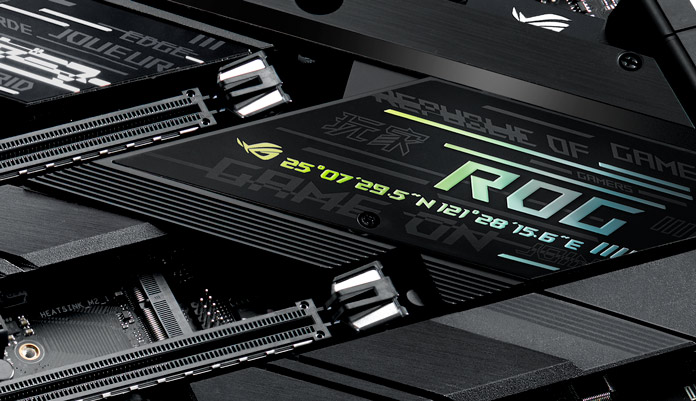 Our Z490 motherboards fly their RGB LED colors high. ROG and ROG Strix models in particular offer several configurable RGB LED zones, some resting under tasteful diffusers or shining through distinctive designs made to bend light in unique ways. Beyond the built-in lights, our entire Z490 lineup offers headers for RGB LED strips, including Gen 2 addressable headers that can auto-detect connected devices, set up presets, and control each individual LED with minimal latency. All the lighting can be easily shut off if you find it too distracting during the night or when watching a movie.
Sonic nirvana is but a cable away
Quality sound draws the most enjoyment out of your favorite music and plays an important part in ensuring movies and games are as engrossing as possible. It's also important that your voice is clearly heard, whether in the middle of a business meeting or when you're enveloped in a virtual firefight. The audio components on our Z490 motherboards have been carefully designed with shielded circuits, Japanese capacitors, and independent traces for the main outputs to provide both high-fidelity input and output.
ROG and ROG Strix Z490 motherboards come armed with SupremeFX audio based off S1220 or S1220A chips coupled with dedicated op-amps. The setup ensures a 120dB signal-to-noise ratio for output and a 113 dB microphone input SnR for crystal-clear sound. Aside from the overclocking-focused ROG Maximus XII Apex, the Maximus XII lineup even includes a dedicated ESS Sabre audiophile-grade DAC and a special headphone amplifier for the most discerning ears.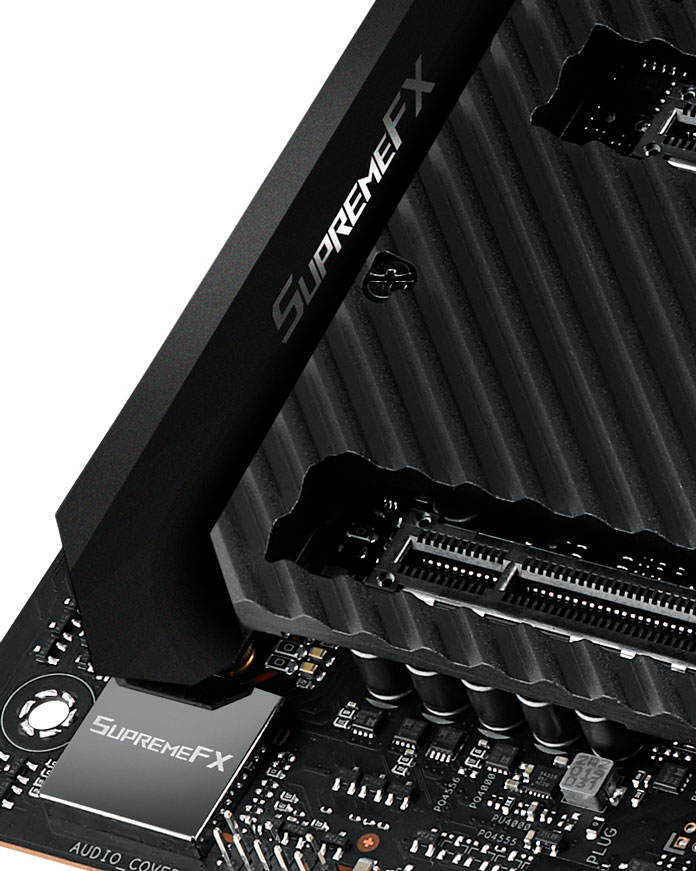 Our Sonic Studio III software can immerse you in virtual surround sound or add handy effects to any audio device, including standard analog headphones, USB DACs, VR headsets, or even Bluetooth® headphones and speakers. The integrated virtual mixer lets you route multiple audio sources at will, a particularly useful feature for streamers and videographers. Select models include a DTS® Sound Unbound package that enables support for DTS:X® and DTS® Headphone:X spatial audio technologies. This creates a 3D sonic space and virtually projects sounds above and below you for increased immersion.
We spared no expense in attention to detail
Strong hardware specs are obviously important, but our engineers think through the entire experience of building a system around each of our motherboards. Software plays a huge role in a friction-free user experience. Easy setup and tweaking and a polished user experience are crucial. If it's hard to configure the settings you want or you inadvertently change a setting you're not sure of, you can experience no end of frustration. We've taken plenty of time to think through our boards' software, and it shows.

Our award-winning UEFI firmware offers easy and advanced modes, and a concise, clearly organized user interface with search functionality and a summary of any changed settings for extra assurance before you save your tweaks. Updating our boards' firmware is dead simple thanks to the EZ Flash utility. Some models even offer BIOS FlashBack™ so you can boot the board with a USB stick and PSU to update the firmware without a processor installed.
All our Z490 boards have overvoltage and static discharge protection, and select models include LANGuard power spike protection and physical reinforcement for a cleaner signal. Primary PCIe x16 SafeSlots with a full metal jacket and extra solder are standard across almost the entire range, as are pre-mounted I/O shields. Those shields aren't just beautiful to look at—they eliminate the frustration of forgetting to install a separate I/O shield in your case before you install the motherboard.
Sizing up our contestants
ASUS and ROG have a winning team of motherboards ready for 10th-gen Intel Core processors. A quartet of ROG Maximus XII motherboards sits at the top of our Z490 lineup. These models are positively packed with overclocker-friendly features, so they're raring to go for those willing to turn every single knob and eke every last MHz out of Intel's latest processors. The ROG Strix family will entrance gamers and power users alike with its finely tuned combination of features and style across a range of form factors ready for every gaming build.
Gamers seeking a stylish board backed up with a wide range of coordinated components will enjoy the TUF Gaming Z490-Plus and its Wi-Fi counterpart. For all-around builds that deliver optimal performance for both work and play, the Prime Z490 trio delivers clean style paired with rock-solid reliability. Finally, the ProArt Z490-Creator 10G offers built-in Thunderbolt 3 and an array of top-notch connectivity options to fulfill the needs of creative professionals and developers.
ROG Maximus XII Extreme
ROG Maximus XII Apex
ROG Maximus XII Formula
ROG Maximus XII Hero (Wi-Fi)
ROG Strix Z490-E Gaming
ROG Strix Z490-F Gaming
ROG Strix Z490-I Gaming
ROG Strix Z490-H Gaming
ROG Strix Z490-A Gaming
ROG Strix Z490-G Gaming (Wi-Fi)
TUF Gaming Z490-Plus (Wi-Fi)
ProArt Z490-Creator 10G
Prime Z490-A
Prime Z490-P
Prime Z490M-Plus
Size
EATX
ATX
ATX
ATX
ATX
ATX
Mini-ITX
ATX
ATX
ATX
ATX
ATX
ATX
ATX
microATX
Memory
4 x DDR4 up to 4800+ (OC)
2 x DDR4 up to 5000+ (OC)
4 x DDR4 up to 4800+ (OC)
4 x DDR4 up to 4800+ (OC)
4 x DDR4 up to 4600+ (OC)
4 x DDR4 up to 4600+ (OC)
2 x DDR4 up to 4800+ (OC)
4 x DDR4 up to 4600+ (OC)
4 x DDR4 up to 4600+ (OC)
4 x DDR4 up to 4600+ (OC)
4 x DDR4 up to 4600+ (OC)
4 x DDR4 up to 4600+ (OC)
4 x DDR4 up to 4600+ (OC)
4 x DDR4 up to 4600+ (OC)
4 x DDR4 up to 4600+ (OC)
Multi-GPU
2-way SLI, 3-way CrossFireX
2-way SLI, 2-way CrossFireX
2-way SLI, 3-way CrossFireX
2-way SLI, 3-way CrossFireX
2-way SLI, 3-way CrossFireX
2-way SLI, 3-way CrossFireX
N/A
2-way CrossFireX
2-way CrossFireX
2-way CrossFireX
2-way CrossFireX
3-way CrossFireX
2-way SLI, 3-way CrossFireX
2-way CrossFireX
2-way CrossFireX
PCIe
2 x16 @ x16, x8/x8
1 x4
2 x16 @ x16, x8/x8
1 x4
1 x1
3 x16
1 x1
3 x16
3 x1
3 x16
3 x1
3 x16
3 x1
1 x16
3 x16
1 x4
1 x1
3 x16
1 x4
1 x1
2 x16
1 x1
2 x16
3 x1
3 x16
2 x1
3 x16
3 x1
2 x16
4 x1
2 x16
2 x1
M.2
4 x4
3 x4
3 x4
3 x4
2 x4
2 x4
2 x4
2 x4
2 x4
2 x4
2 x4
2 x4
2 x4
2 x4
2 x4
SATA
8
8
6
6
6
6
4
6
6
6
6
6
6
4
5
Ethernet
Marvell 10Gb
Intel 1Gb
Intel 2.5Gb
Marvell 10Gb
Intel 2.5Gb

Marvell 5Gb
Intel 2.5Gb
Intel 2.5Gb
Intel 2.5Gb
Intel 2.5Gb
Intel 2.5Gb
Intel 2.5Gb
Intel 2.5Gb
Intel 1Gb
Hyper 10G card
Intel 2.5Gb
Intel 2.5Gb
Realtek 1Gb
Intel 1Gb
WiFi/Bluetooth
Wi-Fi 6, Bluetooth 5.1
Wi-Fi 6, Bluetooth 5.1
Wi-Fi 6, Bluetooth 5.1
Optional
Wi-Fi 6, Bluetooth 5.1
Optional
Wi-Fi 6, Bluetooth 5.1
Optional
Optional
Optional
Optional
NA
Optional
Optional
NA
Audio
SupremeFX S1220
ESS DAC + TI op-amp
SupremeFX S1220A
SupremeFX S1220
ESS DAC + TI op-amp
SupremeFX S1220
ESS DAC + TI op-amp
Realtek S1200A
Realtek S1200A
SupremeFX S1220A
Dual op-amps
SupremeFX S1220A
Dual op-amps
SupremeFX S1220A
Dual op-amps
SupremeFX S1220A
Dual op-amps
Realtek S1200A
Realtek S1200A
Realtek S1220A
Realtek ALC887
Realtek ALC887
Thunderbolt 3
ThunderboltEX 3-TR card
1 x expansion header
1 x expansion header
1 x expansion header
1 x expansion header
1 x expansion header
NA
1 x expansion header
1 x expansion header
NA
1 x expansion header
2 Thunderbolt 3 ports
2 DisplayPort inputs
1 x expansion header
1 x expansion header
NA
USB 3.2 Gen2
1 USB 3.2 Gen 2x2 Type-C
1 Type-C
2 Type-A
2 front-panel headers
1 Type-C
4 Type-A
1 front-panel header

1 Type-C
3 Type-A
1 front-panel header

1 Type-C
3 Type-A
1 front-panel header

1 Type-C
3 Type-A
1 front-panel header

1 Type-C
3 Type-A
1 front-panel header

1 Type-C
3 Type-A
1 front-panel header
1 Type-C
2 Type-A
1 Type-C
1 Type-A
1 front-panel header
1 Type-C
1 Type-A
1 front-panel header
1 Type-C
1 Type-A
1 front
2 Type-C
4 Type-A
1 front
1 Type-C
3 Type-A
1 x front
2 Type-A
1 Type-C
1 Type-A
RGB headers
2 strip
2 Gen 2 addressable
2 strip
2 Gen 2 addressable
2 strip
2 Gen 2 addressable
2 strip
2 Gen 2 addressable
2 strip
2 Gen 2 addressable
2 strip
2 Gen 2 addressable
1 strip
2 Gen 2 addressable
2 strip
1 Gen 2 addressable
2 strip
1 Gen 2 addressable
2 strip
2 Gen 2 addressable
2 strip
1 Gen 2 addressable
2 strip
1 Gen 2 addressable
2 strip
2 Gen 2 addressable
2 strip
1 Gen 2 addressable
1 strip
Price
$750.00 USD
$420.00 USD
$500.00 USD
$399.99 USD
$299.99 USD
$269.99 USD
$299.99 USD
$219.99 USD
$249.99 USD
$239.99 USD
$179.99 USD
$299.99 USD
$229.99 USD
$159.99 USD
$149.99 USD
Availability (USA)
Amazon
Newegg
Amazon
Newegg
Amazon
Newegg
Amazon
Newegg
Amazon
Newegg
Newegg
Amazon
Newegg
Amazon
Newegg
Amazon
Newegg
Amazon
Newegg
Amazon
Newegg
Amazon
Newegg
Amazon
Newegg
Amazon
Newegg
Amazon
Newegg
Availability (Canada)
Canada Computers
Memory Express
Newegg
Newegg
Canada Computers
Memory Express
Newegg
Amazon
Canada Computers
Newegg
Amazon
Canada Computers
Memory Express
Newegg
Newegg
Canada Computers
Memory Express
Newegg
Newegg
Canada Computers
Memory Express
Newegg
Newegg
Amazon
Newegg
Canada Computers
Newegg
Canada Computers
Memory Express
Newegg
Amazon
Canada Computers
Memory Express
Newegg
Amazon
Canada Computers
Memory Express
Newegg